Moussaka
This post may contain affiliate links.
Oh My Moussaka!!! In an effort to diversify my recipe portfolio I decided to have "Greek Night" at home last week. I prepared a Hummus Trio with Pita Bread, Stuffed Grape Leaves and Moussaka.
For those of you unfamiliar with this delicious little dish, Moussaka is the Greek version of an Italian lasagna, layered with eggplant, meat sauce and béchamel sauce.
My nephew walked in on Greek Night and asked "what's for dinner?" I said Moussaka and the look on this 9-year-old Oklahoma kids face was priceless.
It took me back to the movie My Big Fat Greek Wedding when she talked about all the other girls taking Wonderbread Sandwiches to school and she took Moussaka and the other girls said, "Moose Kaka, ewww" haha. But obviously these girls, nor my nephew had ever had Moussaka because there is nothing "eww" about it!
I convinced him to try a bite because Aunt Whitney made it. Two plates full later I think he changed his mind about Moussaka!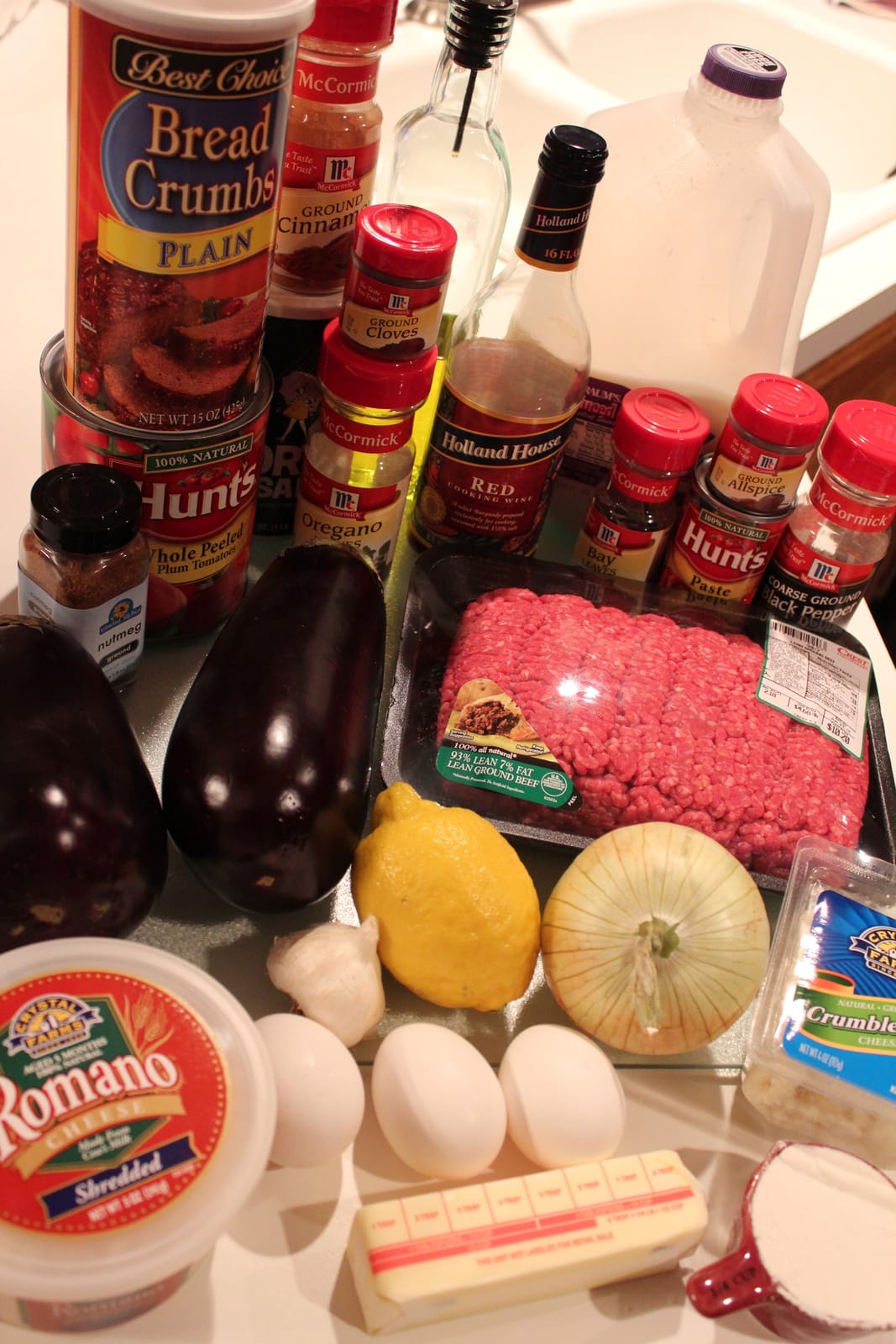 Ingredients (serves 6)
2 large eggplants (sliced, unpeeled)
4 tbsp olive oil (divided)
1 tsp salt
1 1/2 tsp black pepper (divided)
1/2 cup breadcrumbs
1/2 yellow onion (diced)
3 cloves garlic (crushed)
1 lb ground beef
1/2 tsp oregano
1/2 tsp allspice
1/4 tsp ground cloves
1/2 tsp ground cinnamon
2 tbsp tomato paste
1/4 cup red wine
1 cup whole, peeled canned tomatoes (chopped)
2 bay leafs
3 tbsp butter
1/4 cup flour
2 cups (2% or whole) milk
1/2 tsp nutmeg
1 egg
2 egg yolks
1/4 cup pecorino romano
1/4 cup feta cheese
Slice the eggplant and place on a large foil lined baking sheet. Next, drizzle with 2 tbsp olive oil and 1 tsp salt and pepper.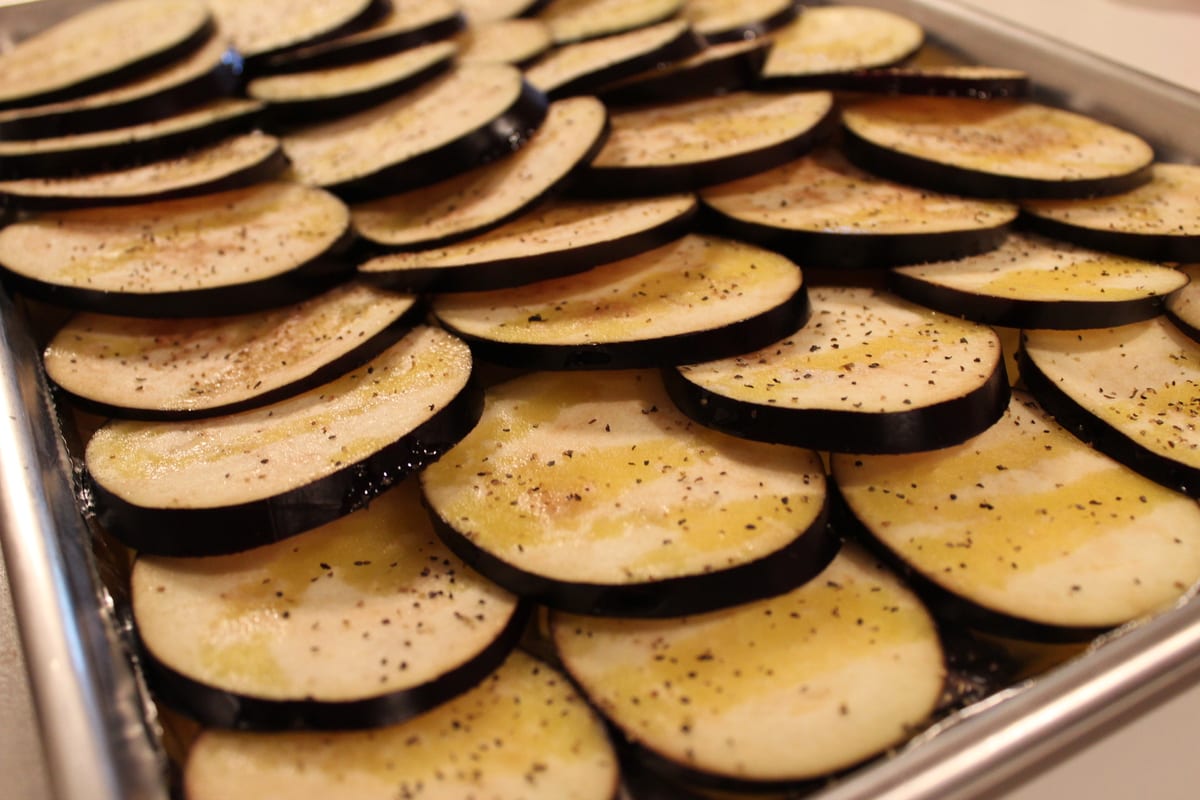 Next, cover the eggplant with foil and roast in the oven at 475°F for 25 minutes.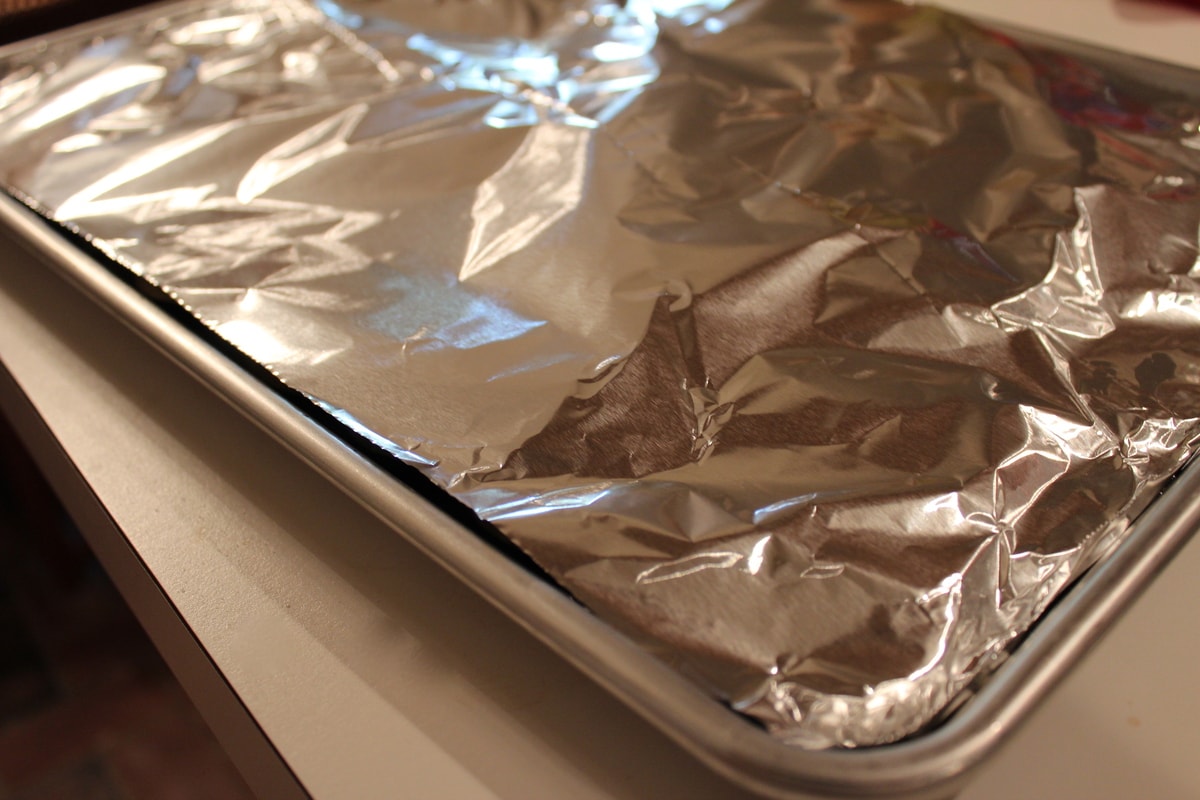 Now cover a baking dish with cooking spray, then sprinkle the breadcrumbs on the bottom to form the crust of the Moussaka.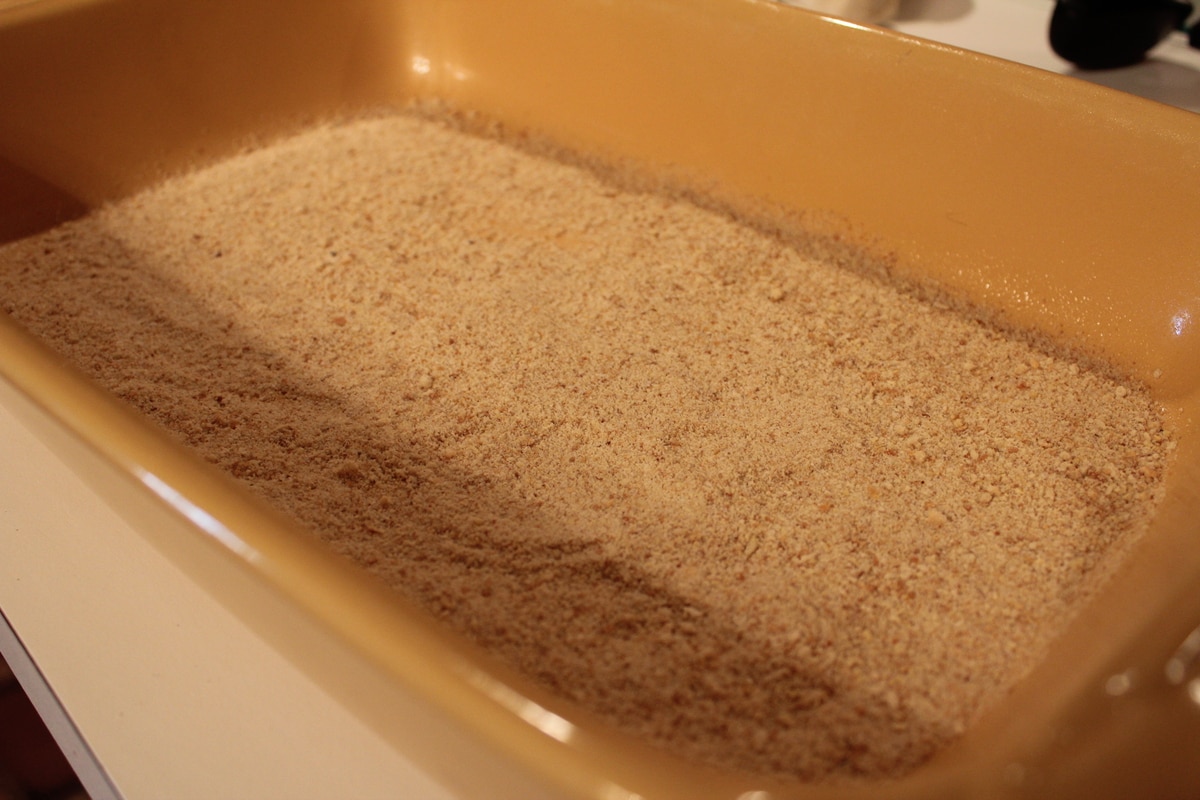 Now begin preparing the meat sauce.
Start by cooking the onion in 2 tbsp olive oil for 3-4 minutes. Next add the garlic, cook for an additional 1-2 minutes then add the ground beef.
Once the ground beef is cooked through add the ground cloves, cinnamon, allspice, oregano and 1/2 tsp black pepper.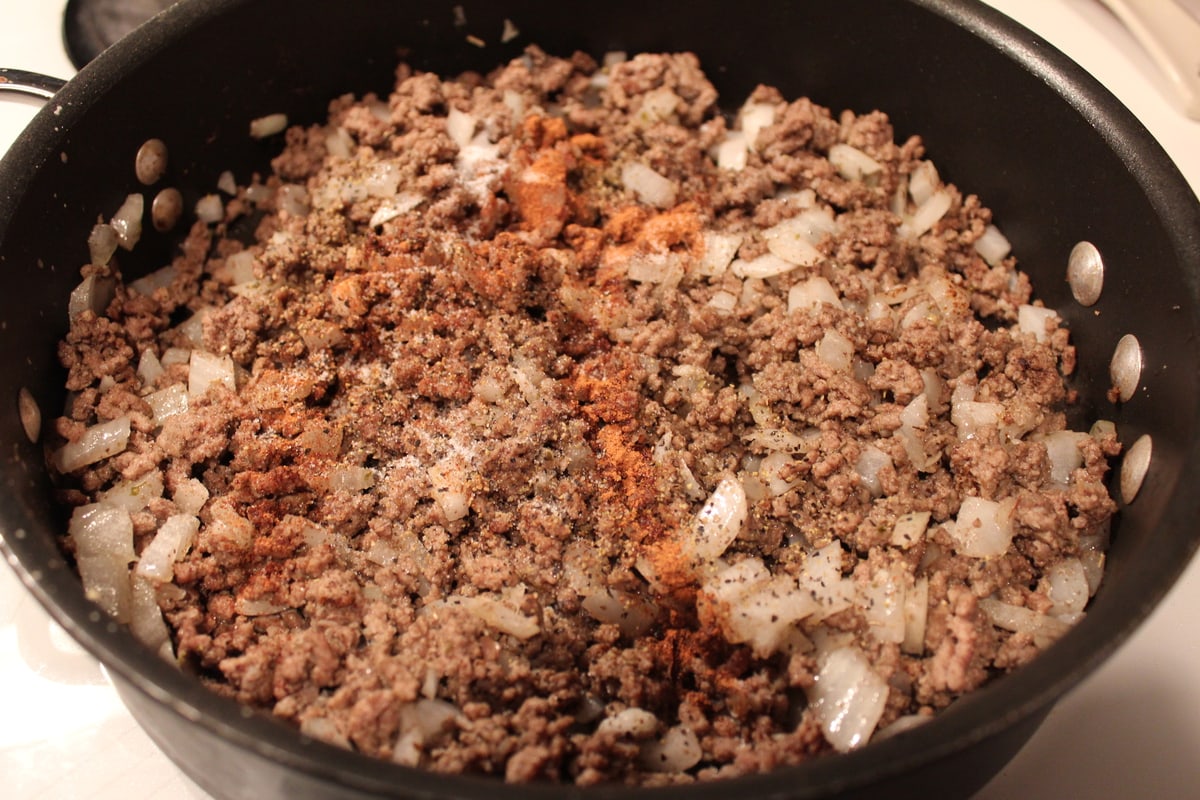 Next add the tomato paste, red wine, tomatoes and bay leafs.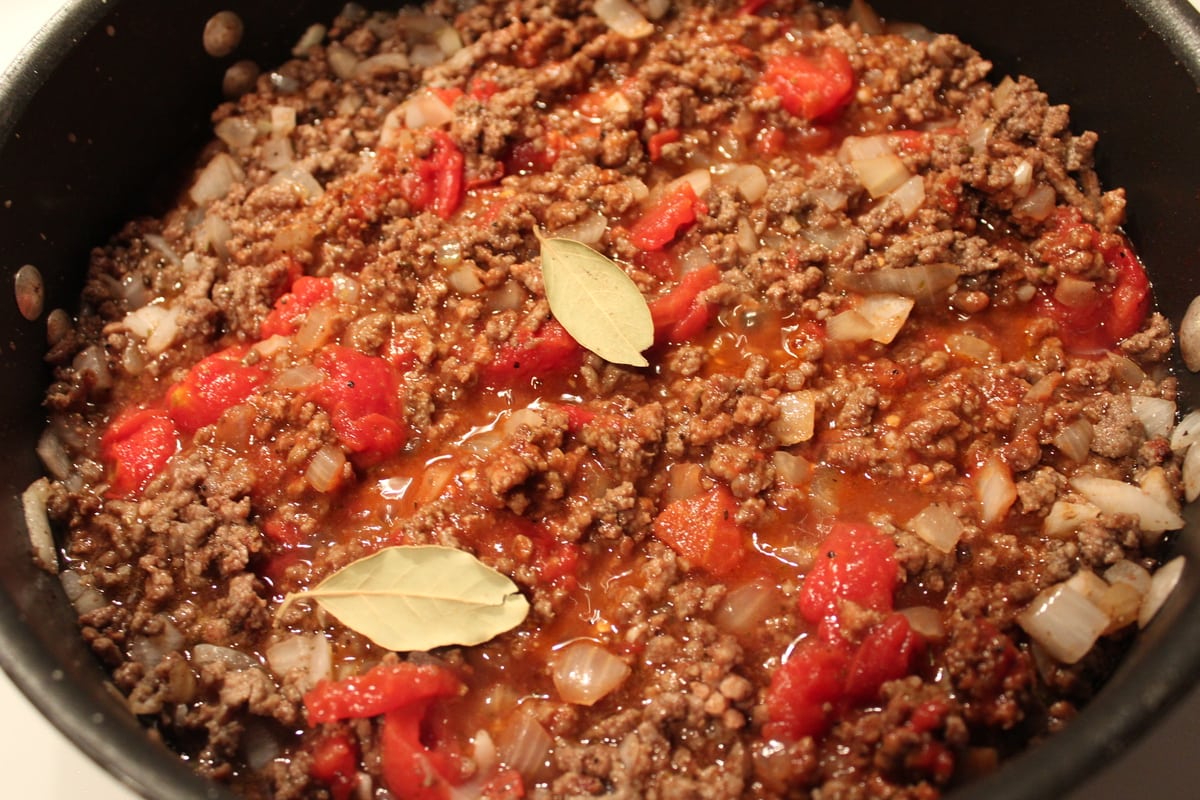 It's about this time the house starts smelling REALLY good! Cover and simmer for 20-25 minutes.
Now begin making the béchamel sauce. Start by melting the butter in a small skillet.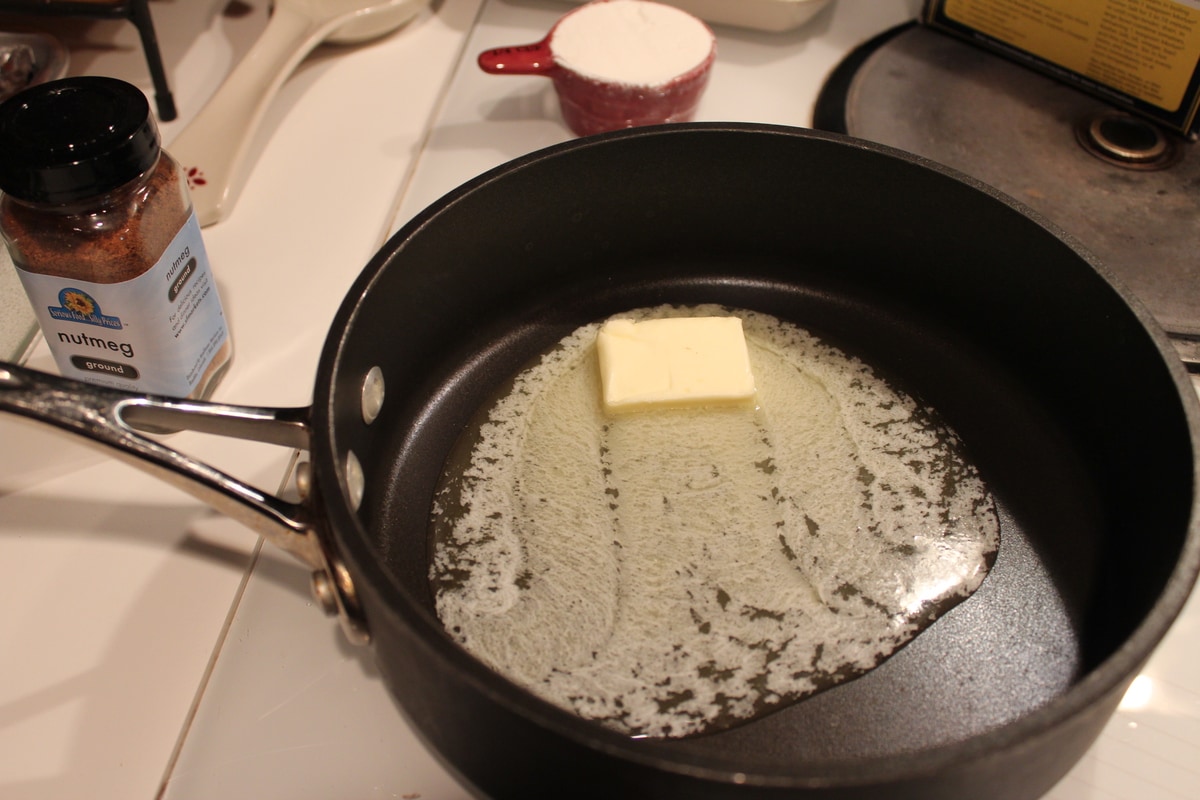 Next, add in the flour and whisk well.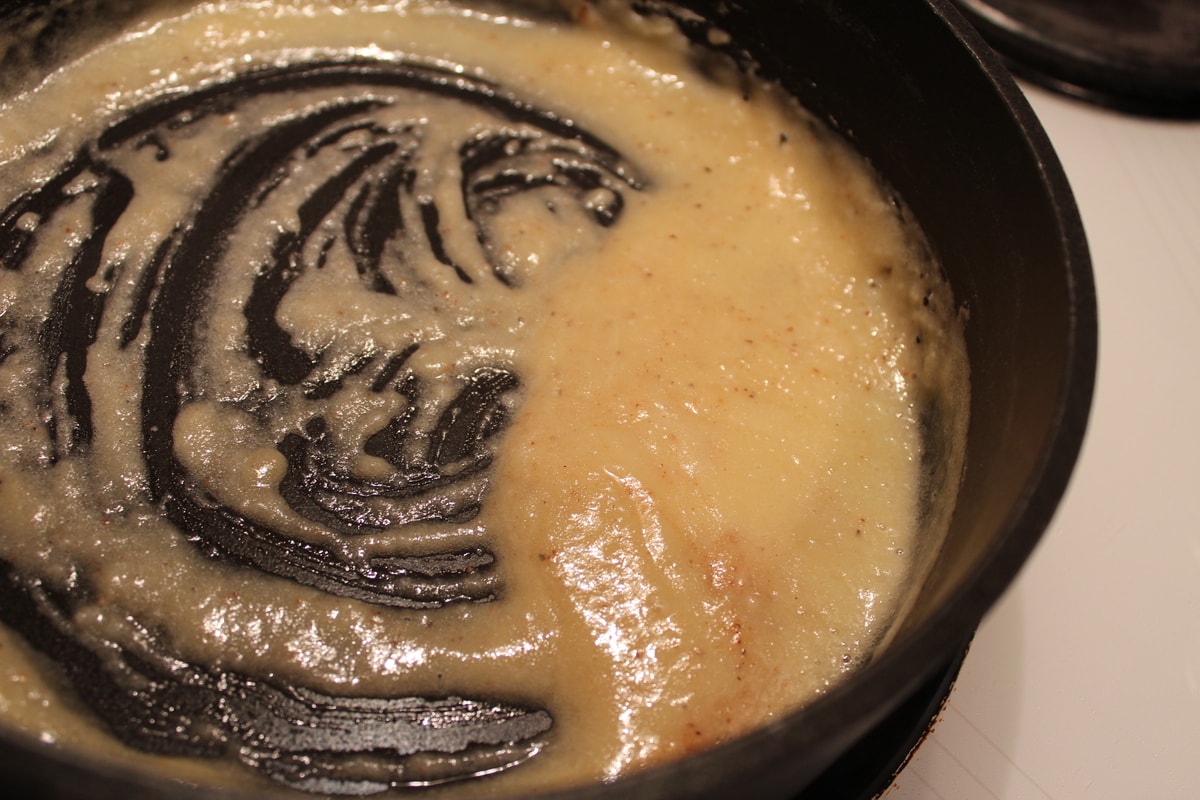 Remove from the heat and add the milk.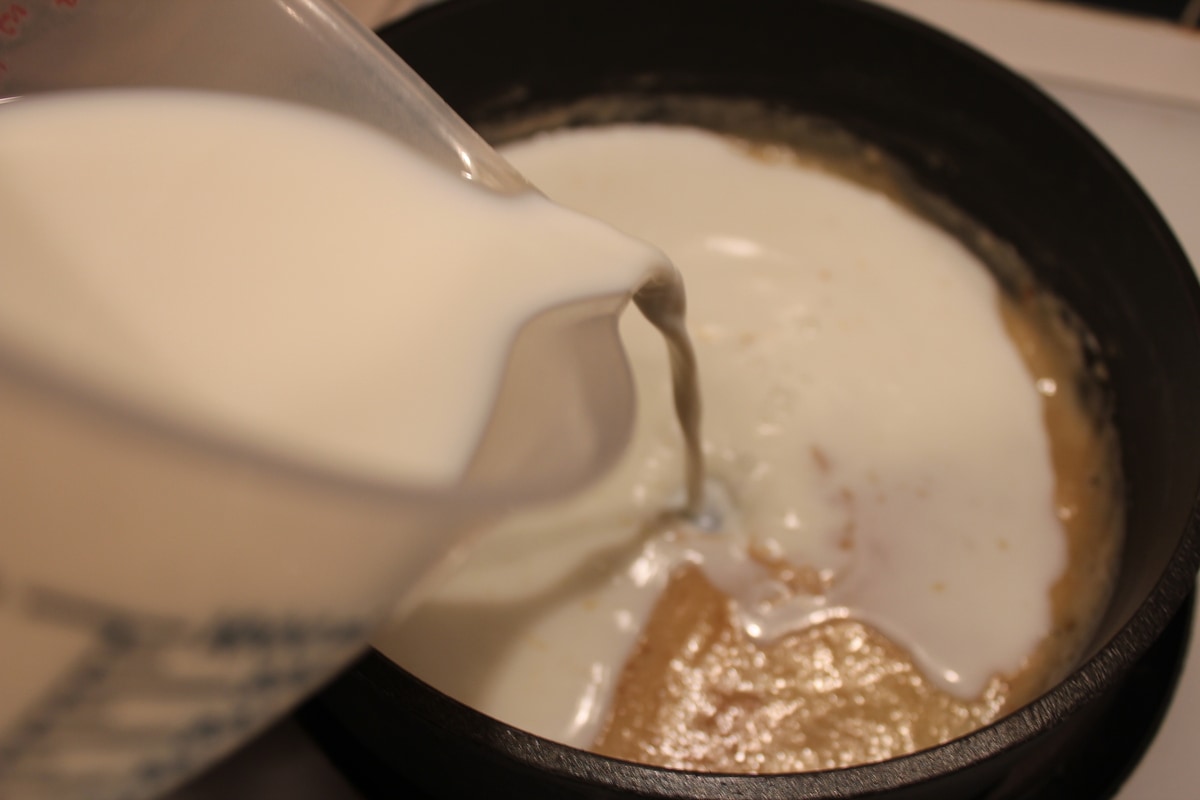 Pour the mixture into a separate container to cool.
While the béchamel sauce is cooling, start assembling the moussaka.
By this time the eggplant should be out of the oven and nicely roasted. Start by layering the slices on top of the bread crumbs.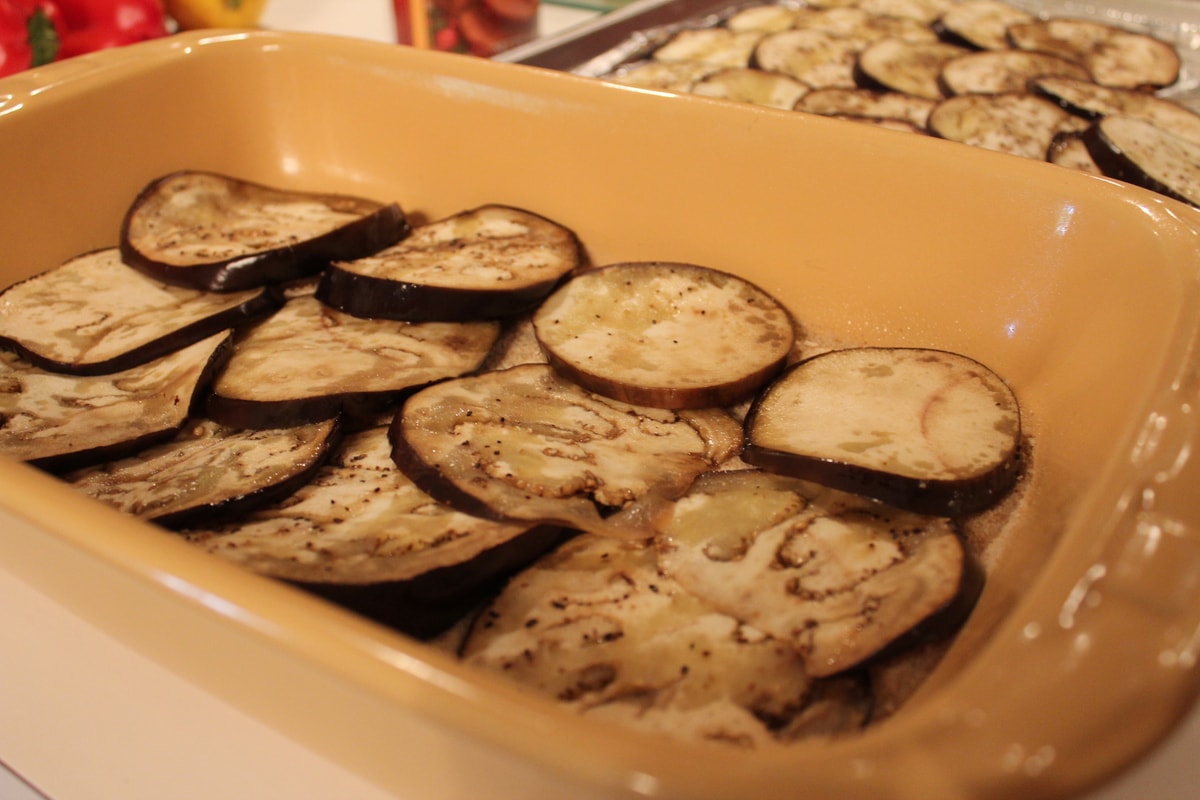 Next, remove the bay leaves from the meat sauce and add a layer to the dish.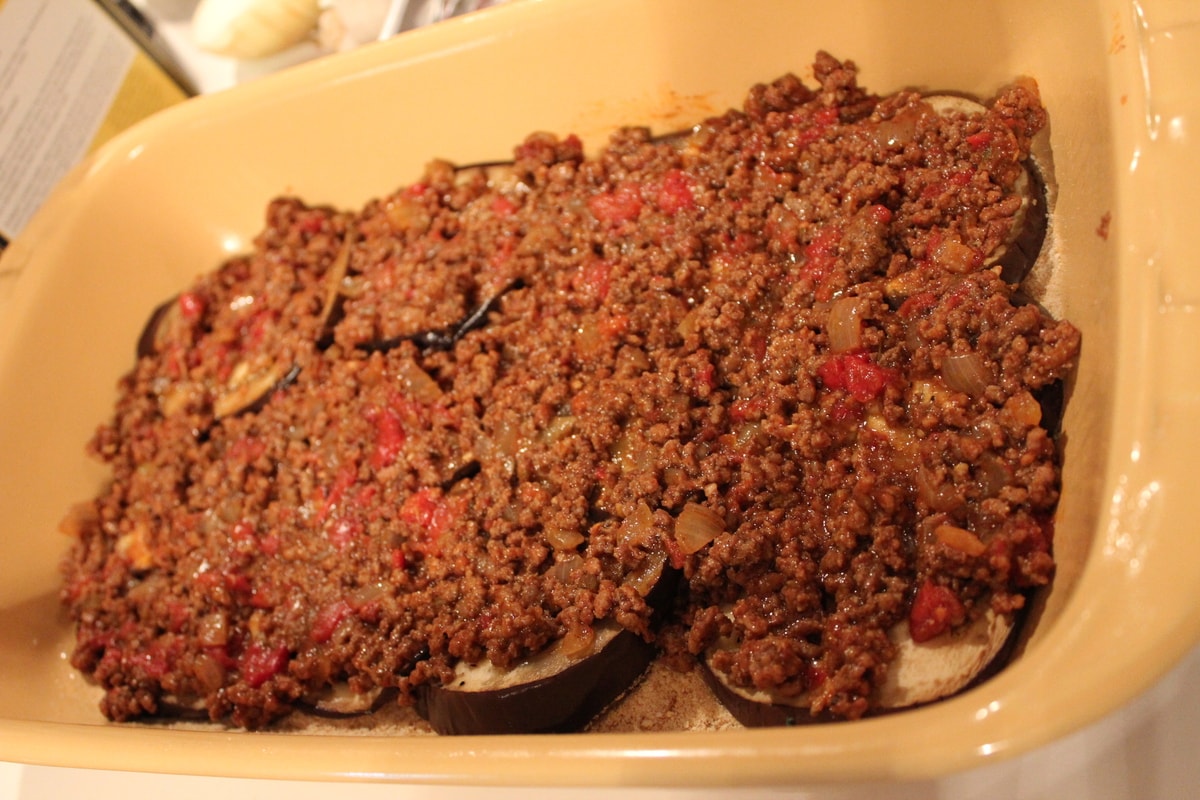 Then, another layer of the eggplant.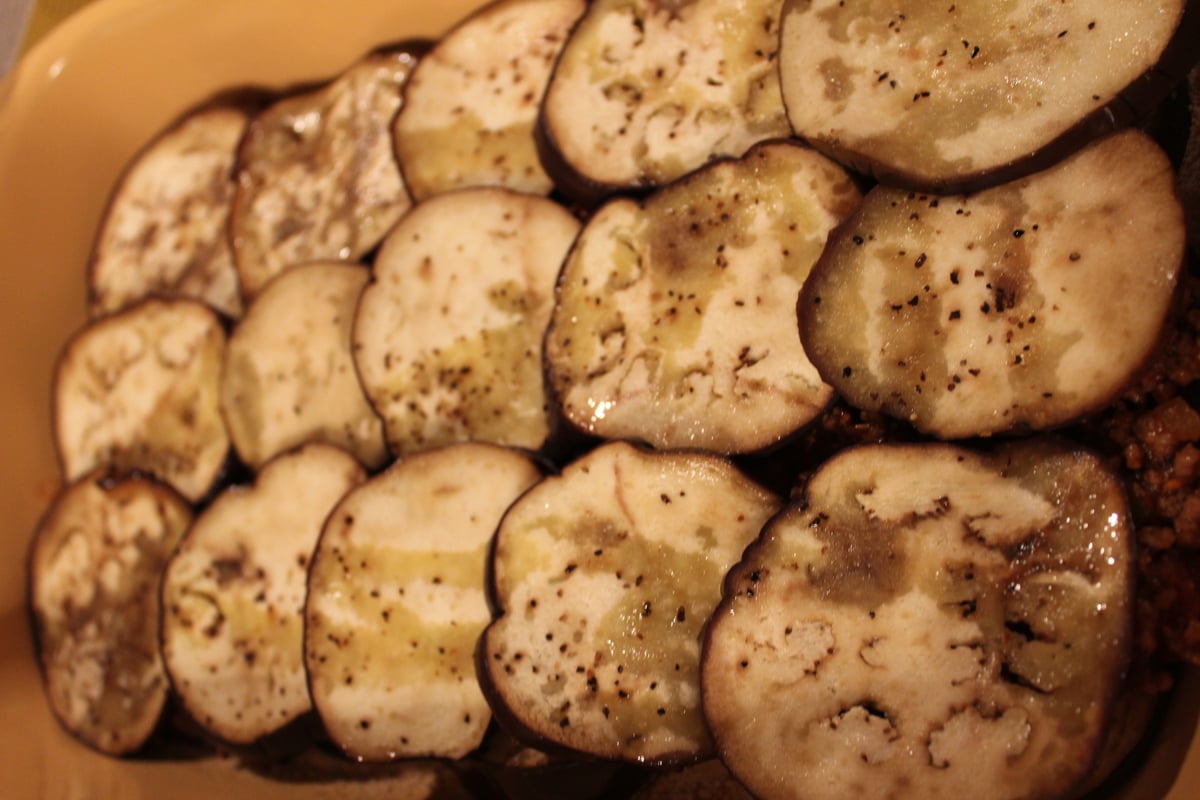 Another layer of meat sauce and then it's time to finish up the béchamel sauce to pour on top.
Once the béchamel mixture is cool, add the egg and egg yolks. Whisk together well then pour on top of the Moussaka.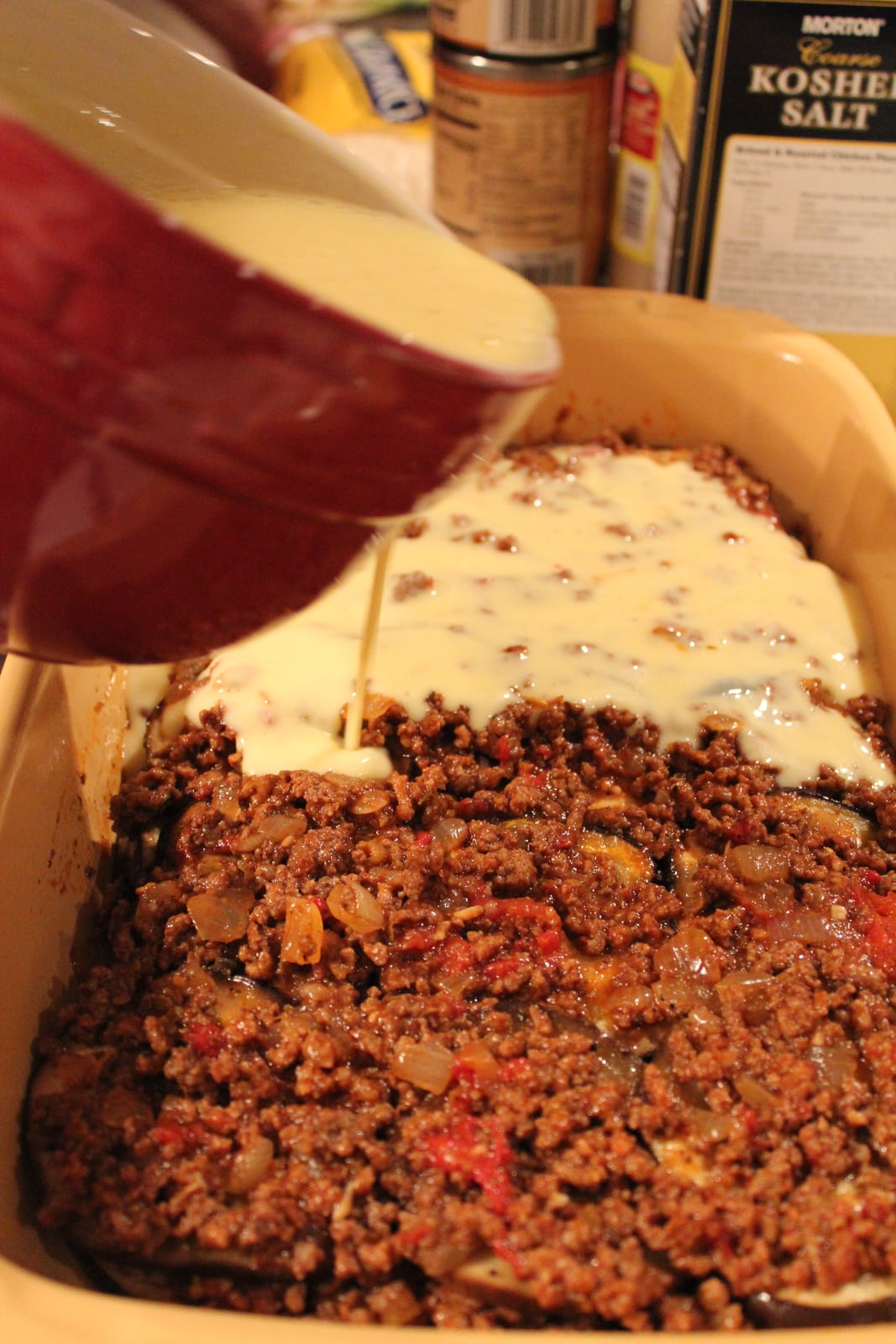 Finally top with the pecorino romano and feta cheese.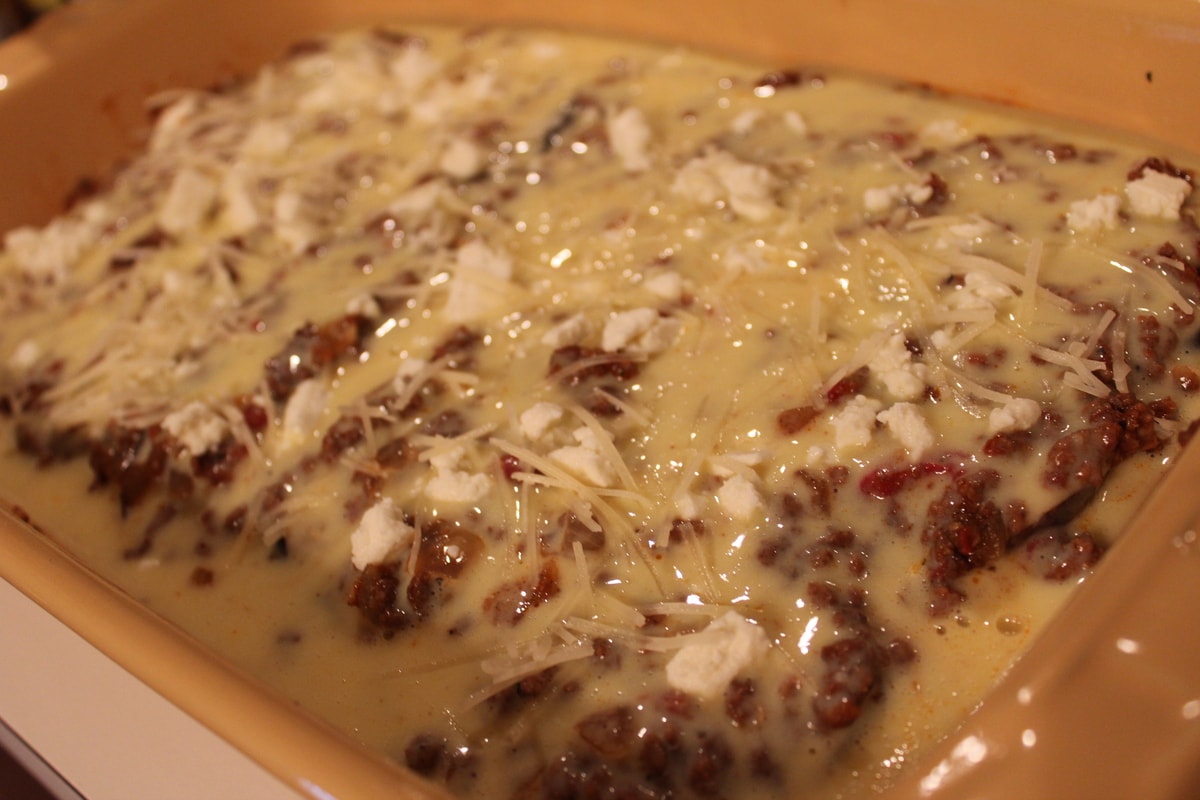 Place in the oven at 350°F for 45 minutes or until the edges begin to brown.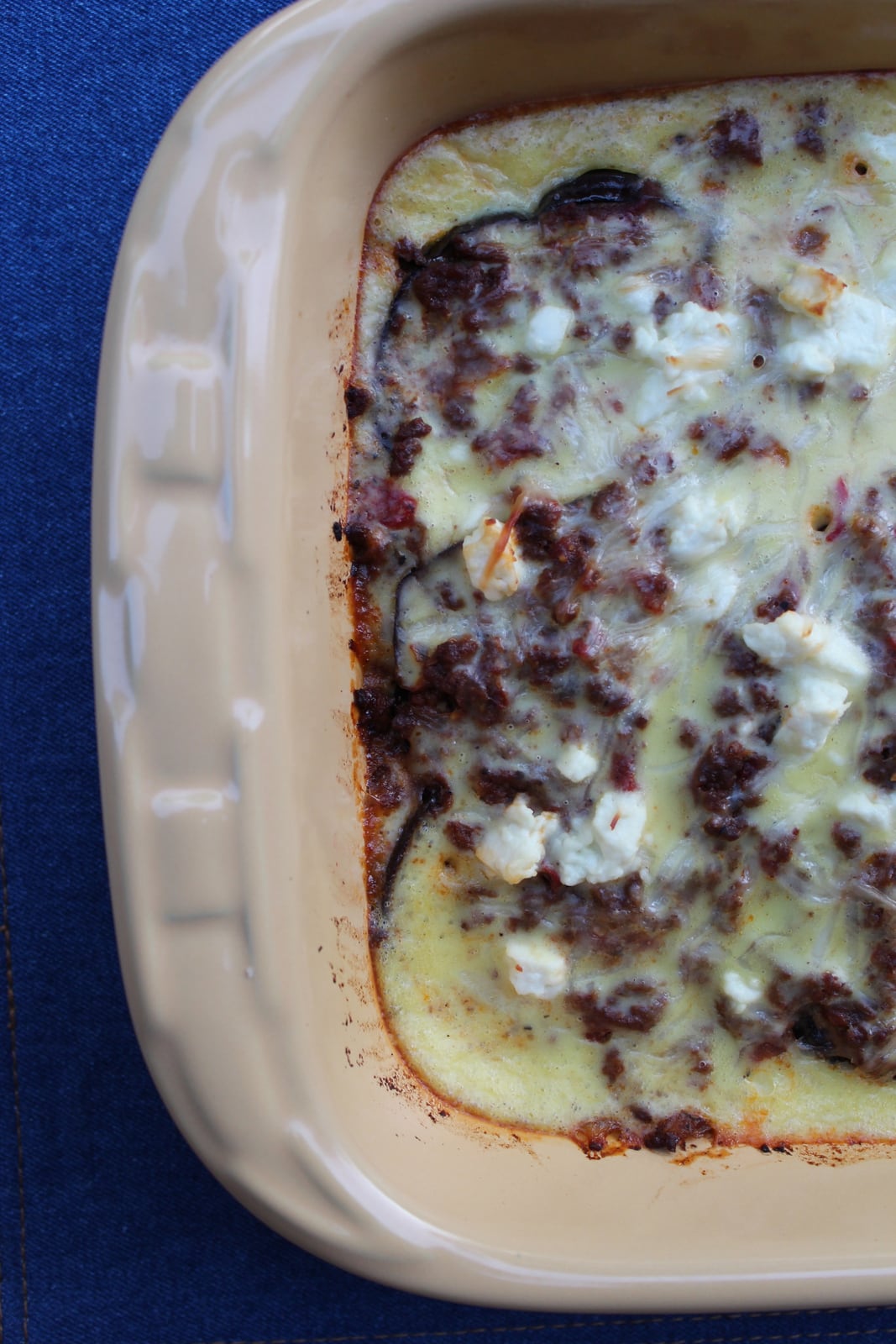 Moussa-mazingness!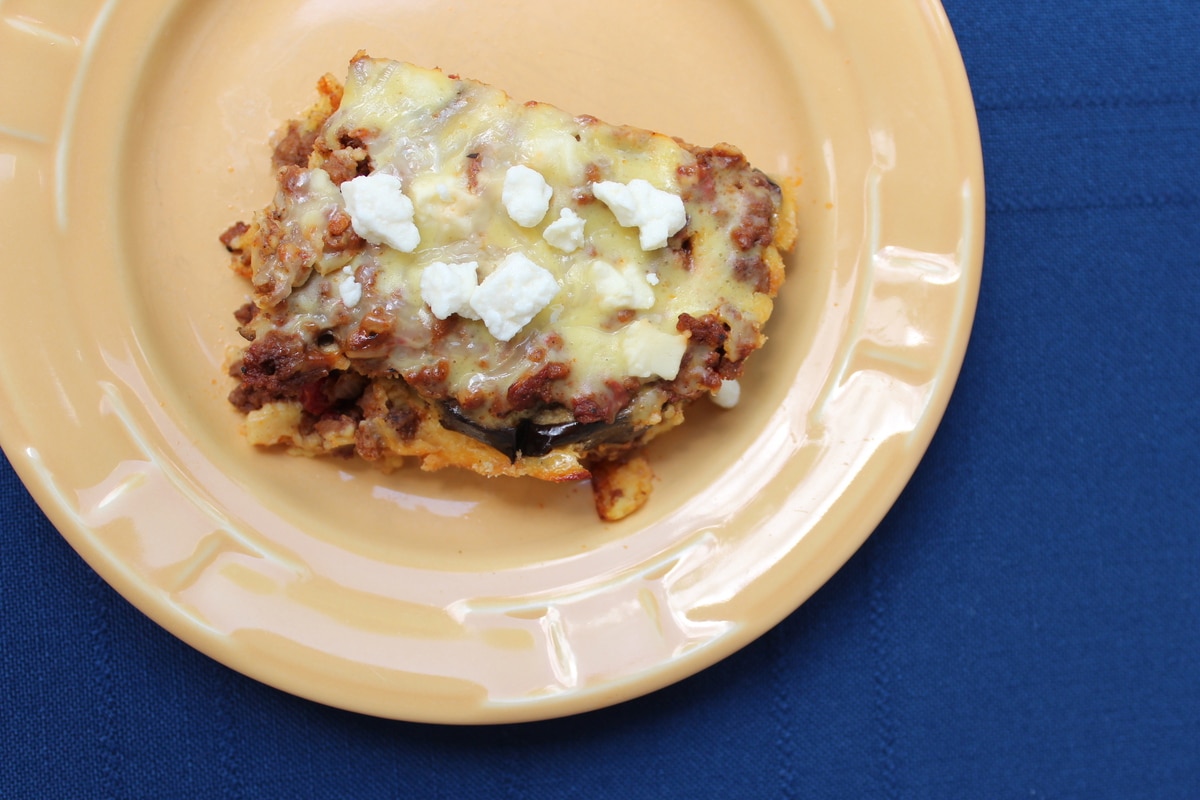 We are a participant in the Amazon Services LLC Associates Program, an affiliate advertising program designed to provide a means for sites to earn advertising fees by advertising and linking to amazon.com.