Hummus Trio
This post may contain affiliate links.
A Greek meal is never complete without a healthy side of hummus, so when preparing my Moussaka I felt it necessary to add just that, a large side of creamy, delicious hummus!
And why stop at one flavor, when you can easily prepare a trio of hummus including roasted garlic, eggplant and red pepper!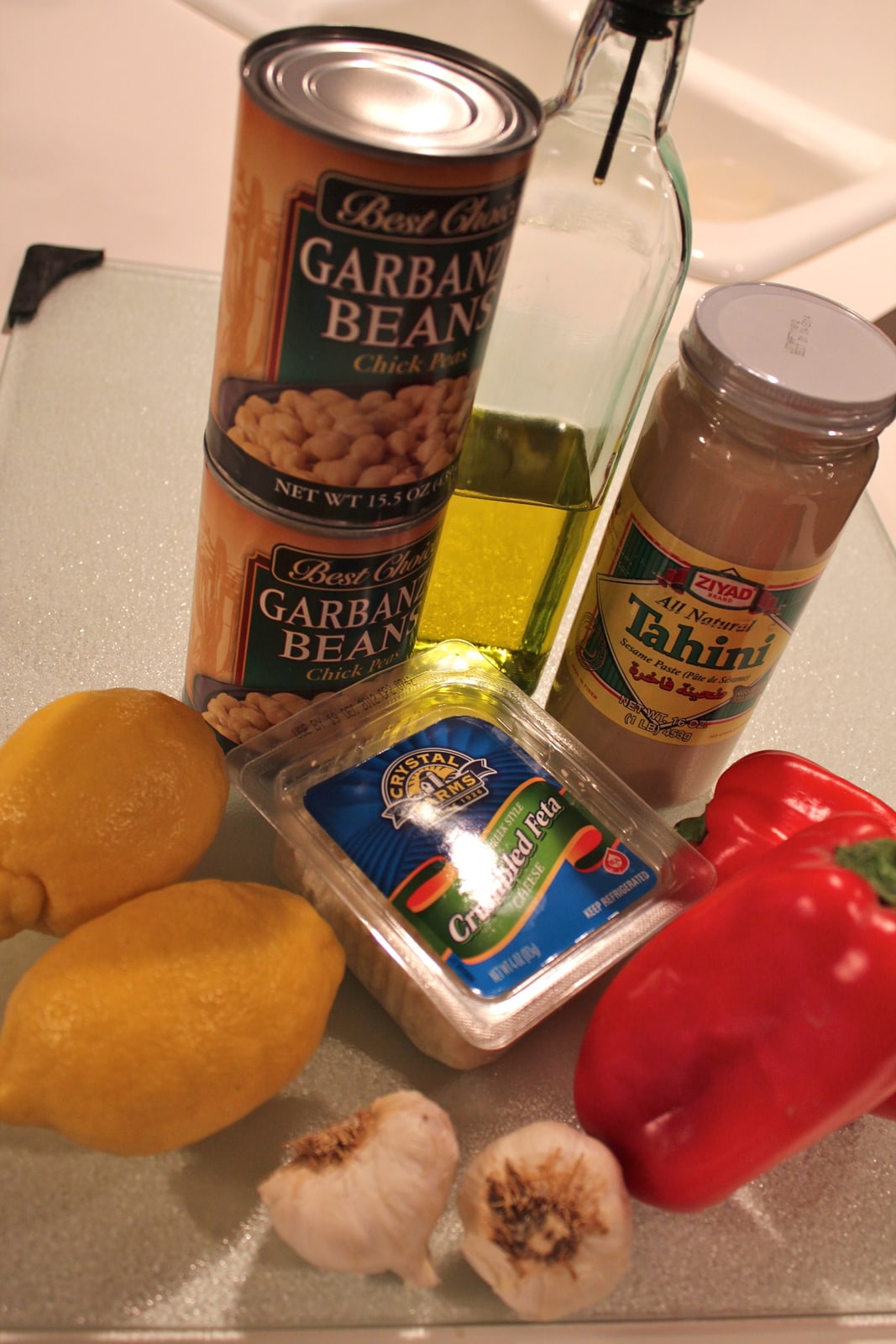 Ingredients
2 15.5 oz cans garbanzo beans (chickpeas)
1 head garlic + 3 additional cloves (separated)
1/4 cup tahini
1/2 cup olive oil
2 lemons (juiced)
1/2 red bell pepper
1 oz feta cheese (for garnish)
1/4 eggplant (not pictured)
Serve With
Baby Carrots
Celery Sticks
Bell Pepper Strips
Warm Pita Bread
Start by chopping off 1/4 inch of the garlic head, drizzling with olive oil and roasting at 400°F for 35-40 minutes.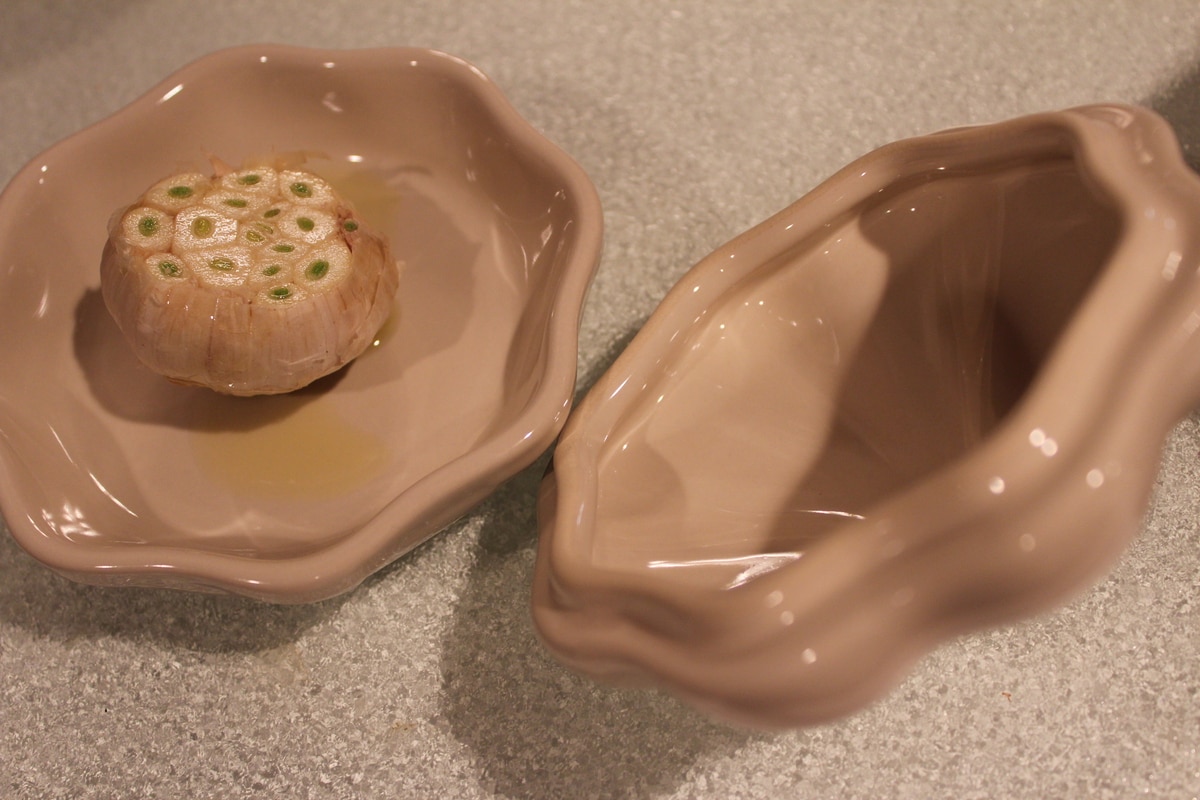 Also roast the 1/2 red bell pepper (reserving 2 small strips for garnish if desired), as well as the eggplant.
To roast the red pepper, simply place the bell pepper half on a baking dish closest to the heat source in the oven.
For the eggplant, peel and slice 1/4 eggplant and place on a baking sheet then drizzle with olive oil, salt and pepper. Roast each in the 400°F oven for 35-40 minutes.
Next, begin preparing the hummus by draining and rinsing the garbanzo beans, then placing them in a food processor.
Add the 3 cloves of garlic (minced), olive oil, lemon juice and tahini. Blend until a thick puree forms.
Next, separate the prepared hummus into three bowls to make each individual flavor.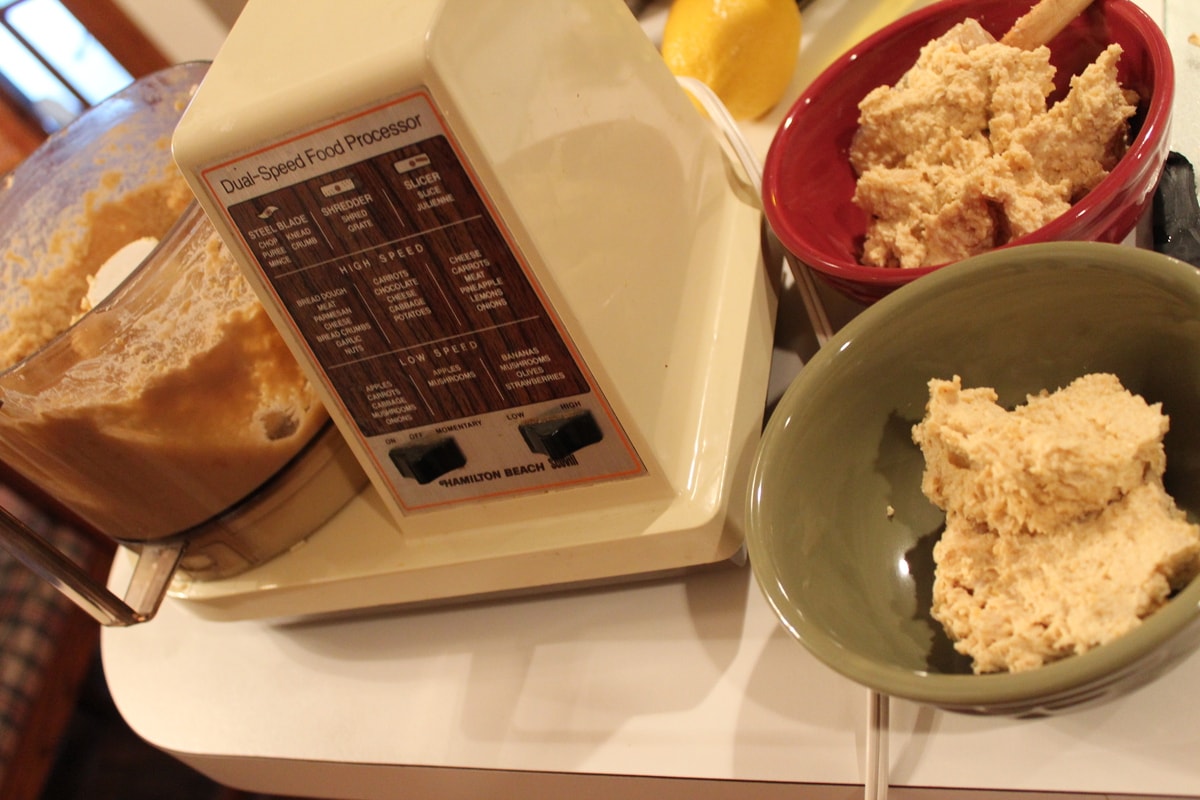 Remove the roasted vegetables from the oven. Allow to cool then peel the blackened skin off of the red pepper and chop into small pieces. Place into the food processor with 1/3 of the hummus mixture and puree until smooth.
For the eggplant hummus (also known as Baba Ganoush) chop the roasted eggplant and add to another 1/3 of hummus mixture. Puree again until smooth.
For the roasted garlic hummus. Peel the garlic and add the cloves to the final 1/3 of hummus mixture and puree.
Top the eggplant hummus with feta cheese, the roasted red pepper with the reserved red pepper strips and green pepper strips for the roasted garlic.
Serve with both vegetables and warm pita bread triangles on the side for dipping.
This is a fun and easy appetizer or a great entertaining party dish! I also love to make these and chill them in the refrigerator for a healthy and delicious snack during the week!
We are a participant in the Amazon Services LLC Associates Program, an affiliate advertising program designed to provide a means for sites to earn advertising fees by advertising and linking to amazon.com.