Sausage and Peppers
This post may contain affiliate links.
This recipe for Sausage and Peppers is easy to make in 15 minutes for a quick and simple meal, made with Italian sausage, sauteed bell peppers and onions. Serve the sausage and peppers in an Italian roll to make a scrumptious sandwich, or with pasta for a delicious dinner!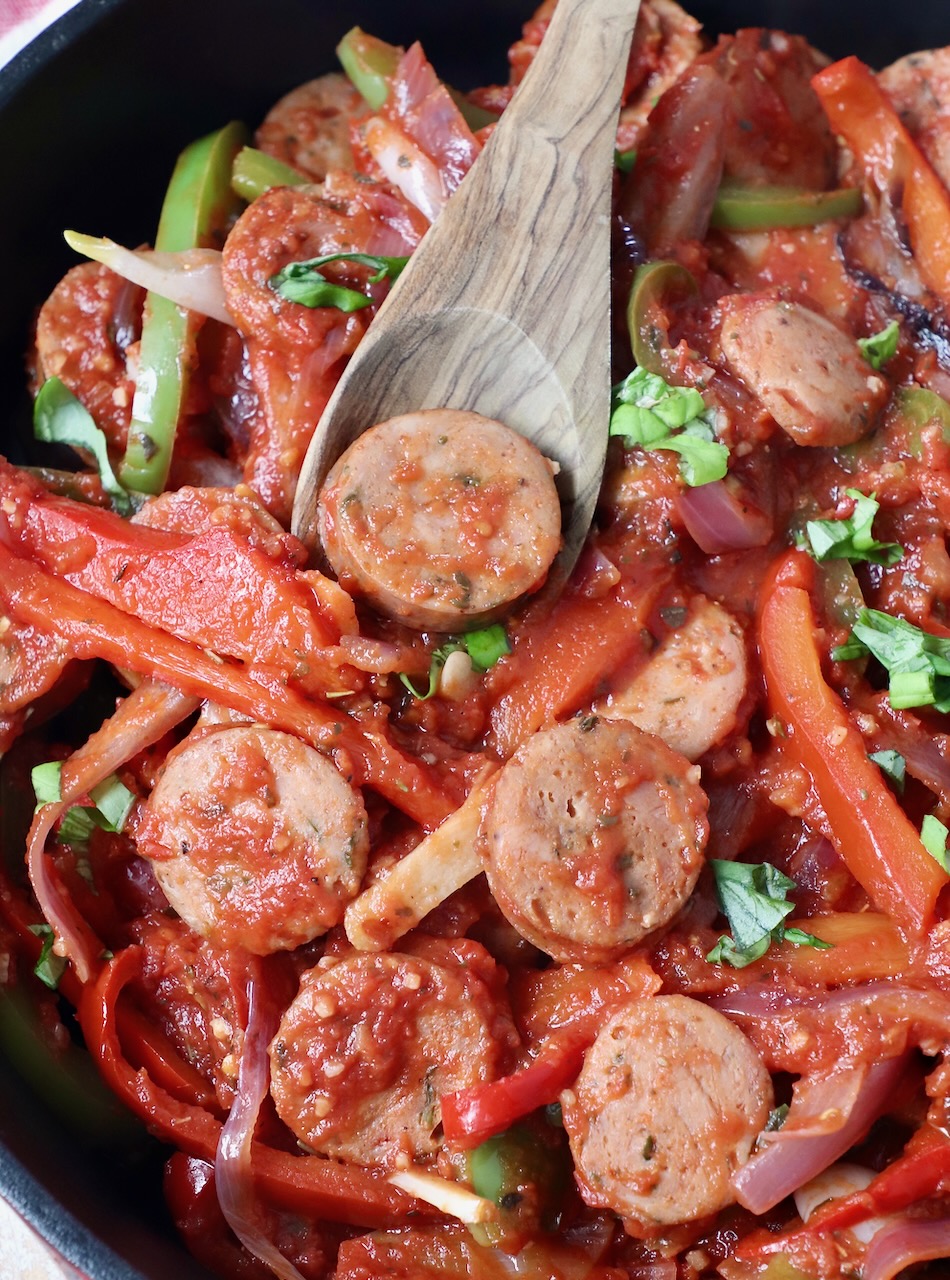 Italian food is one of my favorite types of cuisines. From lasagna, to pizza, to meatballs, I don't think I've ever come across an Italian dish that I didn't love. The same is true for Italian sausage. It's one of my favorite ingredients and I love how it shines through in this Italian sausage and peppers recipe!
This is my go-to lazy weeknight meal to pair with pasta. It's so easy to make in 15 minutes and always a hit in my house! This dish is flavorful, simple and made with only 7 ingredients in one pan, so go ahead and toss it on the menu for dinner tonight!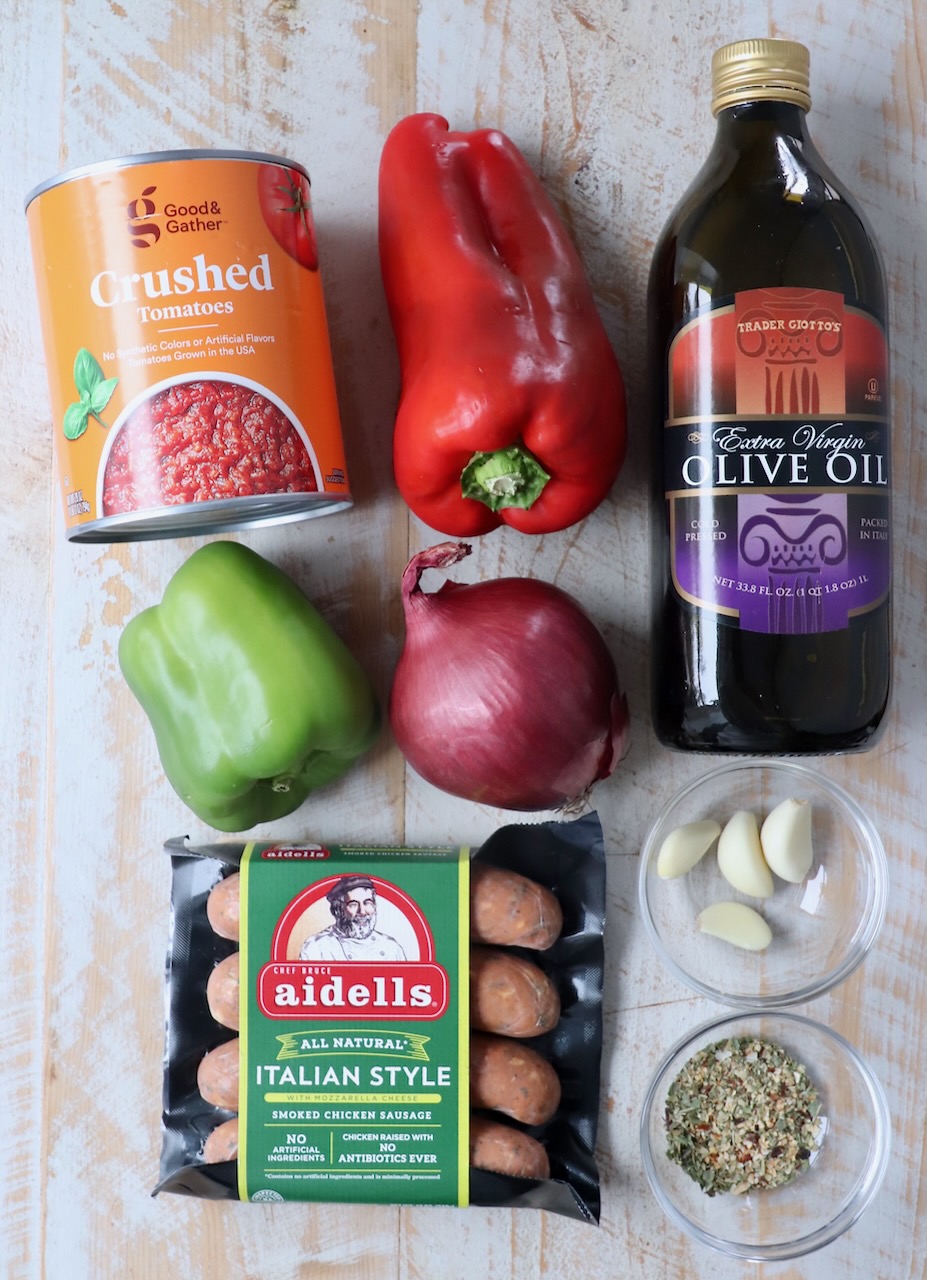 Ingredients
Olive oil – or another neutral vegetable oil, like avocado or canola oil, will work for this recipe.
Bell peppers – feel free to use any color of bell pepper in this recipe. I like to use a combination of half red and half green to make the dish more colorful, but you can simply use one color if that's what you have on hand.
Onion – red or yellow onions will work well in this recipe. They have a similar flavor, so I like to use the red onions for an extra pop of color.
Garlic – I recommend fresh cloves for the best flavor.
Italian sausage links – I recommend using fully cooked sausages, so you're simply heating them up in this recipe. If using uncooked link sausages, be sure to add 10-12 minutes to the cooking time. Use your favorite Italian sausage. This can be pork, turkey or chicken, hot, mild or sweet, whatever your preference!
Crushed tomatoes
Italian seasoning – I always recommend my homemade seasoning mix for the best taste. It's easy to toss together in 5 minutes and keep in your pantry for up to 6 months. Click the link above for the recipe. Of course, you can also purchase prepared Italian seasoning in the spice aisle at the grocery store.
Instructions
I've included step by step photos below to make this recipe super easy to follow at home. For the full detailed recipe instructions and ingredient quantities, scroll to the recipe card at the bottom of this post.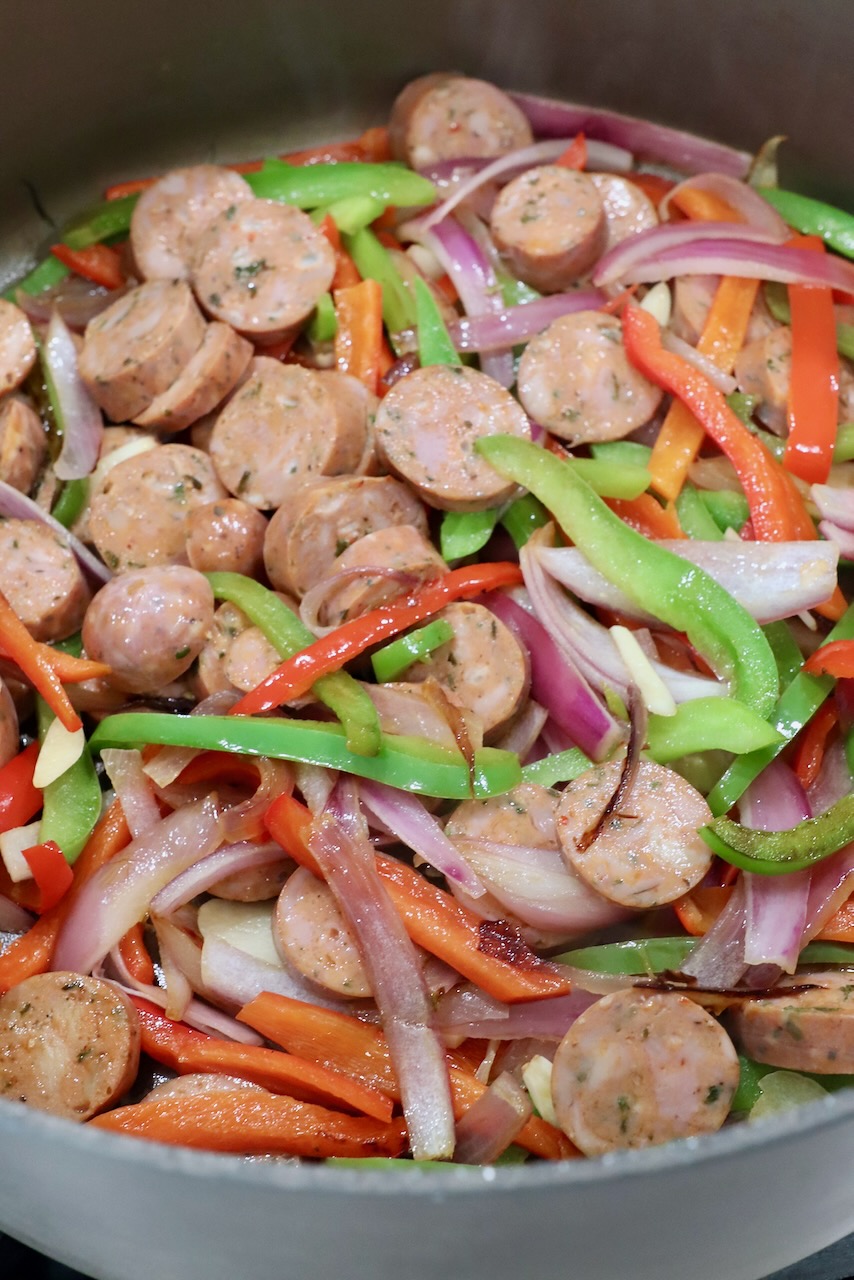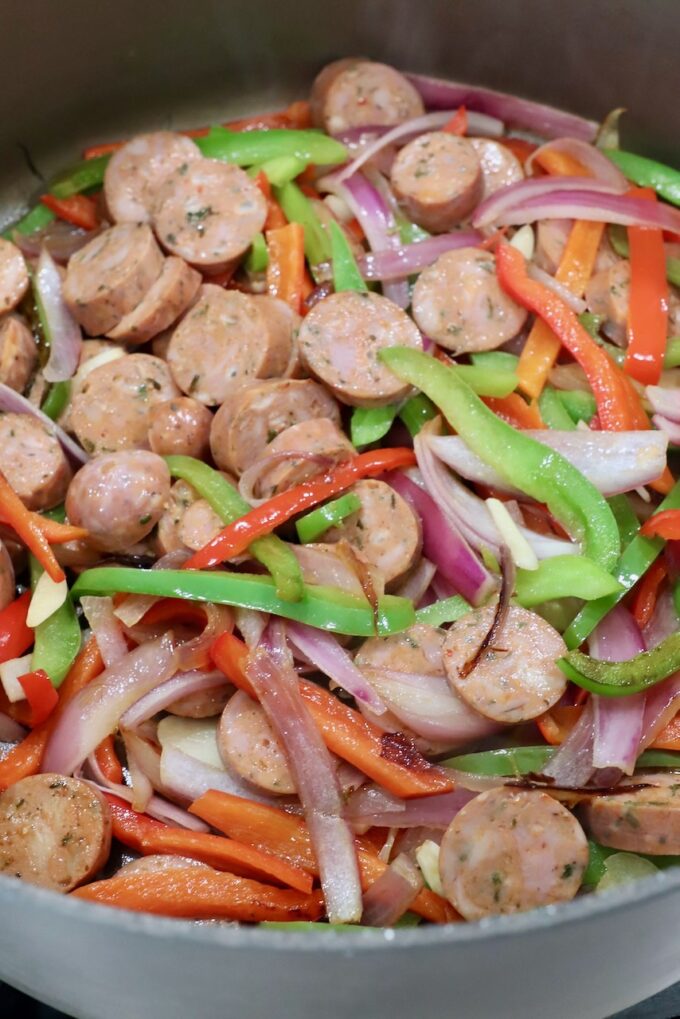 Cook the veggies. Heat olive oil in a large skillet, or dutch oven, on the stove over medium-high heat. Add sliced bell peppers and onions, cook for 4-5 minutes, stirring occasionally. Add in sliced garlic and cook for an additional minute.
Cook the sausage. Add the sliced Italian sausage to the pan with the peppers and onions. Cook for 3-4 minutes, if using fully cooked sausages. If using uncooked sausages, add 10-12 minutes to the cooking time.
Add in tomatoes and season. Pour a can of crushed tomatoes in the pan with the sausage and peppers. Add Italian seasoning and toss to combine all of the ingredients. Simmer the sausage in the tomato sauce for 3-4 minutes.
Serve the sausage and peppers. Remove the pan from the heat on the stove and serve the sausage and peppers immediately.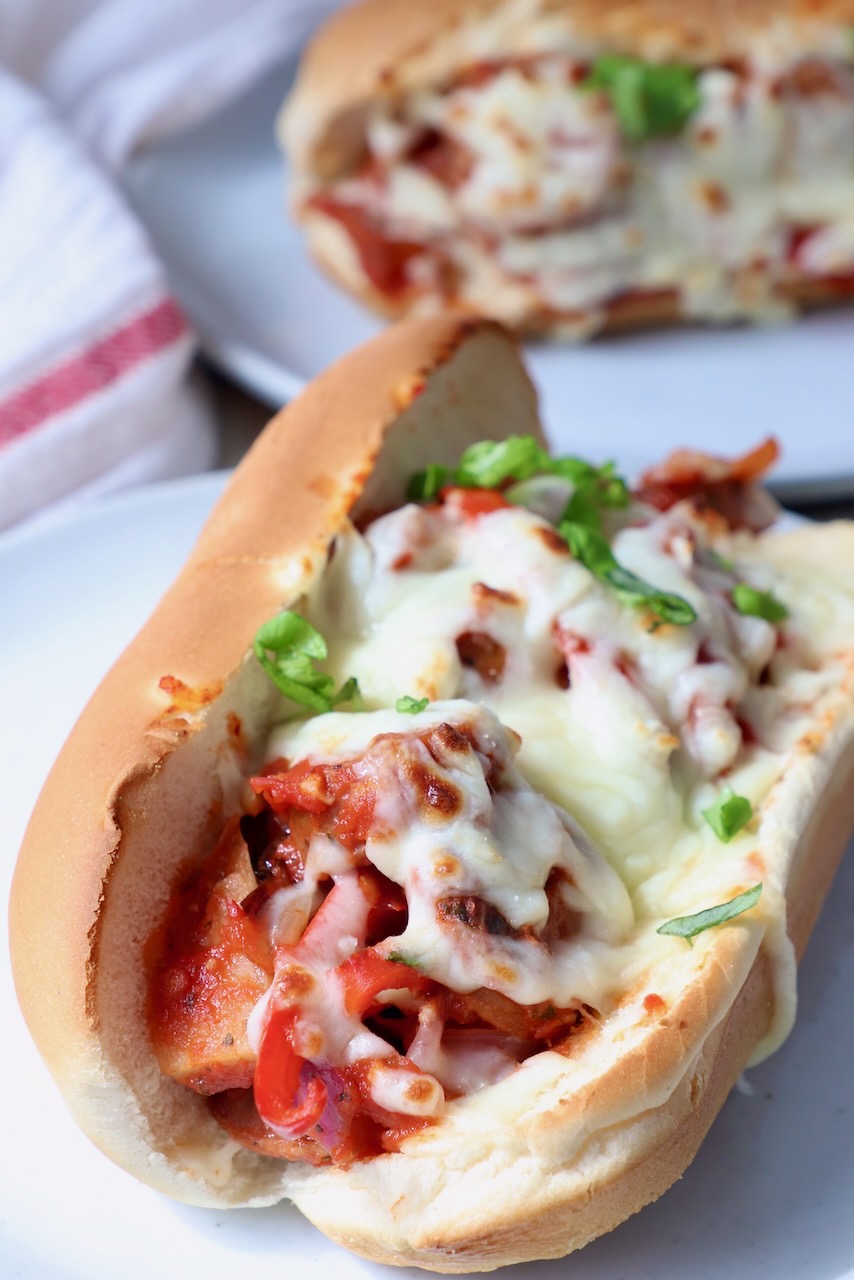 Additions and substitutions
Spinach – feel free to stir in 1 cup of fresh spinach leaves during the last minute of cooking.
Basil leaves – another fresh and flavorful addition that should be added during the last minute of cooking time.
Heavy cream – if you're adding the sausage and peppers to pasta, stir in 1/2 cup heavy cream to make a creamy pasta dish.
Broccoli – steam 1 cup of broccoli florets, then stir them into the dish during the last 1-2 minutes of cooking time.
Plant-based Italian sausage – sub in a meatless Italian sausage to make this recipe vegetarian, and vegan.
Storage and reheating
Leftover sausage and peppers will stay good in the refrigerator for up to 5 days. Reheat the dish in a skillet on the stove, over medium heat for 5-7 minutes, or in the microwave for 2 minutes.
Pro tips
To spice up this dish, use hot Italian sausage and add 1 teaspoon red pepper flakes with the crushed tomatoes.
This recipe is gluten free. Always make sure that the sausage used is labeled gluten-free. Serve the dish with gluten free pasta, mashed potatoes or risotto.
If you want to grill the sausages, instead of cooking them on the stove, heat a grill to medium-high heat. Grill fully cooked sausages whole for 6-8 minutes, or uncooked sausages whole for 18-20 minutes. Remove the sausages from the grill and slice them up. Cook the peppers, onions and garlic in a skillet on the stove, add the sliced grilled peppers, then add the tomatoes and Italian seasoning. Simmer the sausages for 4-6 minutes in the sauce, then serve.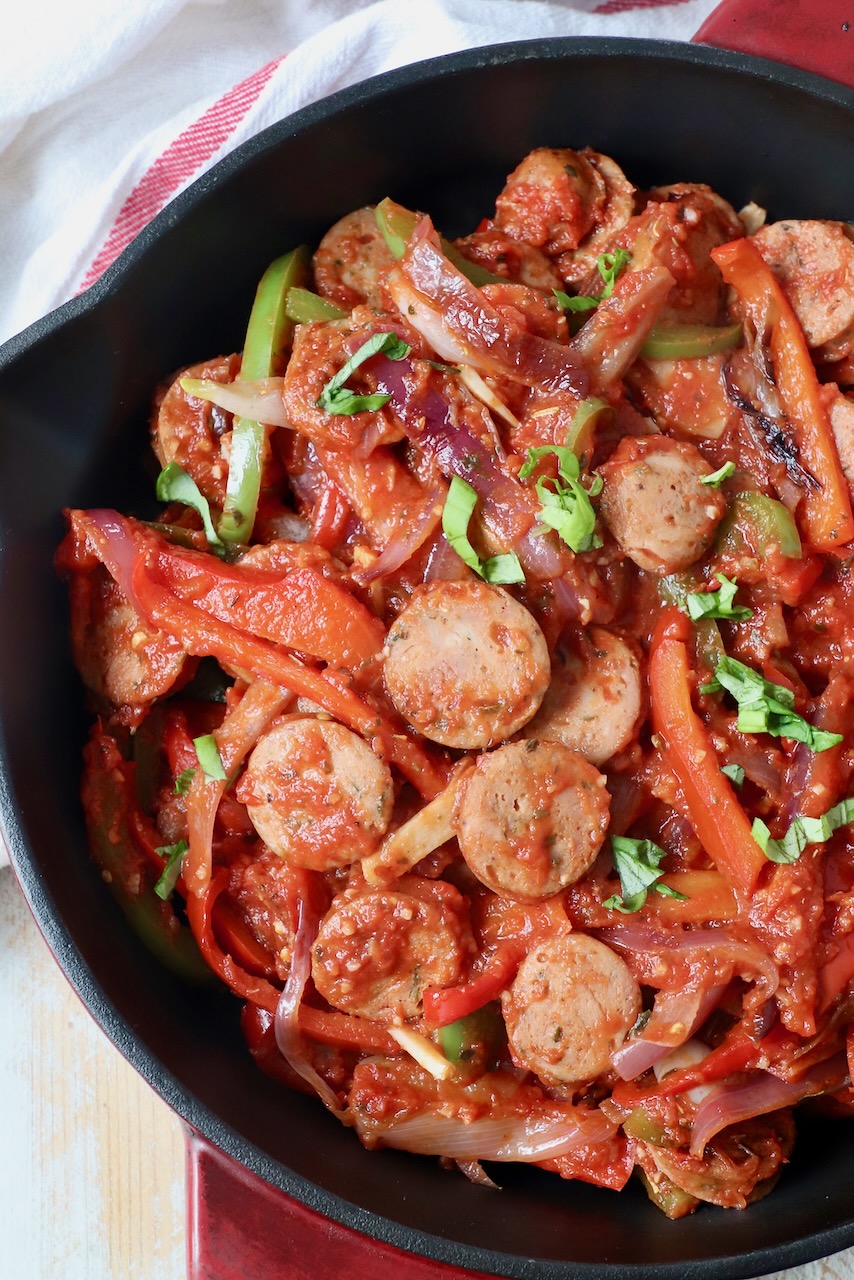 We are a participant in the Amazon Services LLC Associates Program, an affiliate advertising program designed to provide a means for sites to earn advertising fees by advertising and linking to amazon.com.