Vegetarian Burrito Bowl
This post may contain affiliate links.
Make THE BEST high protein Vegetarian Burrito Bowl, with plant based protein from soyrizo, black beans and rice. Each bowl is gluten free, vegan and contains 25 grams of protein. If you love Chipotle's Sofritas Bowl, then you're going to love this healthy, easy recipe, perfect for meal prep!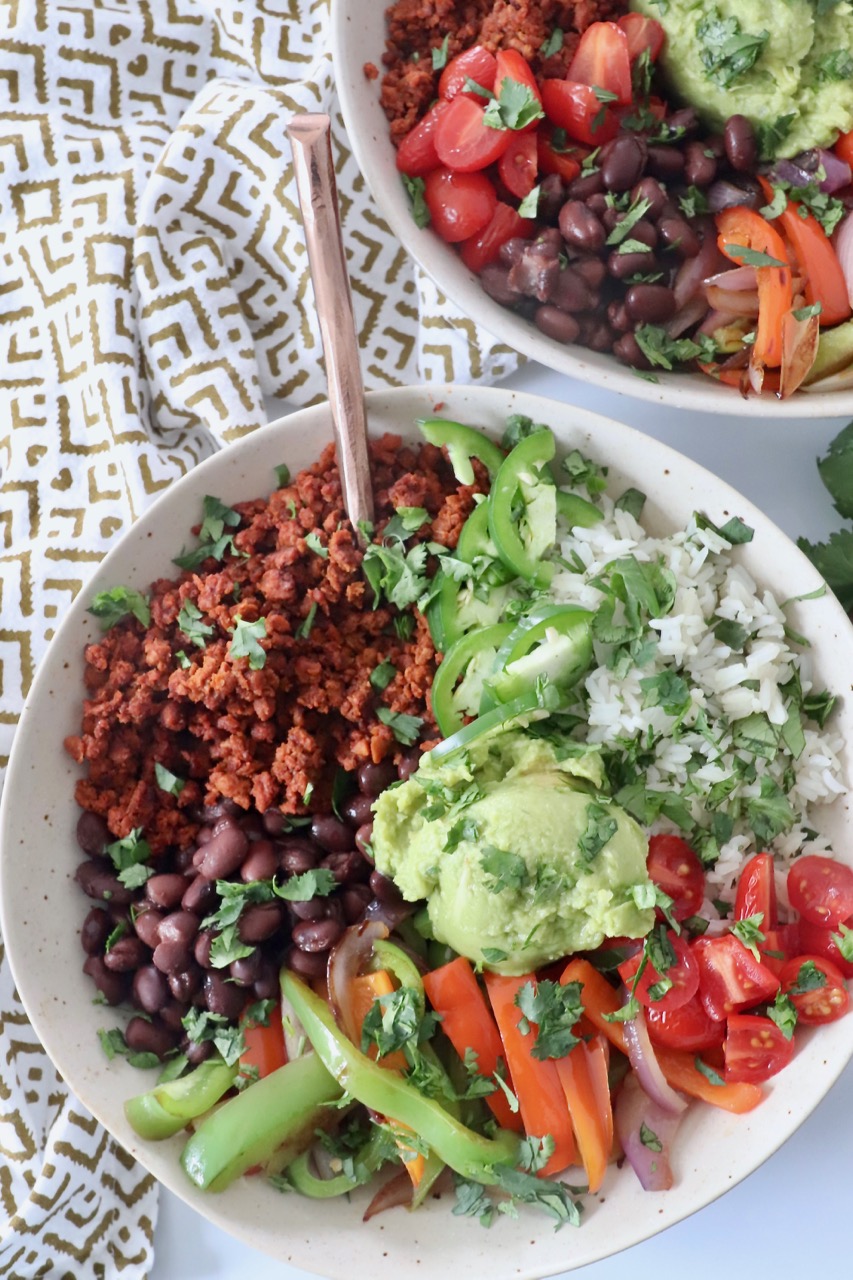 It only takes 24 minutes to make these incredibly flavorful vegetarian burrito bowls! That's quicker than driving to Chipotle and picking up dinner. Plus, these burrito bowls are loaded with healthy ingredients that provide protein, vitamins and minerals, to fill you up.
You can even meal prep these bowls in advance for easy and delicious lunches throughout the week. Customize these bowls with all of your favorite burrito toppings. In my house, guac is always included!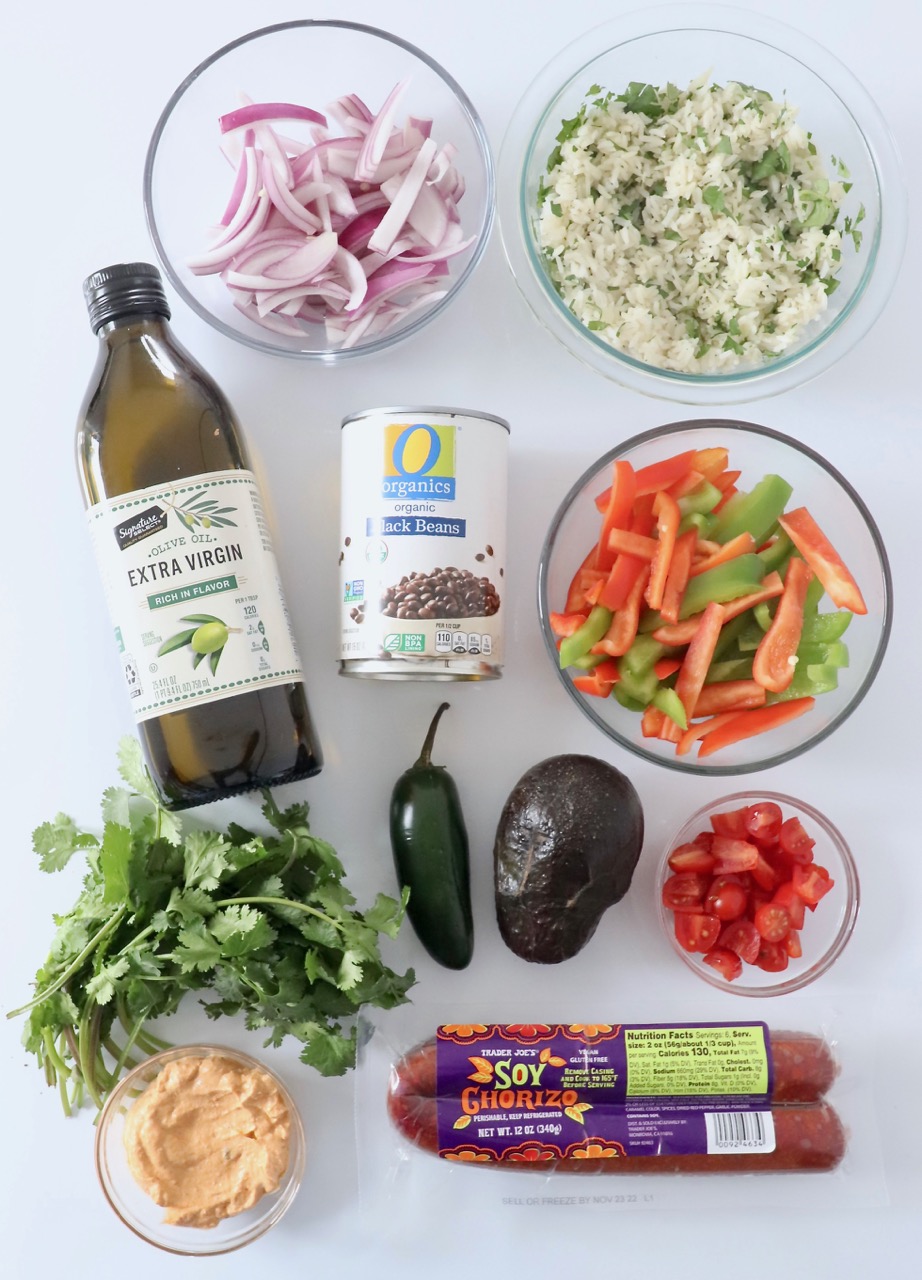 Ingredients
Olive oil – the neutral flavor of extra virgin olive oil is ideal, but any other mild tasting oil may be used as well.
Bell peppers – thinly slice the peppers and discard the seeds and white ribs. Use a variety of red bell peppers and green bell peppers for a variety of flavor and an extra pop of color. Feel free to also include yellow or orange peppers, if you prefer.
Onion – slice these as thin as the bell peppers. I like using red onion for the taste, but you can substitute any other medium sized onion, such as yellow or white.
Soyrizo – this vegan chorizo alternative can be found in the refrigerated section of the grocery store, usually in the produce section, next to the tofu and tempeh. If you have a Trader Joe's in your area, I highly recommend their soy chorizo, as seen pictured above.
Cilantro lime rice – cook the rice in advance to keep this recipe extra quick and easy! You can also make Cilantro Lime Cauliflower Rice for a lower carb option.
Black beans – drain and rinse a can of beans to keep this recipe super easy.
Tomato – feel free to choose your favorite tomato variety. For this recipe, I used cherry tomatoes and cut them into quarters.
Jalapeño – thinly slice the peppers to add some heat on top of the bowls. Leave the membrane and seeds, or discard them to make it more mild.
Guacamole – I love topping these burrito bowls with fresh homemade guacamole, but you can also get that creamy finish with thinly sliced avocado.
Cilantro – pick the leaves off of the fresh cilantro stems before chopping them up to add to the bowls.
Vegan chipotle sauce – click the link for this easy recipe! Chipotle peppers are blended with spices, softened cashews and olive oil to create an amazingly creamy sauce. It adds the perfect flavor on top of these bowls!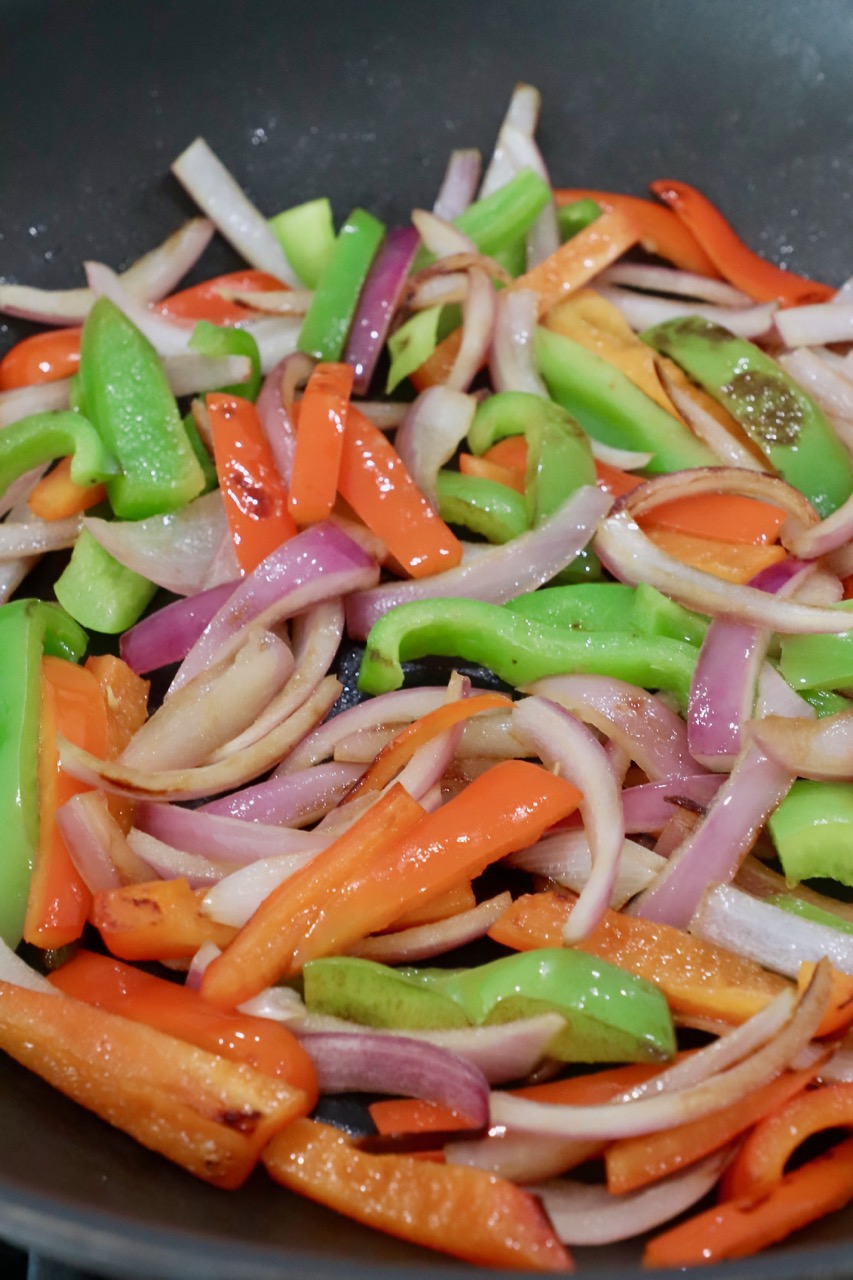 Instructions
If you don't already have prepared cilantro lime rice, start by cooking the rice, using this guide for how to cook white rice on the stove, in a rice cooker or in and Instant Pot. When the rice is cooked, mix in 1/4 cup lime juice and 1/4 cup fresh cilantro. Set it aside.

Quick tip! If you're in a pinch for time, purchase pre-cooked rice packages from the grocery store that can be cooked in the microwave in just 60 seconds!

Cook the veggies.

Preheat a large skillet on the stove top over medium-high heat and drizzle in olive oil.
Add in the sliced bell peppers and onions. Cook for 6-7 minutes.
Remove the onions and bell peppers from the skillet and set aside.

Cook the soyrizo.

Add the soyrizo to the same skillet.
Stir with a spatula to crumble it.
Cook for 6-7 minutes, then remove the skillet from the heat.

Build the bowls.

Start with a base of cilantro lime rice in each bowl.
Divide the bell peppers, onions and soyrizo between the four bowls.
Next, add some black beans.
Top each bowl with diced tomatoes, sliced jalapenos, guacamole, and fresh chopped cilantro.
Drizzle the creamy chipotle sauce on top, or serve it on the side. Grab a fork and dig in!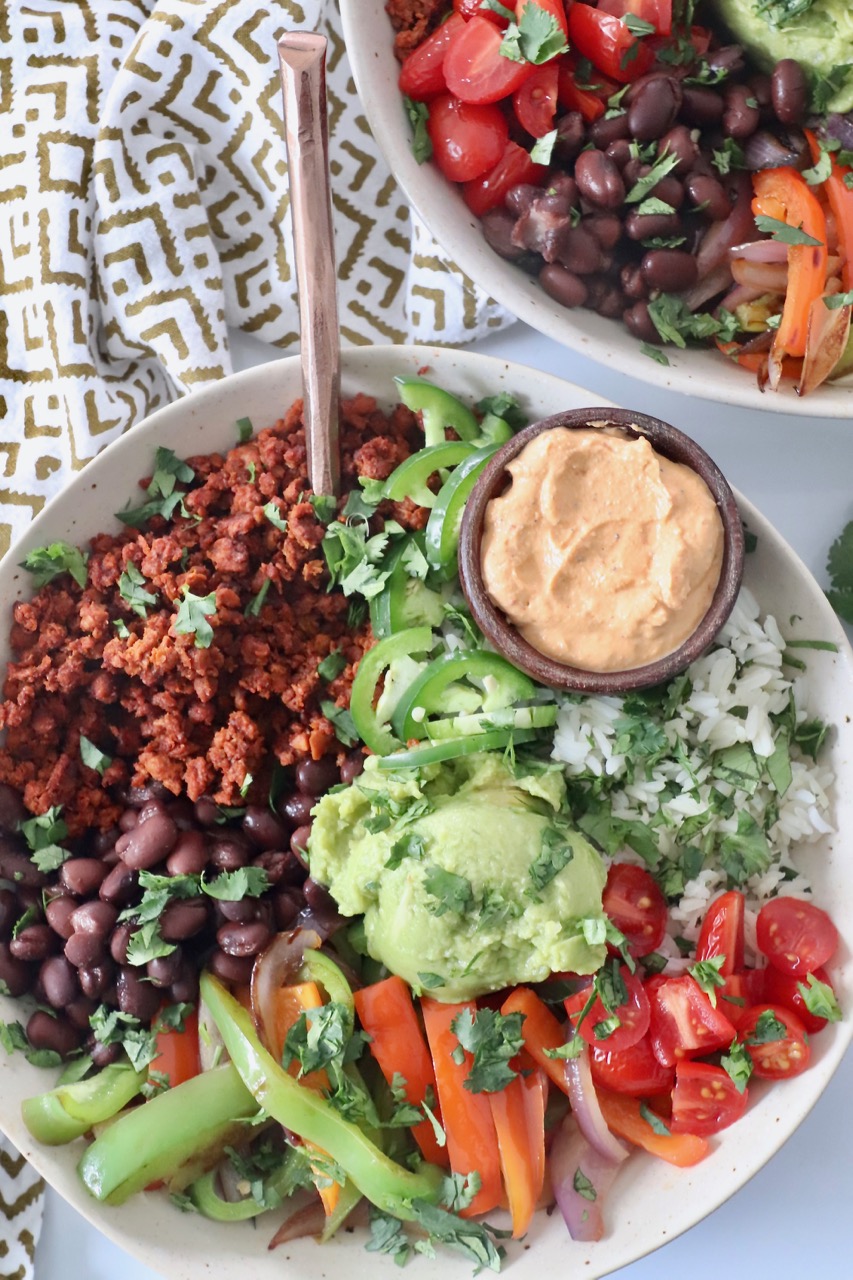 How to meal prep it
This vegetarian burrito bowl recipe is perfect for meal-prepping! You can store all of the ingredients for the bowls in the refrigerator for up to 5 days to eat throughout the week.
For storage:

Cook the rice, veggies and soyrizo.
Divide the cilantro lime rice, bell peppers, soyrizo, and beans between four large microwave-safe storage containers.
Place the diced tomatoes, sliced jalapeños, chopped cilantro, and any other cold toppings in separate smaller containers.
Pour the creamy chipotle sauce into 4 small containers.
Keep everything in the fridge for up to 5 days.

To reheat and eat:

Remove the lid from the large containers and microwave the rice, beans, soyrizo and bell peppers for 2 minutes, or until heated through.
Add the toppings, drizzle with the chipotle sauce, and enjoy!
You can also enjoy these bowls cold, straight from the refrigerator.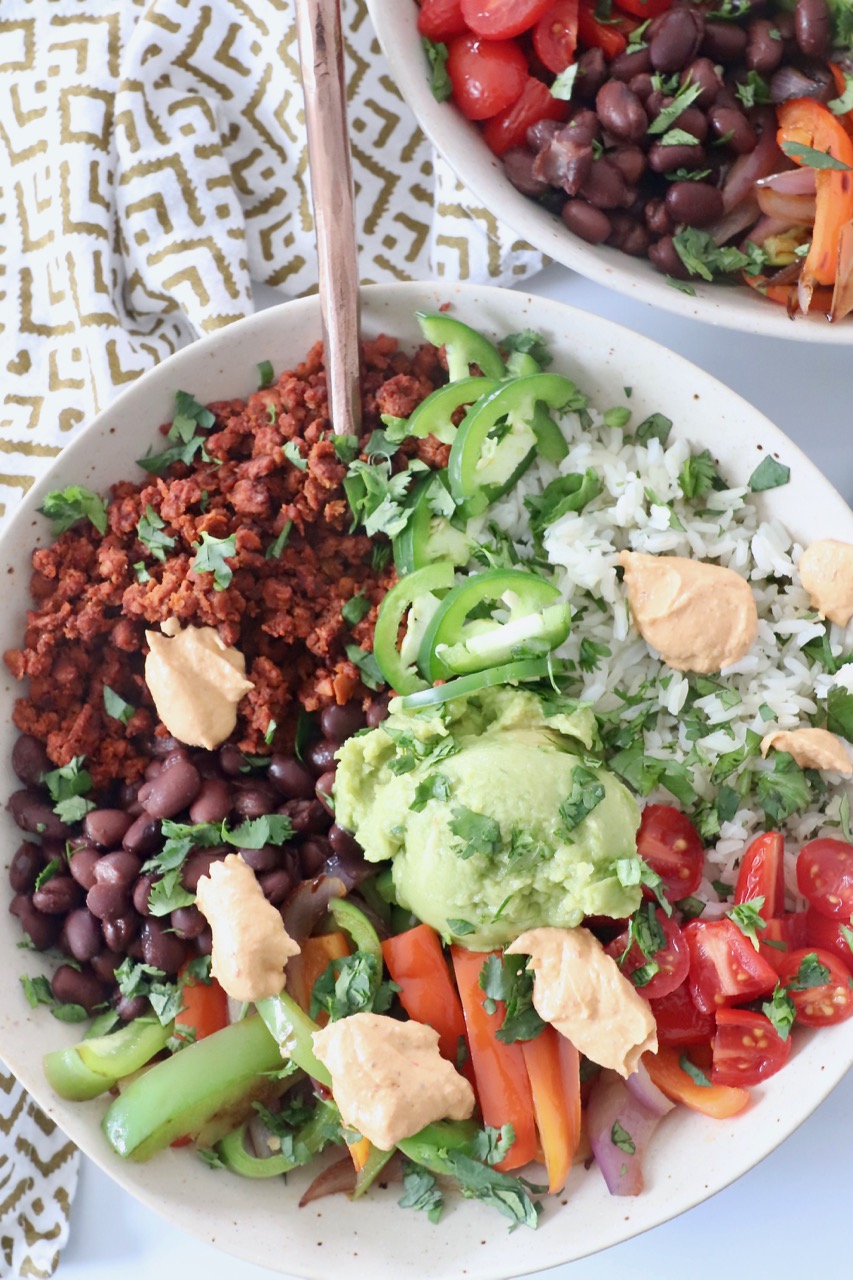 More vegetarian bowls
Try these other Mexican-inspired vegetarian and vegan bowl recipes!
We are a participant in the Amazon Services LLC Associates Program, an affiliate advertising program designed to provide a means for sites to earn advertising fees by advertising and linking to amazon.com.