White Chocolate Raspberry Phyllo Rolls
This post may contain affiliate links.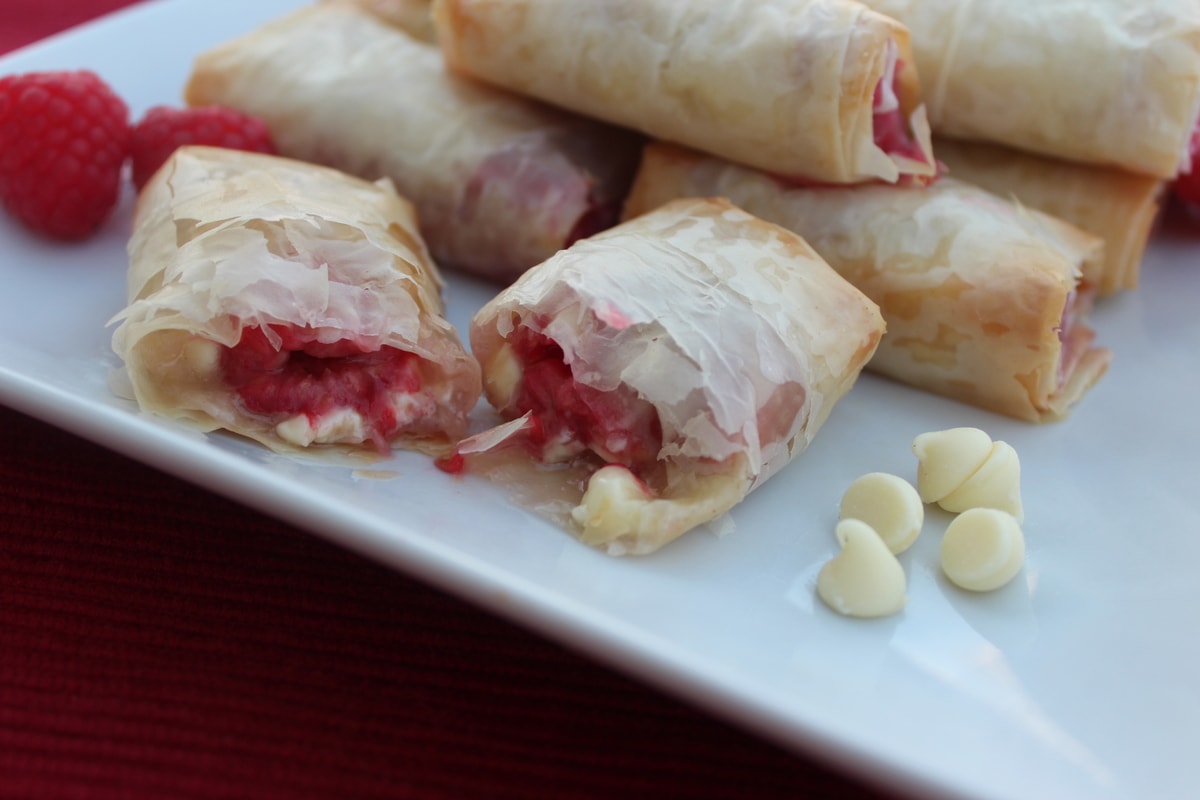 Last week I took a night off from cooking dinner and was treated to a delicious meal at my friend Crystals house. Of course I couldn't show up empty-handed so I offered to bring dessert!
I had phyllo dough in my fridge and white chocolate chips in my pantry so I decided to bring them together with tart raspberries.
White chocolate and raspberry are a perfect combination in this delicious dessert pastry. Flakey phyllo dough encompasses the tasty pair for sweet perfection.
Prep Time: 10 minutes
Cook Time: 10 minutes
Ingredients (makes 10 phyllo rolls)
1 cup raspberries
1 tsp cornstarch
½ tsp lemon juice
¼ cup sugar
10 sheets phyllo dough
olive oil cooking spray
1/3 cup white chocolate chips
Start by combining the raspberries, cornstarch, lemon juice and sugar in a small bowl.
Lay out the phyllo dough and spray the top sheet with cooking spray.
Start from the top and fold the phyllo dough in half.
Next, place the raspberries 1 inch from the edge.
Place the white chocolate chips on top.
Next, fold in the sides of the phyllo dough.
Then roll the dough into a cylinder shape and spray the top with cooking spray. Repeat the above steps 9 times.
Place the phyllo rolls in a 400° oven for 10-12 minutes.
Remove from the baking stone and serve.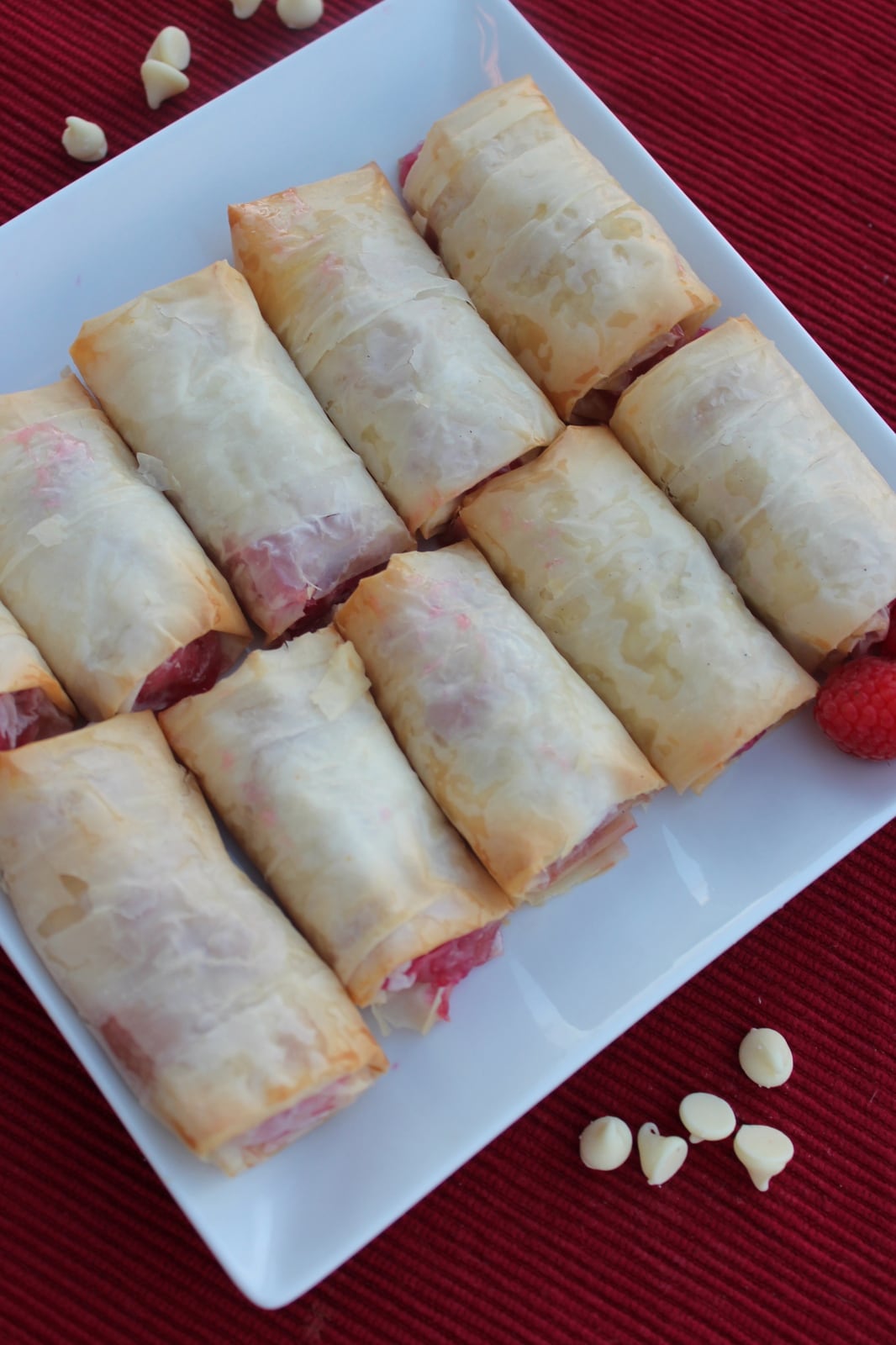 A-M-A-Z-I-N-G!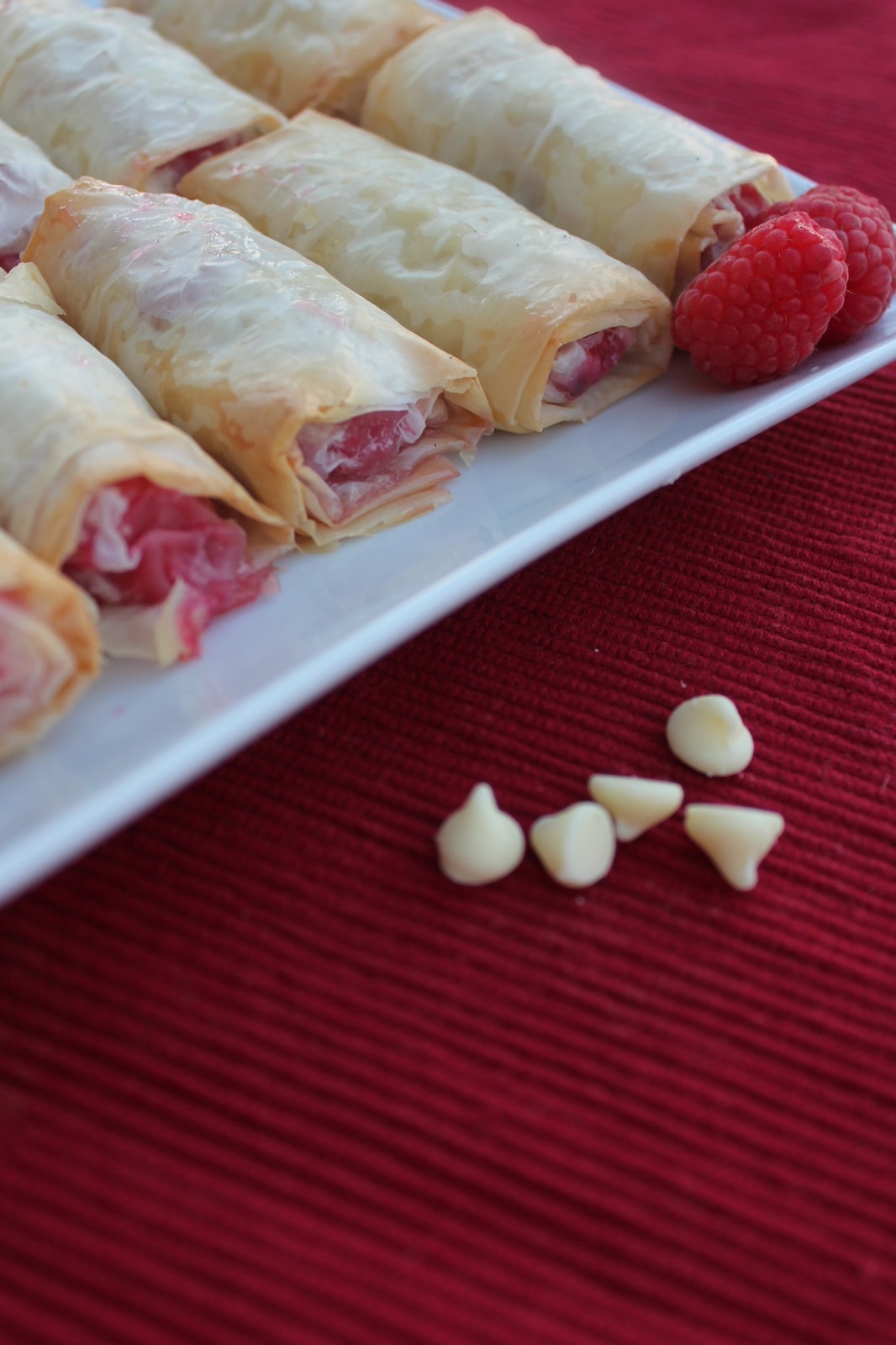 These are a quick and simple dessert with minimal ingredients that are perfect for taking to parties or serving as a weeknight after-dinner dessert!
Now it's time to dig in!
We are a participant in the Amazon Services LLC Associates Program, an affiliate advertising program designed to provide a means for sites to earn advertising fees by advertising and linking to amazon.com.