White BBQ Sauce
This post may contain affiliate links.
If you're looking for a bbq sauce that's creamy, peppery and tangy, look no further than this White BBQ Sauce recipe, also known as Alabama White Sauce! This sauce is perfect for grilled or smoked meats. It's even tasty as a dip for veggies and french fries. Basically, just about anything is more delicious when it's dipped in this creamy white bbq sauce!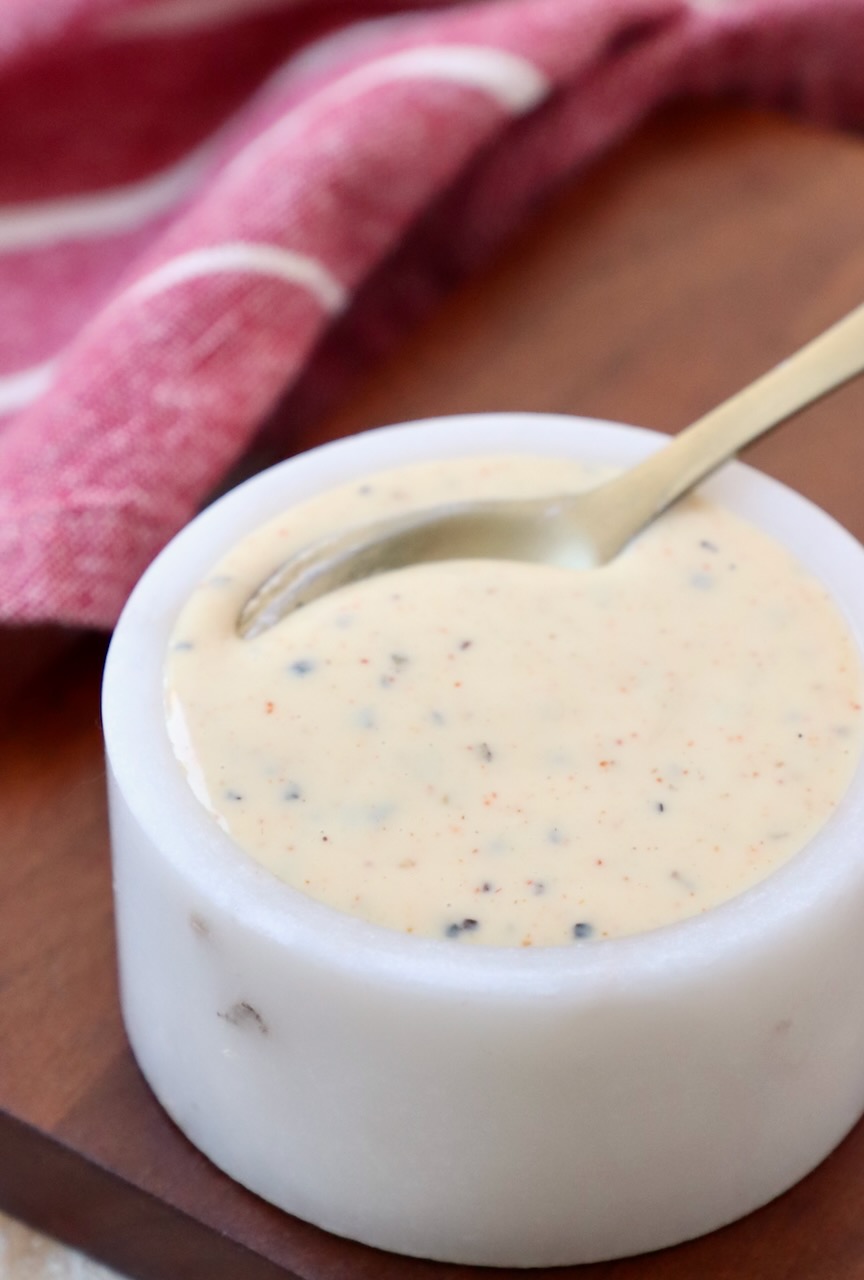 I grew up in Oklahoma, so there's definitely no denying my love of bbq. I'm also a "saucy girl", with the philosophy that everything is better with a good sauce!
Now I usually veer away from dipping smoked meats into a sauce, because they're just so good on their own. But then I tried white bbq sauce, and my life changed forever. I went to a new BBQ spot in San Diego, where the chef is known for his sauces. I ordered the Smoked Tri Tip with white bbq sauce and quickly became obsessed with the sauce.
Of course, I had to come home and immediately recreate this version of an Alabama White Sauce. As the story goes, white BBQ sauce was originally created by Robert Gibson at Big Bob Gibson's Bar-B-Q in Decatur, Alabama. It's won several awards over the years and this is how it got the name "Alabama White Sauce".
This sauce is different than traditional BBQ sauce because it's more peppery and tangy, and less sweet. It's made with a creamy mayonnaise base, instead of the traditional tomato base found in a classic red bbq sauce.
This taste of this recipe is very similar to the original Alabama sauce, with a few tweaks that I think makes it even better! It's perfect for pairing with Smoked Tri Tip, Air Fryer Chicken Wings or Grilled Steak.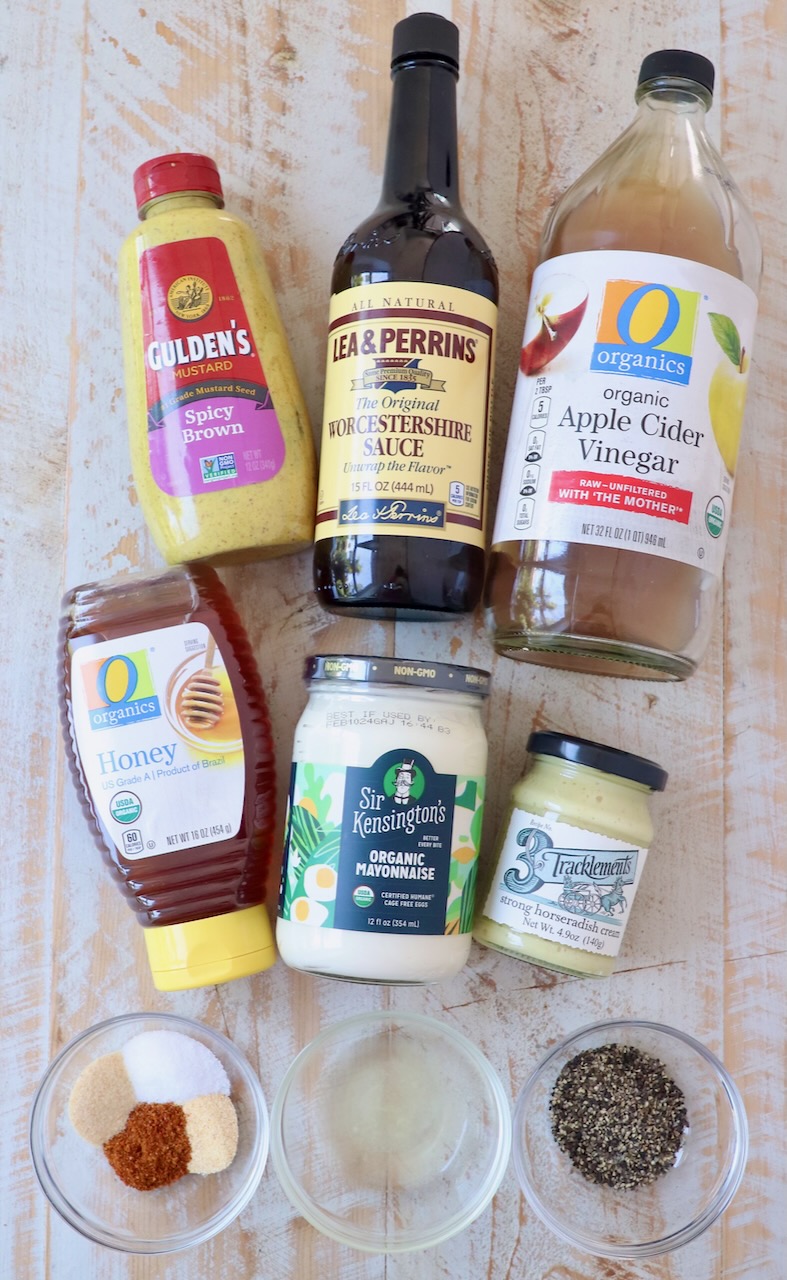 Ingredients
Mayonnaise
Apple cider vinegar
Spicy brown mustard – you can also use Creole mustard, but it will add a hint more sweetness than the spicy brown mustard.
Honey – just one tablespoon adds the perfect amount of sweetness to balance out the tanginess in this sauce. You can always add more if you prefer a sweeter sauce!
Lemon juice – I recommend fresh-squeezed juice for the best flavor.
Coarse ground black pepper – I recommend coarse-ground pepper, so that the peppery flavor really shines through in the sauce.
Worcestershire sauce
Creamy hot prepared horseradish – you can use extra-hot horseradish to add more of a kick to the sauce, or switch to mild for a more mellow horseradish addition to the sauce.
Salt + onion powder + garlic powder + cayenne pepper – to season the sauce.
Instructions
Add all of the ingredients to a small bowl and whisk to combine. Alternatively, you can add all of the ingredients to a pint-size mason jar. Secure the lid and shake to combine all of the ingredients.
Easy as that, with just one simple step you have a delicious white bbq sauce!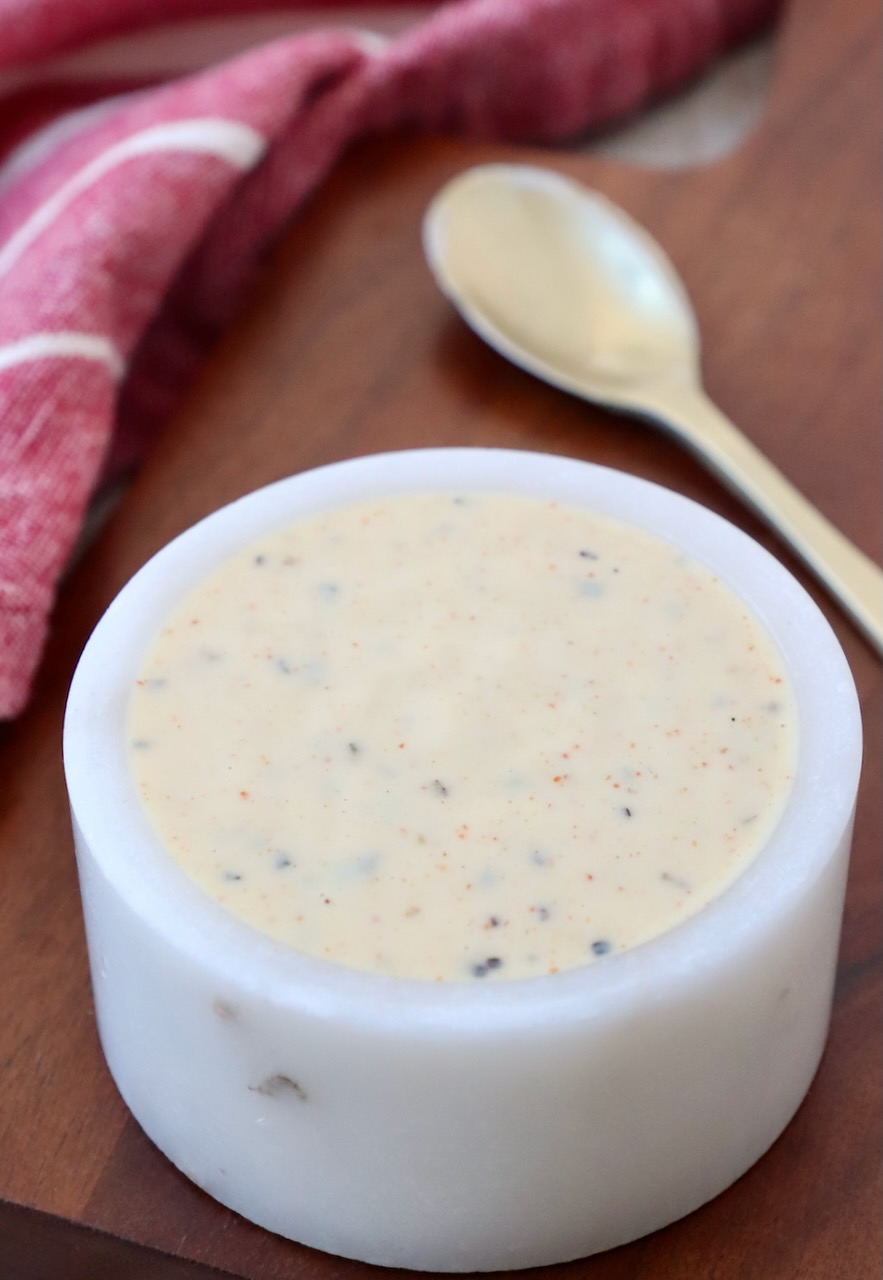 Sauce variations
To make the sauce sweeter, add an additional teaspoon of honey, one at a time, until it reaches your desired sweetness.
To make the sauce more tangy, add 1-2 additional tablespoons of apple cider vinegar. I recommend adding 1 tablespoon at a time until it reaches your desired result.
To make Alabama white bbq sauce without mayonnaise, replace the mayo with sour cream or Greek yogurt. Just know that both of these ingredients are going to be a bit more tangy, so you might have to balance this out with an additional 1-2 teaspoons honey.
To make the sauce spicy, add additional cayenne pepper. Add 1/2 teaspoon at a time until it reaches your desired spice level. You could also add in a few dashes of your favorite hot sauce. I recommend Frank's Red Hot or a Louisiana-style hot sauce.
Storage tips
This sauce will stay good in the fridge for up to 10 days, stored in an airtight container. I do not recommend freezing the sauce, as the consistency will not be the same after it's frozen and defrosted.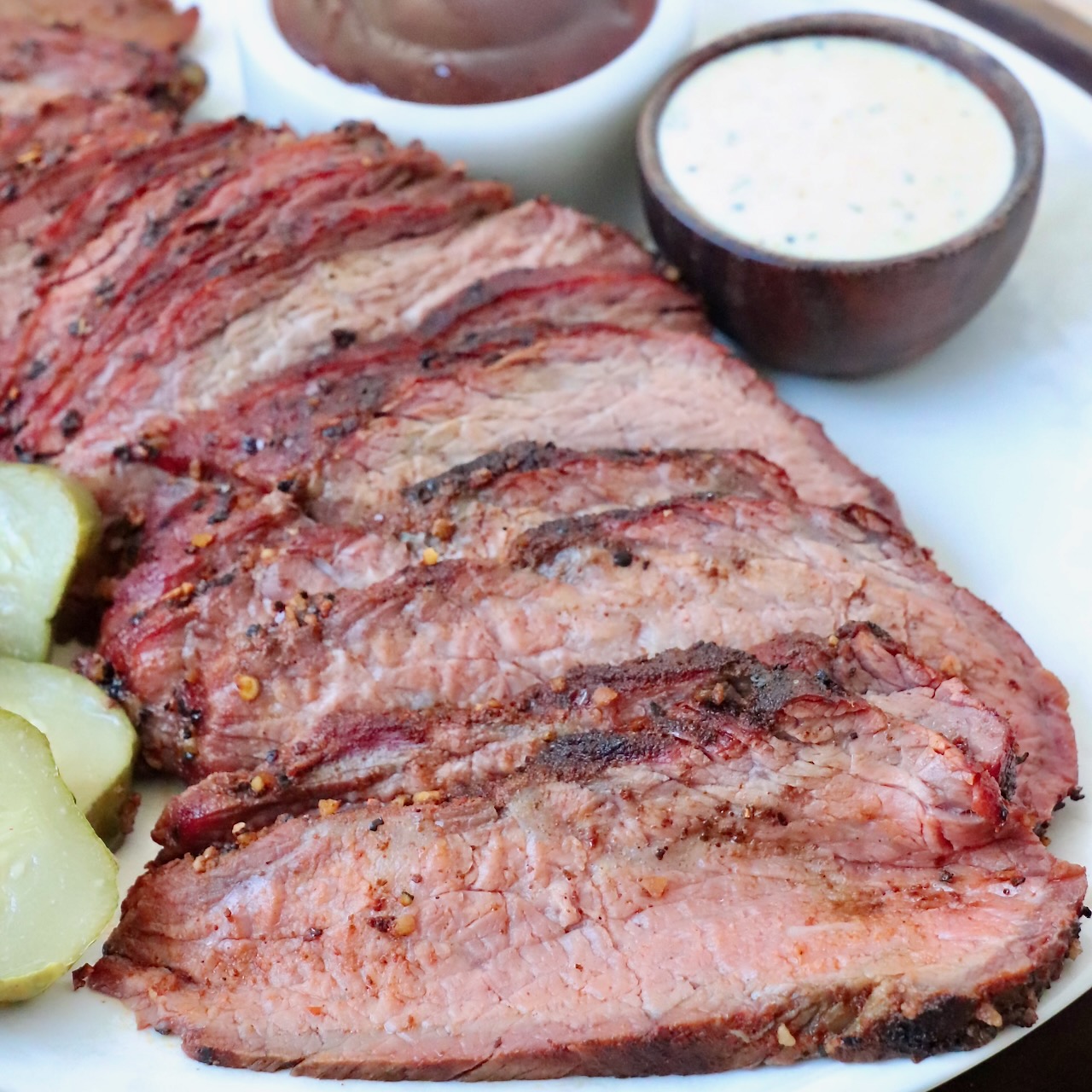 We are a participant in the Amazon Services LLC Associates Program, an affiliate advertising program designed to provide a means for sites to earn advertising fees by advertising and linking to amazon.com.