Smoked Tri Tip
This post may contain affiliate links.
This is the only recipe for Smoked Tri Tip that you'll ever need! The tri-tip is tender and juicy on the inside, with a smoky, flavorful crust on the outside. It's made with the best steak seasoning rub, smoked low and slow, and seared with butter to finish, for a melt-in-your-mouth tri tip experience!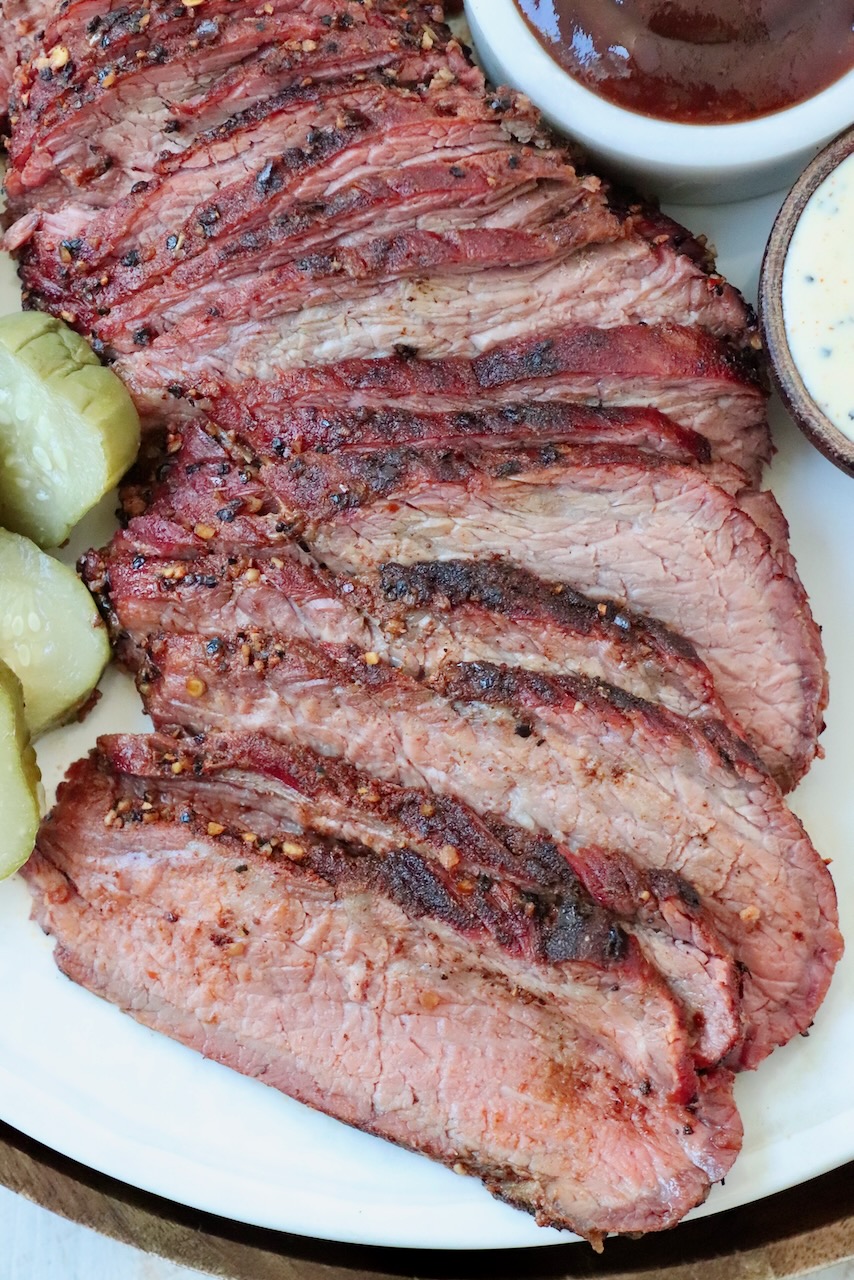 Thanks to my friends at California Beef Council for sponsoring today's post!
A girl from Oklahoma moves to California and becomes a food blogger, what is her signature dish? I think it might just be this Smoked Tri Tip! For this recipe I combined my love of smoking meats with my Dad and Grandpa growing up in Oklahoma, with my love of "the California cut" of beef, also known as the Santa Maria roast, bottom sirloin roast, or most commonly known as tri tip.
The result was an absolutely juicy, flavorful beef recipe that I would be proud to serve any of my friends or family in Oklahoma, California, or anywhere in between!
I find that tri-tip is actually one of the easiest cuts to cook on a smoker. Once it's been trimmed, a whole tri tip usually weighs between 2 1/2 – 3 pounds. A cut of beef this size will cook much faster, than say a brisket, which generally weighs between 12-14 pounds.
When tri-tip is slow smoked, it doesn't need an overnight marinade or brine. The only prep for this recipe is to add a heavy coating of steak seasoning to the tri-tip before it hits the smoker. After that, it's time to kick back with a beverage and let the tri tip smoke low and slow!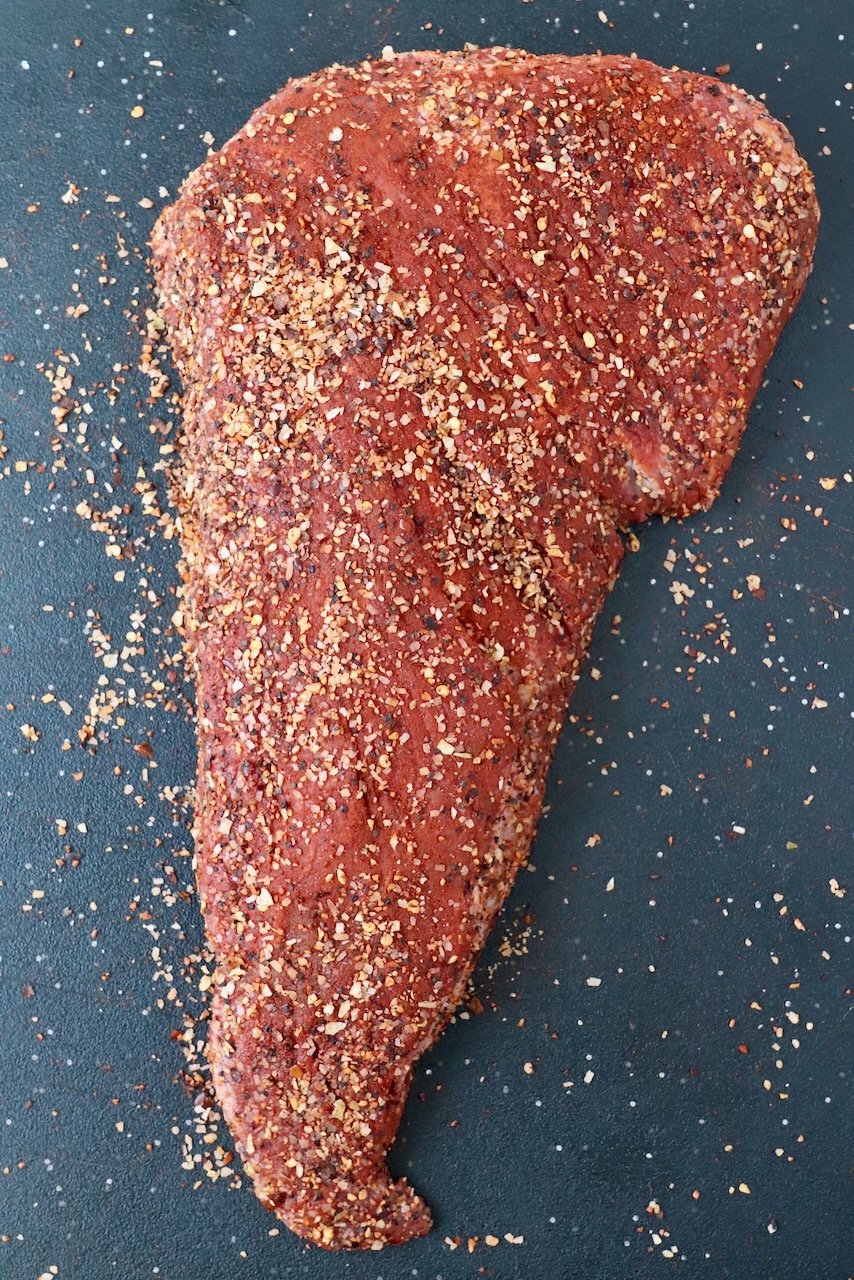 Ingredients
Tri tip roast – if the roast isn't already trimmed, be sure to trim all of the excess fat from the roast before starting this recipe. You'll usually find both trimmed and untrimmed tri-tip at the grocery store. I recommend purchasing a trimmed tri-tip because it saves prep-time and work, and you know the exact weight of the tri tip that you're purchasing. For the smoker, I recommend finding a trimmed tri tip that's around 3 pounds in size. A smaller tri-tip is better for grilling, but a larger tri-tip is better for smoking. It will take longer to cook, thus giving the tri-tip more time to soak in all of the delicious smoky flavors!
Steak seasoning – I highly recommend spending 5 minutes to whip up my homemade Montreal Steak Seasoning recipe. It creates the perfect flavorful, peppery crust on the outside of this tri-tip with a combination of kosher salt, black pepper, paprika, minced garlic and onion. I've also used coffee steak rub to make this recipe, and it's honestly really delicious too! My parents (non-coffee-drinkers) actually loved the coffee crusted smoked tri-tip, so even if you don't like coffee, you should give this one a try sometime!
Butter (optional) – really you only need two ingredients to make this recipe, but if you want to finish it with a couple tablespoons of butter, I don't think anyone would be mad about it!
Instructions
I've included step by step photos below to make this recipe super easy to follow at home. For the full detailed recipe instructions, scroll to the recipe card at the bottom of this post.
Season the tri tip. Rub 3-4 tablespoons of steak seasoning on the tri-tip.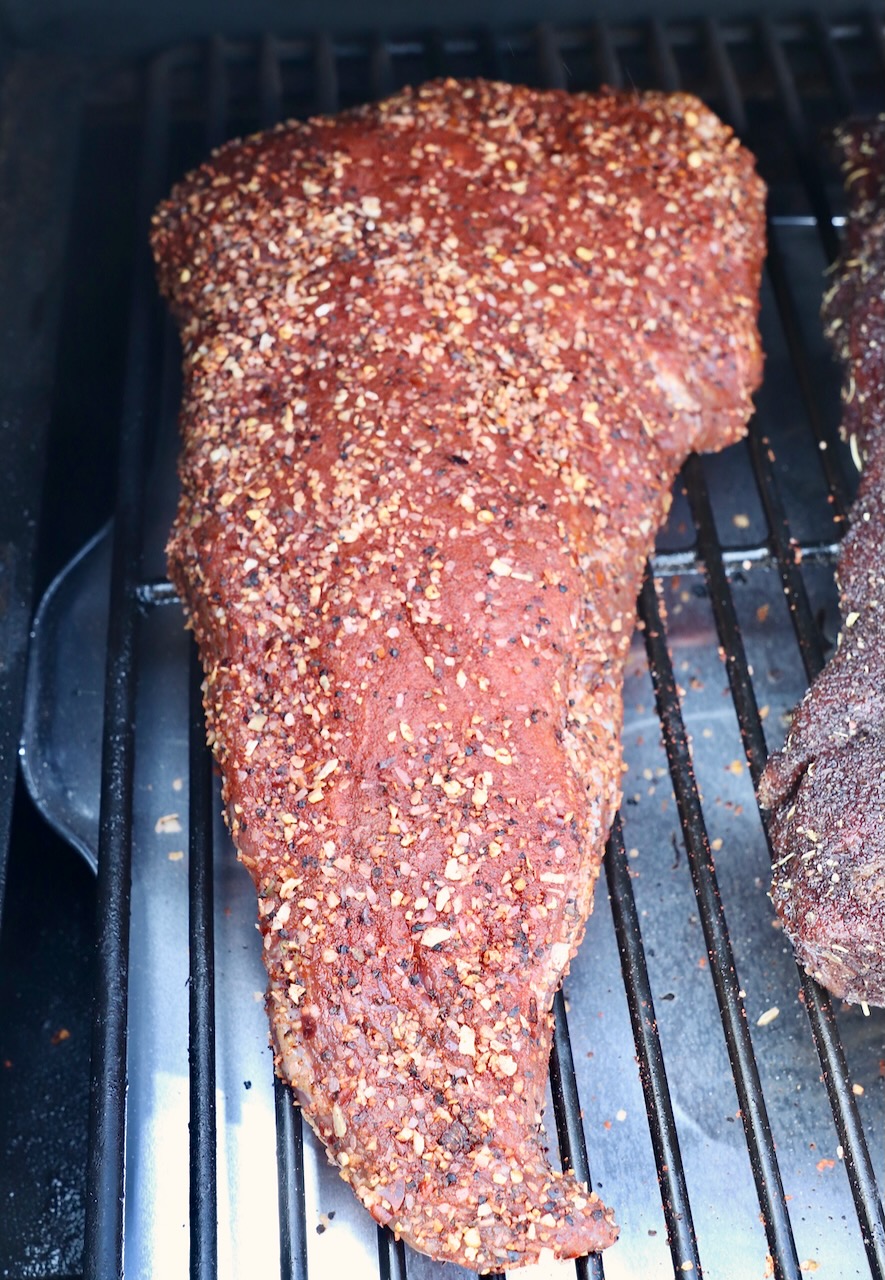 Smoke the tri tip. Preheat a smoker to 225°F. When the smoker is hot, place the seasoned tri-tip on the smoker. Smoke until the internal temperature reaches 135°F for medium rare. Insert a temperature probe, or use an instant-read meat thermometer to check the temperature of the tri tip. A 3 pound tri tip will take approximately 2 hours to smoke, but always smoke to temperature, not to time!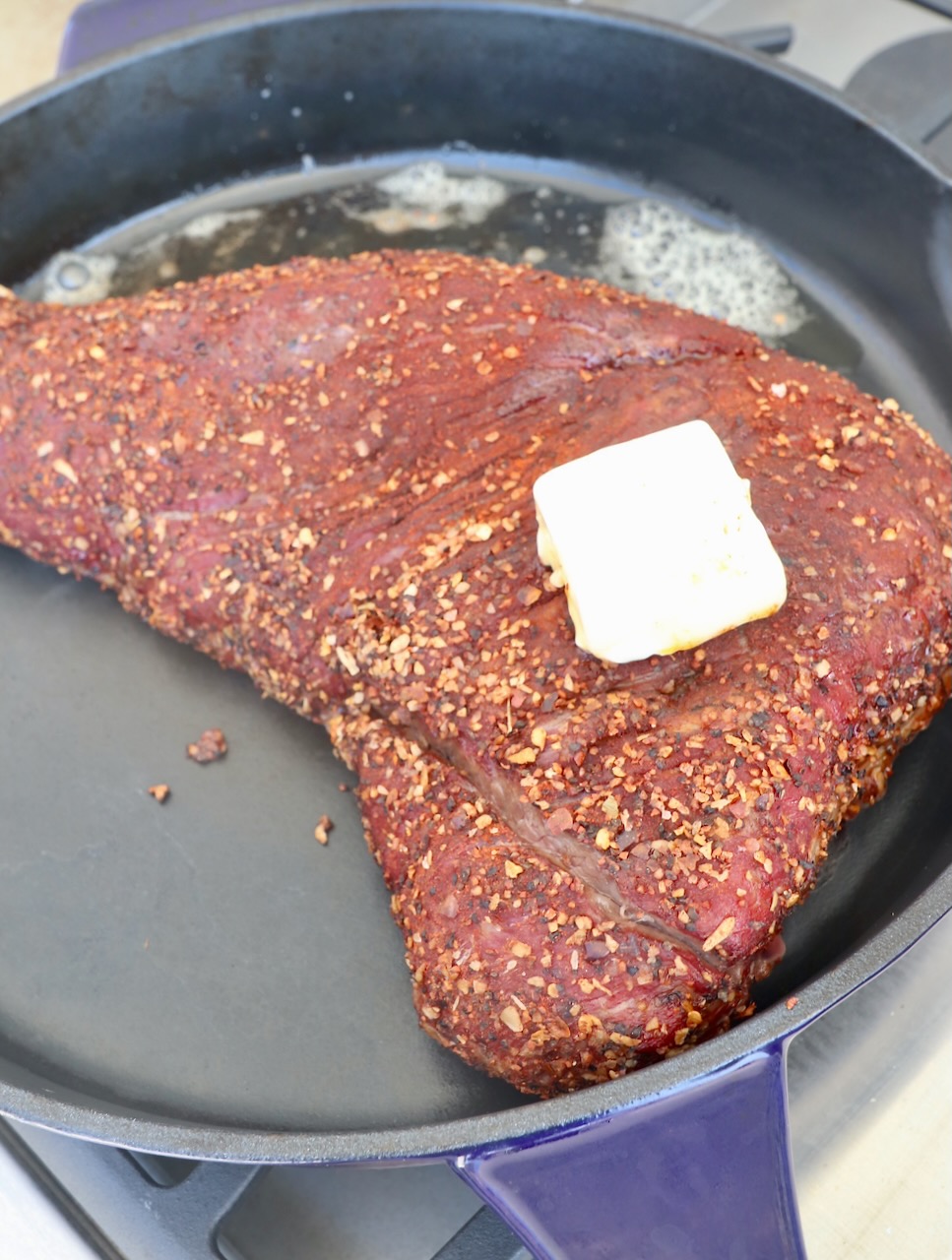 Sear the tri tip. To achieve a wonderful crust on the outside of the tri-tip, preheat a cast iron skillet on the stove over high heat. Once the skillet is hot, add the smoked tri tip and sear for 30 seconds per side. If you'd like to add butter, add one tablespoon of butter to each side and let it melt over the tri tip. If you don't have a cast iron skillet, use the heaviest pan you have, or sear the tri tip on a grill over high heat.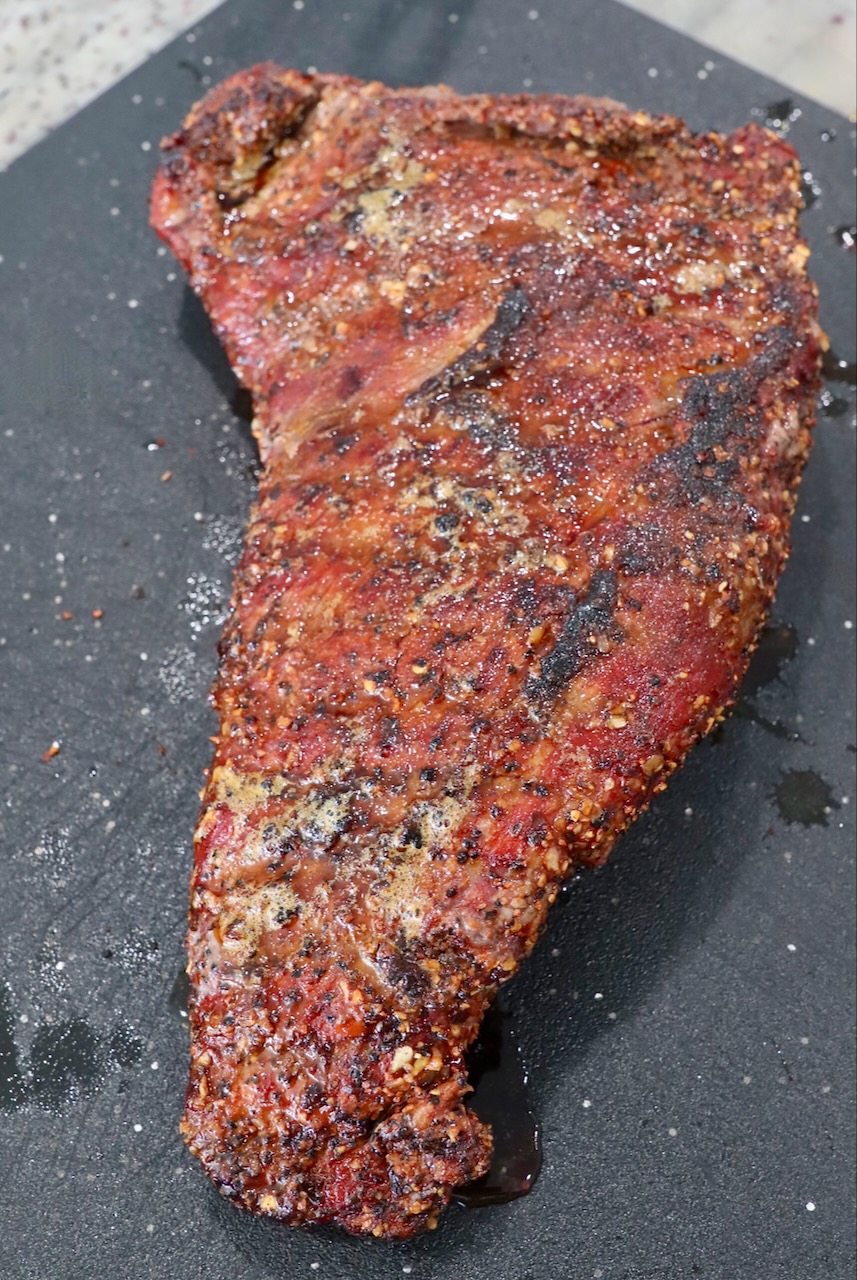 Rest the tri tip. Transfer the tri tip from the cast iron skillet to a large cutting board. Loosely cover with a large piece of aluminum foil and let it rest for 15-20 minutes before slicing.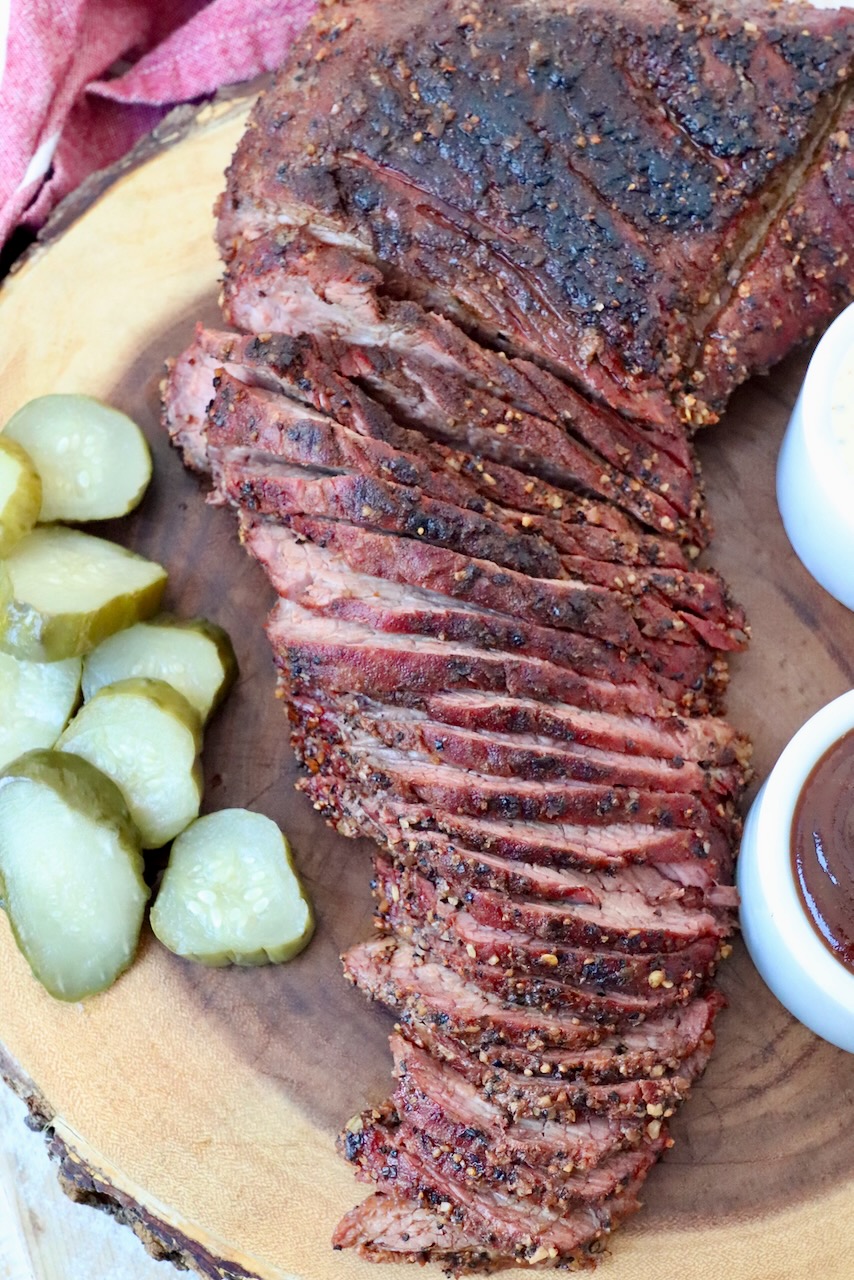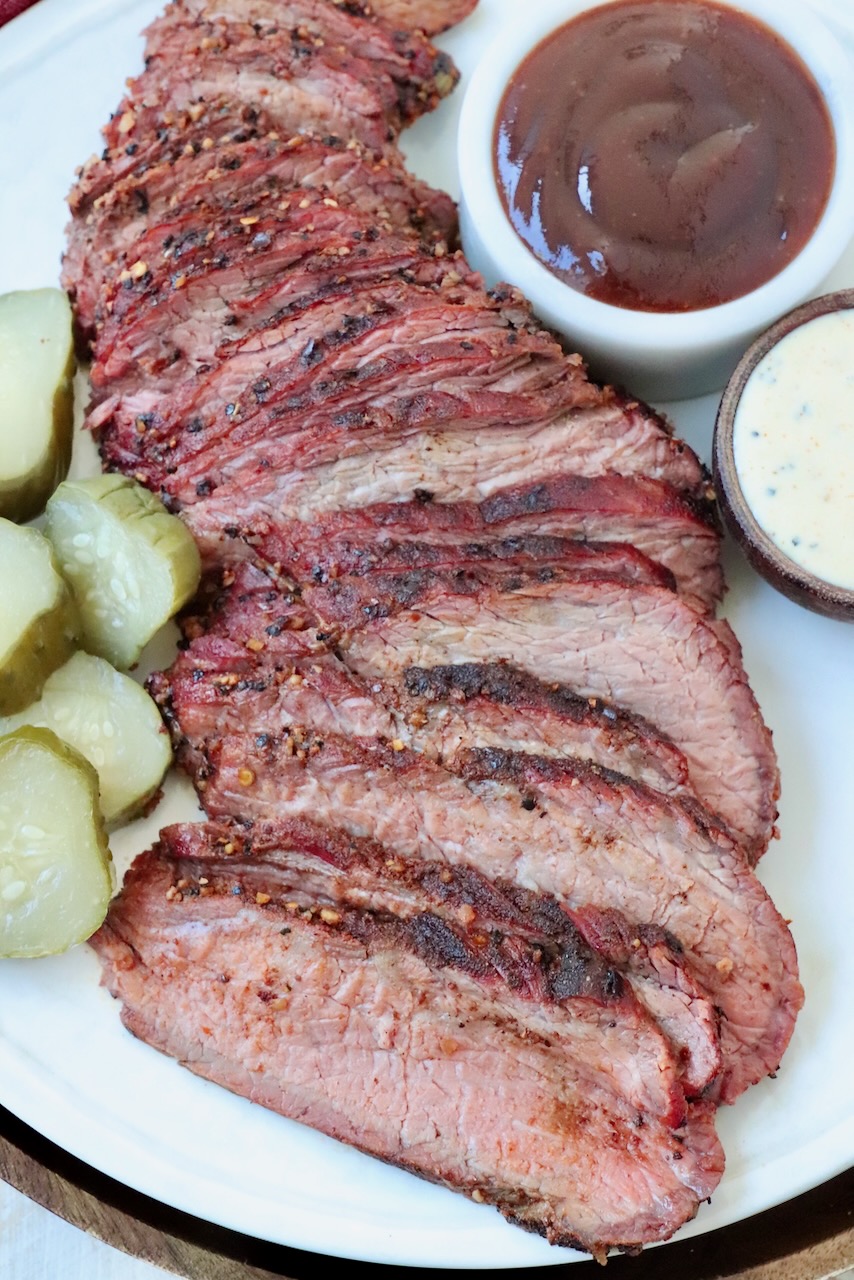 Made this recipe and loved it? Be sure to rate it 5 stars in the recipe card below! Have questions about smoking tri tip, or other cuts of beef? Comment below and ask away!
We are a participant in the Amazon Services LLC Associates Program, an affiliate advertising program designed to provide a means for sites to earn advertising fees by advertising and linking to amazon.com.