Crock Pot Creamed Corn
This post may contain affiliate links.
Crock Pot Creamed Corn is a family favorite, that's so easy to make! This delicious side dish takes only 5 minutes to prep, then the slow cooker does the rest of the work! My family adds a simple secret ingredient that makes this the BEST Creamed Corn ever!
It's perfect for easy weeknight dinners, holiday meals & summer BBQs! Free up space in your oven on Thanksgiving by serving this Creamed Corn right from the slow cooker. You can use white or yellow corn, frozen or canned corn, making this recipe both easy & versatile!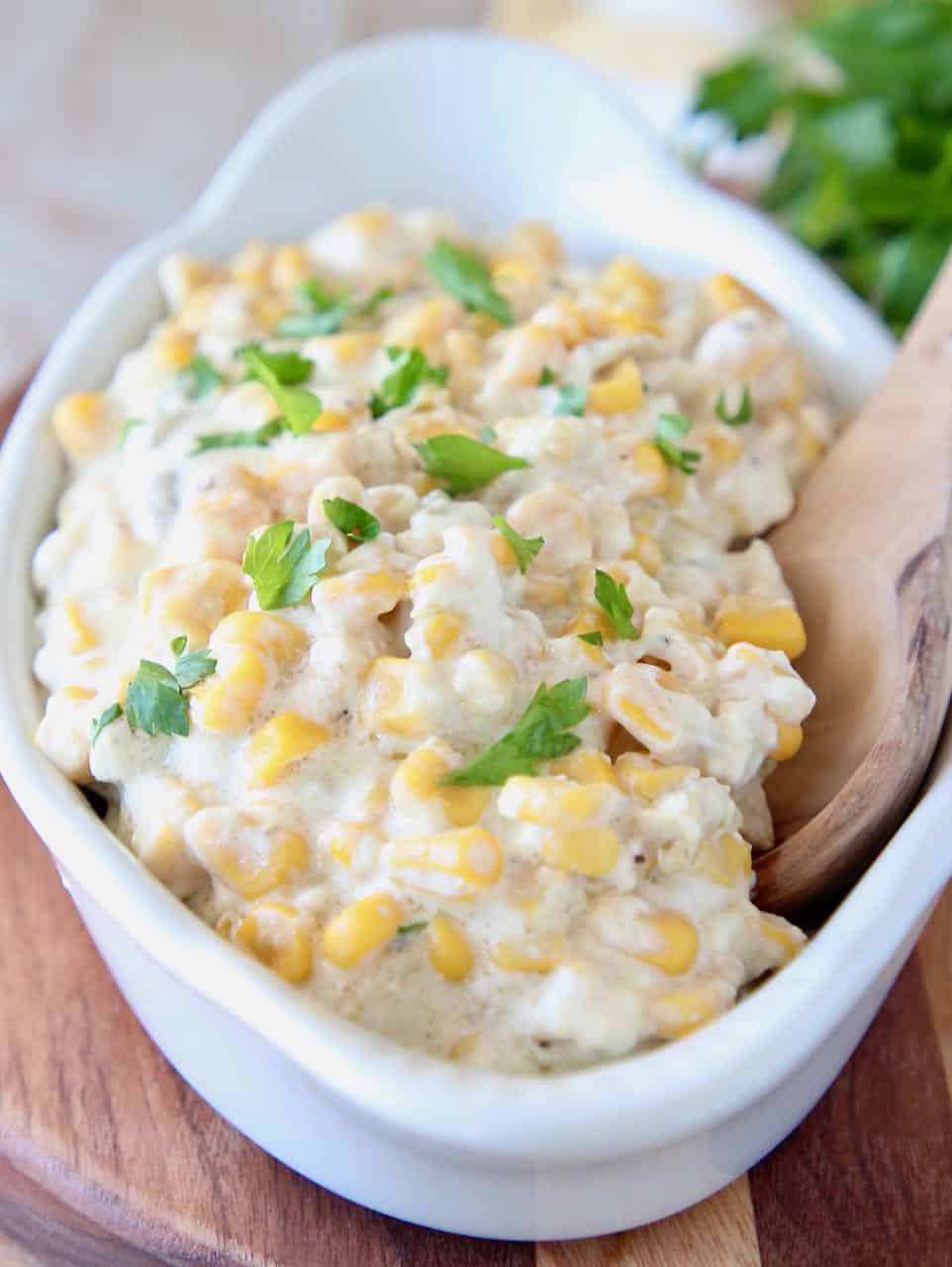 Creamy, buttery corn, what could be better in life? Not much I tell you, not much! My family has been making this Creamed Corn recipe for as long as I can remember. It's so easy to make, we serve it year-round with a variety of different meals!
Creamed corn is the perfect side for your summer BBQ, Mexican fiesta or Thanksgiving dinner. It's an incredibly versatile side dish and did I mention that it only takes 5 minutes to prep? Yay for slow cookers that do almost all of the work for you!
It's day 5 of Thanksgiving week here on the blog and I'm so excited to share this Bond family favorite recipe. It's an easy side dish that doesn't take up any extra room in the oven. This makes it perfect for Thanksgiving when oven space is at a premium!
This week has been filled with so many amazing sides and main dishes for Thanksgiving dinner. Let's check out what's on the menu this year!
So many tasty recipes, which ones will you add to your Thanksgiving menu? Comment below and let me know!
Now let's make some creamed corn!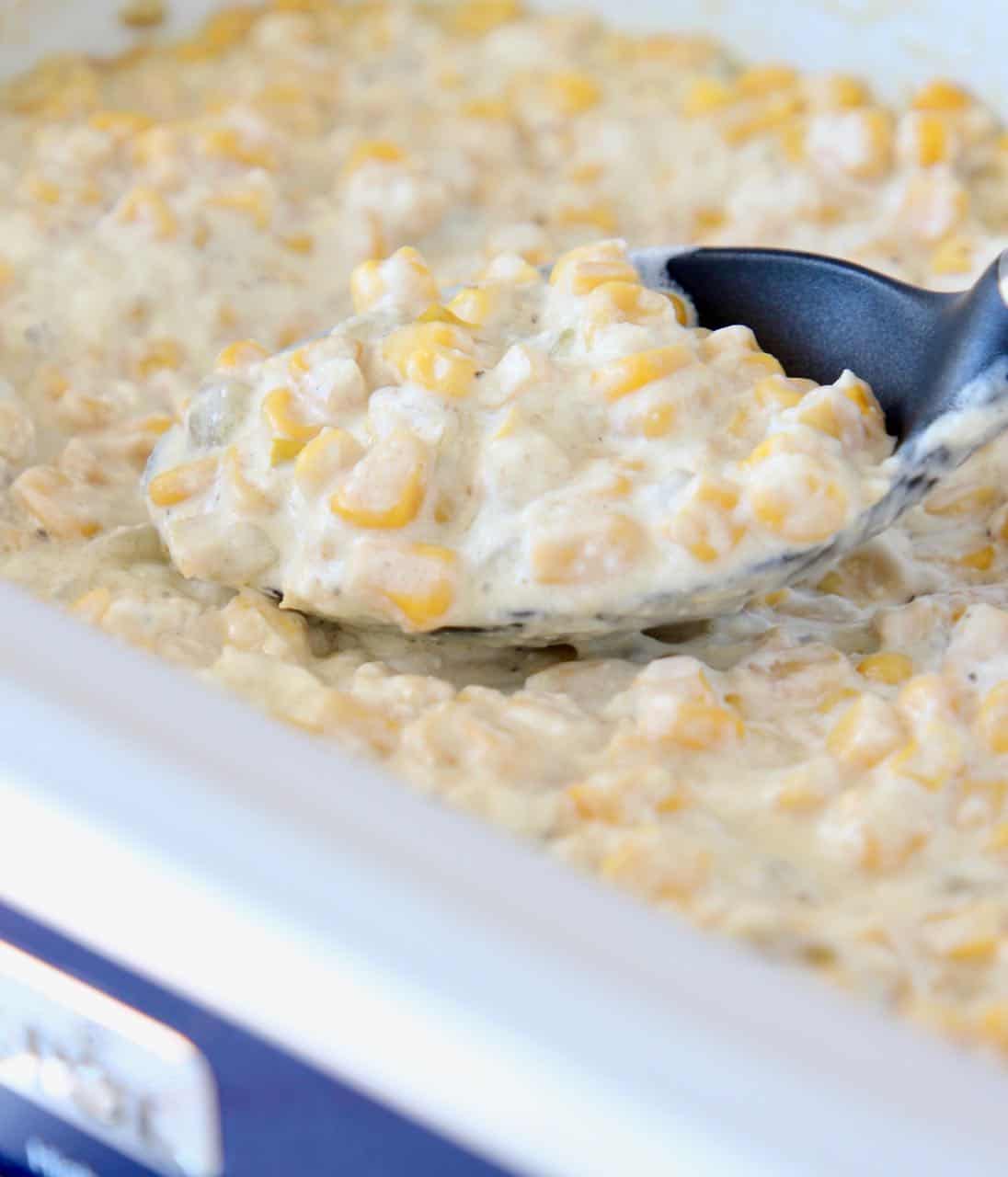 Step by step instructions
Add corn kernels to a crock pot.

These can be cans of white or yellow corn, or bags of frozen corn. My family prefers canned white shoepeg corn, as it's typically sweeter than canned or frozen yellow corn. You can also purchase canned sweet corn, with added sugar if you like a little sweetness to your corn.

Add a can of diced green chilies to the crock pot.

This is my families secret ingredient and don't worry, it's not spicy, it just adds an extra oomph of flavor!

Add cubed unsalted butter and cream cheese to the crock pot.

The butter and cream cheese will melt and soften throughout the cooking process, then you can stir to combine the ingredients before serving.

Season the creamed corn with salt and pepper.

Add a sprinkling of salt and pepper to the crock pot to season the corn.

Slow cook the creamed corn.

The corn doesn't need long to cook in the crock pot. It can cook on high for one hour or on low for 2-3 hours. After this time, the corn, cream cheese and butter should be stirred together, then the corn can be left in the crock pot on warm for several hours. This is truly what makes this corn the perfect holiday side dish. It's basically ready whenever you are!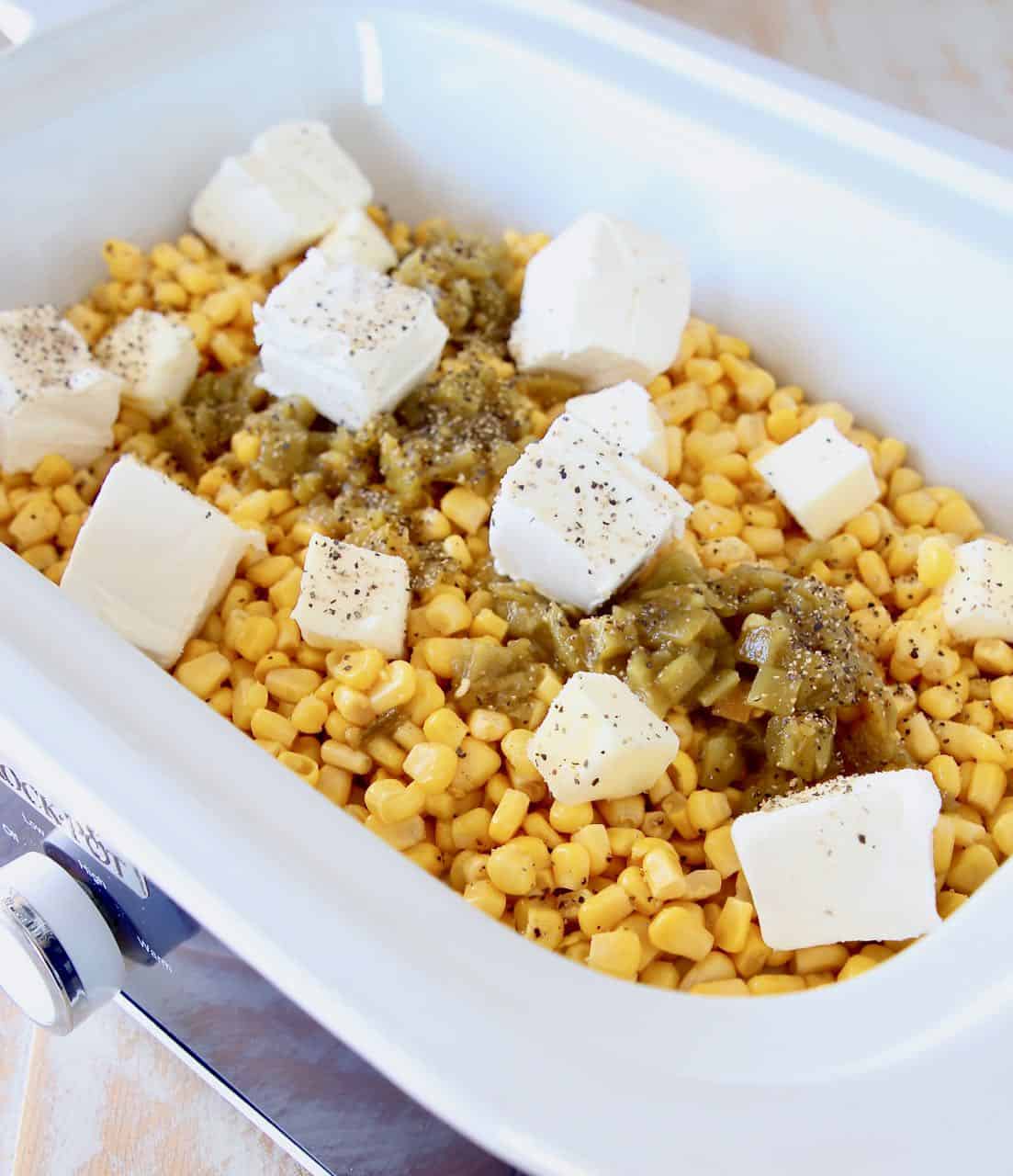 Frequently asked questions
What size crock pot should I use to make creamed corn? The crockpot I most commonly use to make this recipe is a 3.5 quart casserole crock pot. But honestly any crock pot will work! I've also used my 2.5 quart mini casserole crock pot, but that was a pretty tight fit for this recipe. It would be perfect if you were cutting the recipe in half for a smaller group!
Is creamed corn gluten free? Yes, this creamed corn recipe is gluten free. None of the ingredients included in the recipe contain gluten, so no need to worry about substitutions of any kind!
Can you make it with fresh corn kernels? Yes! In the summer I love to make this recipe with fresh corn. Remove the husks from the corn, then use a sharp knife to remove the kernels from the cob. Add them to the slow cooker. You will need about 5 cups of kernels, which should be approximately 5-7 ears of corn, depending on their size. You can also do what I do, which is grill the corn for 8-10 minutes, rotating throughout, then add it to the crock pot. This gives it a slightly smokey taste and is so delicious paired with grilled or smoked meats!
Can you make it on the stovetop? Yes, add the butter and cream cheese to a medium saucepan on the stove over medium heat. Stir consistently until they begin to melt together to create the cream sauce. Add the cans of corn, diced green chilies, salt and pepper. Stir to combine all of the ingredients. Simmer on the stove on low for 10-15 minutes, then serve immediately or transfer to a crock pot set to warm, until ready to serve.
How long will leftovers stay good? Leftover creamed corn will stay good, stored in an airtight container, in the fridge for up to 7 days. This corn is always one of the first leftovers to go after Thanksgiving dinner! Reheat it in the microwave for 2 minutes. Or if you're reheating a large portion, add it to a saucepan on the stove over medium heat, and reheat the corn for 10 minutes on the stove.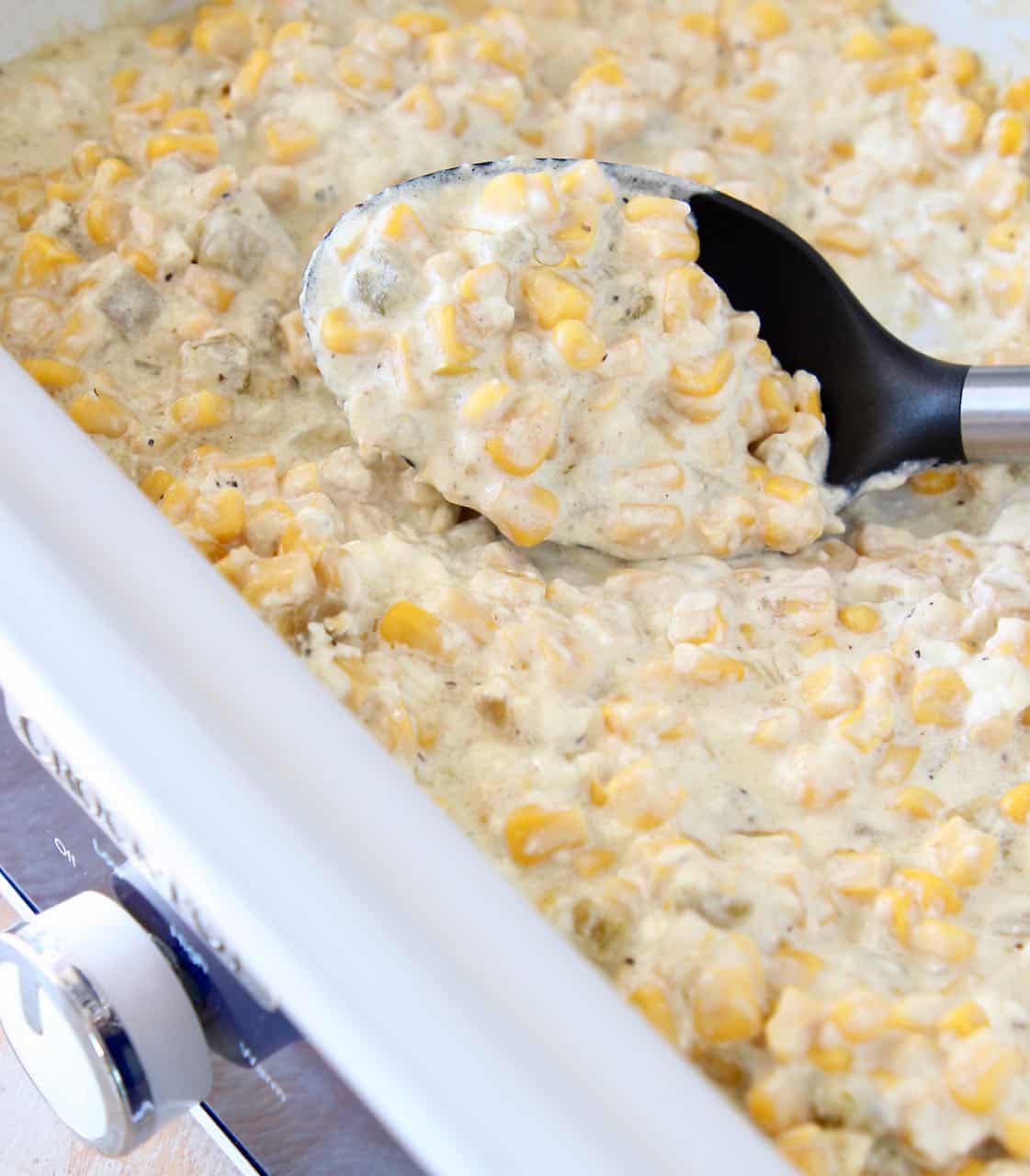 What to serve it with
Depending on the time of the year, you can pair this corn recipe with a variety of dishes. Try it with the following combos!
No matter the time of year or occasion, I know you're going to fall in love with this Bond family favorite creamed corn recipe! It's one of my favorite slow cooker recipes and it really does go with almost every meal!
Crock Pot Creamed Corn
Crock Pot Creamed Corn is a family favorite, that's so easy to make! This delicious side dish takes only 5 minutes to prep, then the slow cooker does the rest of the work!
Instructions
Add the corn and green chilies to a slow cooker, place the cubes of butter and cream cheese on top.

Sprinkle the salt and pepper over the corn.

Cover and cook on high for 1 hour or set to low for 2-3 hours.

After the corn has cooked in the slow cooker, remove the lid and stir all of the ingredients together.

Serve immediately or set the slow cooker to warm for up to 4 hours.
Notes
Canned yellow corn can be used in place of the white shoepeg corn in this recipe. This corn is generally sold in 15.25 oz cans, so you will need 3 cans to make this recipe.
Frozen corn can also be used in place of the white shoepeg corn in this recipe. This corn is generally sold in 10-14 oz bags. You want approximately 40-45 oz of corn for this recipe, so you will need 3 or 4 bags based on the size of bag purchased.
Nutrition Facts
Calories
367
kcal
(18%)
Carbohydrates
40
g
(13%)
Protein
7
g
(14%)
Fat
23
g
(35%)
Saturated Fat
12
g
(60%)
Cholesterol
62
mg
(21%)
Sodium
832
mg
(35%)
Potassium
339
mg
(10%)
Fiber
5
g
(20%)
Sugar
8
g
(9%)
Vitamin A
838
mg
(17%)
Vitamin C
6
mg
(7%)
Calcium
48
mg
(5%)
Iron
1
mg
(6%)
We are a participant in the Amazon Services LLC Associates Program, an affiliate advertising program designed to provide a means for sites to earn advertising fees by advertising and linking to amazon.com.