Red White and Blue Cheese Potato Salad
This post may contain affiliate links.
Want to WOW the crowd at your next picnic or summer BBQ? Bring this Red White and Blue Cheese Potato Salad! For years, my husband asked that I buy him this salad at the grocery store deli counter for every BBQ we hosted. That was, until I started making it at home!
This homemade version is way better than the deli counter version and it's so easy to make! It received my husbands stamp of approval, and a request that I make it every weekend. If you're a blue cheese fan, you're going to fall in love with this loaded blue cheese potato salad!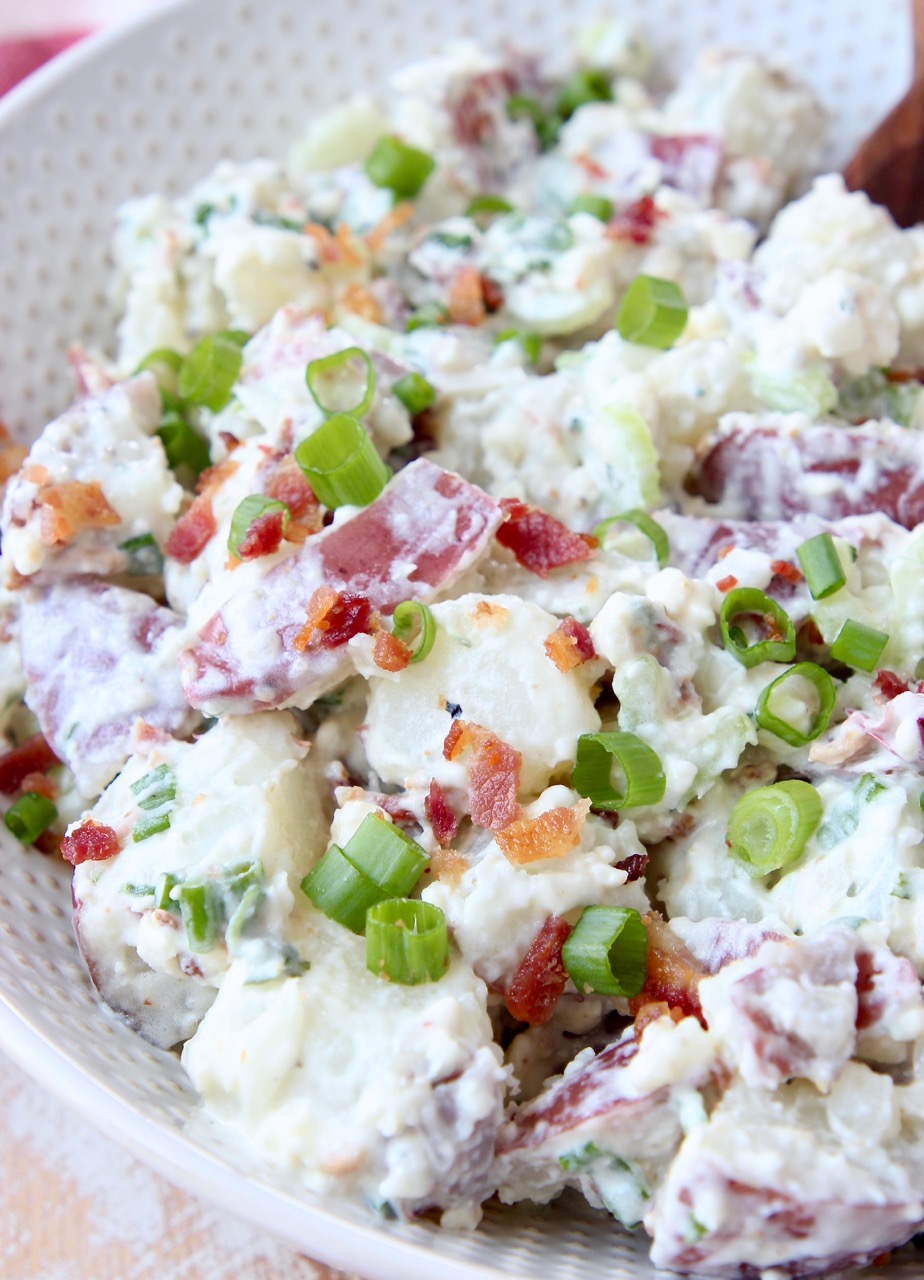 If you've ever had the Red White and Blue Potato Salad from Vons deli counter (or a Safeway store in your area) then you know what this salad is all about! Big chunks of blue cheese, crispy bites of bacon, fresh diced green onions and a creamy dressing to finish it off.
I took the exact ingredients from the salad made at Vons deli counter and recreated it at home to make it EVEN BETTER! How could this already delicious salad be better, you ask?
More chunks of blue cheese, more crispy bacon and the perfect ratio of creamy dressing to potatoes. Oh and I added blue cheese dressing into the creamy dressing for double the blue cheese! This salad is for all the blue cheese lovers out there!
It's called a red white and blue potato salad because it includes red potatoes, blue cheese and a creamy white dressing. But if you want to make the salad even more true to it's name, you could throw in some baby purple potatoes with the red potatoes for a festive and colorful potato salad!
This salad can be made ahead of time and served at picnics, BBQ's, 4th of July parties, the possibilities are endless! But one thing is for sure, the crowd will go wild for this potato salad, so be sure to make enough!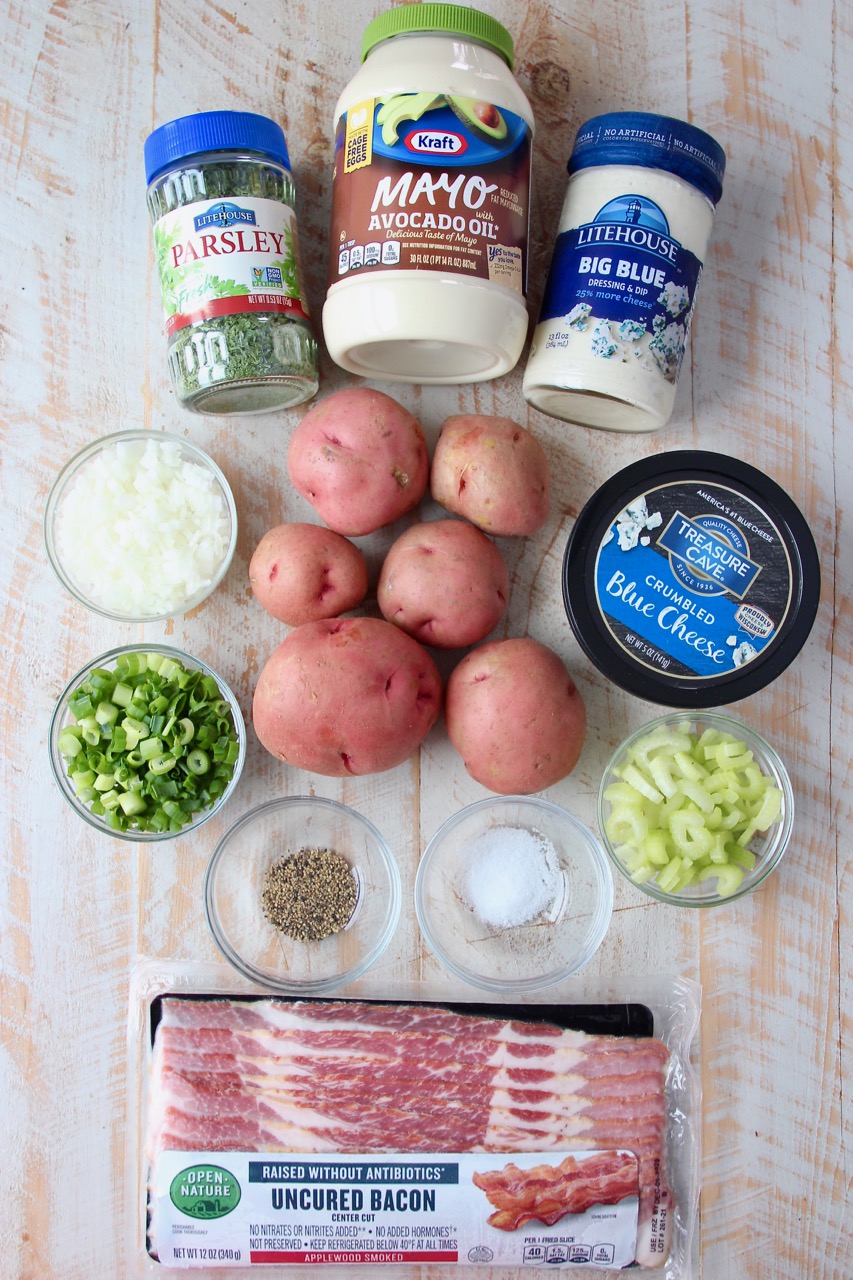 Ingredients you'll need
Red potatoes – this is the "red" part of the potato salad and personally my favorite potato to use for potato salad. It doesn't fall apart in the salad and the skin is thinner than most other potatoes, meaning that you don't have to peel them.
Bacon – the bacon should be cooked and crumbled ahead of time. You can either do this yourself by frying the bacon in a skillet or cooking it in the oven, or you can purchase bacon bits at the grocery store. I prefer fresh cooked and crumbled bacon whenever possible! You can always cook the bacon at the same time as the potatoes are boiling.
Blue cheese crumbles – this is the "blue" portion of the salad. And since it's one of the three main portions of the salad, we're adding an entire 5 ounce container of blue cheese crumbles!
Minced white onion – you want the onions very finely minced, so that no one bites down on a big piece of raw onion. They're simply hiding in the salad for extra flavor and a delicious little bite.
Diced celery – adds a nice light crunch to the salad!
Green onions – add a pop of color and flavor mixed into the salad. I also like to sprinkle a few on top!
Chunky blue cheese dressing – you don't want runny blue cheese dressing here, you want something thick and creamy! I highly recommend Litehouse Big Blue Dressing. It packs a flavorful blue cheese punch and it's the perfect texture for this salad.
Mayonnaise – I used an avocado oil mayonnaise for this recipe, but any mayo will work.
Dried parsley – fresh can also be used in place of dried. If you're swapping them out, use 1 tablespoon fresh chopped parsley, instead of 1 teaspoon dried parsley.
Salt
Black pepper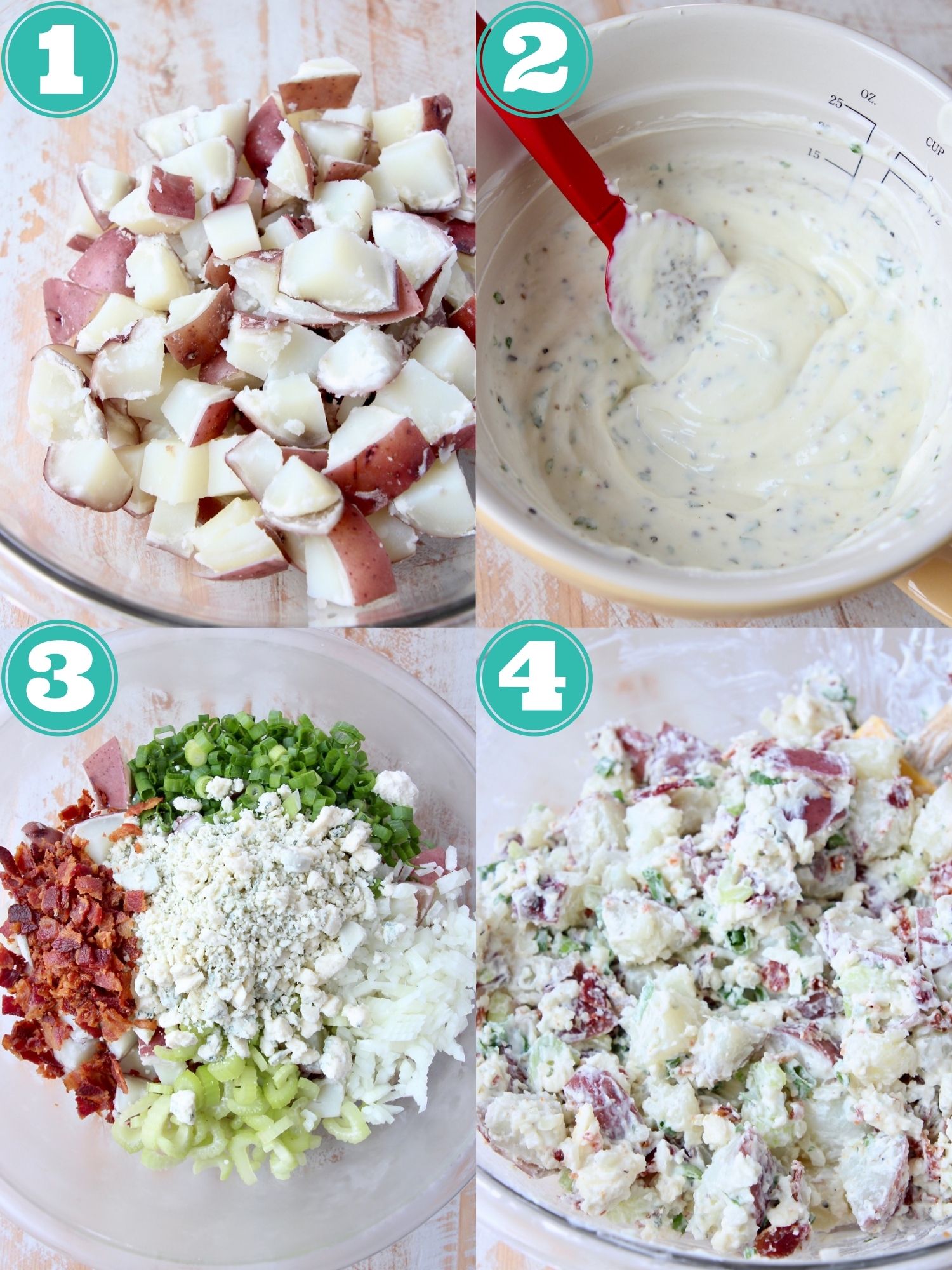 Step by step instructions
Cook the red potatoes. Cut the potatoes into 1 inch cubes, then add them to a large pot of boiling salted water. Cook the potatoes in the boiling water for 15-20 minutes, or until fork tender. Drain the potatoes and transfer them to a large bowl. Place the bowl of potatoes in the refrigerator to chill while preparing the other salad ingredients.
Prepare the salad dressing. In a small bowl, combine blue cheese dressing, mayonnaise, dried parsley, salt and pepper.
Assemble the salad. Mince the white onion, dice the celery and green onions, then add them to the bowl of cooked potatoes, along with the blue cheese crumbles and cooked and crumbled bacon.
Toss the salad. Add the prepared salad dressing to the bowl and toss until all of the potatoes are coated in the dressing.
I recommend refrigerating the salad for at least 30 minutes before serving. It can also be covered and stored in the refrigerator for up to 2 days before serving.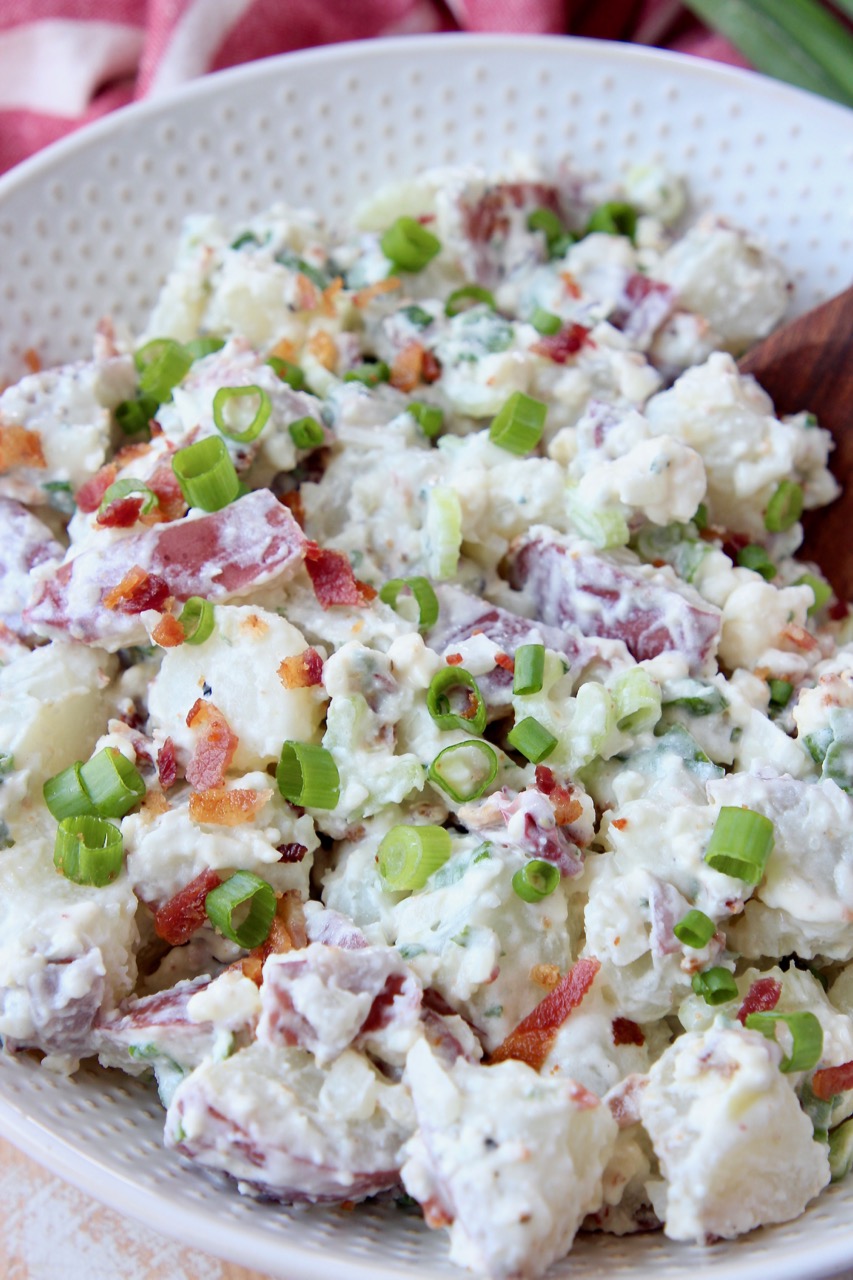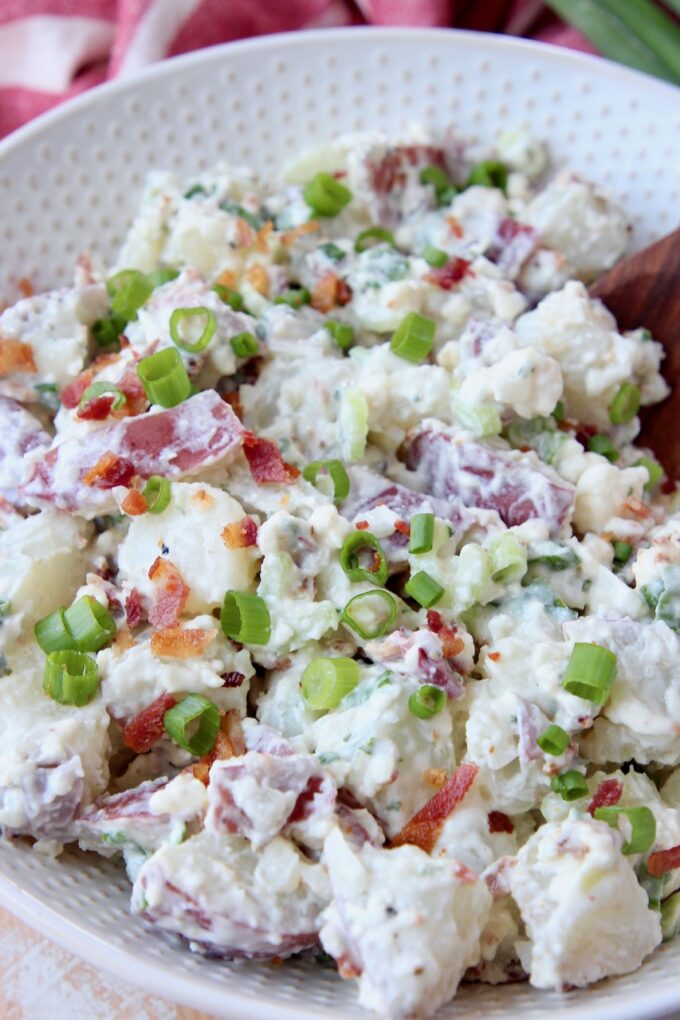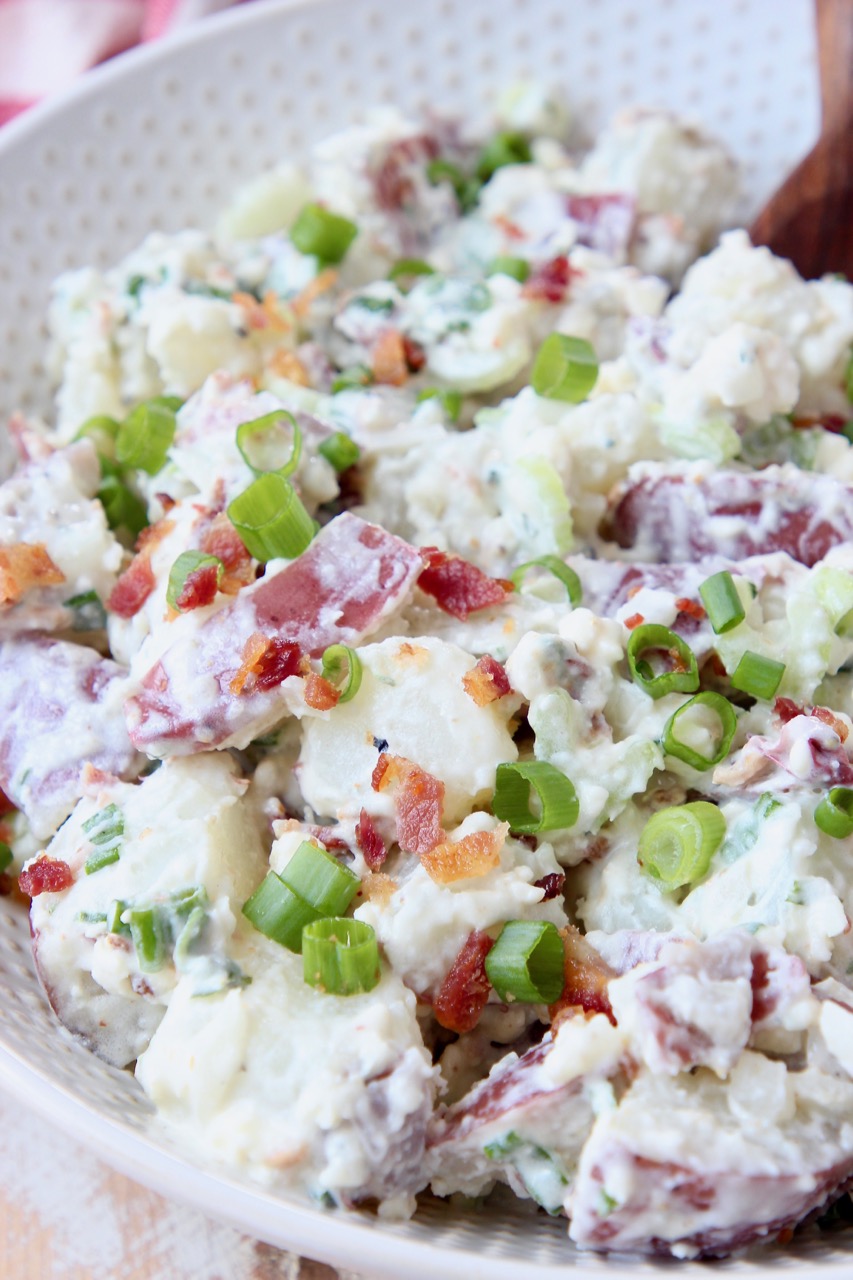 We are a participant in the Amazon Services LLC Associates Program, an affiliate advertising program designed to provide a means for sites to earn advertising fees by advertising and linking to amazon.com.