Sheet Pan Gnocchi with Butternut Squash & Crispy Kale
This post may contain affiliate links.
Vegan baked gnocchi is tossed with delicious fall spices, butternut squash and crispy kale for an easy, healthy, sheet pan recipe made in just 25 minutes!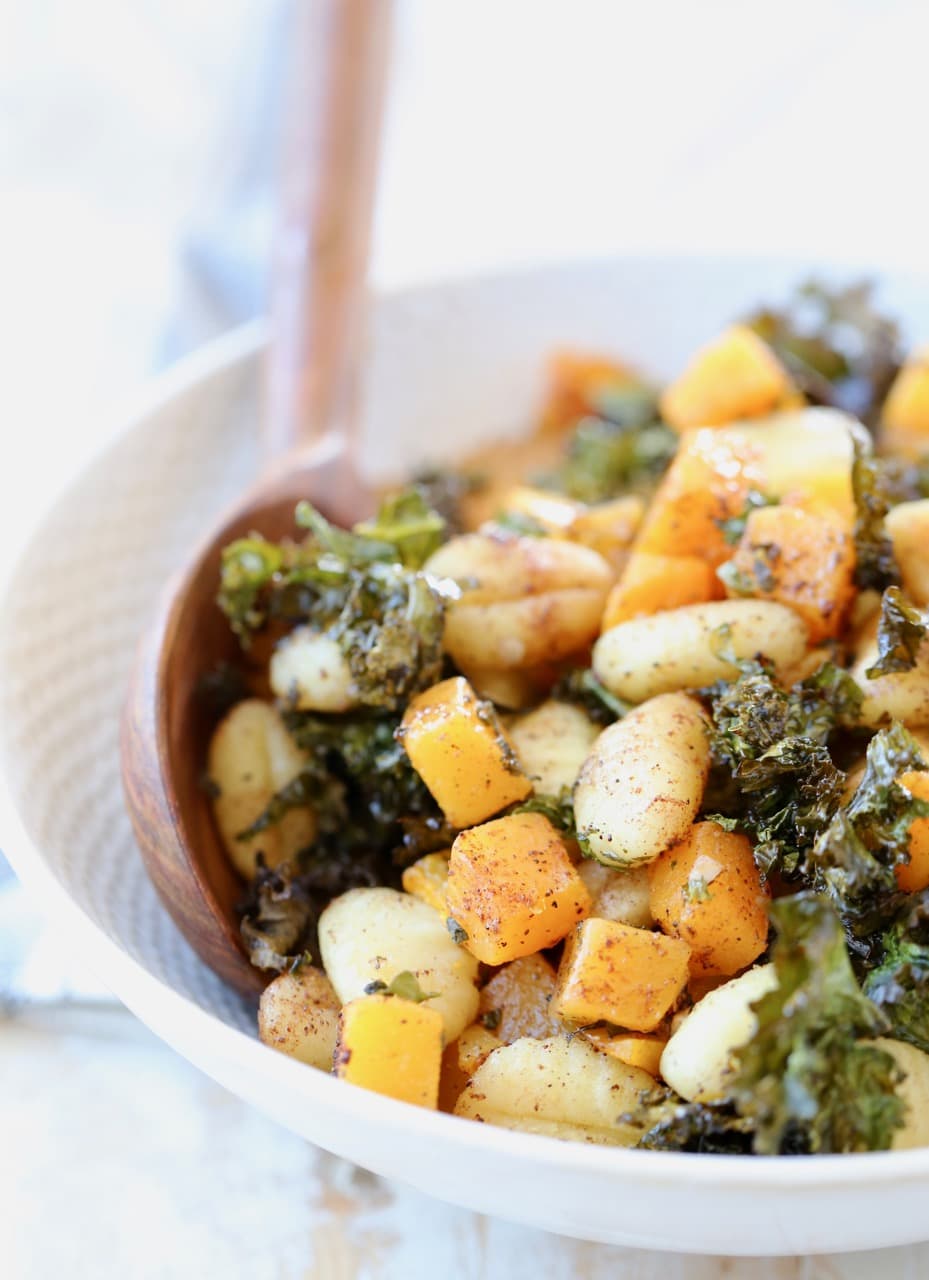 Butternut squash is my favorite fall vegetable! It can be turned into an appetizer with this Roasted Butternut Squash Apple Bruschetta Recipe, a taco with this Vegan Butternut Squash Taco Recipe or a soup with this Chai Spiced Butternut Squash Soup Recipe. It's so versatile and so delicious!
A few weeks ago I had a bag of diced up butternut squash in the fridge and a package of gnocchi in the pantry, I decided to experiment putting the two together in an easy sheet pan recipe for dinner.
That dinner turned out so delicious that I turned around and made it again the next day for the blog!
The crispy kale, paired with the tender gnocchi and creamy butternut squash creates the perfect trifecta of textures. And all of the fall spices really take the flavor of this recipe over the top!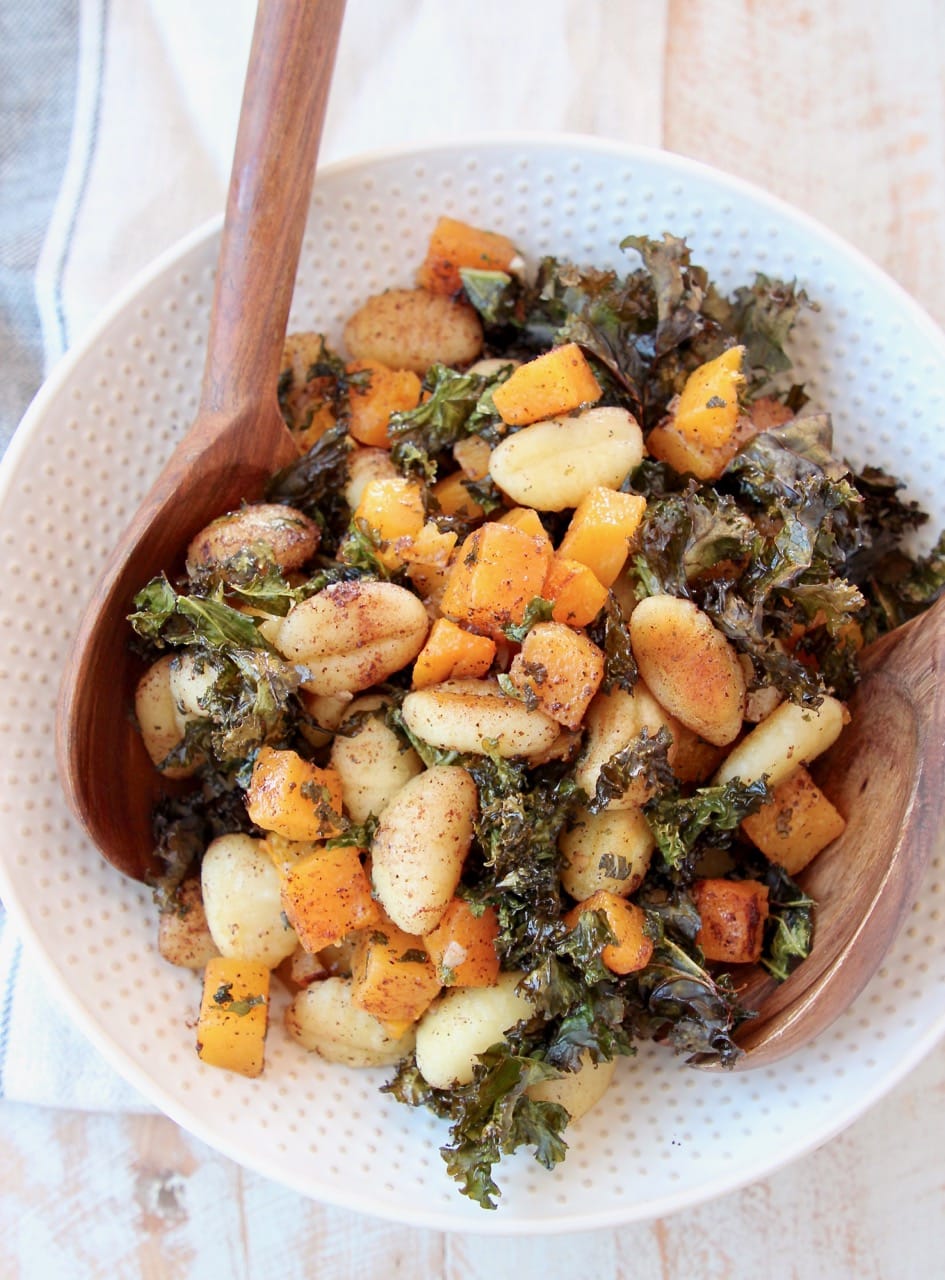 How do you make Baked Gnocchi?
While gnocchi is traditional boiled, baking gnocchi is just as easy and only takes 15 minutes to cook!
When baking gnocchi, it can be tossed with different veggies and sauces. For this recipe, I tossed the gnocchi in olive oil with herbs and spices, then added butternut squash and kale.
The great thing about baked gnocchi is that you can make an entire meal on one sheet pan!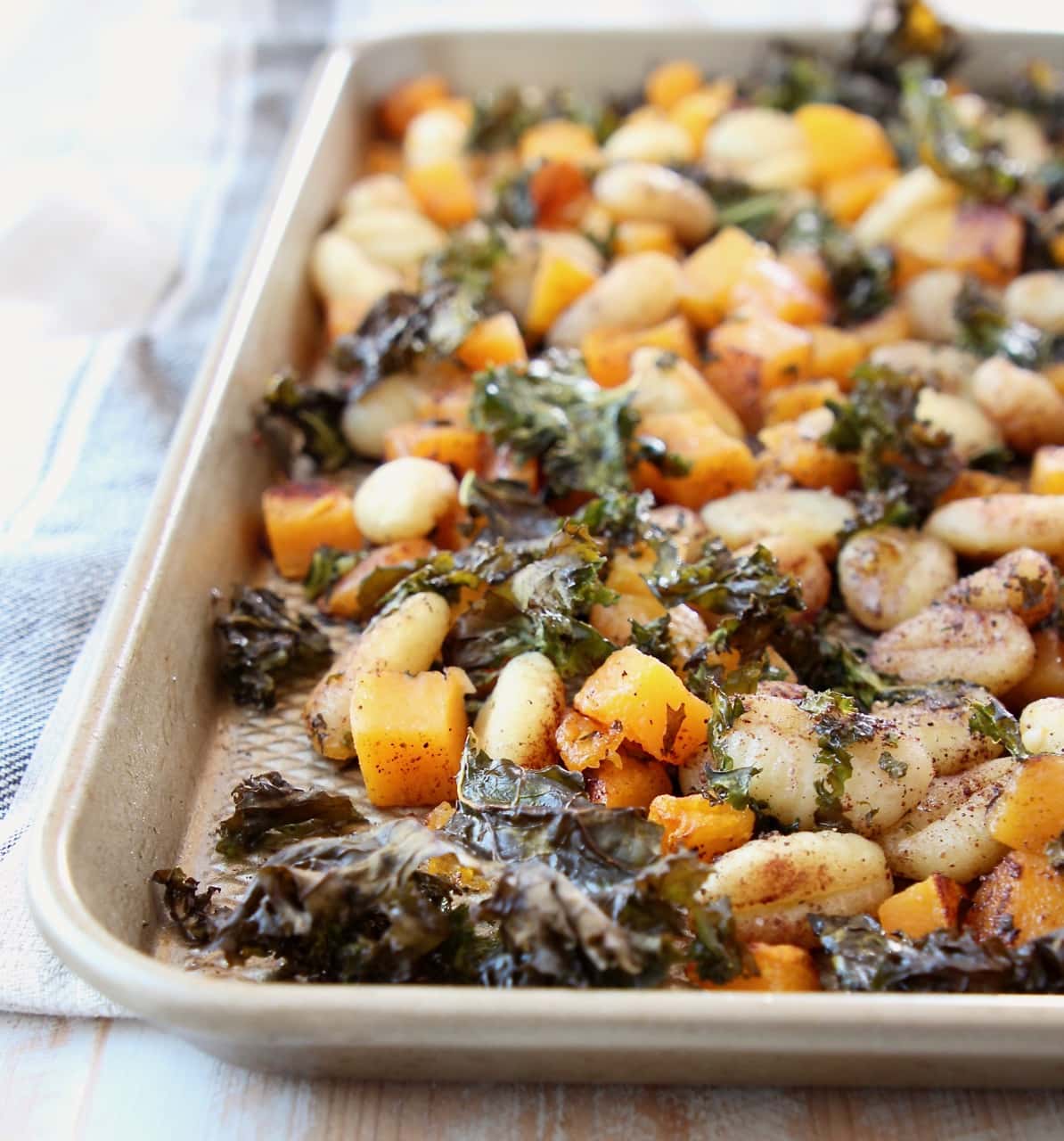 How many calories are in baked gnocchi?
This baked gnocchi recipe is only 379 calories and is loaded with vitamins! Each serving contains 282.7% vitamin A, 116.4% vitamin C and 31.6% iron. Even though it's vegan, it also contains 8 grams of protein.
What to serve with baked gnocchi?
This recipe can be served as a delicious vegan entree, or as a side dish with a protein.
A Bacon Wrapped Turkey or Chipotle Apple Pork Loin would be the perfect protein served with this baked gnocchi.
This recipe would also be a gorgeous and delicious addition to any Thanksgiving dinner menu.
Don't forget to pin this Baked Gnocchi recipe for later and when you make it, be sure to share a pic on Instagram and tag me @WhitneyBond or use the hashtag #WBRecipes!
Made it and loved it? Rate it 5 stars below!
Roasted Butternut Squash Gnocchi and Garlic Kale
Vegan baked gnocchi is tossed with delicious fall spices, butternut squash and crispy kale for an easy, healthy, sheet pan recipe made in just 25 minutes!
Instructions
Preheat the oven to 425° F.

Add the gnocchi and butternut squash to a large rimmed baking sheet, drizzle with the olive oil, toss to coat.

Sprinkle the cinnamon, nutmeg, allspice, ground cloves, salt, pepper and fresh chopped sage over the butternut squash gnocchi, toss to combine.

Add the kale and garlic to the baking sheet.

Place in the oven to roast for 15-18 minutes.
Nutrition Facts
Calories
379
kcal
(19%)
Carbohydrates
56
g
(19%)
Protein
8
g
(16%)
Fat
16
g
(25%)
Saturated Fat
3
g
(15%)
Sodium
705
mg
(29%)
Potassium
587
mg
(17%)
Fiber
4
g
(16%)
Sugar
2
g
(2%)
Vitamin A
14134
mg
(283%)
Vitamin C
96
mg
(116%)
Calcium
162
mg
(16%)
Iron
6
mg
(33%)
We are a participant in the Amazon Services LLC Associates Program, an affiliate advertising program designed to provide a means for sites to earn advertising fees by advertising and linking to amazon.com.