Slow Cooker French Onion Chicken
This post may contain affiliate links.
Easy, flavorful and fall-apart-tender, you have to try this recipe for French Onion Chicken! This tasty chicken recipe is made in a slow cooker, and seasoned with French Onion Mix, caramelized onions, garlic and Worcestershire sauce.
It's served with a delicious gravy, made right in the slow cooker and pairs wonderfully with Instant Pot Mashed Potatoes. This easy family-favorite recipe is a must-make!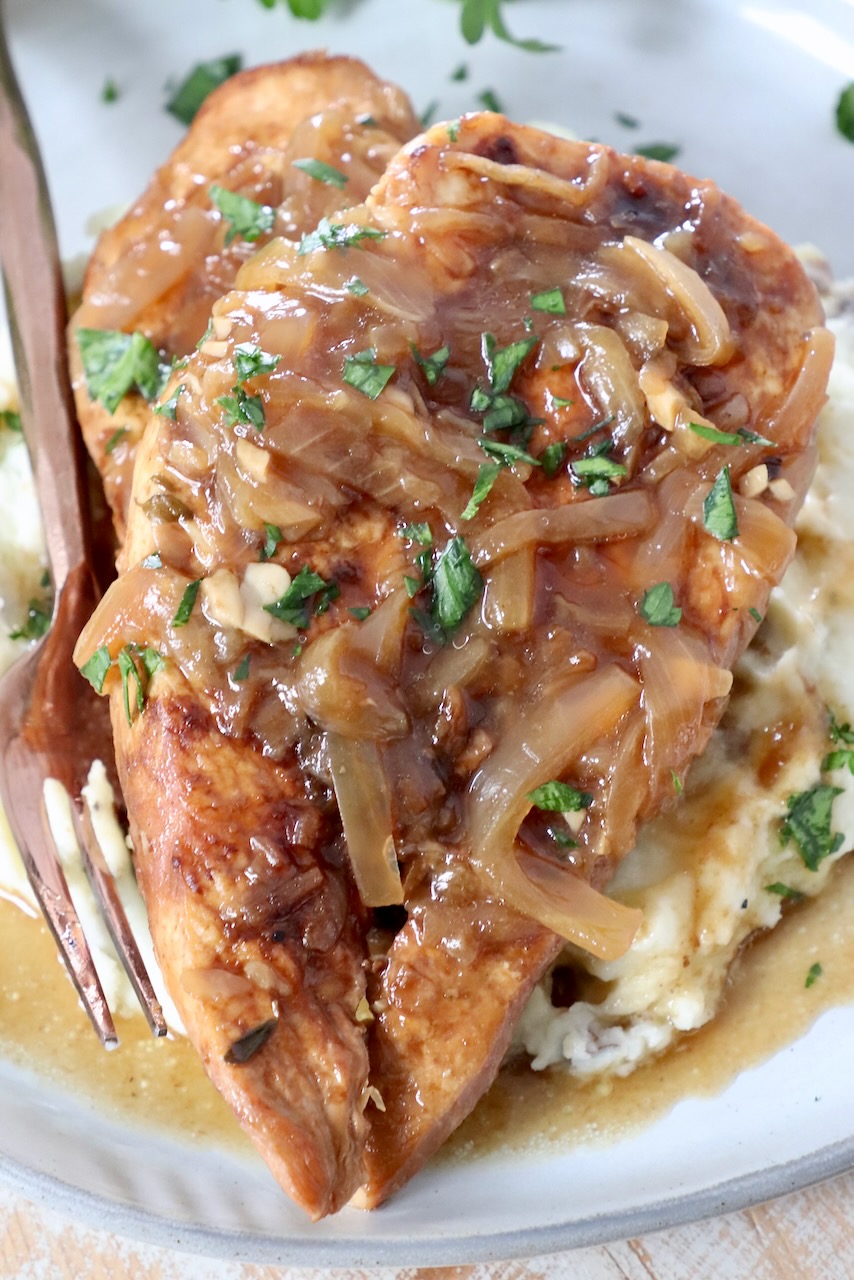 Inspired by this incredibly popular recipe for Crock Pot Pork Chops with French Onion Gravy, I present to you Crock Pot French Onion Chicken. If you've made these pork chops and loved the taste of them, then I guarantee you'll also love this chicken recipe!
If you haven't tried either of these recipes, I recommend adding them both to your menu. This recipe takes a boring ol' chicken breast and turns it into a juicy, tender, flavor-bursting meal.
Prefer even more juicy, tender flavor? Try making this recipe with chicken thighs! It's also delicious and just as easy to make.
After a simple 20 minute prep, this chicken recipe slow cooks all day and you'll come home to a delicious meal and a house that smells amazing!
If you love ordering French Onion Soup at restaurants, then you're certainly going to love this recipe!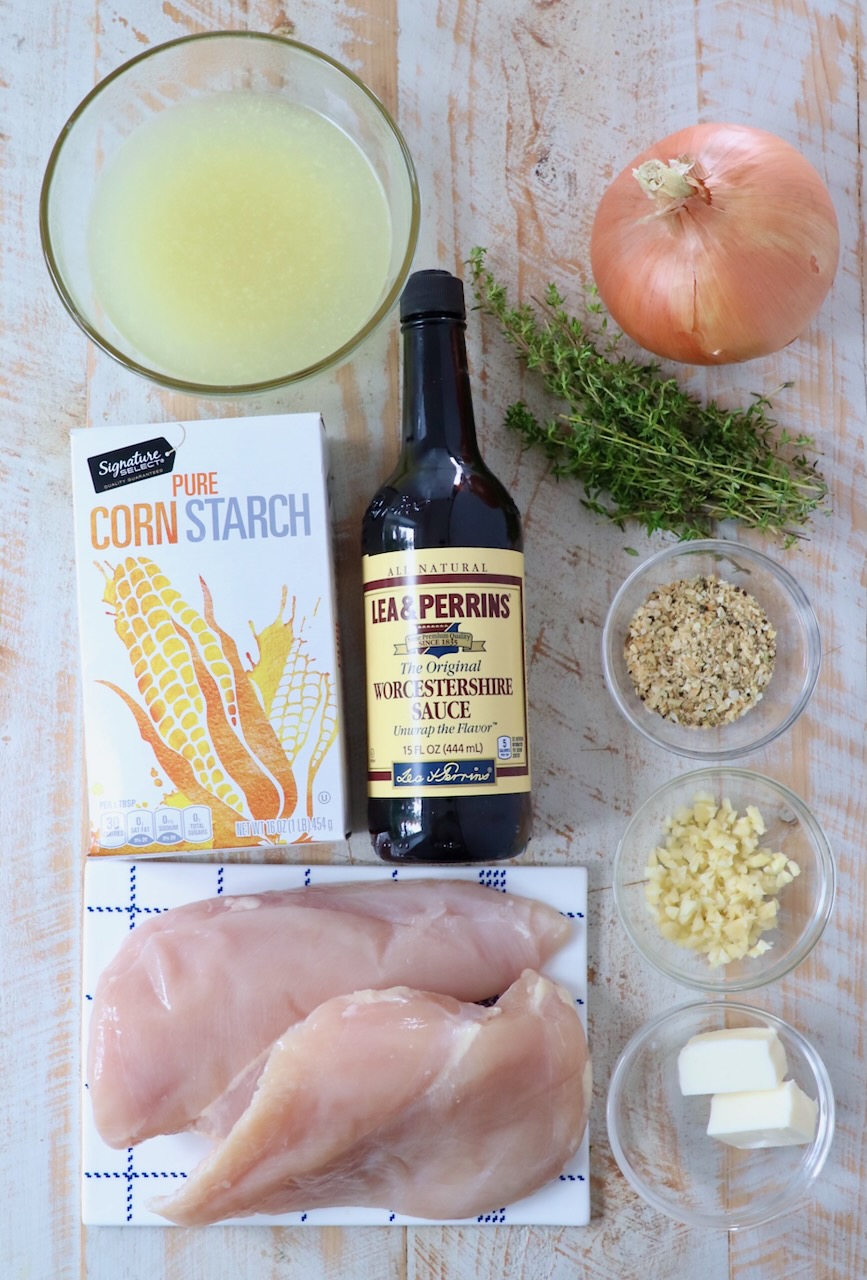 Ingredients
Butter – I recommend unsalted butter for this recipe, because the chicken broth adds enough saltiness to the dish.
Onion – I recommend using a yellow onion for it's nice, neutral flavor. For a sweeter flavor, use a sweet onion, like a vidalia onion.
Garlic – I always recommend fresh minced cloves for the best flavor.
French Onion Mix (click link for the recipe) – this seasoning mix of onion powder, garlic powder, salt and pepper gives the chicken so much flavor. I used my homemade seasoning mix for this recipe (linked above), but you can also purchase pre-made French Onion Soup Mix at your local grocery store. For this recipe, you'll need two tablespoons French onion mix, which is equal to a one ounce package of mix at the store.
Boneless, skinless chicken breasts (or chicken thighs) – for a healthier option, use chicken breasts, for a juicier, more tender option, use boneless, skinless chicken thighs. If using chicken breasts, be sure to either slice them lengthwise through the middle, or pound them to a 1/2 inch thickness before using them in the recipe.
Chicken broth – this will keep the chicken moist and juicy as it cooks, and will be used to make the gravy for the chicken at the end of the recipe.
Worcestershire sauce – this sauce adds a wonderful layer of umami flavors to the dish.
Fresh thyme – the perfect herb to pair with the caramelized onion flavor in this chicken dish.
Cornstarch – used to thicken the gravy in the slow cooker, after you've cooked the chicken. You can use all-purpose flour instead, but you'll need to double the amount because flour is not as strong of a thickening agent as cornstarch is. Since this recipe calls for 2 tablespoons cornstarch, if you're using flour instead, you'll need 4 tablespoons flour.
Instructions
I've included step by step photos below to make this recipe super easy to follow at home. For the full detailed recipe instructions and ingredient quantities, scroll to the recipe card at the bottom of this post.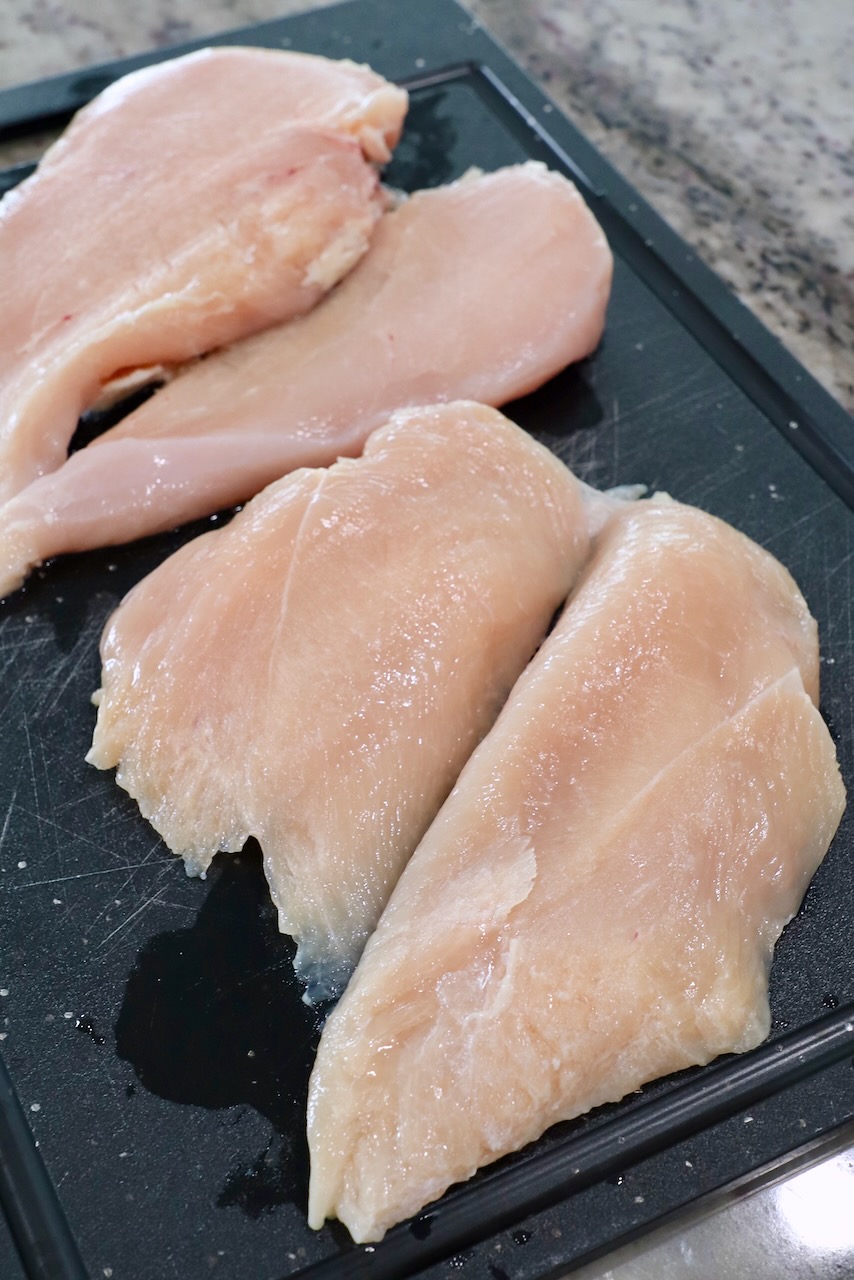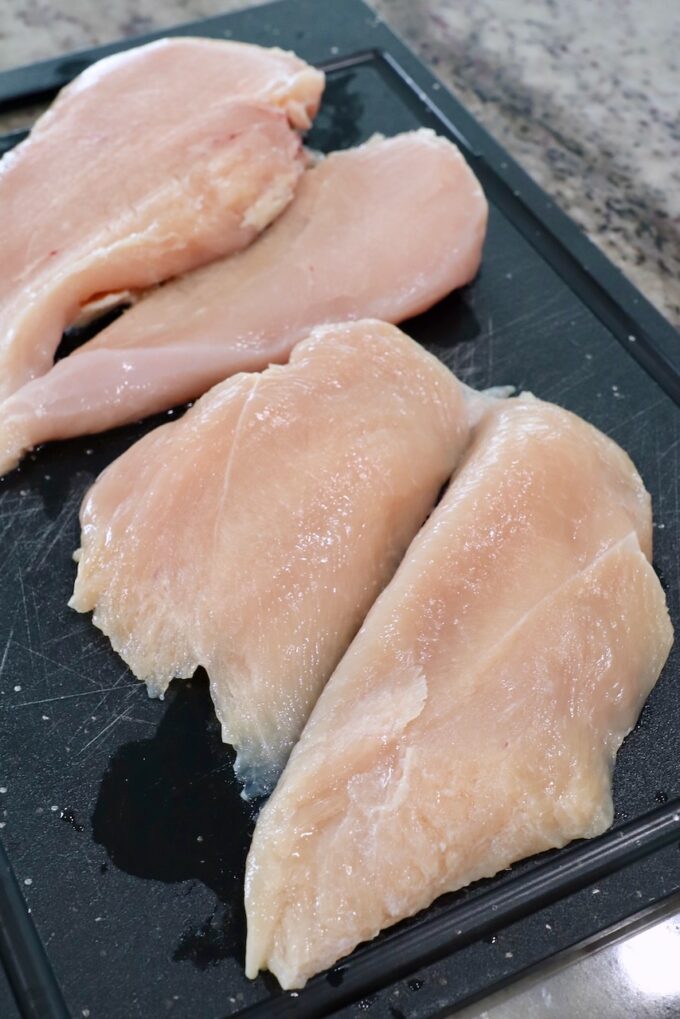 Slice the chicken. If the chicken breasts are extra large, slice them in half lengthwise through the middle, so that they're about 1/2 inch thick. If the chicken breasts are on the smaller side, use a meat tenderizer or rolling pin to pound the chicken breasts until they're 1/2 inch thick.
Season the chicken. Sprinkle the French onion seasoning mix evenly on all sides of the chicken, then set aside.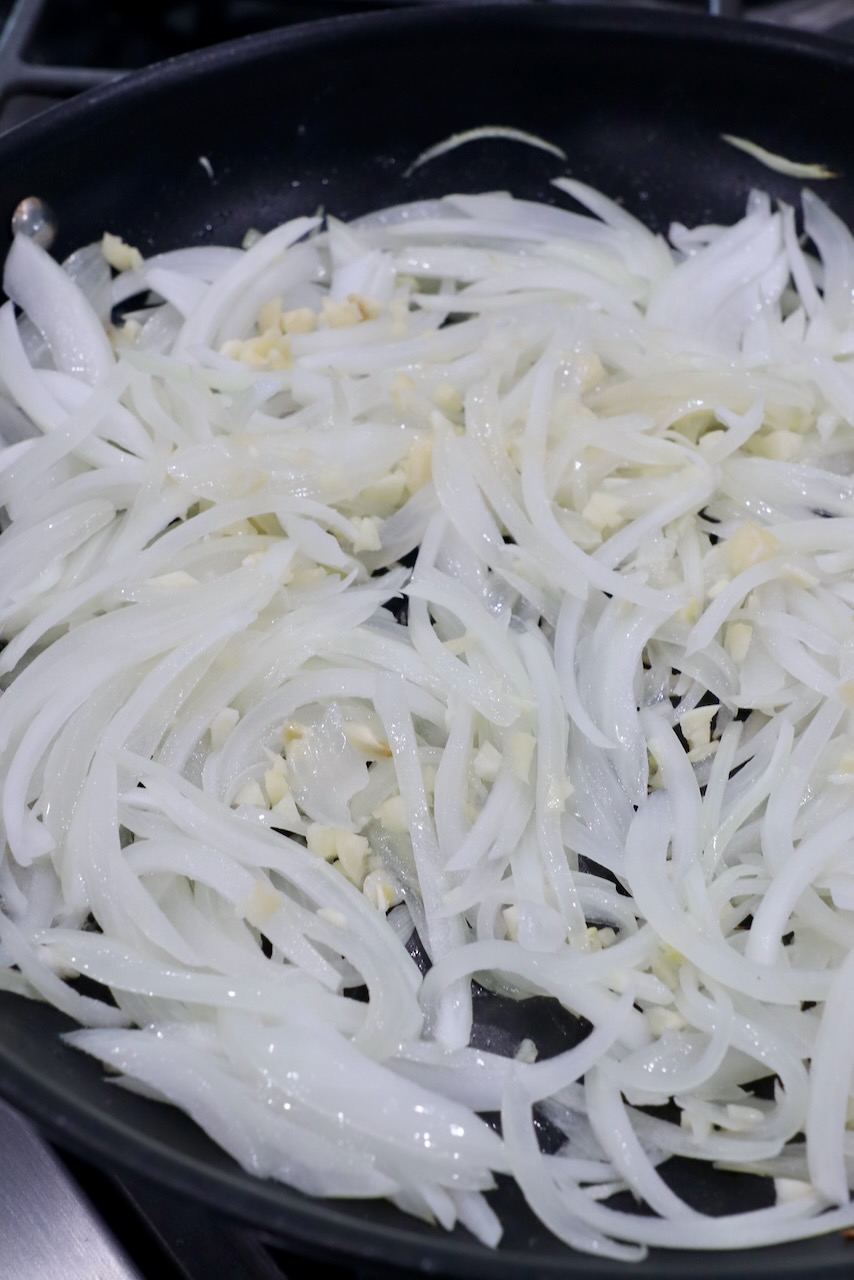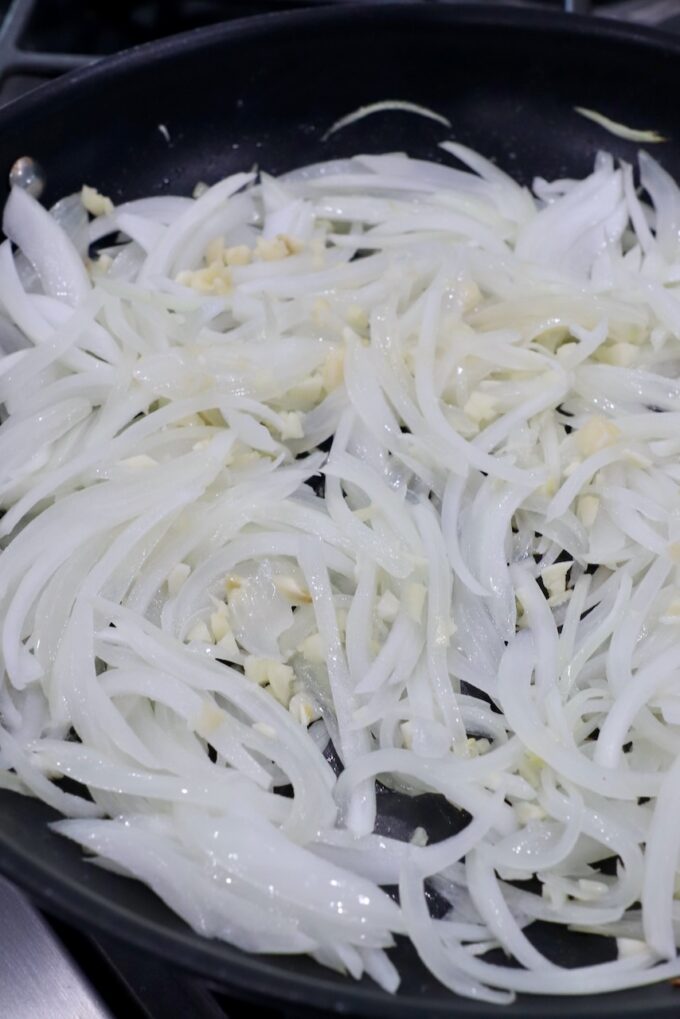 Caramelize onions. Melt butter in a large skillet on the stove over medium-high heat. Add thinly sliced onions and caramelize for 10 minutes, without stirring. After 10 minutes, stir the onions, then add minced garlic and cook for an additional minute. Transfer the onions and garlic to a slow cooker.
Sear the chicken. Place the same skillet that the onions were cooked in back on the stove over medium-high heat. Add the seasoned chicken and sear for 2 minutes per side, or until lightly browned.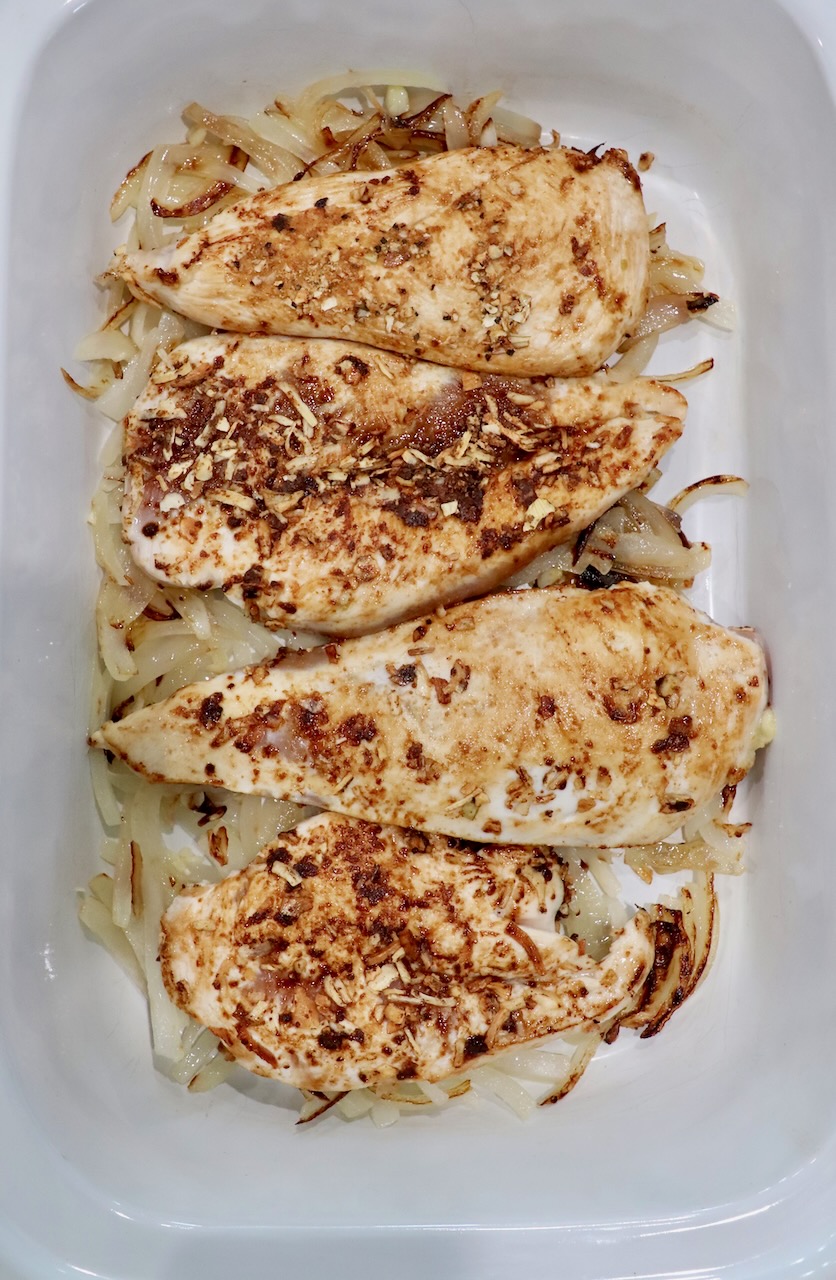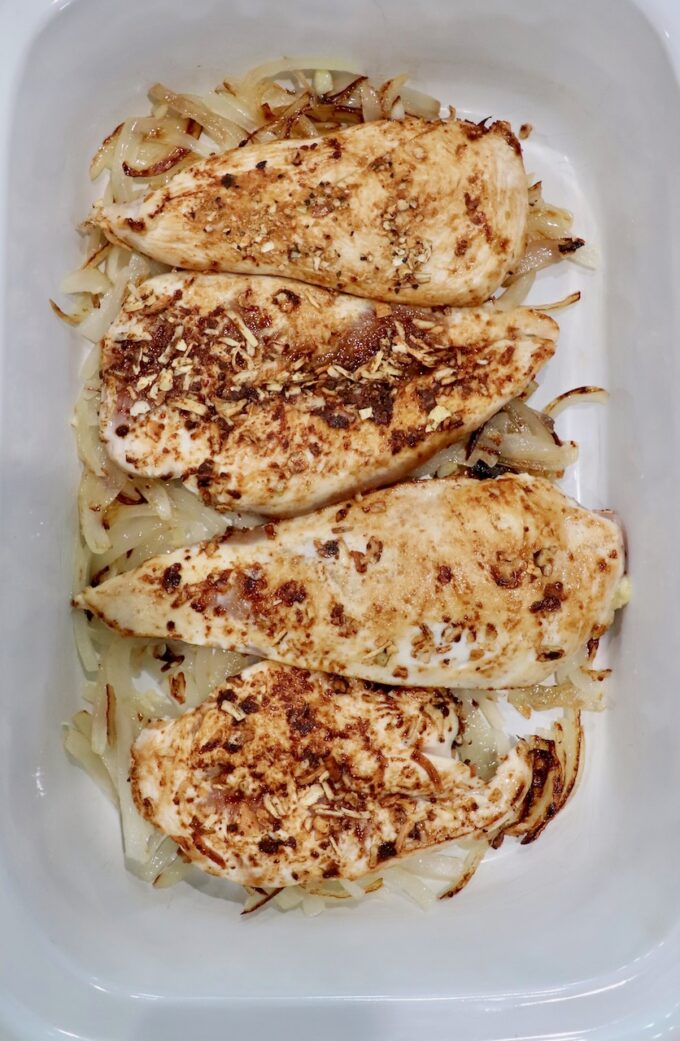 Transfer the chicken to the slow cooker with the onions.
Add the other ingredients. Pour the chicken broth and Worcestershire sauce in the slow cooker. Add the fresh thyme sprigs. Cover and slow cook on high for 3-4 hours, or on low for 7-8 hours.
Prepare the gravy. After the cooking time, use tongs to remove the thyme sprigs from the slow cooker and discard. Also remove the chicken breasts, and place them on a cutting board. Cover with foil to keep them warm. If the slow cooker is not already set to high, turn the temperature to high. In a small bowl, combine cornstarch and water. Add the cornstarch mixture to the slow cooker and stir to combine, cover and allow the gravy to cook together for 5 minutes.
Serve the chicken. Either serve the chicken immediately, topped with the french onion gravy from the slow cooker, or place the chicken breasts back in the slow cooker with the gravy until ready to serve. Right before serving, garnish the chicken with fresh chopped parsley, if you'd like.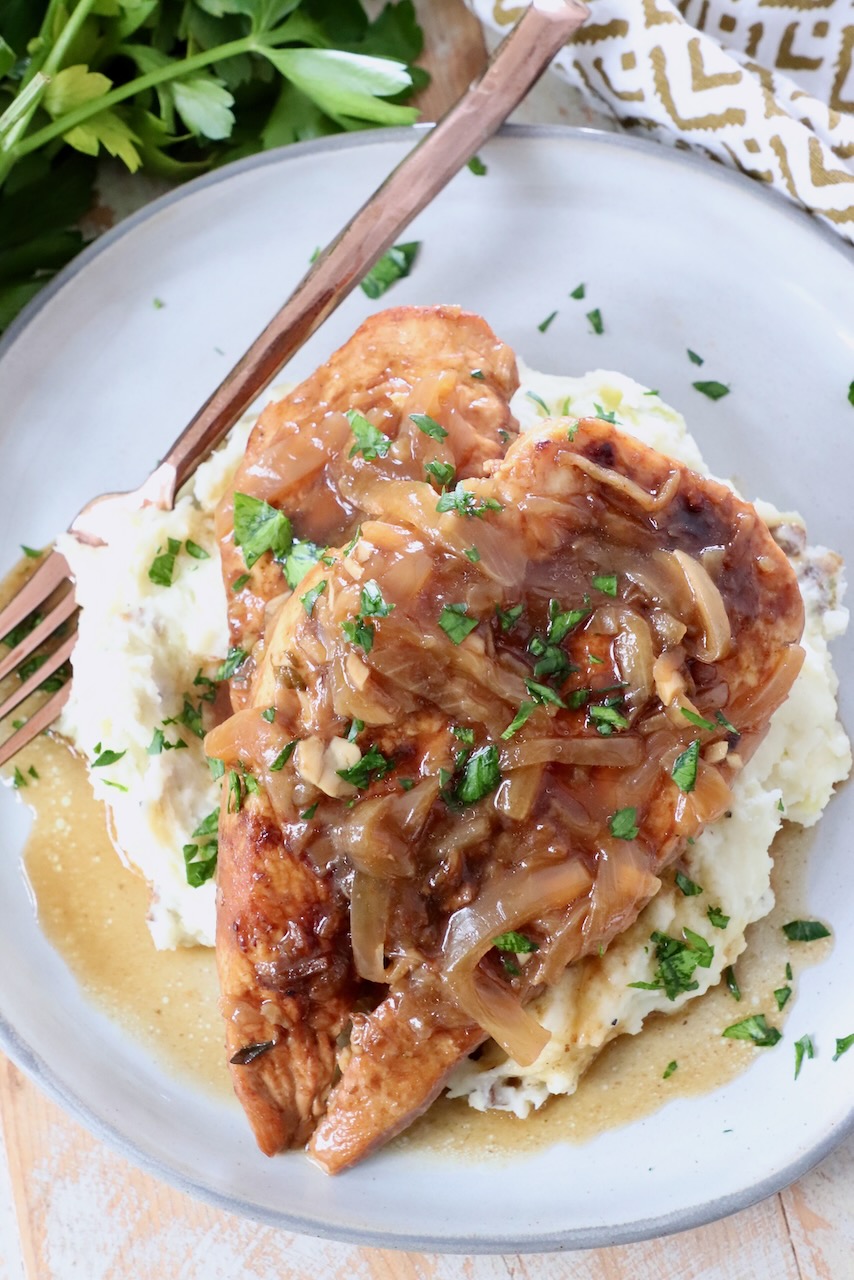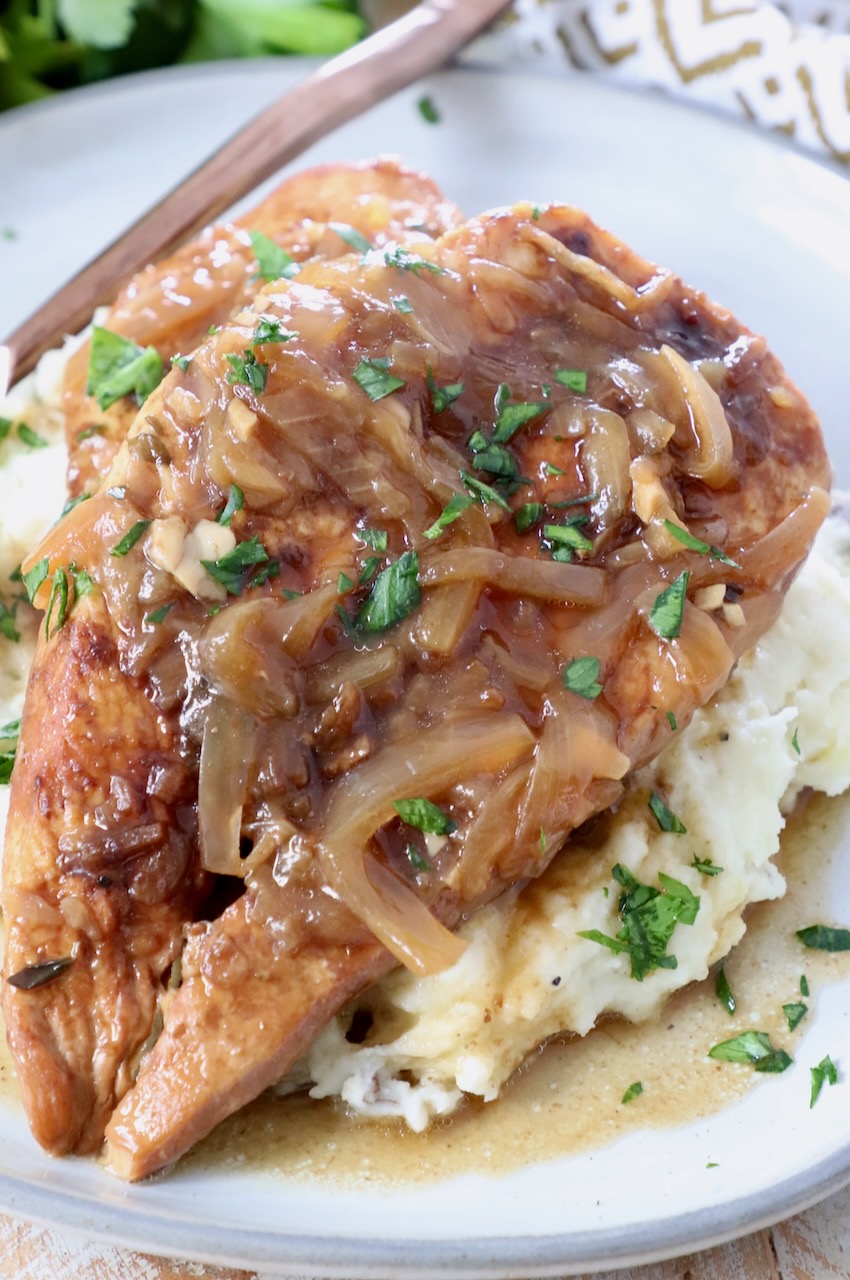 We are a participant in the Amazon Services LLC Associates Program, an affiliate advertising program designed to provide a means for sites to earn advertising fees by advertising and linking to amazon.com.