How to Make Your Own Mimosa Bar
This post may contain affiliate links.
The best Mimosa Bar is filled with delicious juices, fruits, and of course champagne! It's easy to set up in 10 minutes. And it's perfect for parties, brunch, Christmas, weddings, bridal showers & baby showers!
Set up a DIY Mimosa Bar and a Bagel Bar together for the ultimate brunch party!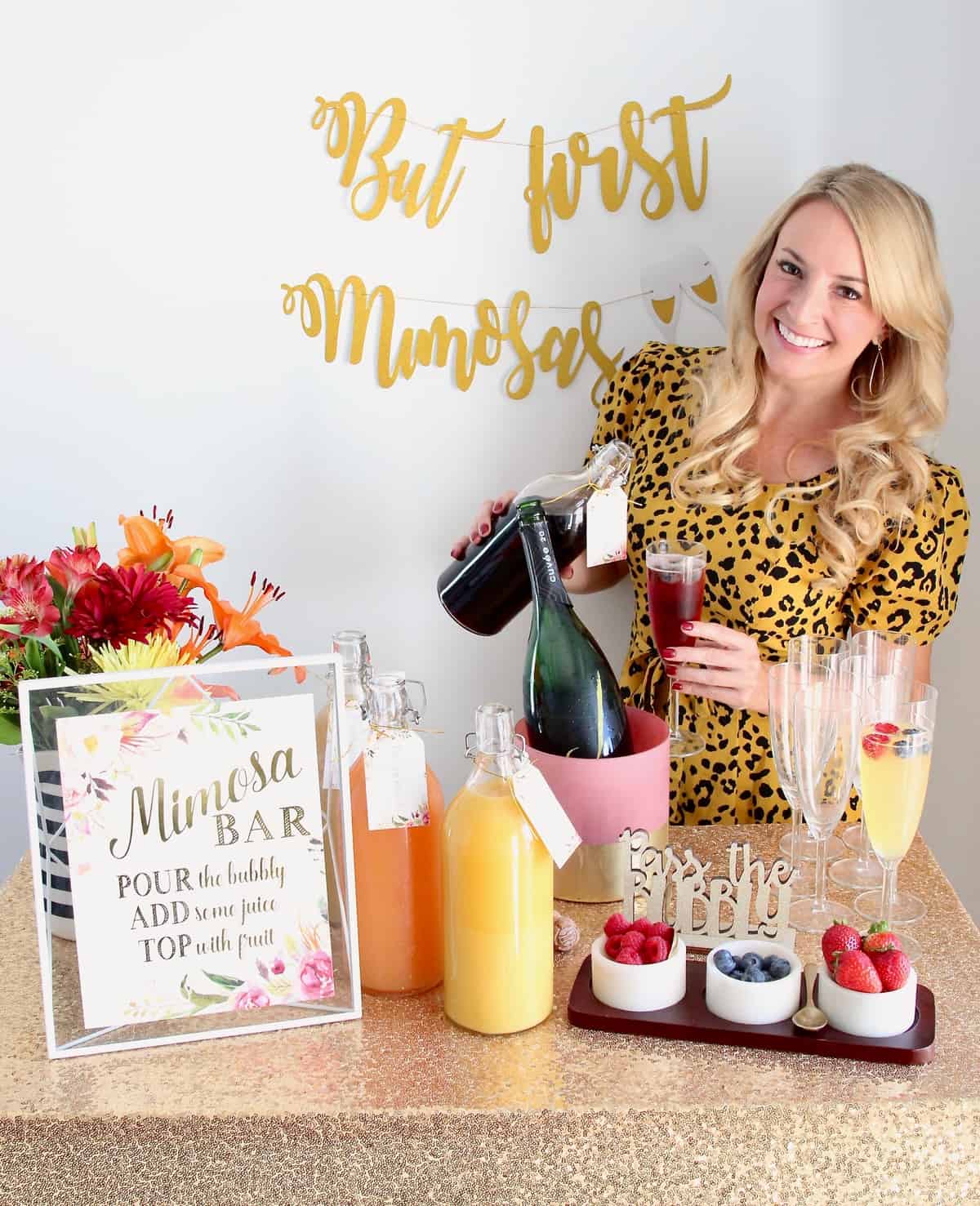 Mimosa bars are a super fun addition to holiday brunches, wedding showers and summer parties. I created one for brunch last Sunday and it was a huge hit! Luckily it only takes a few minutes to setup and guests will rave about it for years to come!
You can switch up the fruits and juices served with the Mimosa Bar depending on the season. I'm sharing my favorite every day Mimosa Bar setup below, along with some fun seasonal options!
Throwing a bachelorette party or bridal shower? Ladies will love making their own mimosas to get the party started! Hosting a brunch for Easter? Focus on making the perfect frittata, while everyone makes their own drinks at the Mimosa Bar!
Hosting family for Thanksgiving or Christmas? Set this bar up in the morning and while you're making the turkey, your guests can enjoy a festive cocktail!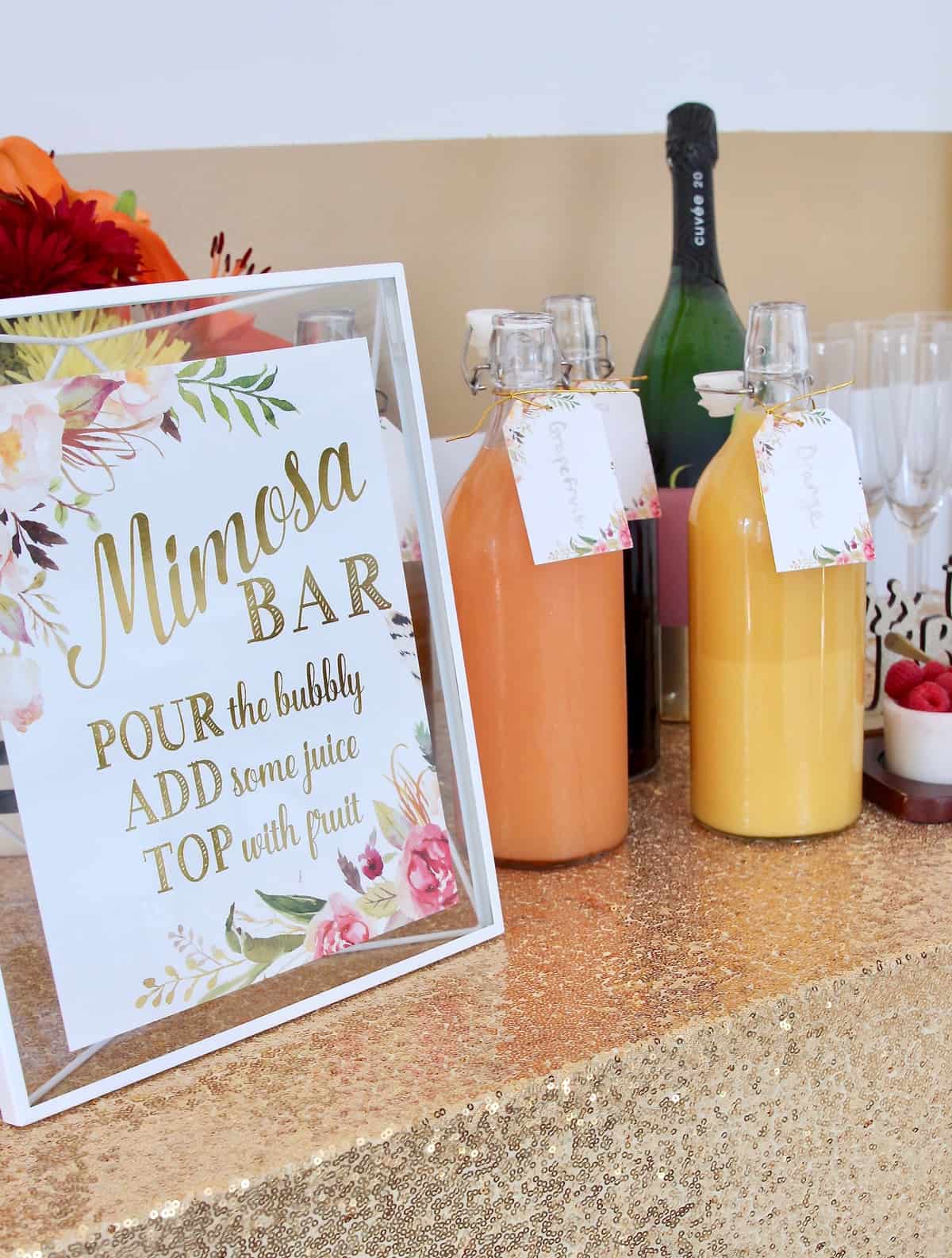 Supplies needed
Tablecloth – this is optional, but I love the bling this gold sequin tablecloth added to the bar!
Mimosa Bar Sign – In the past, I've made my own Mimosa Bar sign with chalkboards and letter boards. This time I opted to buy a Mimosa Bar kit on Amazon which included both the gold sparkly sign "But First Mimosas" and the Mimosa Bar sign you see in this post. I put it in a white picture frame, that I already owned, to display on the Mimosa Bar.
Glass Bottles – I recommend 3-5 glass bottles to serve a variety of juices.
Tags for the Bottles – the Mimosa Bar kit that I mentioned above (which is only $8.99 BTW!) also included the tags you see pictured on the glass bottles in the post. Use these tags to label the juices so your guests know about the various juice options!
Ribbon or strings for the tags – you can use any ribbon or string you have on hand to tie the tags to the bottles. Once again, that handy Mimosa Bar kit already came with sparkly gold string for the tags!
Champagne Flutes – you can go with glass champagne flutes, which are reusable, or plastic champagne flutes, which make clean-up super easy.
Serving Tray for Fruit – I used a wood serving tray with ramekins to serve the fruit. You can also simply serve the fruit in bowls, placed on the bar.
Assorted Fresh Fruits – for my every day Mimosa Bar, I stick with berries and serve the Mimosa bar with strawberries, blueberries and raspberries. Check out some of my seasonal mimosa bar ideas below for different fruit options!
Assorted Fresh Juices – for my every day Mimosa Bar, I usually go with a combination of orange, grapefruit, pomegranate and pineapple juice. For seasonal options, check out my ideas below!
Champagne – I mean, this one is pretty obvious, but you definitely need champagne for your mimosa bar! If you're serving this bar at a party, brunch or holiday gathering with children, you can also add sparkling cider or sparkling grape juice so that the kids can get in on the fun too!
Ice Bucket or Beverage Tub – I like to keep one champagne bottle on ice on the Mimosa Bar, so it stays cold and always ready for refills. I keep the other bottles in the refrigerator and switch them out as needed. If you're hosting a large party or one that extends throughout the day, I'd recommend a beverage tub to keep the juices and multiple bottles of champagne cold.
Optional Extras

Vase of flowers – adds an extra pop of color to the Mimosa Bar!
Menu of drink recipes – let your guests make up their own combinations or give them some ideas with a Mimosa Menu. The menu can be written on a chalkboard, or typed, printed out, then displayed in an 8″ x 10″ picture frame.
How to make a mimosa bar
If using a tablecloth, place it on the table first. I actually used a rolling kitchen island that I had in my studio to make the bar. You can use a dining room table, folding table or even set the Mimosa Bar up on a kitchen counter or island.
Place the Mimosa Bar sign on the table.
If you order the kit, hang the "But First Mimosas" banner on a wall behind the Mimosa Bar.
Add the champagne flutes to the bar.
Pour the juices into glass bottles.
Write the different juice flavors on the tags, then tie them on the bottles with the ribbon or string.
Add the fruit to bowls or ramekins on a serving tray.
Place a bottle of champagne in an ice bucket on the bar.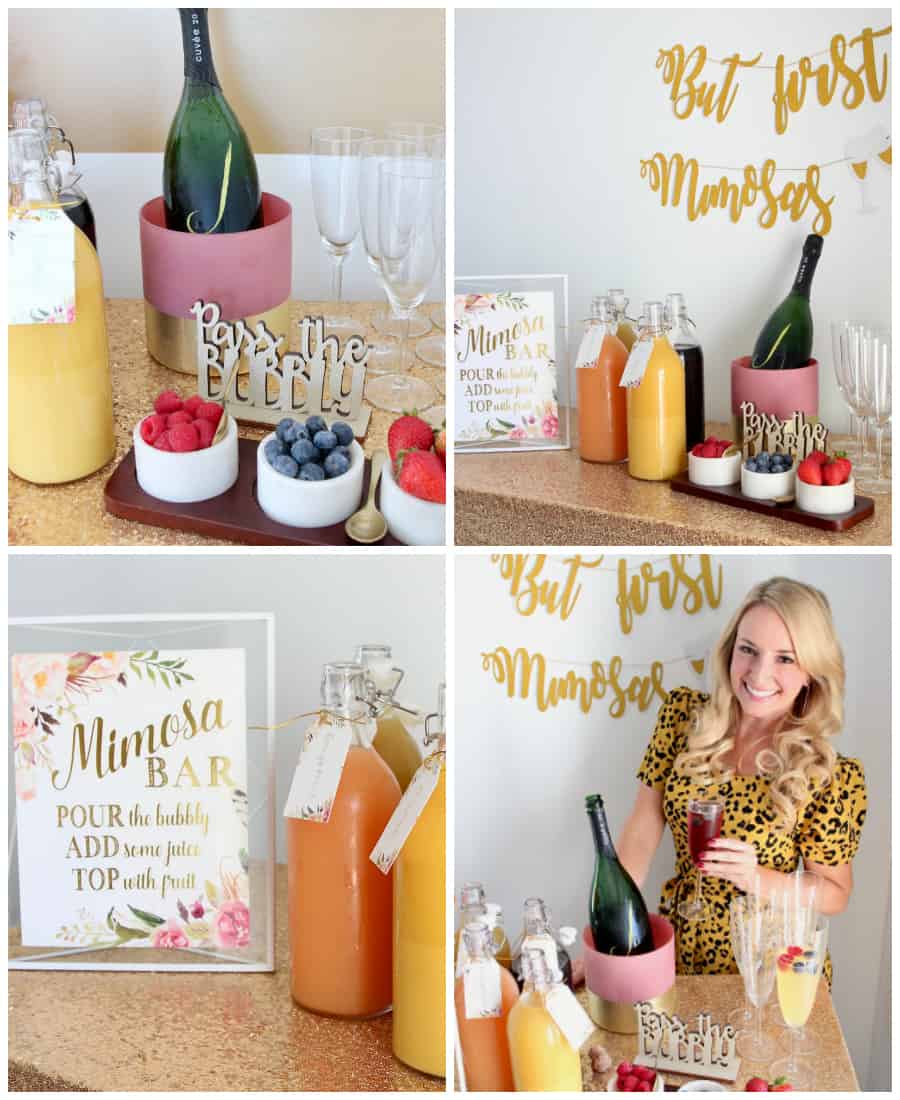 How much champagne will you need?
Planning one standard size, 750 ml bottle, for every 3 guests is an easy way to prepare how much champagne you'll need for a mimosa bar.
Mimosas are generally made with equal parts champagne and juice. If you know that your guests drink their mimosas with 90% champagne and 10% juice (me!) then plan one bottle for every 2 guests.
Seasonal mimosa menu ideas
Wondering what fruit goes in mimosas or what juices to serve at a mimosa bar? Whether you're looking for some seasonal ideas or you'd like to make a Mimosa menu for the bar, these recipes are a great place to start!
Fall & Thanksgiving

Apple Cider + Champagne + Apple slice
Cranberry Juice + Lemonade + Champagne + Rosemary Sprig
Pomegranate Juice + Champagne + Pomegranate Seeds
Cranberry Apple Juice + Champagne + Cranberries

Winter & Christmas

Pineapple Juice + Whipped Cream Vodka + Champagne + Pineapple Slice
Pear Nectar + Champagne + Pear Slice
Cranberry Juice + Orange Juice + Champagne + Cranberries
Chambord + Champagne + Raspberries
Peppermint Schnapps + Champagne + Candy Cane

Spring & Summer

Grapefruit + Champagne + Strawberry
Pineapple Juice + Coconut Rum + Champagne + Pineapple Slice
Raspberry Lemonade + Champagne + Raspberry
Watermelon Juice + Champagne + Watermelon Slice
Grapefruit Juice + Gin + Ginger Beer + Champagne + Lemon Wedge
Raspberry Sorbet + Champagne (or Sparkling Rosé) + Raspberry
Mango Juice + Champagne + Raspberry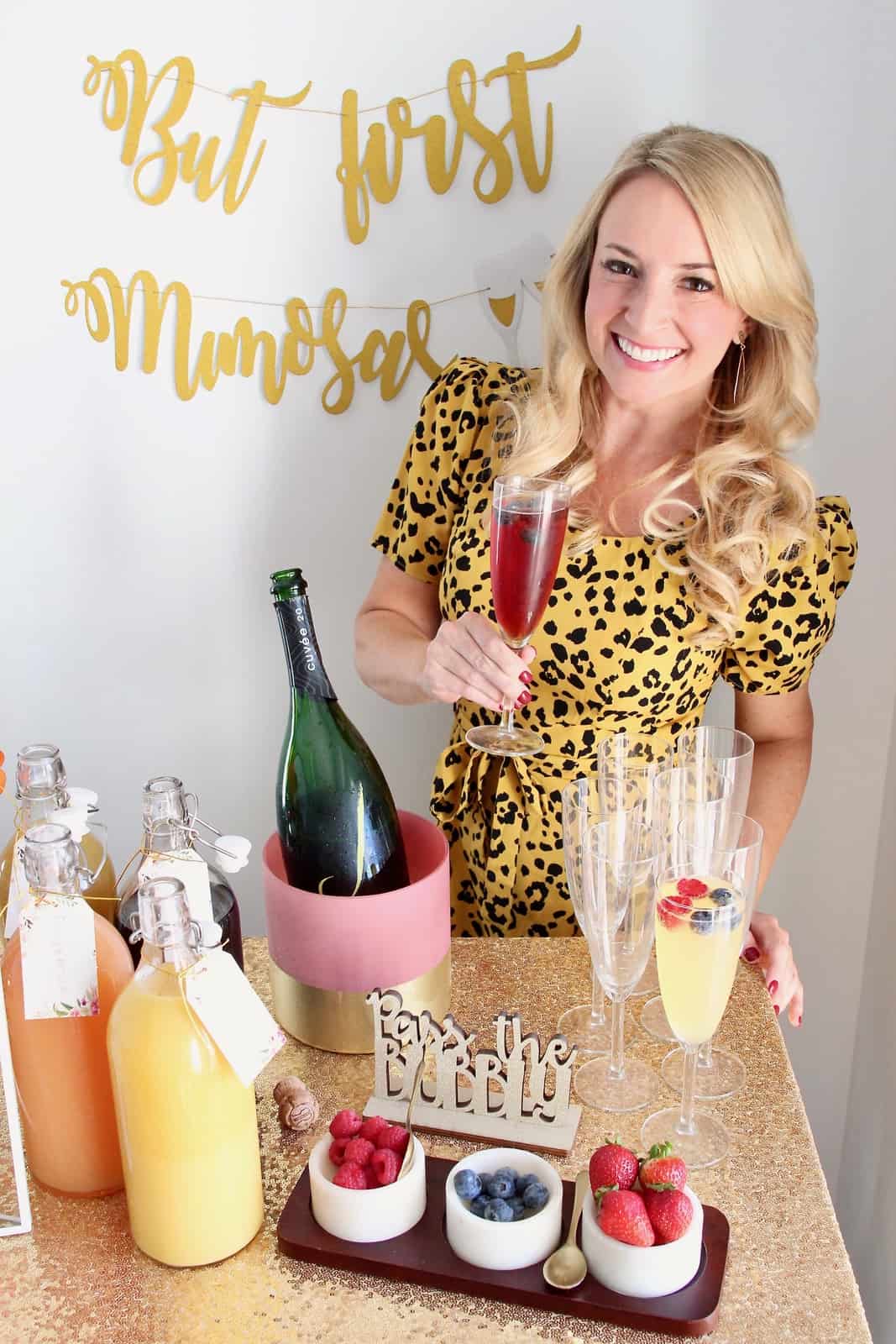 More delicious cocktail recipes for a crowd
Mimosa Bar
The best Mimosa Bar is filled with delicious juices, fruits, and of course champagne! It's easy to set up in 10 minutes. And it's perfect for parties, brunch, Christmas, weddings & bridal showers!
Instructions
Set up the mimosa bar with a tablecloth, sign and champagne flutes.

Place the orange, pineapple, grapefruit and pomegranate juices in glass bottles, tying tags around each bottle to label the juices.

Place the strawberries, blueberries and raspberries in separate bowls and add to the bar.

Add the bottles of champagne to the bar. Place at least one in an ice bucket to keep cold.

Fill champagne glasses ½ – ¾ full of champagne.

Add the juice (or juices) of your choice.

Garnish each mimosa with the fruit of your choice.
Notes
The ingredients provided above account for 1 bottle of champagne per 3 guests and an approximately 50/50 ratio of champagne to juice.
Nutrition Facts
Calories
117
kcal
(6%)
Carbohydrates
28
g
(9%)
Protein
1
g
(2%)
Fat
1
g
(2%)
Saturated Fat
1
g
(5%)
Sodium
8
mg
Potassium
410
mg
(12%)
Fiber
1
g
(4%)
Sugar
24
g
(27%)
Vitamin A
110
mg
(2%)
Vitamin C
54
mg
(65%)
Calcium
26
mg
(3%)
Iron
1
mg
(6%)
We are a participant in the Amazon Services LLC Associates Program, an affiliate advertising program designed to provide a means for sites to earn advertising fees by advertising and linking to amazon.com.