Spicy Serrano Chili Mango Margarita
This post may contain affiliate links.
Serrano Chili Mango Margarita's are the perfect combination of sweet and spicy! Fresh mangos, combined with spicy serrano peppers, makes this the perfect margarita! It's easy to make this recipe at home in less than 5 minutes for happy hour, a cocktail party or your next fiesta!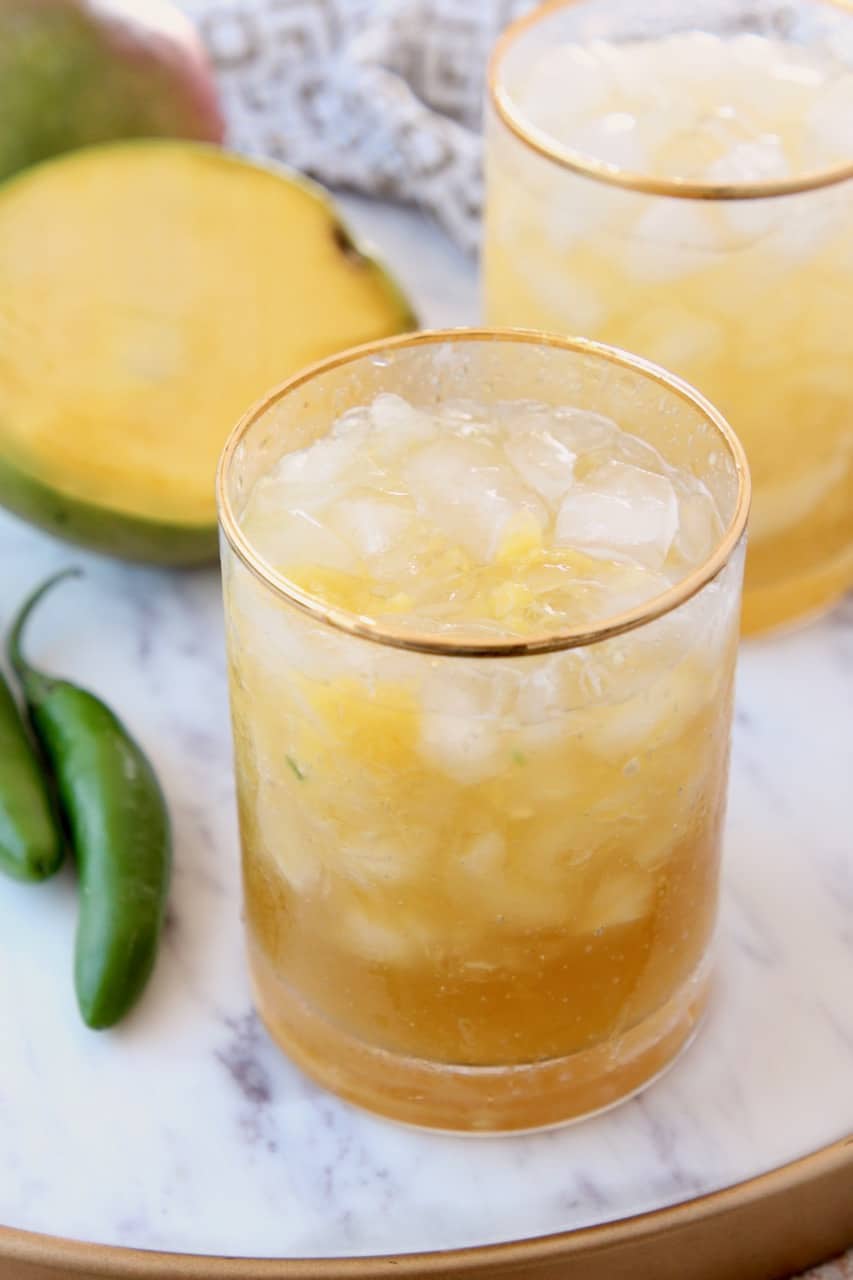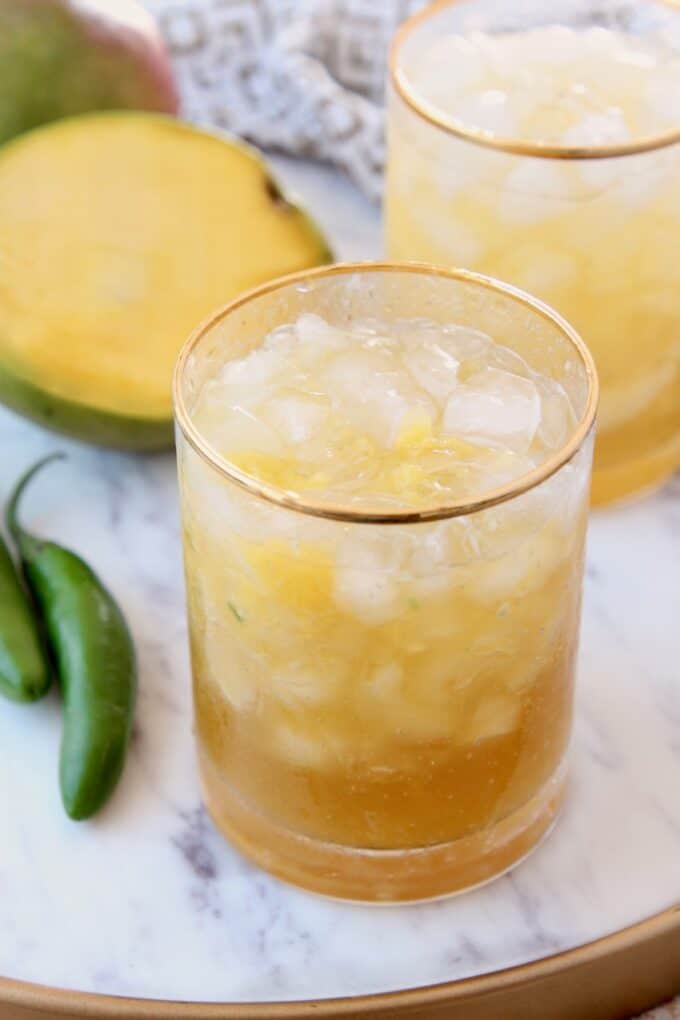 Margarita's are a classic Mexican cocktail, made with tequila, orange liqueur and lime juice. In this recipe, I'm putting a sweet and spicy spin on the classic cocktail!
Fresh mangos are mashed with spicy serrano chilis to create the sweet and spicy base of this cocktail. Tequila and orange liqueur are added to make it a margarita. And the cocktail is finished off with agave nectar to add a natural sweetness to the drink.
This margarita is served on the rocks, instead of blended. But if you're looking for the perfect Frozen Mango Margarita, I've got a recipe for that too!
These spicy margaritas are perfect for sipping poolside, celebrating Cinco De Mayo or paired with these popular Chicken Fajita Skewers or Chipotle Carne Asada!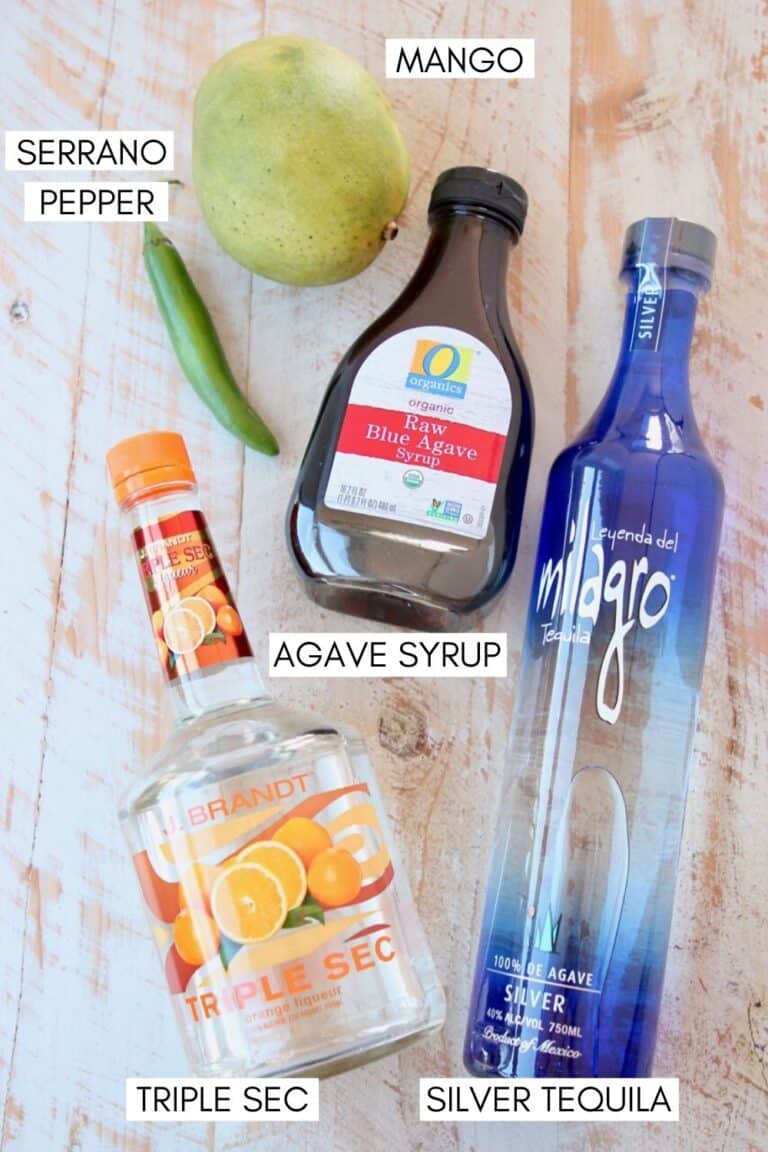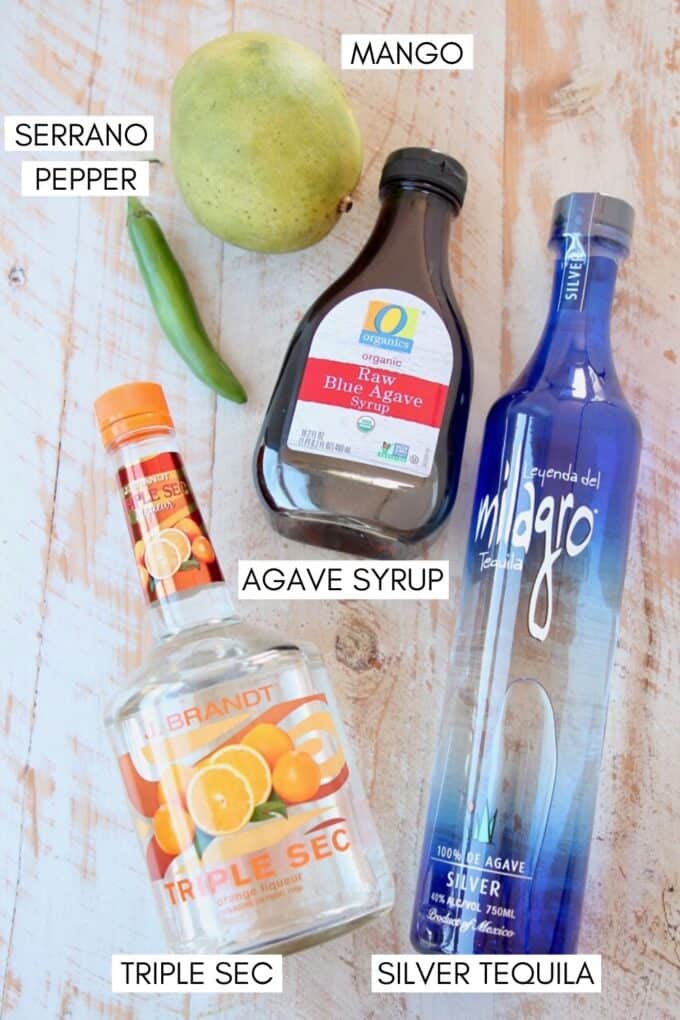 What You'll Need
Silver Tequila, or blanco tequila, is typically used in margaritas. While gold, anejo or reposado tequilas, which are aged longer, are served as sipping tequila, not mixed into drinks.
Triple Sec is a type of orange liqueur typically used to make margaritas, but any orange liqueur will work for this recipe.
Agave Nectar is a natural sweetner that comes from the Agave tequilana plant, which is also used as the base ingredient in tequila. This is why the two pair so well together in margaritas! Honey or simple syrup can be used in place of the agave nectar, if that's what you have on hand!
Fresh Mango is the base of this drink, therefore you want to make sure you get a mango that's ripe. Just like an avocado, you'll want to give the mango a gentle squeeze. If it's soft to the touch, it's ripe and perfect for this margarita!
Fresh Serrano Chili Peppers are found in the produce section at every major grocery store. They're smaller and thinner than a jalapeno and also pack more of a punch! Depending on how much spice you want in the drink, you can add more or less fresh serrano peppers. You could also substitute jalapenos for less spice, if you'd like.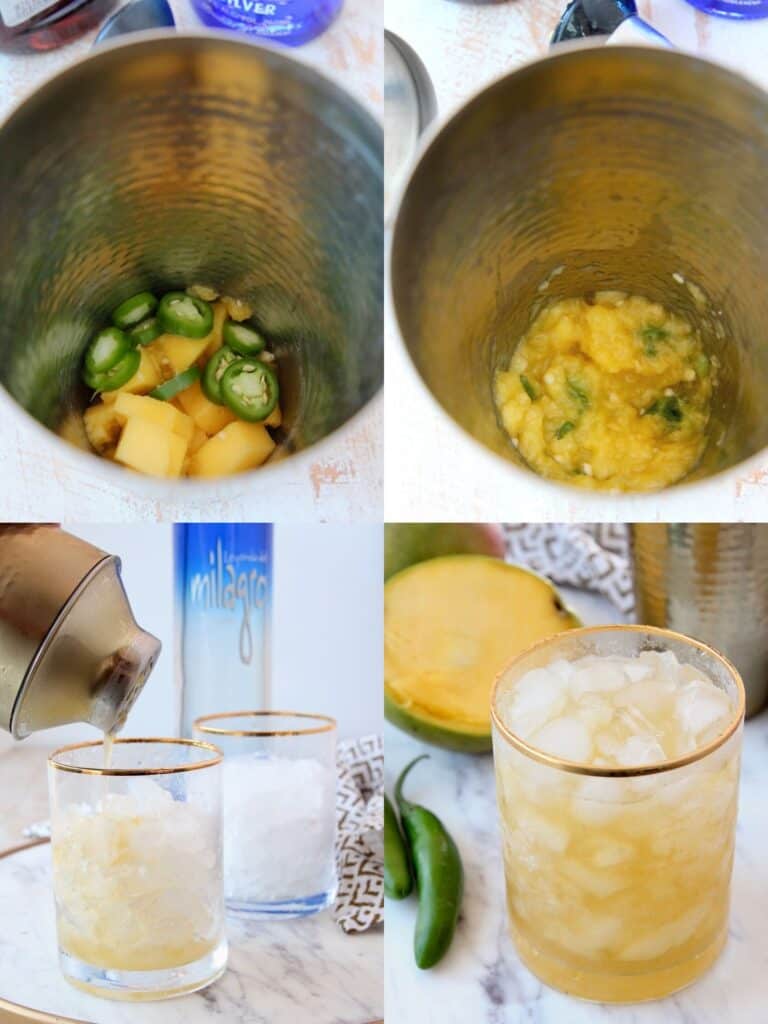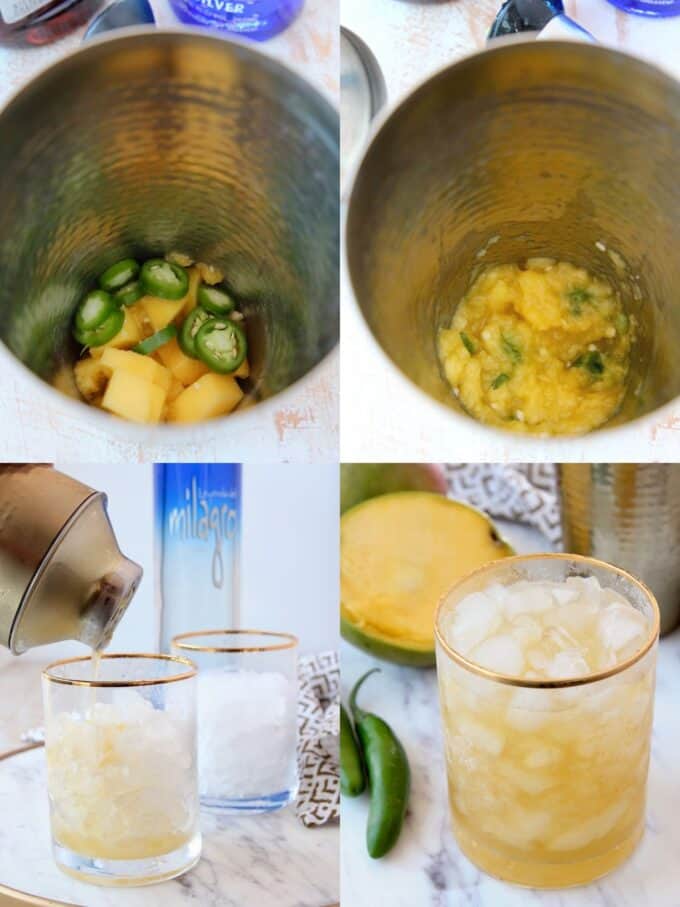 Step by Step Instructions
Add fresh, ripe diced mango to the bottom of a cocktail shaker, along with fresh sliced serrano chilis.
Grab a muddler, a bar tool used to mash or "muddle" fruits and herbs in the bottom of a glass to release their flavor. Use the muddler to mash the mango and serrano chilis in the bottom of a shaker to bring out the flavor of the fruit and pepper.
Add the tequila, triple sec, agave nectar and ice to the cocktail shaker.
Shake the cocktail, then strain it into a glass filled with ice.
Tips & Tricks
If you don't have a muddler, use the back of a spoon to mash or "muddle" the mango and serrano peppers.
Be sure to use a ripe mango! If the mango isn't ripe, meaning it's firm to the touch when gently squeezed, it will not mash easily and it's flavor won't be released into the cocktail.
Want less spice? More spice? Just like any pepper, the spice of serrano chilis can vary from chili to clili, I recommend adding 1/2 teaspoon of sliced or diced serrano chilis to the margarita, then adjusting according to your preferred spice level. Adding the seeds and membranes (the middle of the pepper) to the margarita will make it much spicer, than if you just use the outside of the pepper.
Having trouble straining the cocktail because of mango pieces or chilis getting stuck in the cocktail shaker? Remove the lid from the cocktail shaker and use a cocktail strainer. It will have larger holes than the cocktail strainer built into the lid of the cocktail shaker, making it easier to pour the cocktail into the glass.
If you'd like a salted rim on the glass, rub a lime wedge around the rim of the glass, then cover a small plate in coarse salt and dip the glass into the salt. For a fun spin, try using tajin instead of salt. Tajin is a dry chili lime seasoning made up of mild peppers, salt and lime, that pairs perfect with this spicy mango margarita!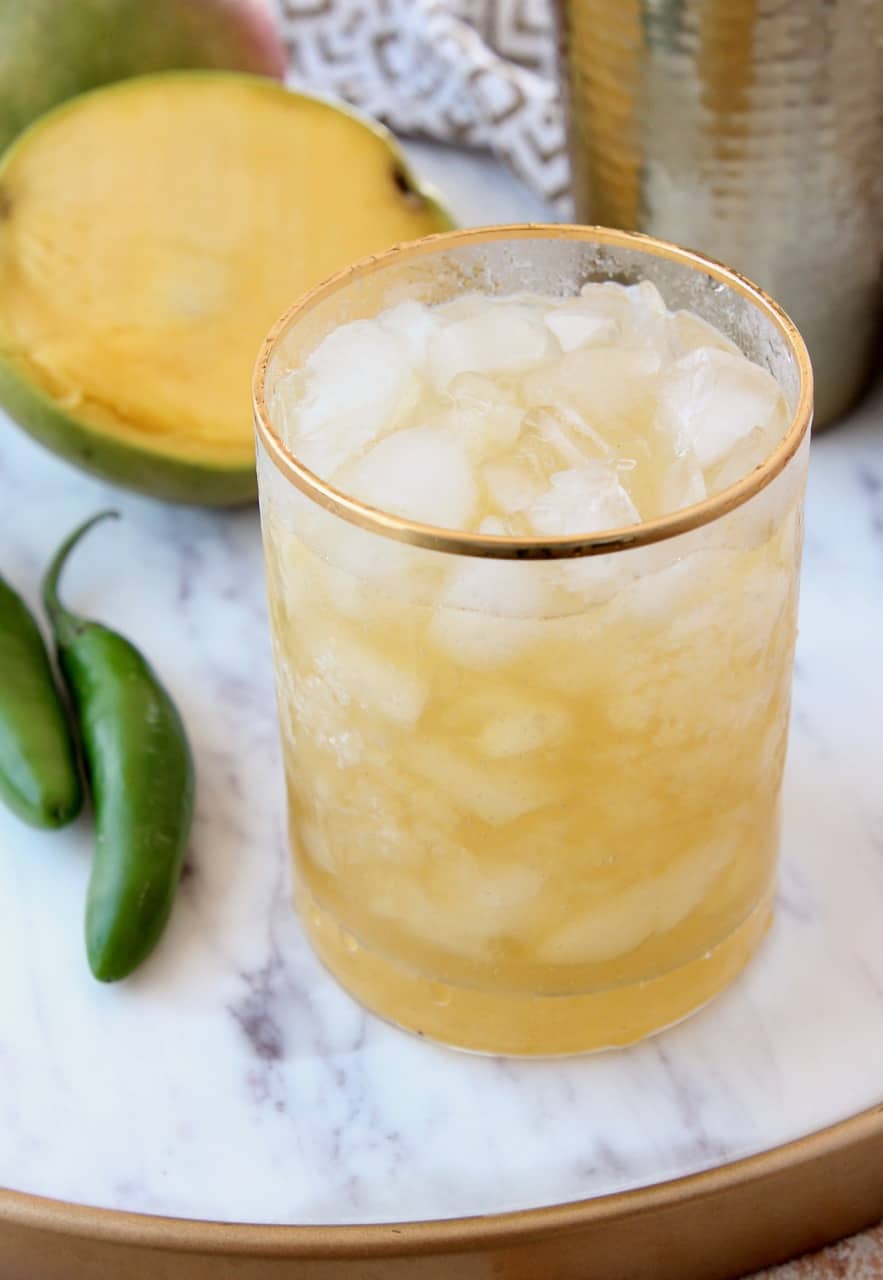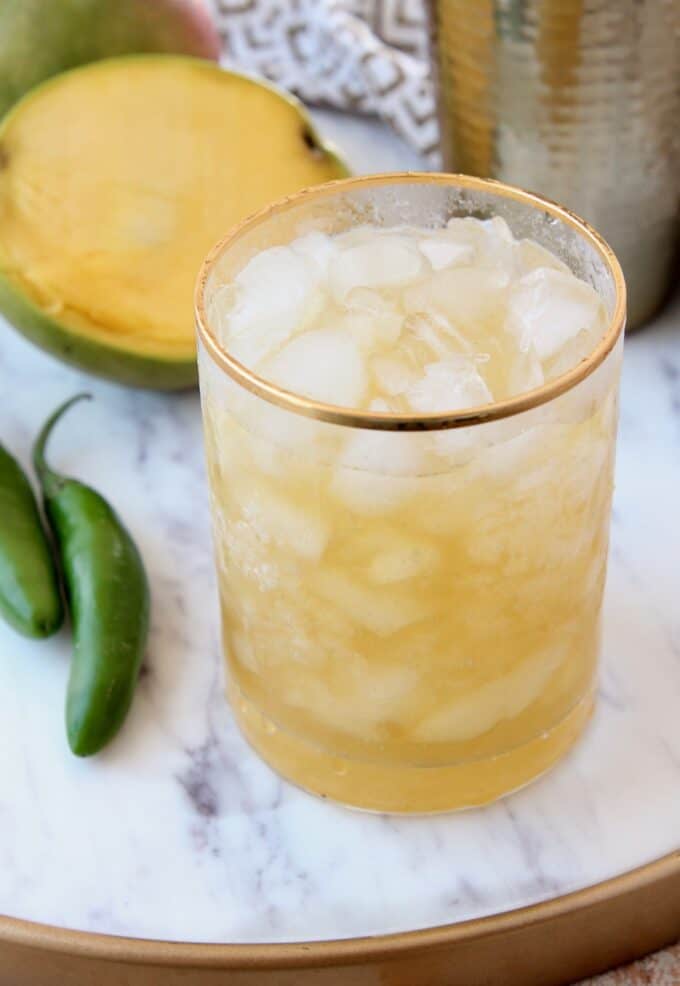 Looking for more margarita recipes?
Check out each of these delicious spins on the classic Mexican cocktail!
And for more great cocktail recipes, check out these blog favorites!
Spicy Serrano Chili Mango Margarita
Serrano Chili Mango Margaritas are the perfect combination of sweet and spicy! Fresh mangos, combined with spicy serrano peppers, makes this the perfect margarita!
Ingredients
½

fresh ripe mango

,

diced

½

teaspoon

serrano chili

,

diced

2

ounces

silver tequila

1

ounce

triple sec

1

ounce

agave nectar

1

cup

ice
Instructions
Add the diced mango and serrano chilis to a cocktail shaker.

Use a muddler or spoon to mash or "muddle" the mango and serrano chili in the bottom of the shaker.

Add the tequila, triple sec, agave nectar and ½ cup ice to the shaker.

Shake well, then strain and pour into a glass filled with ice.
Notes
Spice Level: The amount of serrano chilis used in the cocktail can be adjusted to make the cocktail more mild or spicy. Using the whole pepper, including the seeds and membranes inside the pepper, will make the cocktail spicier.
Mango: make sure the mango used is ripe, meaning soft to the touch when gently squeezed, or it will be hard to muddle into the cocktail.
Nutrition Facts
Calories
369
kcal
(18%)
Carbohydrates
46
g
(15%)
Protein
1
g
(2%)
Fat
1
g
(2%)
Saturated Fat
1
g
(5%)
Sodium
17
mg
(1%)
Potassium
174
mg
(5%)
Fiber
2
g
(8%)
Sugar
43
g
(48%)
Vitamin A
1120
mg
(22%)
Vitamin C
38
mg
(46%)
Calcium
11
mg
(1%)
We are a participant in the Amazon Services LLC Associates Program, an affiliate advertising program designed to provide a means for sites to earn advertising fees by advertising and linking to amazon.com.