Strawberry Kiwi Slushie
This post may contain affiliate links.
You have to try this homemade version of the Sonic Strawberry Kiwi Slushie! It blends fresh fruit together into an icy cold beverage, perfect for kids and great for summer!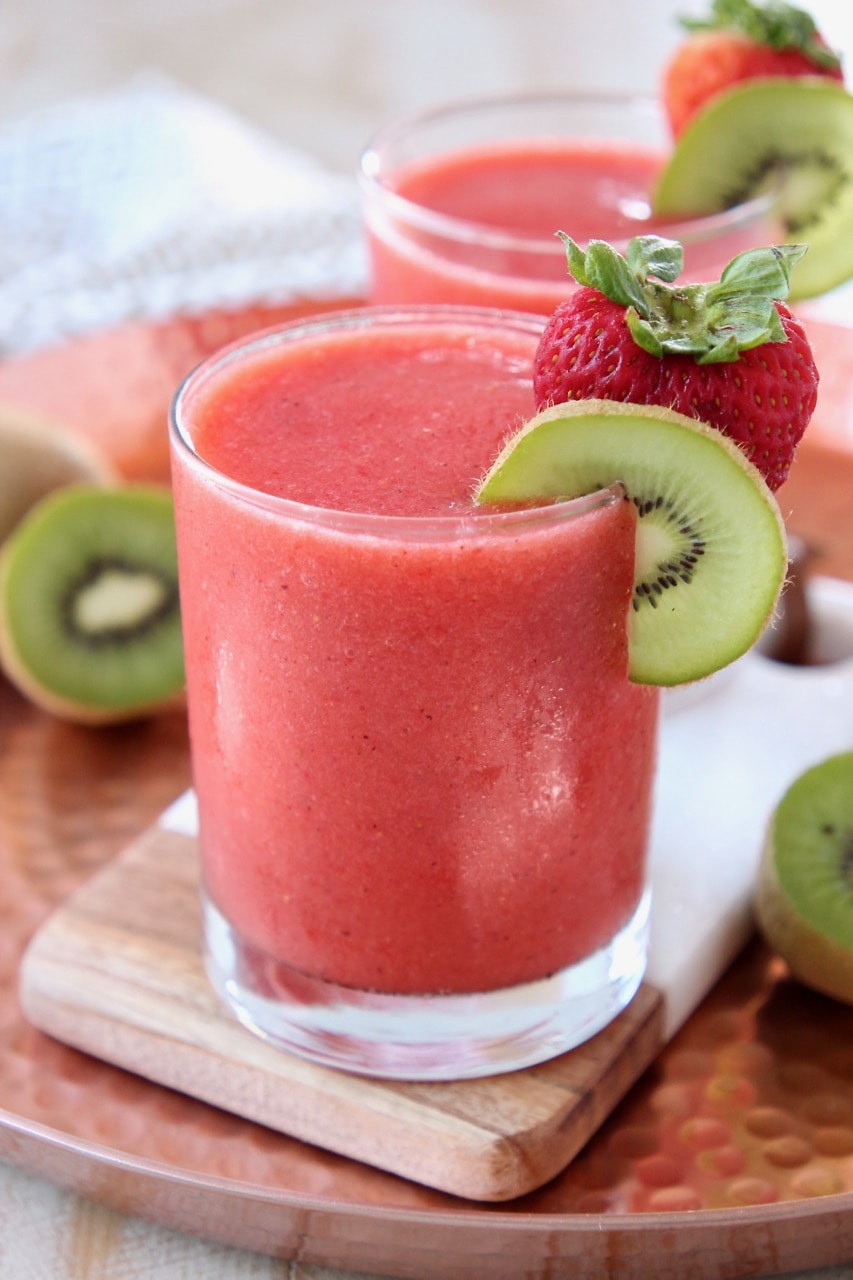 Fun Whitney fact of the day, my first job when I was 16 years old was a carhop at Sonic in Oklahoma! No, I did not wear roller skates. Yes, I did eat too many onion rings to count and drank my weight in slushies over the summer months!
For those that aren't familiar, Sonic is a fast food chain that started in Oklahoma in 1953. The chain is most known for their extensive drink menu and slushies. My favorite Sonic slushie of all time was their Strawberry Kiwi Slush, but it was taken off the menu over a decade ago.
I decided to make my own at home and I have to say, it's even BETTER than the Sonic version! It's so easy to make with just 4 ingredients, 3 of which are fresh fruit, making it a healthier option than a Sonic slush.
Kids and adults will love sipping on these fresh fruit slushies all summer long!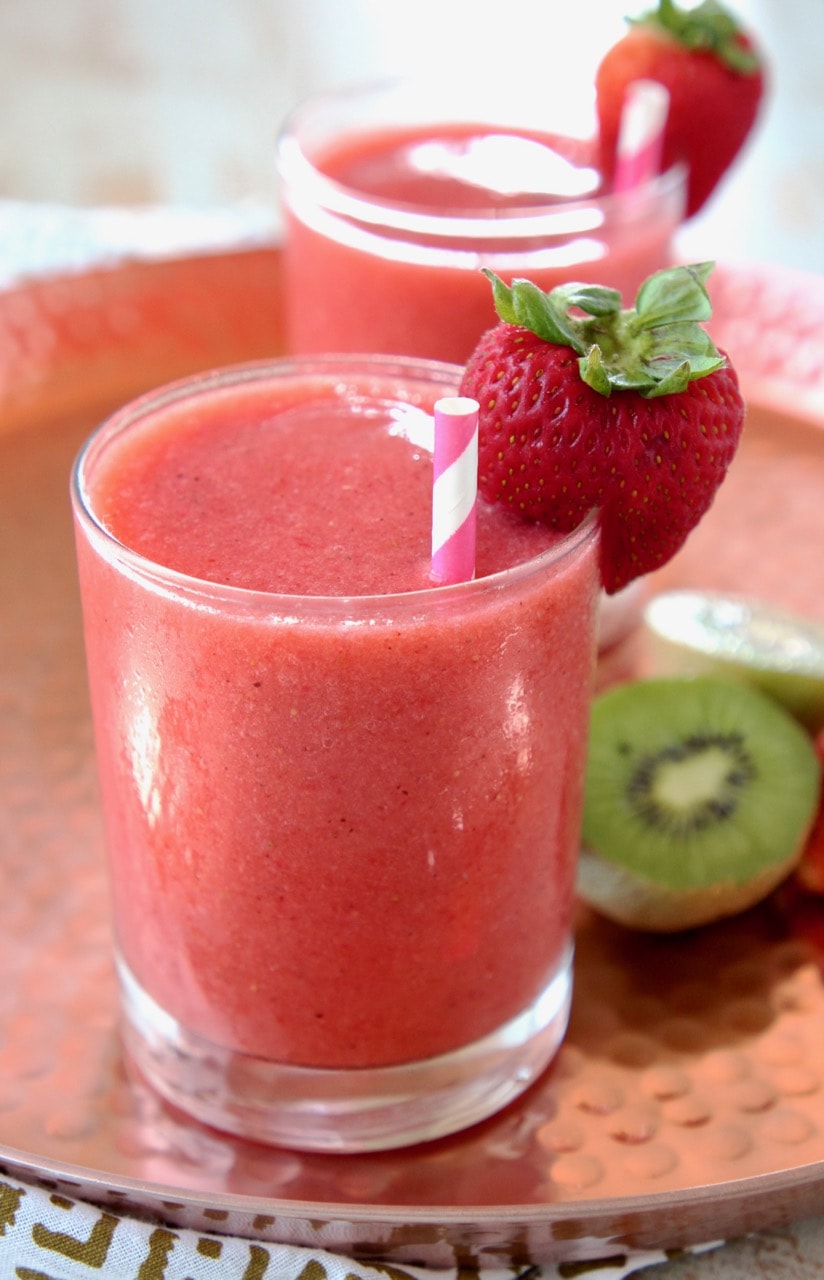 How to Make a Homemade Slushie
Add fresh or frozen strawberries and kiwis to a blender with water, sugar, lemon juice and ice. Blend until smooth. If using frozen fruit, you will need less ice.
For example, if using two cups of frozen strawberries, only one cup of ice is needed. If using 2 cups of fresh strawberries, you'll need 2 cups of ice to get the correct slushy consistency.
Instead of adding sugar and water separately, you can also use simple syrup. Simple syrup is simply sugar heated with water until the sugar dissolves. Simple syrup is commonly used in cocktails and I talk about how to make it extensively in this recipe for a Strawberry Daiquiri with Basil Simple Syrup.
If you want to mix things up, you can use a flavored simple syrup in this slushie recipe. From basil to mint to blackberry, the possibilities are endless! Check out the daiquiri post for lots of flavored simple syrup ideas.
If using simple syrup in this recipe, use 1/4 cup simple syrup and 1/4 cup water, instead of 2 tbsp sugar and 1/2 cup water.
How much sugar is in a strawberry slush?
This homemade strawberry slush contains 23 grams of sugar and 121 calories per 16 oz serving.
In comparison, a Sonic fresh strawberry slush contains 77 grams of sugar and 290 calories per 20 oz serving (a medium serving size).
At almost a third of the sugar and almost half the calories, this homemade version is a much healthier choice for the kids this summer!
Are slushies vegan?
Yes, this slushie is naturally vegan and gluten free!
What is the difference between a smoothie and a slushie?
A smoothie generally contains some type of dairy product, either milk or yogurt. This gives it a thicker, creamier consistency. A slushie generally consists of more ice than a smoothie. This gives it a more icy/slushy consistency than a smoothie.
Can I make slushies with alcohol?
Oh yes you can! For adults, vodka can be added to these slushies to make a delicious summer cocktail.
And for more alcoholic slushie recipes, be sure to check out these Lemon Berry White Wine Slushies and this Frozen Peach Sangria recipe.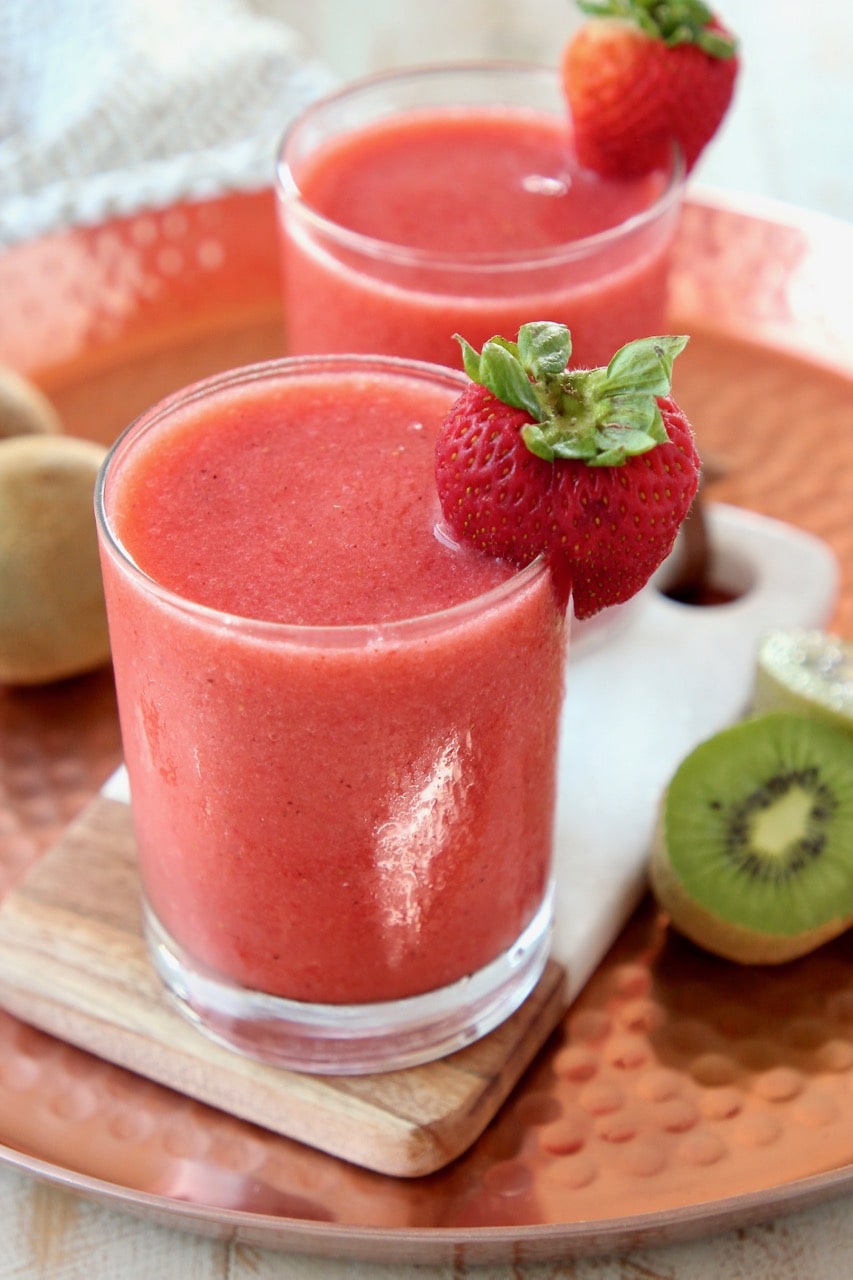 Keep the strawberry goodness going all summer long with these delicious strawberry recipes!
Strawberry Kiwi Slushie
You have to try this homemade version of the Sonic Strawberry Kiwi Slushie! It blends fresh fruit together into an icy cold beverage, perfect for summer!
Instructions
Add the strawberries and kiwi to a blender with the sugar, water, lemon juice and ice.

Blend for 30-60 seconds or until a slushy consistency has formed.
Notes
If using frozen strawberries, cut the amount of ice in half.
Simple syrup can be used instead of the sugar and water. If using simple syrup, add 1/4 cup simple syrup and 1/4 cup water instead of the 2 tbsp sugar and 1/2 cup water called for in the recipe.
If you want to make a boozy slushie, add 1/2 cup vodka instead of the water.
Nutrition Facts
Calories
121
kcal
(6%)
Carbohydrates
30
g
(10%)
Protein
1
g
(2%)
Sodium
6
mg
Potassium
362
mg
(10%)
Fiber
4
g
(16%)
Sugar
23
g
(26%)
Vitamin A
40
mg
(1%)
Vitamin C
129.8
mg
(157%)
Calcium
39
mg
(4%)
Iron
0.7
mg
(4%)
We are a participant in the Amazon Services LLC Associates Program, an affiliate advertising program designed to provide a means for sites to earn advertising fees by advertising and linking to amazon.com.