Buffalo Chicken Egg Rolls
This post may contain affiliate links.
Pan fried Buffalo Chicken Egg Rolls are the ultimate Super Bowl snack! They're easy to make in less than 30 minutes and perfect for parties!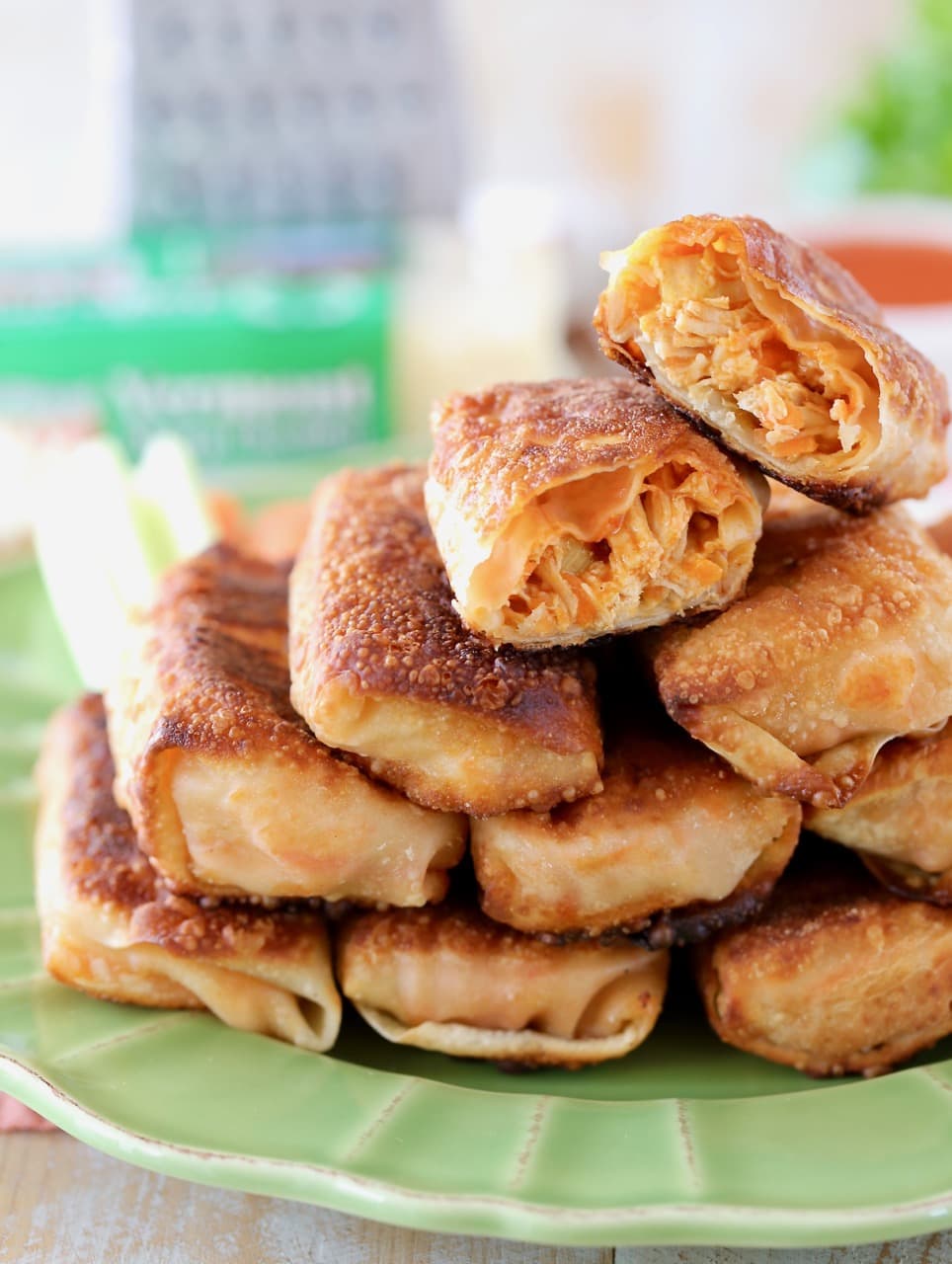 Today's post is sponsored by my friends at Cabot!
The big game is right around the corner and you know what that means! I'm pulling out all of the stops to make the ultimate buffalo cheesy menu for game day!
My friends at Cabot Cheese have helped me make recipes deliciously cheesy for several years now! From their shredded Fiery Jack cheese on top of this Cheesy Baked Taco Dip to their Garlic Herb Cheddar in this popular Cheesy Mushroom Spinach Puff Pastry recipe, their naturally aged cheddar cheeses are always a hit in recipes!
Cabot is a co-operative owned by 1,000 farm families throughout New England & New York. That means 100% of their profits go back to the farmers! This year Cabot is celebrating their 100th year as a co-operative.
Back in 2015, I flew back east and visited a Cabot farm. I got to meet the cows and ran a race as part of the "Cabot Fit Team". You can read all about it in this post for Chipotle Maple Chicken Sliders. And check out pictures of the totally cute baby cows!
In this recipe for Buffalo Chicken Egg Rolls, I use Cabot's Vermont Sharp Cheddar cheese. It is the perfect complement to the buffalo chicken.
These egg rolls really are the perfect appetizer, crispy on the outside, saucy & cheesy on the inside!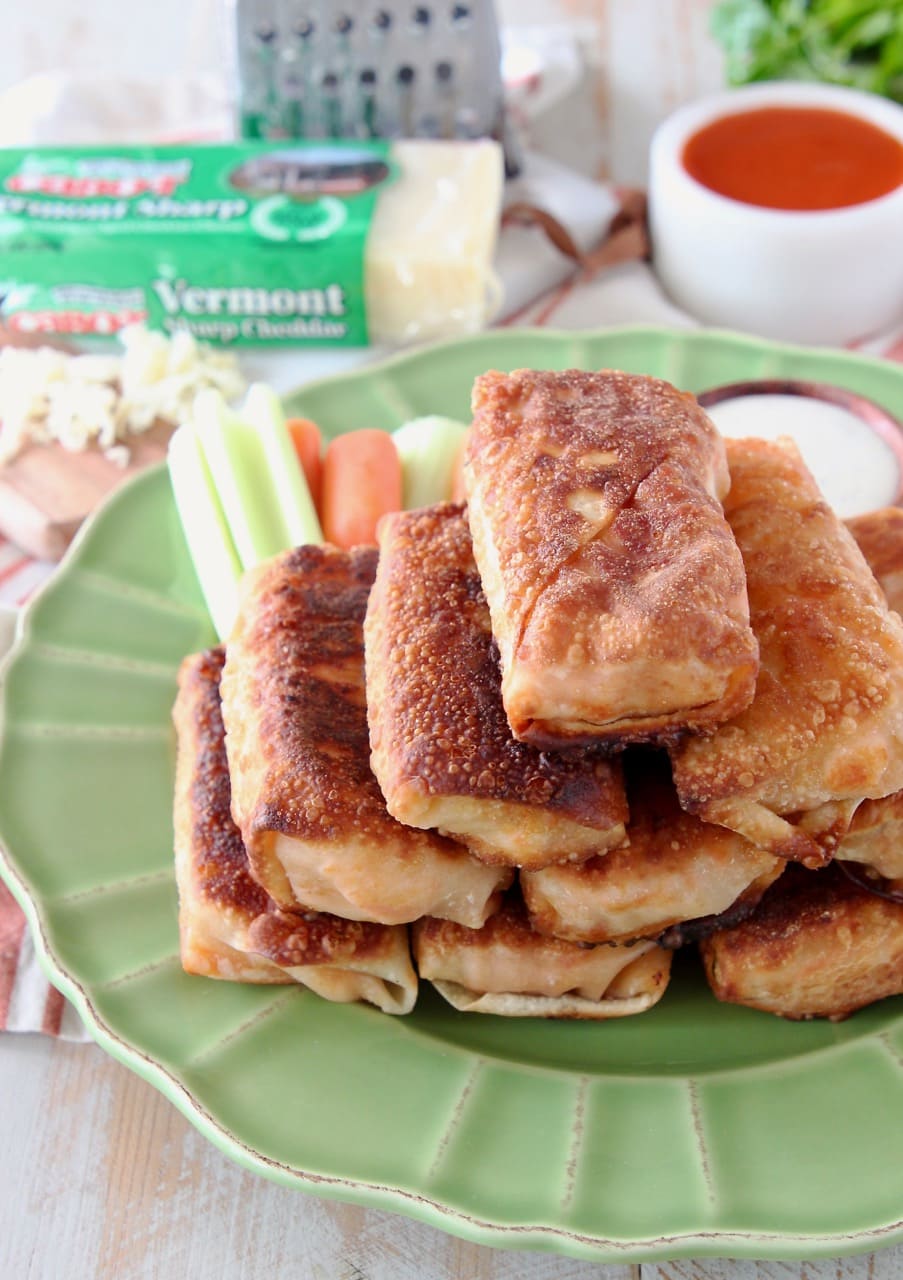 How do I make homemade egg rolls?
Homemade egg rolls are actually easier to make than you might think! Start by purchasing egg roll wrappers in the refrigerator section of the grocery store. Next, prepare the filling for the egg rolls.
For these buffalo chicken egg rolls, I combined cooked, shredded chicken with buffalo wing sauce, carrots, celery and cheddar cheese.
To assemble the egg rolls, point one corner of the egg roll towards yourself. Brush the edges of the egg roll wrapper with water, then place the filling in the middle of the wrapper. Take the corner closest to you and wrap it over and tuck in under the filling. Fold the two sides of the egg roll wrapper in, then roll the egg roll up.
Once all of the egg rolls have been assembled, pan fry them in about 1/4 inch of olive oil in a large skillet on the stove over medium high heat.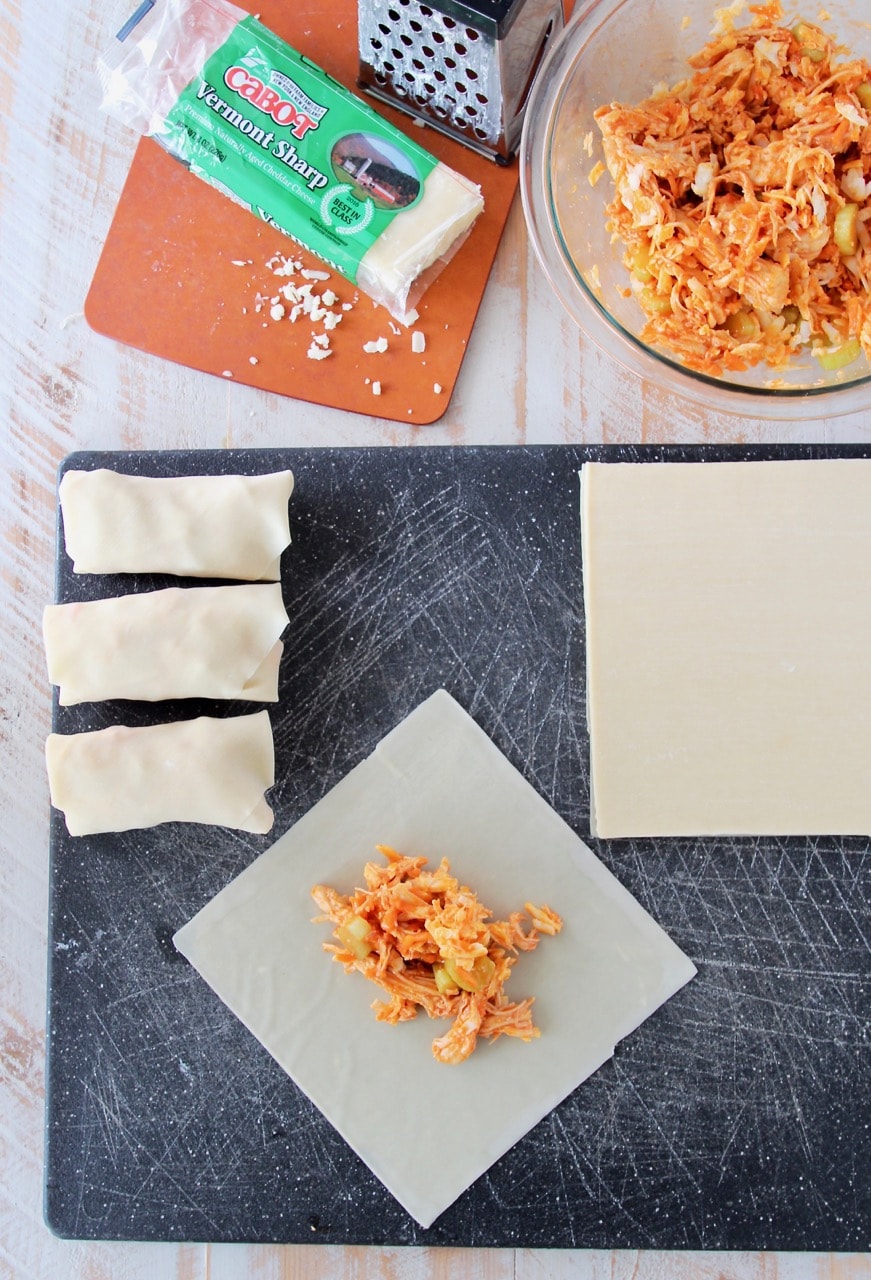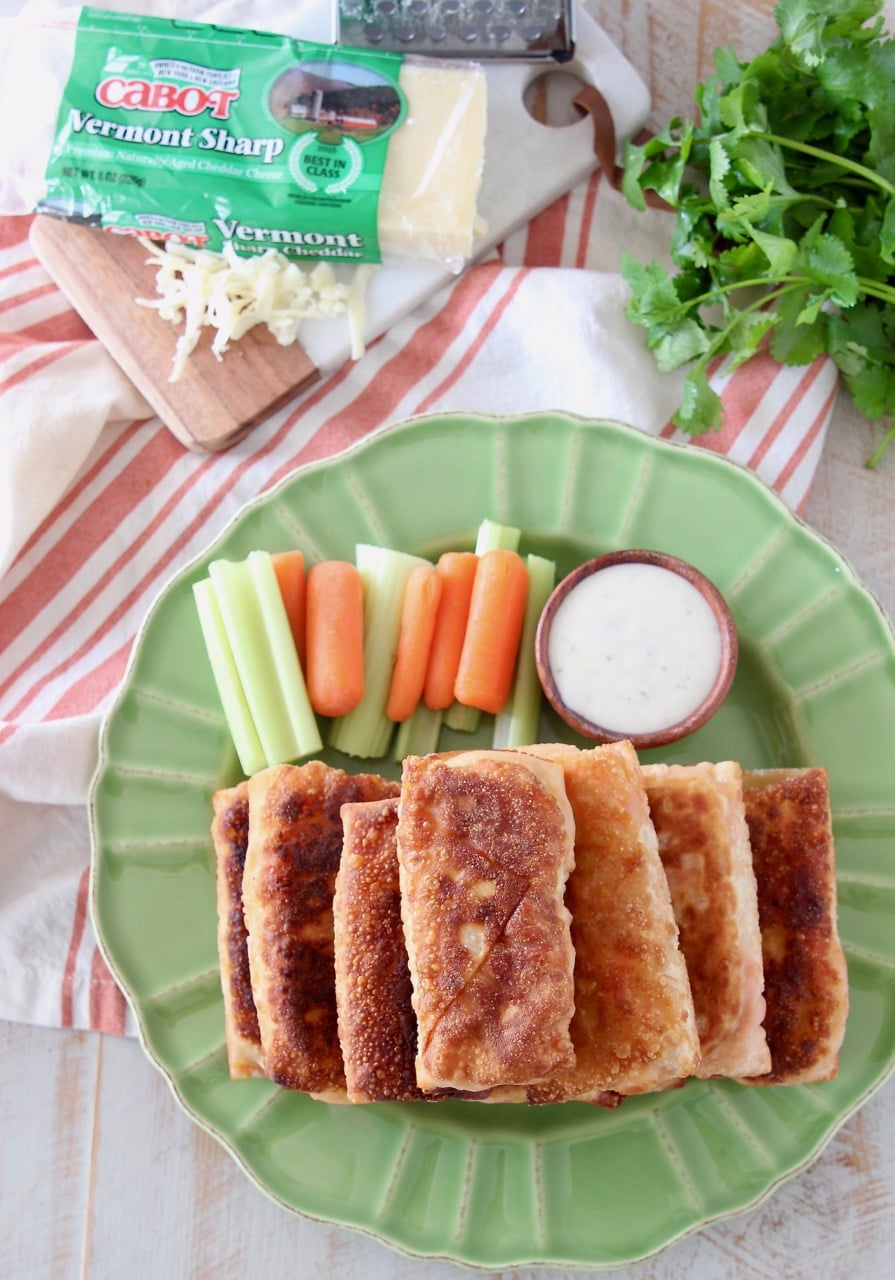 Can you make them ahead of time?
The filling for the egg rolls can be made ahead of time. I do not recommend wrapping the filling in the egg roll wrappers more than an hour or two ahead of time.
Wrapping the egg rolls around the filling, then placing them in the refrigerator for more than a couple of hours will result in a change in texture of the egg roll wrapper both before and after it is cooked.
I tried cooking two egg rolls that had been pre-made and left in the refrigerator for 48 hours and unfortunately the texture just didn't hold up.
The cheesy buffalo chicken mixture, however, can be made up to 2 days in advance. Now all you have to do is roll up the filling and cook the egg rolls before serving.
How do you reheat them?
Egg rolls can be reheated in the oven at 325°F for 8-10 minutes per side. I would recommend spraying the buffalo chicken egg rolls lightly with olive oil before reheating.
What to serve with them
Ranch dressing or extra buffalo sauce can be served on the side to be used as a dipping sauce. Carrot and celery sticks can also be served to accompany the egg rolls.
And if you're really feeling the egg roll vibe, you could make an egg roll trio featuring these Buffalo Chicken Egg Rolls, paired with Cheeseburger Egg Rolls and Jalapeno Popper Egg Rolls!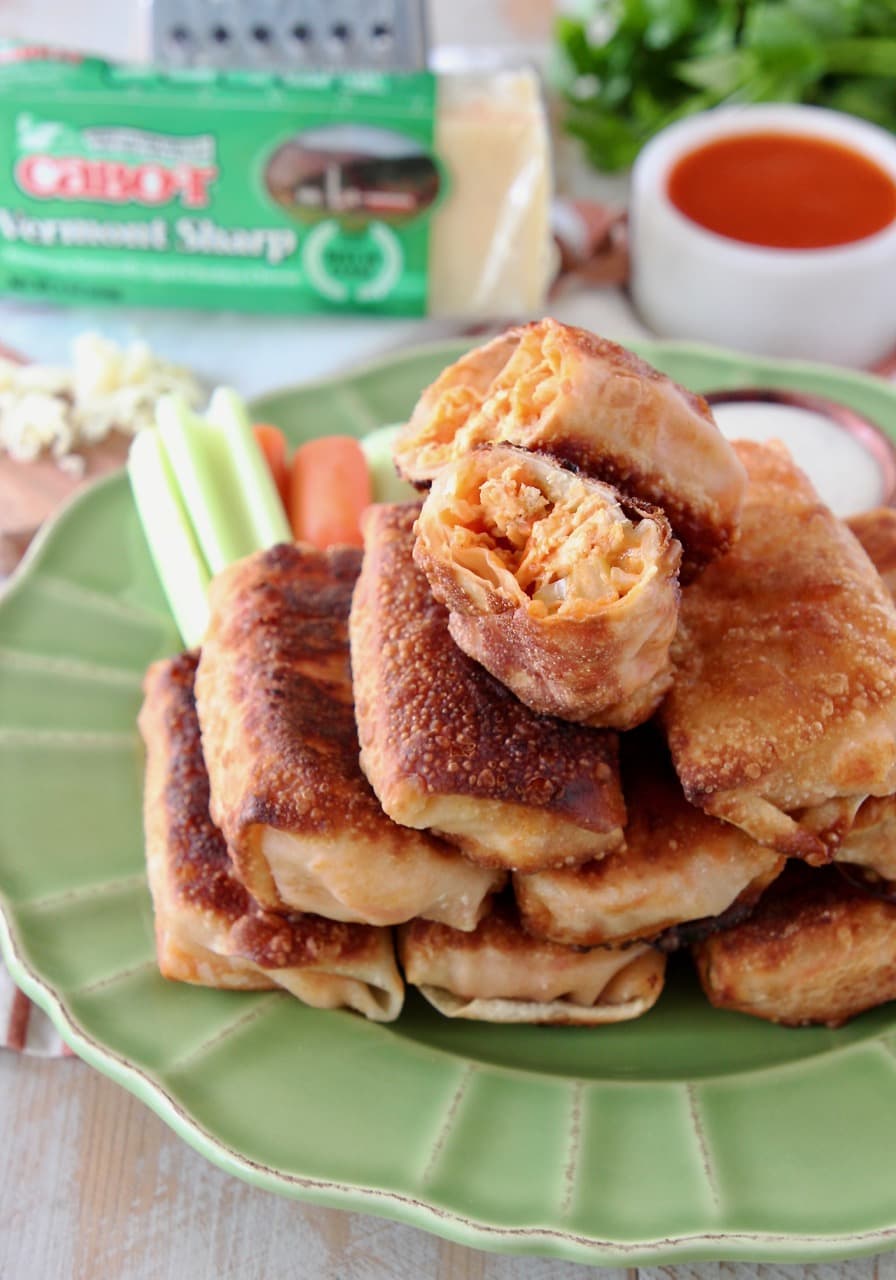 More buffalo sauce recipes
If you're a huge fan of this spicy wing sauce, you'll want to try it in all of these delicious recipes!
Buffalo Chicken Egg Rolls
Pan fried Buffalo Chicken Egg Rolls are the ultimate super bowl snack! They're easy to make in less than 30 minutes and perfect for parties!
Instructions
In a medium mixing bowl, combine the chicken, buffalo sauce, cheddar cheese, carrots and celery.

Place an egg roll wrapper on a work surface with one corner pointing towards you, place app. ¼ cup of the buffalo chicken mixture in the middle of the wrapper.

Using your finger, brush the edges with water.

Fold the corner closest to you over the buffalo chicken, and tuck.

Fold the sides in.

Roll tightly, set aside and repeat with remaining egg rolls.

Place app. 2 tbsp olive oil in a skillet, swirl the oil in the skillet making sure there's oil covering the entire bottom of the skillet.

Heat the oil over medium-high heat, then add 4-5 egg rolls to the skillet, depending on how big your skillet is.

Cook for 2-3 minutes, flip and cook for an additional 2-3 minutes on the opposite side.

Remove from the skillet.

Add more olive oil before cooking the next batch, making sure the bottom of the skillet is always covered in oil.

Optionally serve with ranch dressing on the side for dipping.
Nutrition Facts
Calories
179
kcal
(9%)
Carbohydrates
8
g
(3%)
Protein
10
g
(20%)
Fat
11
g
(17%)
Saturated Fat
3
g
(15%)
Cholesterol
30
mg
(10%)
Sodium
463
mg
(19%)
Potassium
107
mg
(3%)
Vitamin A
1010
mg
(20%)
Vitamin C
0.4
mg
Calcium
81
mg
(8%)
Iron
0.8
mg
(4%)
We are a participant in the Amazon Services LLC Associates Program, an affiliate advertising program designed to provide a means for sites to earn advertising fees by advertising and linking to amazon.com.