Cilantro Pesto
This post may contain affiliate links.
This cilantro pesto recipe is vegan, gluten free & paleo. It's perfect for adding to rice or pasta, or for topping tacos, grilled chicken, steak or pork. Whip up this easy sauce in just 5 minutes to add to your next meal!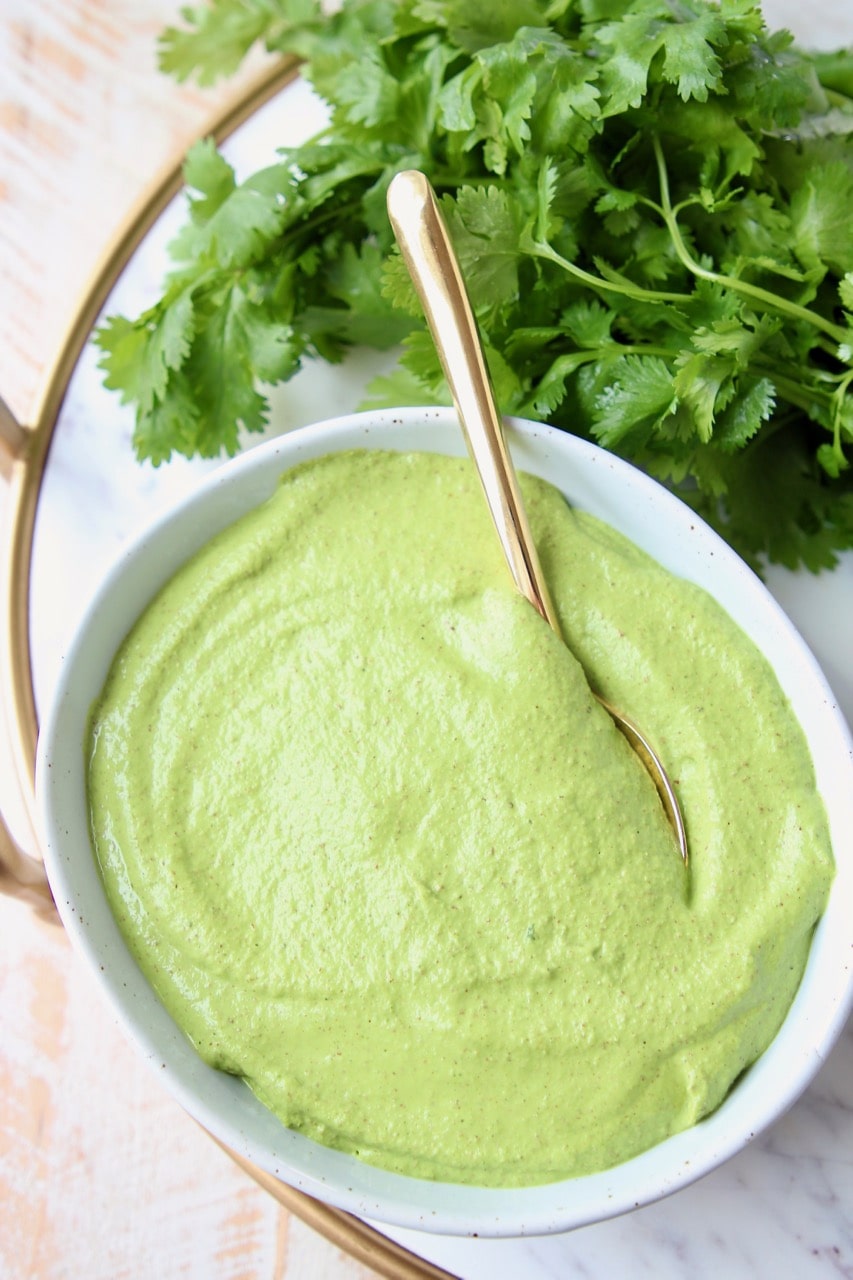 To say I'm a fan a fan of pesto would be an understatement! I've created 8 different pesto recipes over the years to turn my favorite herbs into delicious sauces.
Basil Pesto – the classic pesto. Great simply tossed with pasta or on pizza!
Vegan Kale Pesto – a great dairy free pesto option!
Spinach Pesto – a tasty way to get your daily fix of leafy greens!
Sun Dried Tomato Pesto – possibly my favorite pesto (don't tell the others!) It's so good, I'll simply spread it on a cracker or piece of bread.
Arugula Blue Cheese Pesto – an interesting spin on pesto that I created as the perfect topping for grilled steak!
Paleo Walnut Sage Pesto – another dairy free pesto option, delicious dolloped on roasted sweet potatoes or you Thanksgiving turkey!
Kale Pesto – yes a second kale pesto recipe! This one is a more traditional pesto recipe, made with parmesan cheese.
Cilantro Pesto – the recipe you're here for, a delicious, Mexican inspired pesto recipe!
Years ago I had an amazing Cilantro Pesto Risotto at a Mexican restaurant in San Diego. Of course, I had to come home and recreate the dish! I started by creating this Cilantro Pesto, then adding it to a creamy risotto. It's the perfect side dish to go with enchiladas, fajitas or tacos!
This Cilantro Pesto is not just for mixing into risotto. It's delicious on top of grilled chicken or steak. Put a dollop on your morning eggs or on top of tacos.
It can be used in place of guacamole or salsa verde on any of your favorite Mexican dishes! If you're someone that loves cilantro, you're going to fall in love with this scrumptious sauce!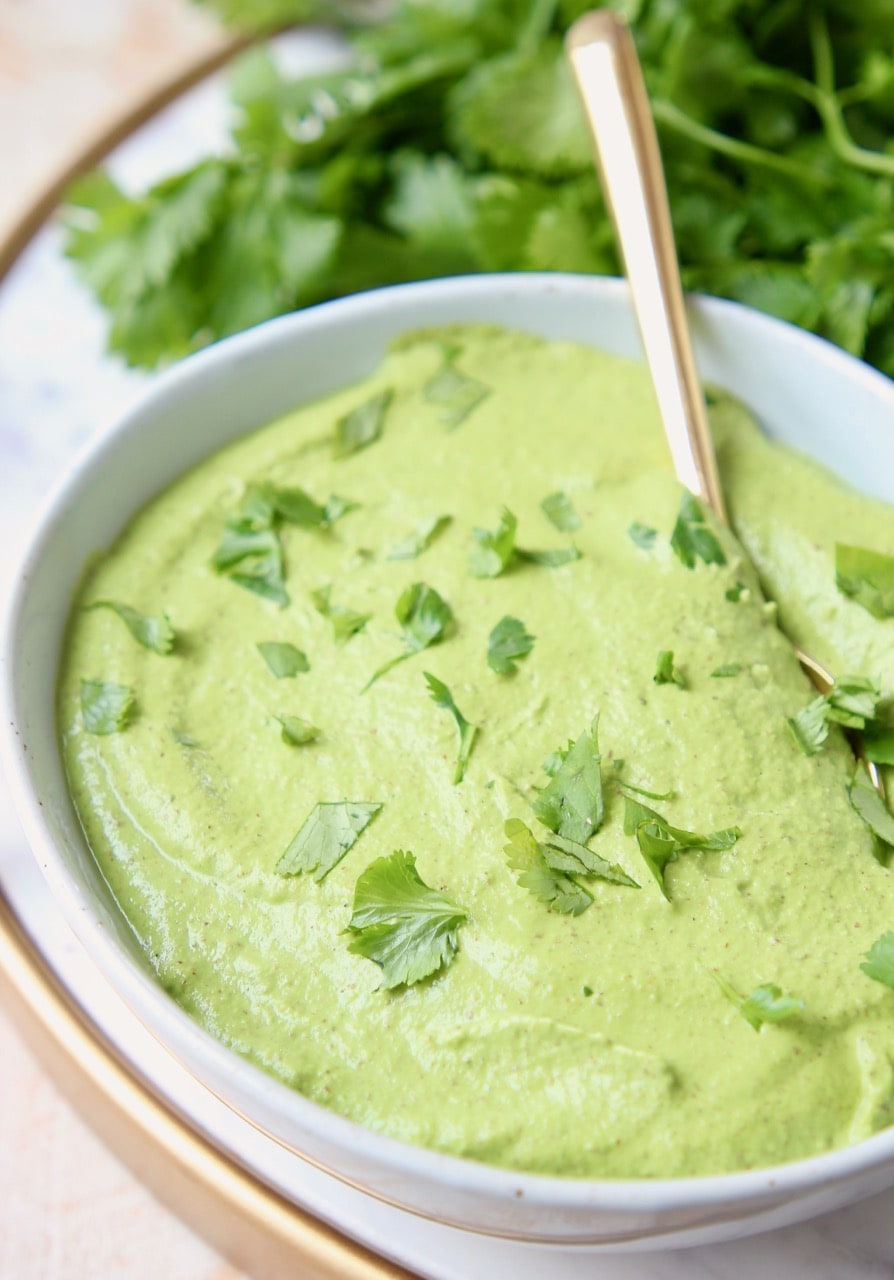 How to make Cilantro Pesto
Add cilantro (both leaves and stems) to a blender or food processor with garlic cloves, almonds, salt and pepper.
Pulse for 15 seconds.
Add extra virgin olive oil, lime juice and water with the food processor running slowly.
Continue blending for 20-30 seconds, or until all of the ingredients are combined into a creamy sauce.
Can I freeze Cilantro Pesto?
This cilantro pesto will stay good in the refrigerator for up to two weeks. You can also freeze it in ice cube trays, then transfer the pesto cubes to a freezer-safe Ziplock bag.
Pesto can be stored in the freezer for up to 6 months. Just pop a cube of pesto out whenever you want to add it to a dish!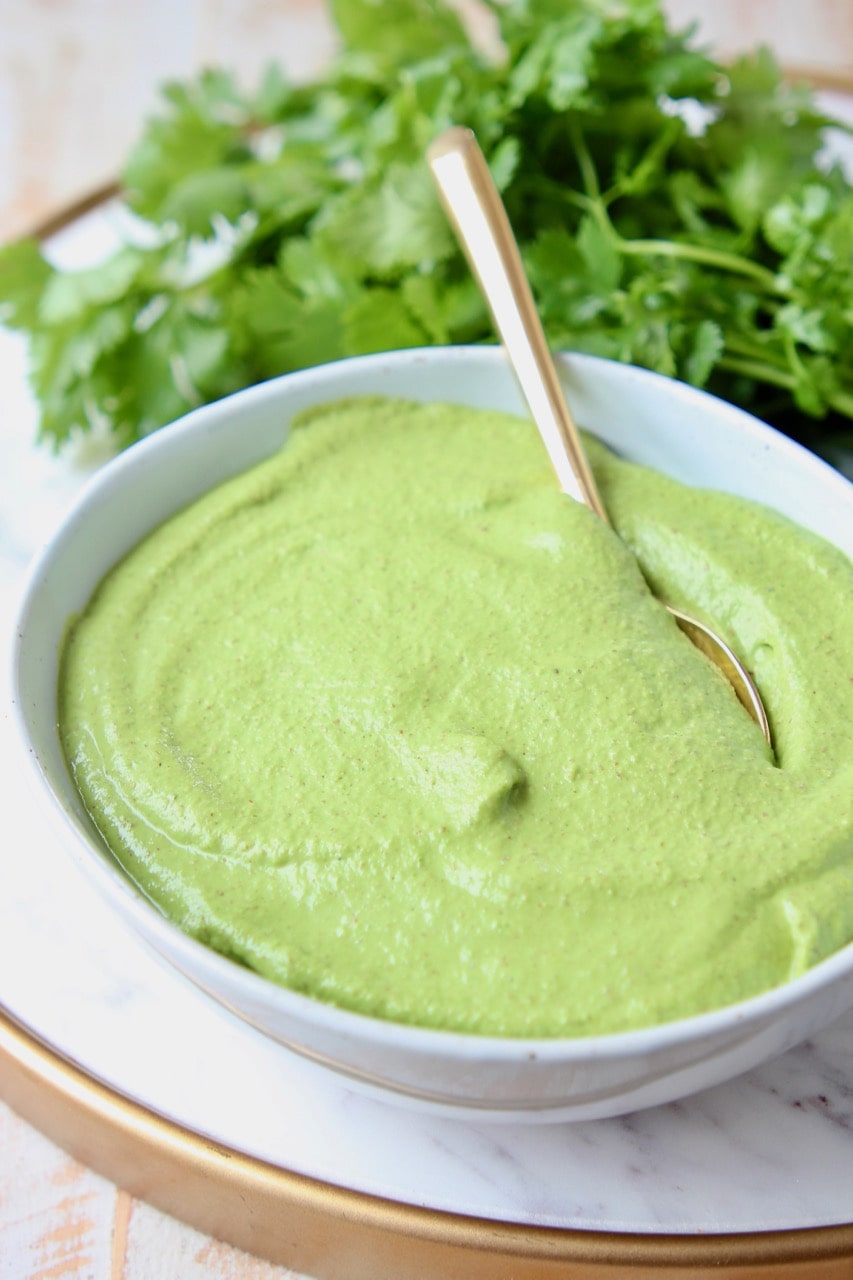 How to use Cilantro Pesto
You've seen how easy Cilantro Pesto is to make, but you might still need inspiration for how to use it. Luckily I've got some ideas for you!
Made this pesto recipe and loved it? Be sure to rate it 5 stars below! ↓
Cilantro Pesto
This cilantro pesto recipe is vegan, gluten free & paleo, it's perfect for adding to rice or pasta, or for topping tacos, grilled chicken, steak or pork!
Instructions
Add the cilantro, garlic, almonds, salt and black pepper to a food processor, or blender.

Blend for 15-20 seconds.

Pour the olive oil into the food processor while blending, another 15-20 seconds.

Add the lime juice and water, continue blending for 5-10 seconds, or until all ingredients are incorporated.
Notes
Spice it up! Want to spice up the sauce? Add one chopped jalapeno with the cilantro.
Pack it in! Be sure to pack the cilantro in a measuring cup to make sure you're getting a full 4 cups to make the sauce.
Freeze it! This sauce can be refrigerated for up to 2 weeks or frozen for up to 6 months. I recommend freezing the pesto in ice cube trays, then transferring them to a freezer safe bag. This makes it easy to use one ice cube at a time whenever you want to pop a little pesto into a dish!
Nutrition Facts
Calories
1156
kcal
(58%)
Carbohydrates
22
g
(7%)
Protein
16
g
(32%)
Fat
116
g
(178%)
Saturated Fat
13
g
(65%)
Sodium
22
mg
(1%)
Potassium
742
mg
(21%)
Fiber
9
g
(36%)
Sugar
3
g
(3%)
Vitamin A
2160
mg
(43%)
Vitamin C
20.5
mg
(25%)
Calcium
226
mg
(23%)
Iron
3.8
mg
(21%)
We are a participant in the Amazon Services LLC Associates Program, an affiliate advertising program designed to provide a means for sites to earn advertising fees by advertising and linking to amazon.com.