Heart Healthy Fruit Smoothie
This post may contain affiliate links.
This heart healthy smoothie recipe is perfect for busy mornings! It's filled with ingredients that support heart health and it's made in only 5 minutes!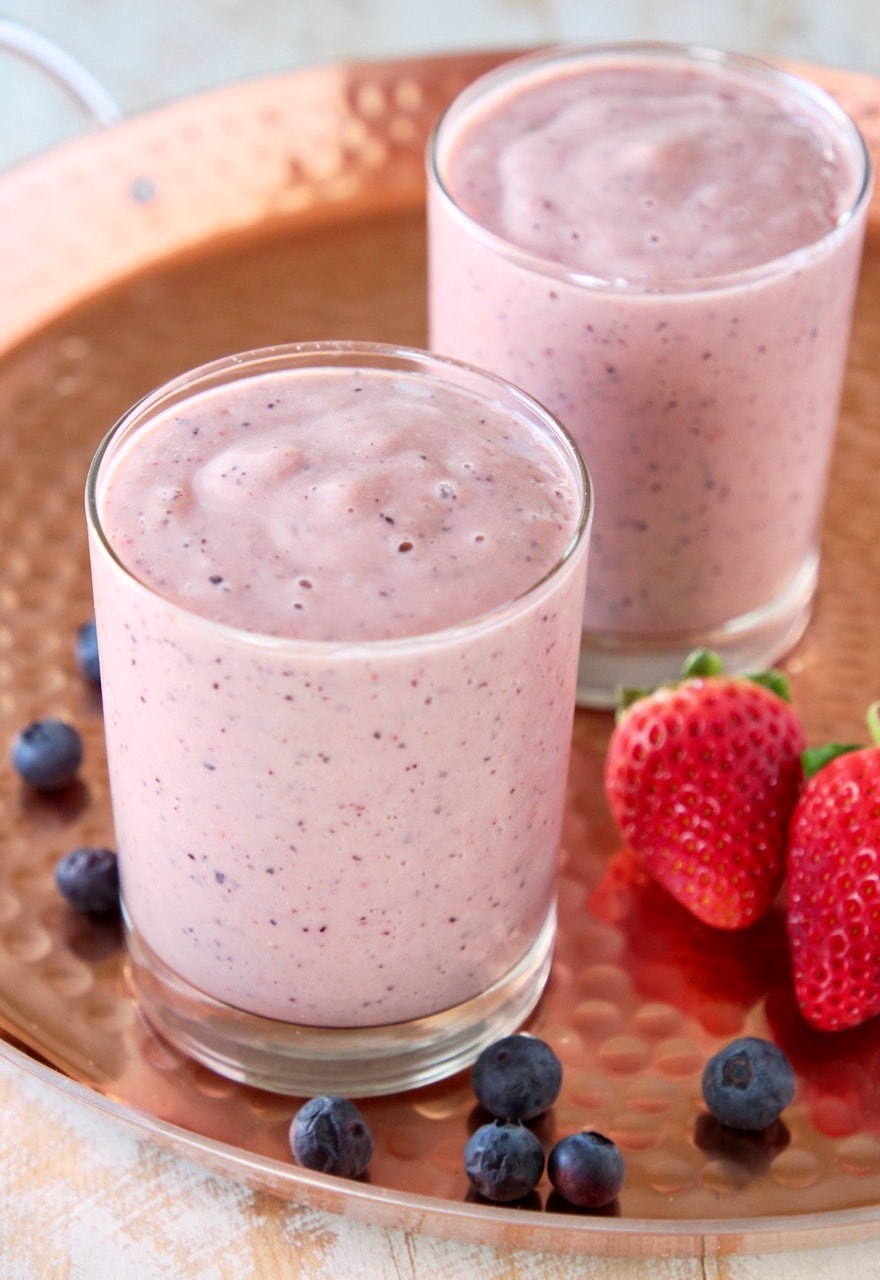 February is National Heart Health Month and one of the best ways to keep your heart healthy is by eating healthy!
Seafood, fruits, veggies, healthy fats, soy products and whole grains round out a great heart healthy diet and help reduce the risk or heart disease. This heart healthy fruit smoothie features 4 fresh fruits and soy milk for a simple smoothie recipe to start your day!
To round out the rest of your weekly menu with heart healthy recipes, try this Pesto Baked Salmon with cherry tomatoes and zoodles.
This Butternut Squash Spinach Kale Salad is another vitamin and nutrient packed recipe that can be served as lunch, dinner or a side dish.
And try these Heart Healthy Granola Bars for an easy on-the-go snack!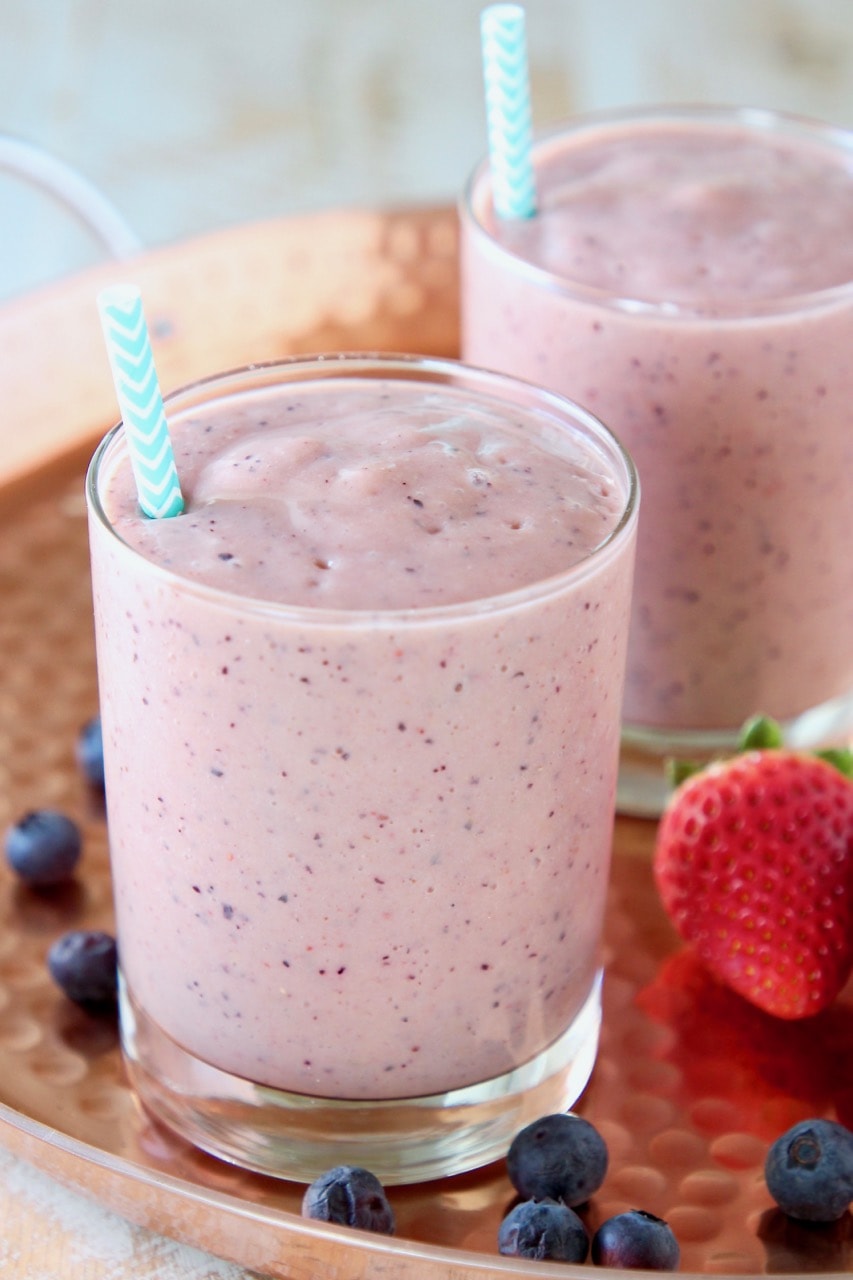 How To Make a Heart Healthy Smoothie
Fruits are a great source of vitamins and nutrients, making them the perfect addition to a heart healthy smoothie. Berries in particular are full of heart healthy phytonutrients and soluble fiber. Fruits like oranges and papaya are rich in beta-carotene, potassium, magnesium and fiber.
To make a heart healthy smoothie, combine fresh strawberries, blueberries, oranges and papaya. Add these heart healthy ingredients to a blender with 1 cup soy milk and 1/2 cup ice cubes. Blend until smooth.
Is it healthy to use frozen fruit for smoothies?
Absolutely! I always keep fruit in my freezer for smoothies. Fruits can be purchased already frozen or you can freeze fresh fruit in freezer-safe bags or plastic containers.
When purchasing frozen fruit at the grocery store, it's just as healthy as fresh fruit. Frozen fruits and vegetables are frozen shortly after they're harvested, locking in their nutrients. Frozen fruits provide the same amount of vitamins, mineral and antioxidants as fresh fruits.
If using frozen fruit in this heart healthy smoothie recipe, you will need to add little to no ice. The frozen fruit will make the smoothie cold, thick and frosty without the addition of ice.
Are smoothies actually good for you?
This smoothie is! The health benefits of smoothies will vary widely based on what is added to the smoothie.
In this smoothie recipe, I only added heart healthy fruits and soy milk. Natural sweeteners like honey or agave can be added to sweeten up this smoothie. The health benefits will stay in place, but this will increase the calorie content of the smoothie.
Is this smoothie recipe kid friendly?
This smoothie is definitely kid friendly! It's naturally sweet from the fruit, but as I mentioned above, it can also be sweetened up more with honey or agave syrup. This smoothie is a great way to load your kids up with vitamins and nutrients first thing in the morning!
What are the healthiest things to put in a smoothie?
In addition to the fruits and soy milk found in this smoothie, the following can be added to increase the nutritional content of the smoothie.
Chia Seeds
Ground Flax Seeds
Banana
Spinach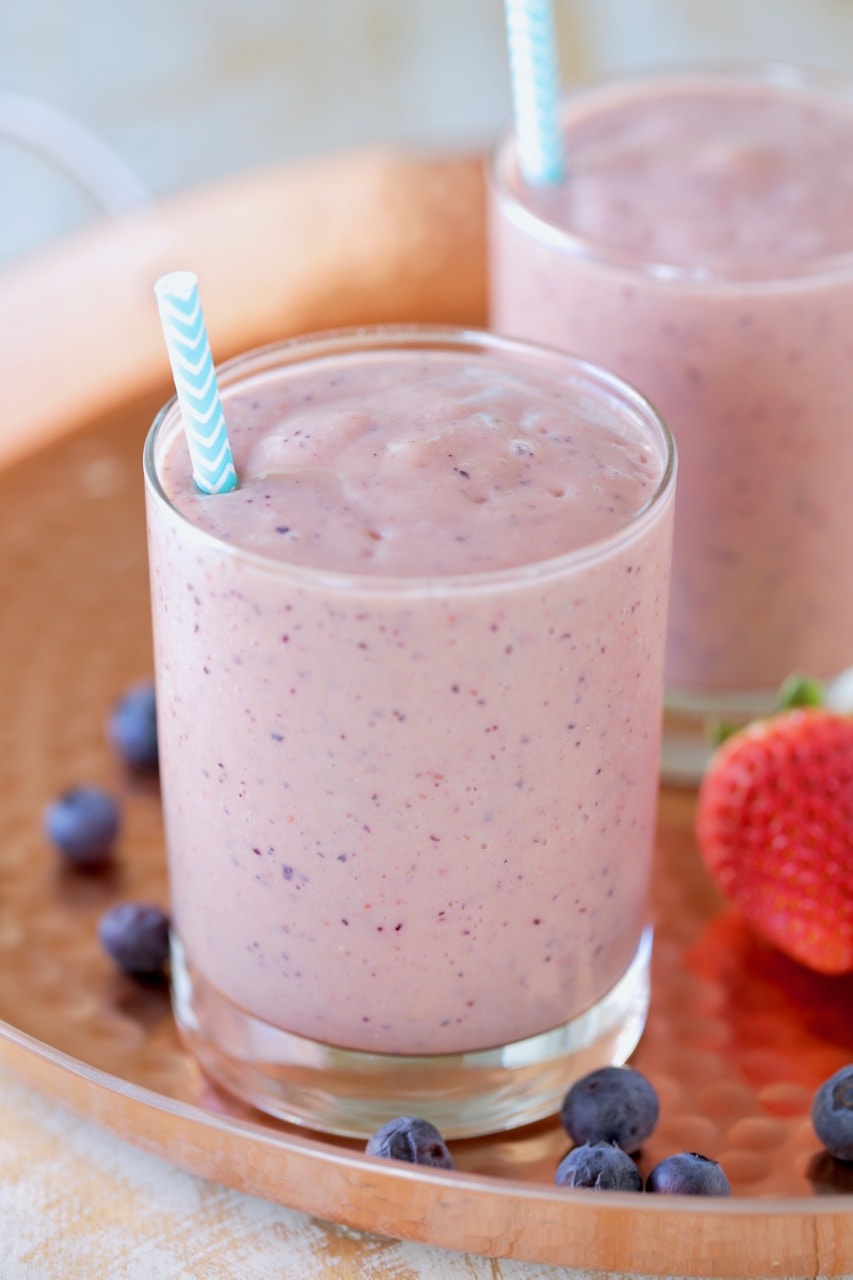 For more healthy smoothie recipes, check out these 6 favorites!
Heart Healthy Smoothie
This heart healthy smoothie recipe is perfect for busy mornings! It's filled with ingredients that support heart health and it's made in only 5 minutes!
Instructions
Add all of the fruit to a blender with the soy milk and ice.
Nutrition Facts
Calories
158
kcal
(8%)
Carbohydrates
30
g
(10%)
Protein
5
g
(10%)
Fat
2
g
(3%)
Sodium
65
mg
(3%)
Potassium
550
mg
(16%)
Fiber
5
g
(20%)
Sugar
21
g
(23%)
Vitamin A
1275
mg
(26%)
Vitamin C
131.9
mg
(160%)
Calcium
217
mg
(22%)
Iron
1.2
mg
(7%)
We are a participant in the Amazon Services LLC Associates Program, an affiliate advertising program designed to provide a means for sites to earn advertising fees by advertising and linking to amazon.com.