The Juicy Lucy "AKA Jucy Lucy" is a hamburger made with cheese inside the burger patty. Adding chopped bacon to the ground beef patty makes these the most juicy burgers ever!
Add my Dad's Famous BBQ Baked Beans and a Bacon Tomato Avocado Pasta Salad on the side of this burger recipe for a complete, delicious meal!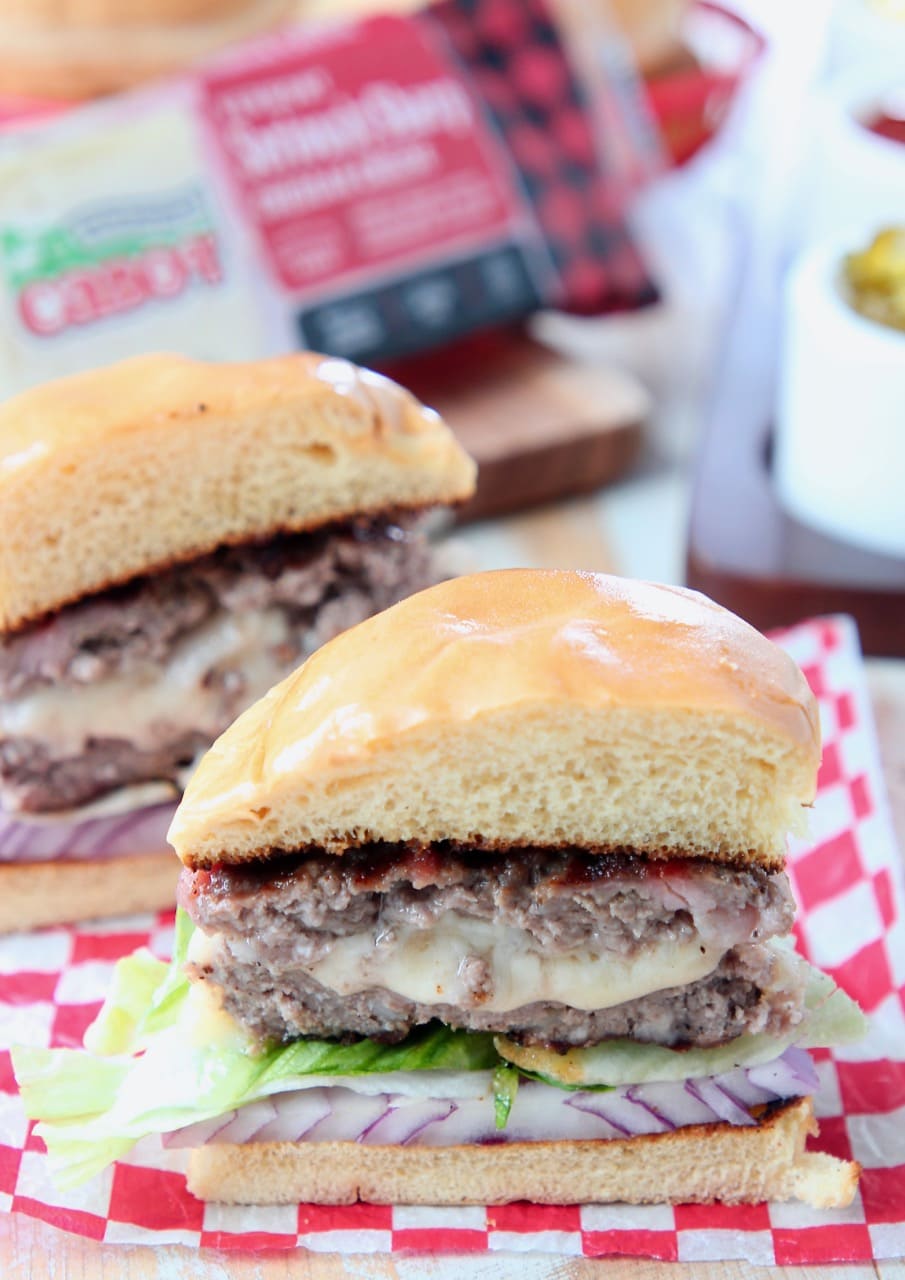 Today's post is sponsored by my friends at Cabot Cheese.
Today I'm combining two of my favorite cheeseburger recipes. A cheeseburger stuffed with cheese and a cheeseburger that consists of both ground beef and chopped bacon. You'll never eat another burger recipe again!
The chopped bacon in the burger patty adds so much flavor and juiciness to the burger. While the cheese stuffed inside the burger is like a wonderfully cheesy explosion in your mouth!
I used Cabot Seriously Sharp Cheddar to stuff these burgers, because it's seriously THE BEST! The flavor of the cheese paired with the salty, flavorful ground beef bacon burger patties is just incredible.
You can add your favorite burger toppings, but honestly, you don't even need to! This burger can stand alone on a bun with a little drizzle of mustard or ketchup and nothing else.
You can grill the burger or cook it on a skillet on the stove. Either way, you're going to fall in love with this juicy lucy burger recipe at first bite!
It's perfect for 4th of July and summer BBQ's, but also easy to make inside on the stove year round. It's made in under 30 minutes, so it's great for an easy weeknight meal that both kids and adults will love!