Baked Chilean Sea Bass with Pesto
This post may contain affiliate links.
Make perfectly cooked chilean sea bass every time by searing it on the stove, then baking it in the oven. Top the sea bass with pesto for an easy, flavorful meal, made in less than 20 minutes!
Sea bass is rich in Omega 3's and high in protein, making this meal not only a delicious choice, but a healthy choice. This gluten free, keto-friendly recipe is wonderful served with a green salad or roasted broccolini on the side.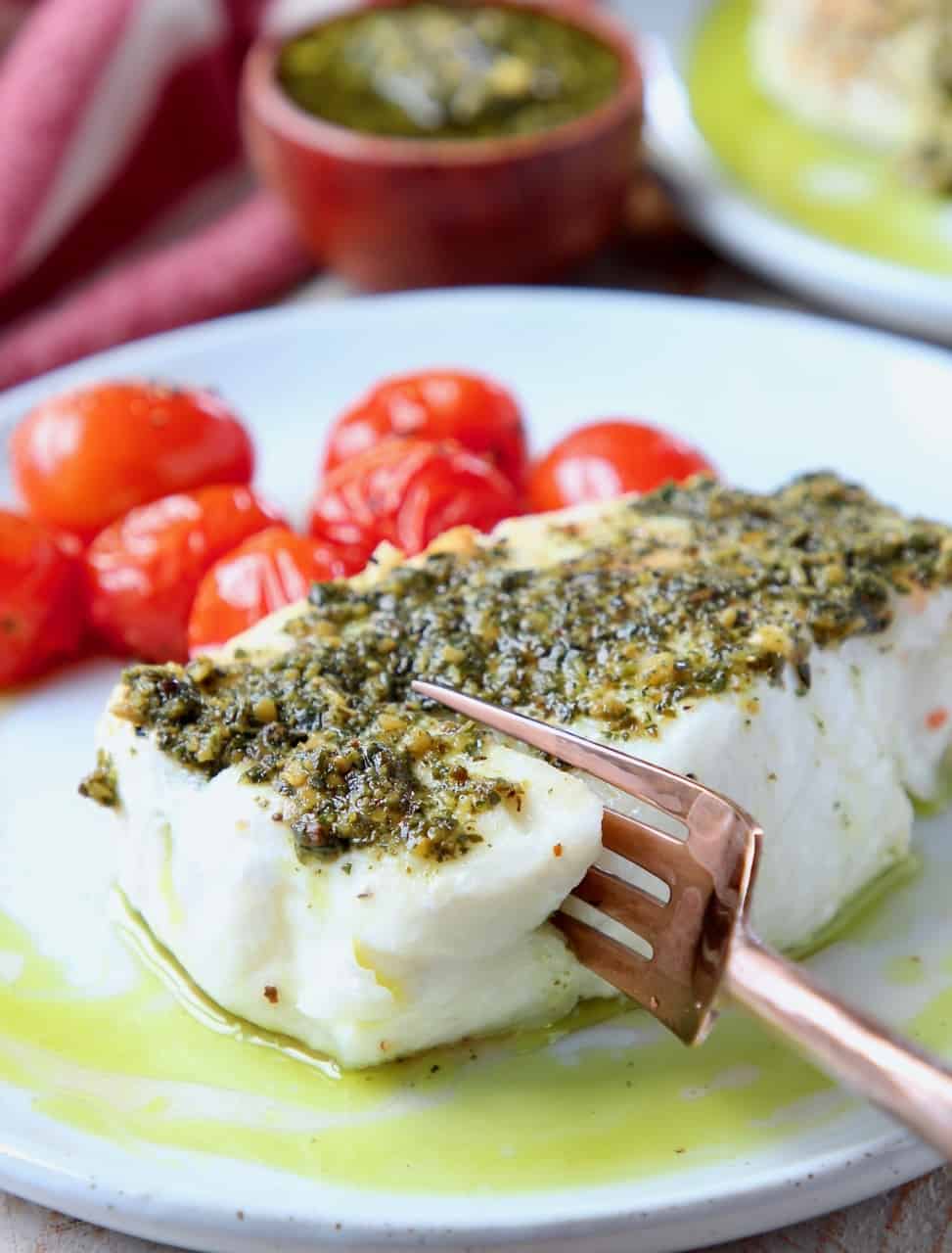 Today's post is sponsored by Santa Monica Seafood.
I'm so excited to start this post by sharing some wonderful news from my friends at Santa Monica Seafood. For the first time ever, everyone in the continental United States can enjoy their premium seafood options delivered right to your doorstep!
That's right, with their new Seafood Express Home Delivery Program, you can get overnight delivery on some of their most popular seafood options. They deliver Tuesday through Friday and on Saturday's with a premium delivery charge.
They have four boxes to choose from and honestly, you can't go wrong with any of them!
The Dinner Party – features 4 Chilean Sea Bass and 4 Atlantic Lobster Tails. It's perfect for making this Baked Chilean Sea Bass recipe during the week and grilling Lobster Tails on the weekend!
The Classic Catch – includes 4 Atlantic Salmon portions, 2 Ahi Tuna Steaks and 2 Swordfish Steaks. Use it to make Chimichurri Grilled Salmon and Sesame Seared Tuna Sushi Bowls!
The Wild One – features 2 Mahi Mahi portions, 2 Pacific Halibut portions and 2 Coho Salmon portions. Perfect for whipping up these Blackened Mahi Mahi Fish Tacos and this melt-in-your-mouth Bruschetta Salmon!
Santa Monica Seafood Choice – includes 2 pounds of tail-on Black Tiger Shrimp and 4 Atlantic Salmon Portions. This is a great option to make these Chimichurri Shrimp Skewers and these Balsamic Salmon Zoodle Bowls.
For a limited time, use the code Whitney10 for $10 off your order + FREE shipping! (Excluding Saturday delivery.)
Now let's make some mouthwatering Chilean sea bass!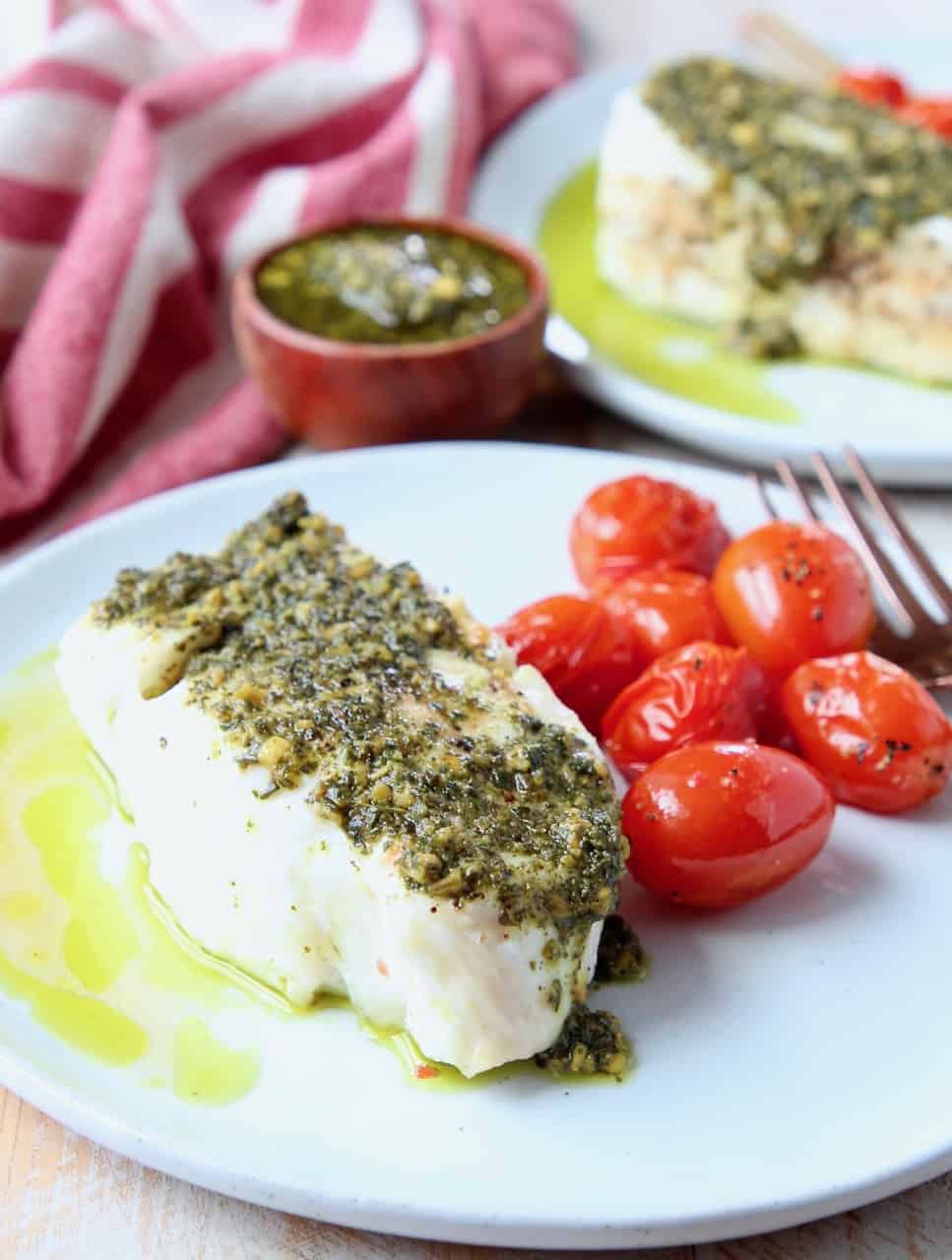 Is sea bass the same as Chilean sea bass?
Sea bass and Chilean sea bass are not the same thing. Sea bass is a general name used for many different fish from various species.
Chilean Sea Bass is a deep water fish, found in southern ocean waters near and around Antartica. It's rich, buttery flavor and moist meat simply melts in your mouth, making it one of the most sought-after seafood choices.
How to cook Chilean sea bass
Chilean sea bass can be grilled, pan seared or baked in the oven. I prefer a combination of pan searing the sea bass, then finishing it in the oven. This gives the outside a nice crust, while the inside stays moist and delicious.
Follow these four simple steps to cook Chilean sea bass perfect every time!
Make sure the pan you're searing the sea bass in is hot before adding the fish. This ensures the sea bass gets a nice crust on the outside. Season the sea bass only with salt and pepper after adding it to the pan.
Cook the sea bass on the stove for 2 minutes per side, this will ensure the fish has a nice sear on the outside, but doesn't overcook on the inside.
Bake in the oven at 400°F for 10 minutes. This time and temperature will allow the sea bass to cook through, without overcooking. You definitely DO NOT want to overcook Chilean sea bass, as that will ruin the moist, meaty texture of the fish.
Add sauce to the sea bass after it's cooked. Adding the sauce at the end will allow it to melt over the sea bass, while still allowing the buttery flavor of the sea bass to shine through.

Quick Tip! Not a fan of pesto or looking for a dairy free, nut free option? Try Chimichurri Sauce on top instead!
What side dishes go with it?
Chilean sea bass is a rich, buttery fish that pairs perfectly with roasted vegetables, risotto or a simple green salad. In this recipe, I roast cherry tomatoes right in the pan with the sea bass.
For serving, I recommend adding cooked zucchini noodles for a healthy, low carb meal or mushroom risotto for something more decadent.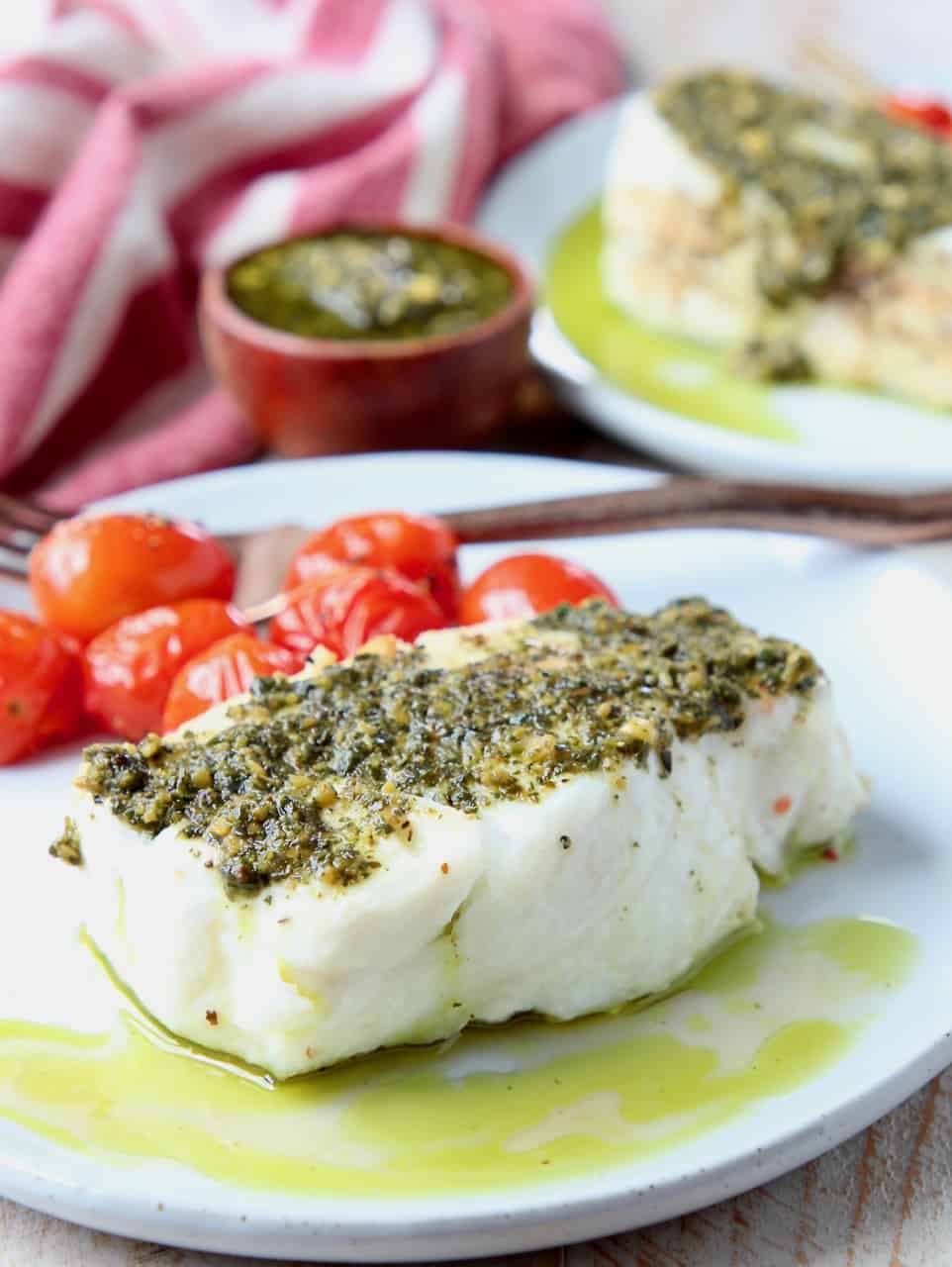 More seafood recipes to try
Looking for more easy seafood recipes made in 29 minutes or less? Check out these easy recipes!
Baked Chilean Sea Bass with Pesto
Make perfectly cooked chilean sea bass every time by searing it on the stove, then baking it in the oven. Top the sea bass with pesto for an easy, flavorful meal!
Instructions
Preheat the oven to 400°F.

Heat 1 tbsp olive oil in a large cast iron skillet, or oven-safe skillet, over medium high heat.

Once the oil is hot, add the sea bass to the skillet, sprinkle with approximately ⅛ tsp salt and ⅛ tsp pepper.

Add the tomatoes to the skillet, drizzle the remaining olive oil over the tomatoes.

Cook for 2 minutes, then flip the fish.

Sprinkle the remaining salt and pepper over the other side of the sea bass and the cherry tomatoes, cook for 2 minutes.

Transfer to the oven and cook for an additional 10 minutes.

Remove from the oven, place each sea bass on a plate with cherry tomatoes, spoon ½ tbsp pesto over each piece of sea bass.
Notes
For a dairy free, nut free recipe, use Chimichurri Sauce instead of pesto, on top of the sea bass.
Nutrition Facts
Calories
438
kcal
(22%)
Carbohydrates
4
g
(1%)
Protein
21
g
(42%)
Fat
38
g
(58%)
Saturated Fat
7
g
(35%)
Cholesterol
75
mg
(25%)
Sodium
743
mg
(31%)
Potassium
162
mg
(5%)
Fiber
1
g
(4%)
Sugar
2
g
(2%)
Vitamin A
856
mg
(17%)
Vitamin C
17
mg
(21%)
Calcium
20
mg
(2%)
Iron
1
mg
(6%)
We are a participant in the Amazon Services LLC Associates Program, an affiliate advertising program designed to provide a means for sites to earn advertising fees by advertising and linking to amazon.com.