No Churn Moose Tracks Ice Cream
This post may contain affiliate links.
You don't need a fancy ice cream maker to create amazingly creamy Moose Tracks Ice Cream at home! This ice cream favorite is loaded up with plenty of hot fudge and chunks of peanut butter cups! It's easy to make this recipe with 6 ingredients and just 10 minutes of prep time!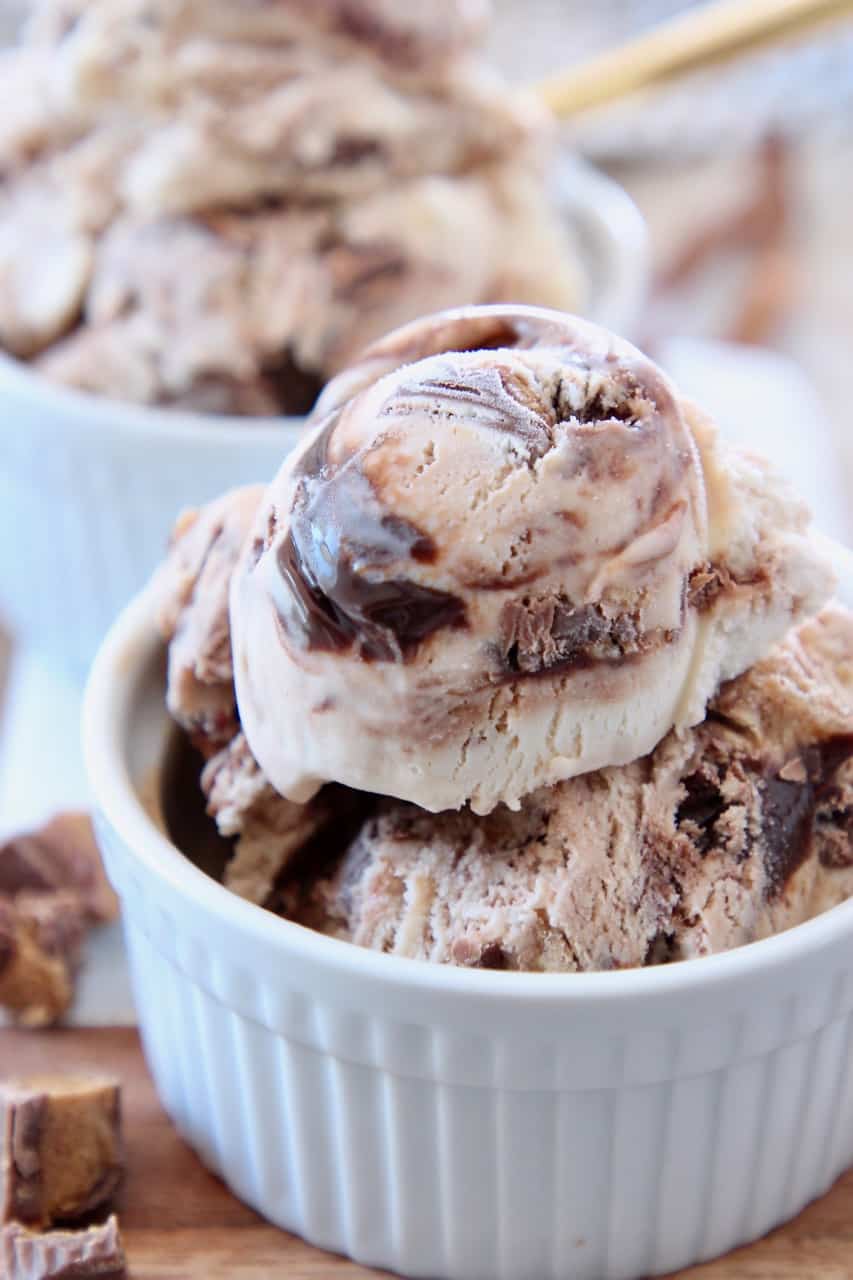 Calling all peanut butter chocolate lovers, this ice cream is for you! Moose Tracks ice cream started out at a Michigan ice cream shop back in 1988. It's made up of creamy vanilla ice cream with peanut butter cups and chocolate fudge swirls. And it's incredibly delicious!
After perfecting my homemade no churn ice cream recipe back in 2015, I've been on a mission to make no churn ice cream in all of my favorite flavors!
This easy ice cream method only requires 4 simple steps, just a few ingredients and only 10 minutes of prep time. And you don't need an ice cream maker, so literally anyone can make this ice cream at home!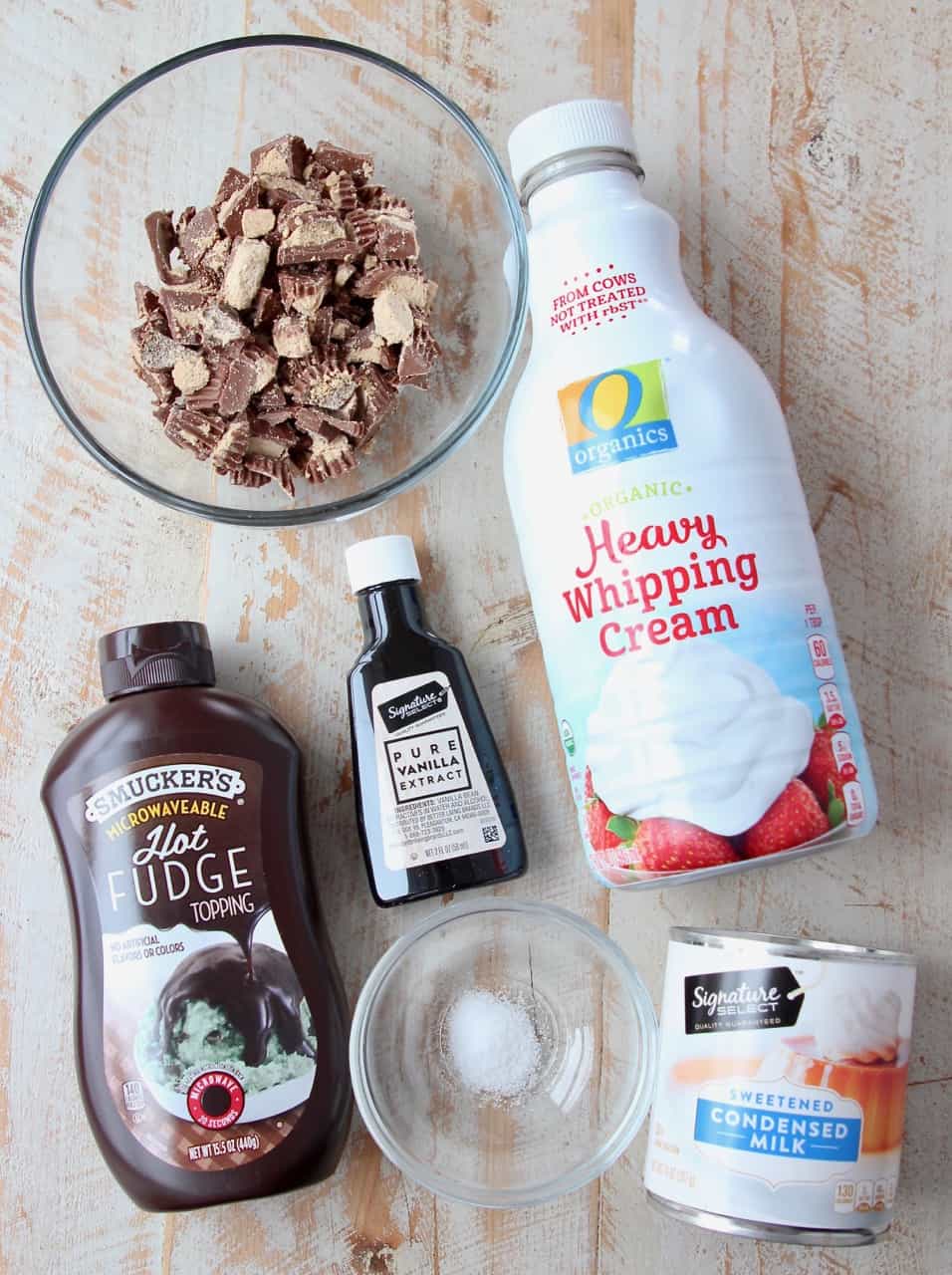 Ingredients
Sweetened condensed milk
Vanilla extract
Sea salt
Heavy cream
Peanut butter cups – for this recipe I used Miniature Reese's Peanut Butter Cups. Feel free to use any size or brand of peanut butter cup that you'd like. Since you're going to chop them up, the size or shape of the cup doesn't matter!
Hot fudge – I like using this easy Smucker's Microwaveable Hot Fudge because it's easy to pop it directly in the microwave for 30 seconds, then drizzle it into the ice cream. Once again, feel free to use whatever you have on hand, or your favorite brand of hot fudge!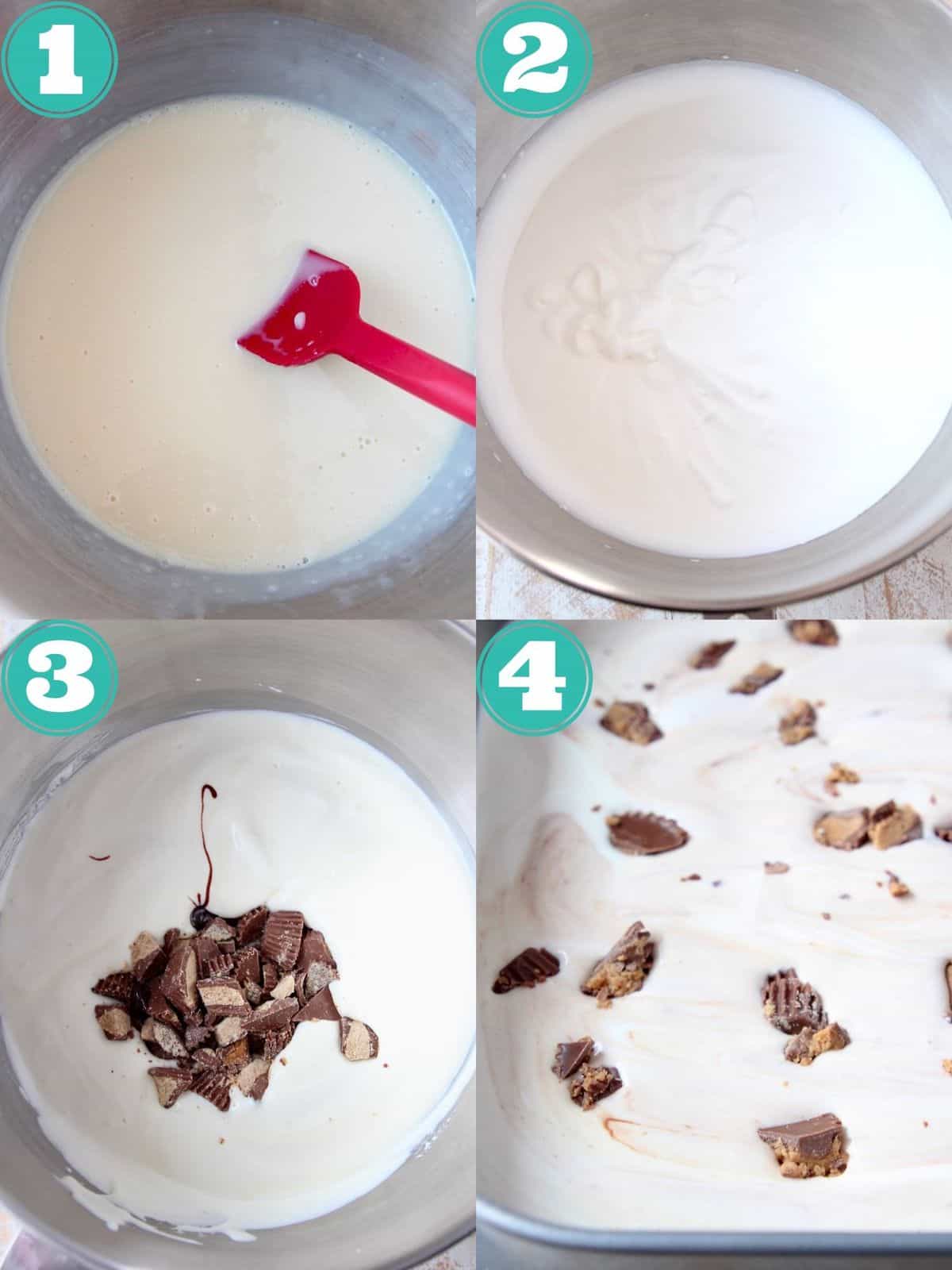 Step by step instructions
Combine condensed milk, vanilla extract and sea salt in a large bowl, then set aside.
Use a stand mixer, or electric hand mixer, to whip the heavy cream on medium-high speed until form peaks form, about 3-4 minutes.

Note: You can also hand whip the heavy cream if you don't have a mixer at home. This will also provide you with a great arm workout!

Fold the condensed milk mixture into the whipped cream with a rubber spatula until combined. Drizzle in the hot fudge and add the chopped peanut butter cups.
Gently fold the peanut butter cups and fudge into the ice cream. Transfer to a 2 quart, or larger, container to freeze the ice cream. Cover with a lid or plastic wrap and place in the freezer for at least 5 hours, or overnight.

Note: Be sure not to over-mix the fudge into the ice cream. You don't want to turn it into chocolate ice cream, you simply want to swirl the fudge into the ice cream.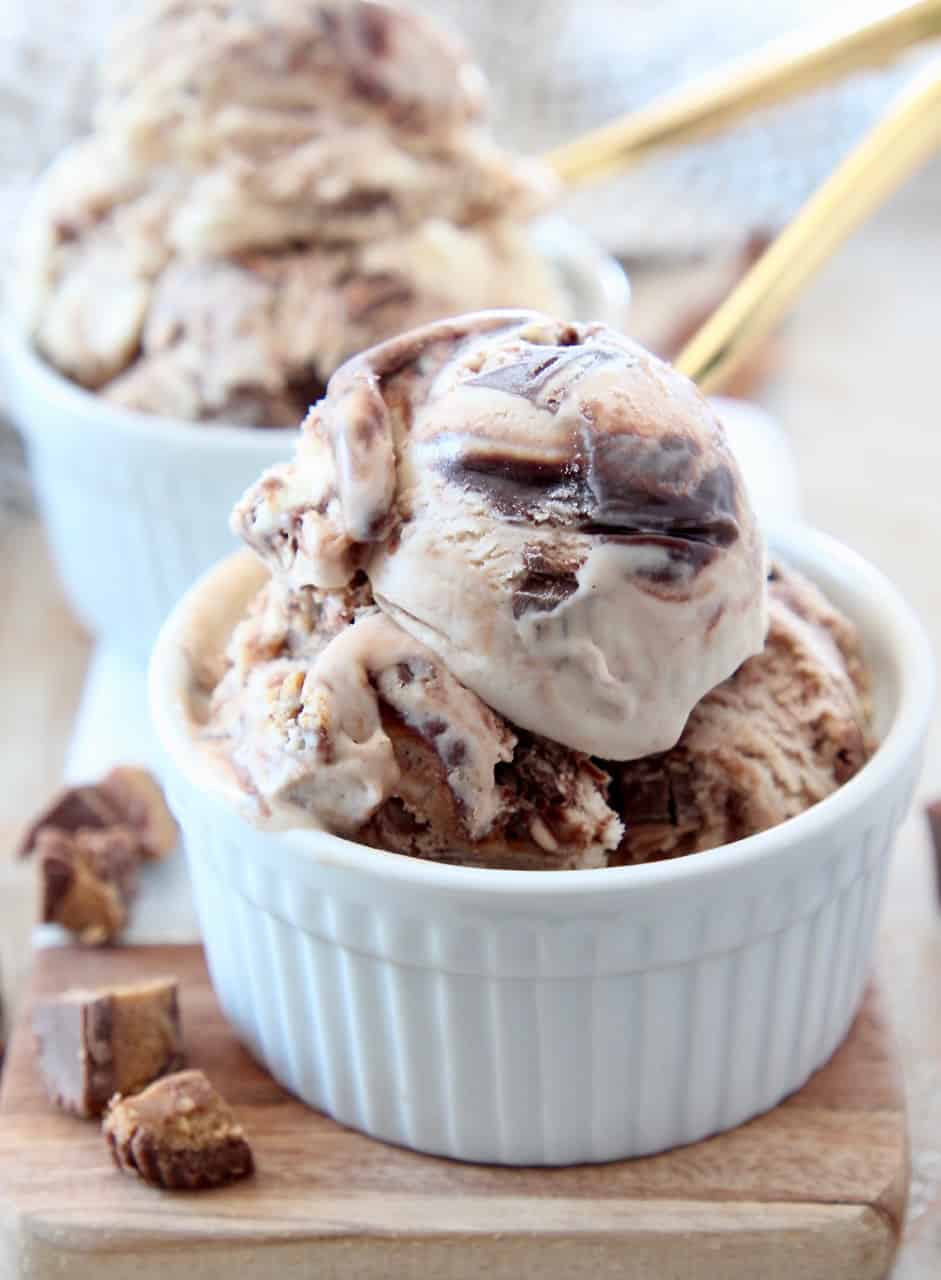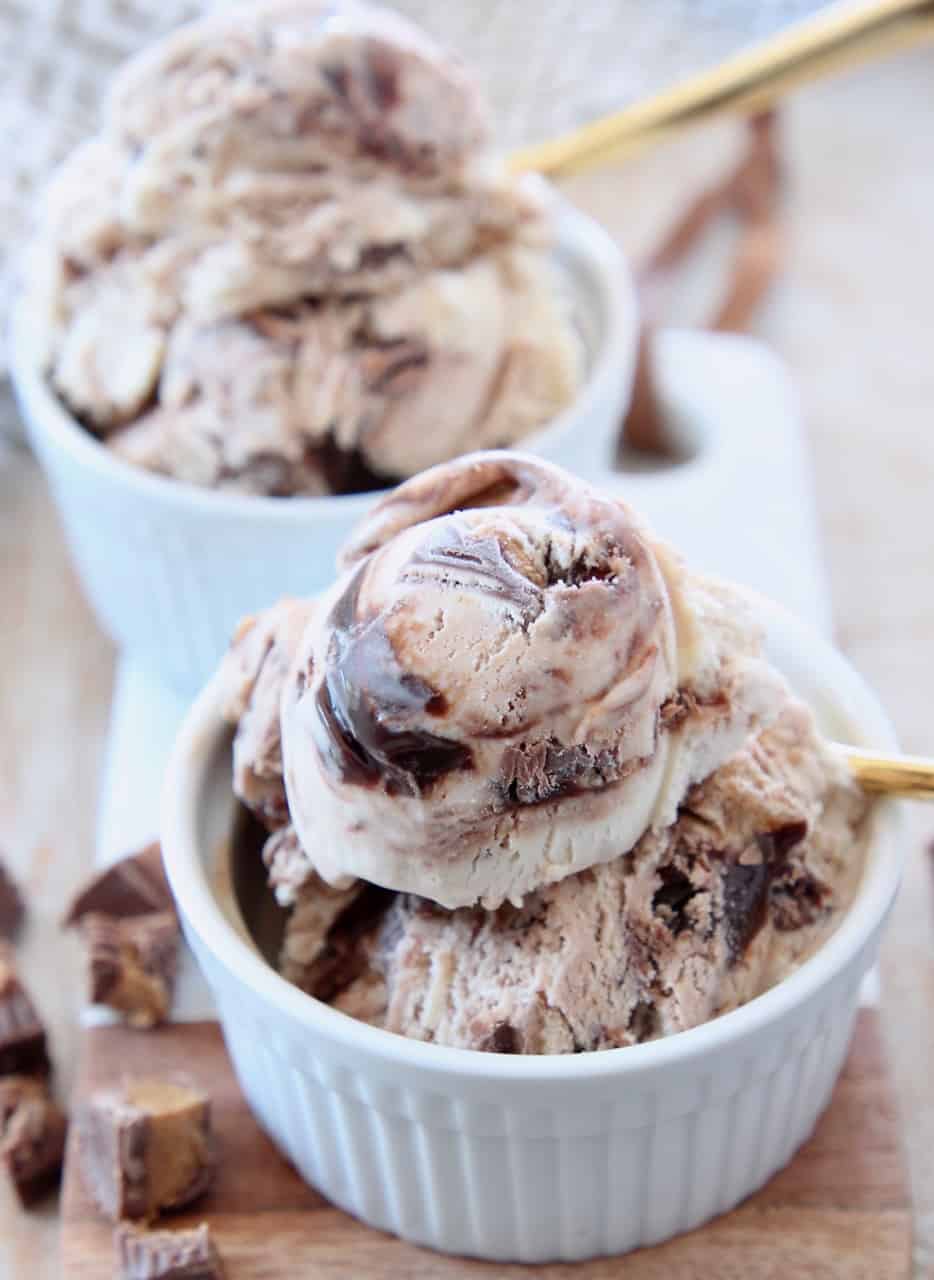 We are a participant in the Amazon Services LLC Associates Program, an affiliate advertising program designed to provide a means for sites to earn advertising fees by advertising and linking to amazon.com.