Grilled New York Strip Steak with Peppercorn Crust and Creamy Mushroom Sauce
This post may contain affiliate links.
Nothing beats the taste of a juicy, tender, perfectly grilled New York Strip Steak with an irresistible peppercorn crust, topped with a creamy mushroom sauce! In France, this dish is called Steak Au Poivre. It's a rich, flavorful dish that creates a show-stopping meal!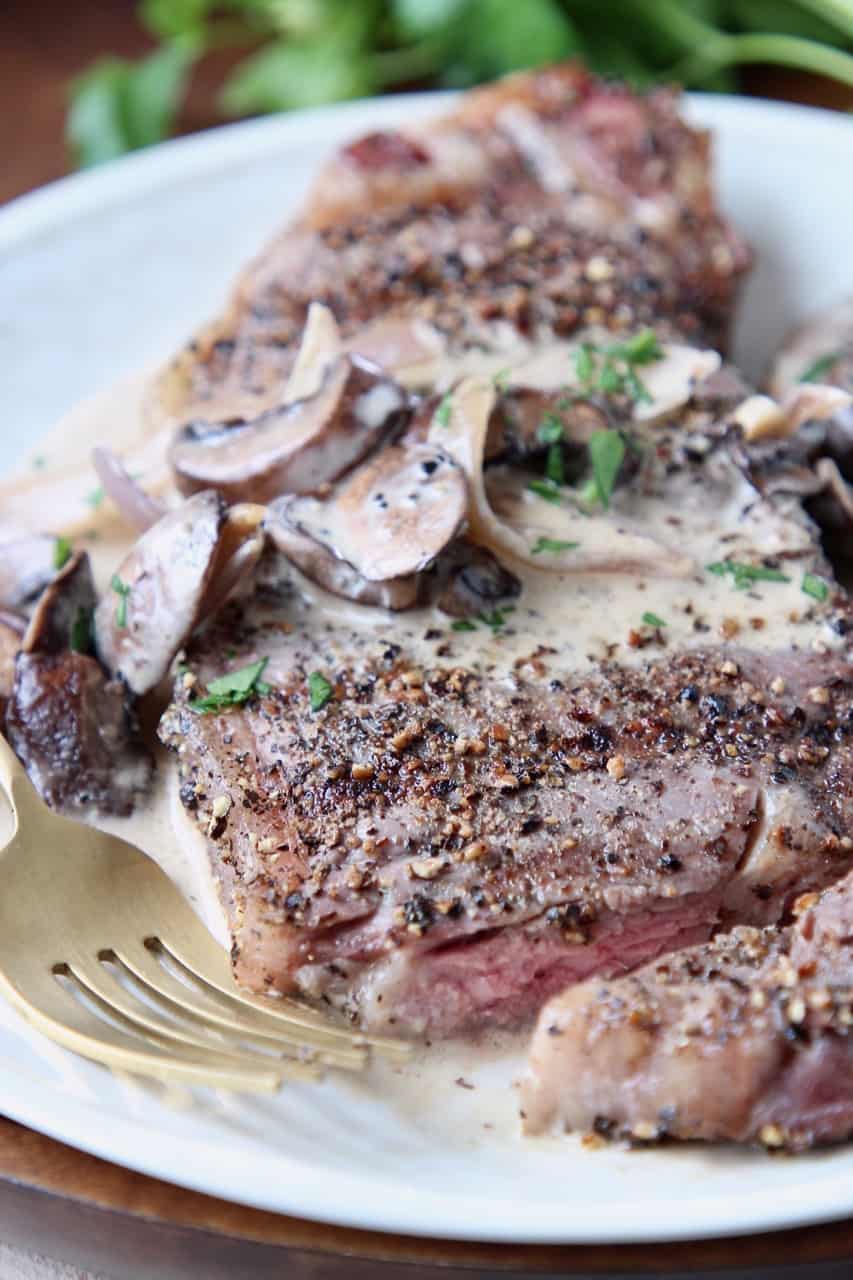 Thank you to my friends at California Beef Council for sponsoring today's post!
After one bite of this impressive peppercorn steak, you'll immediately be transported to a cute little cafe on the streets of Paris. That's exactly what happened when I made this New York strip steak recipe at home!
After eating Steak Au Poivre, French for pepper steak, over a dozen times in Paris, I was confident that I could come home and create the perfect homemade version in the US!
The keys to creating the perfect peppercorn steak include using a high quality steak, achieving the perfect pepper crust and topping it with an amazingly creamy sauce. For this recipe, I choose a New York Strip Steak. It's known for it's wonderful flavor and excellent amount of marbling which creates a naturally tender texture.
For the crust, I coated the steak in coarse ground, fresh cracked black peppercorns, then grilled it at a high temperature to create the mouth-watering crust. For the creamy sauce, I combined mushrooms and garlic in a cream sauce with more fresh cracked black pepper, onions and Worcestershire sauce.
I'm not lying when I say that I ate this sauce with a spoon! It has a wonderful depth of flavor and pairs perfectly with the peppercorn steak. This impressive meal is incredibly delicious, but it's also easy to make. With only 30 minutes of hands-on time, this meal comes together in under an hour!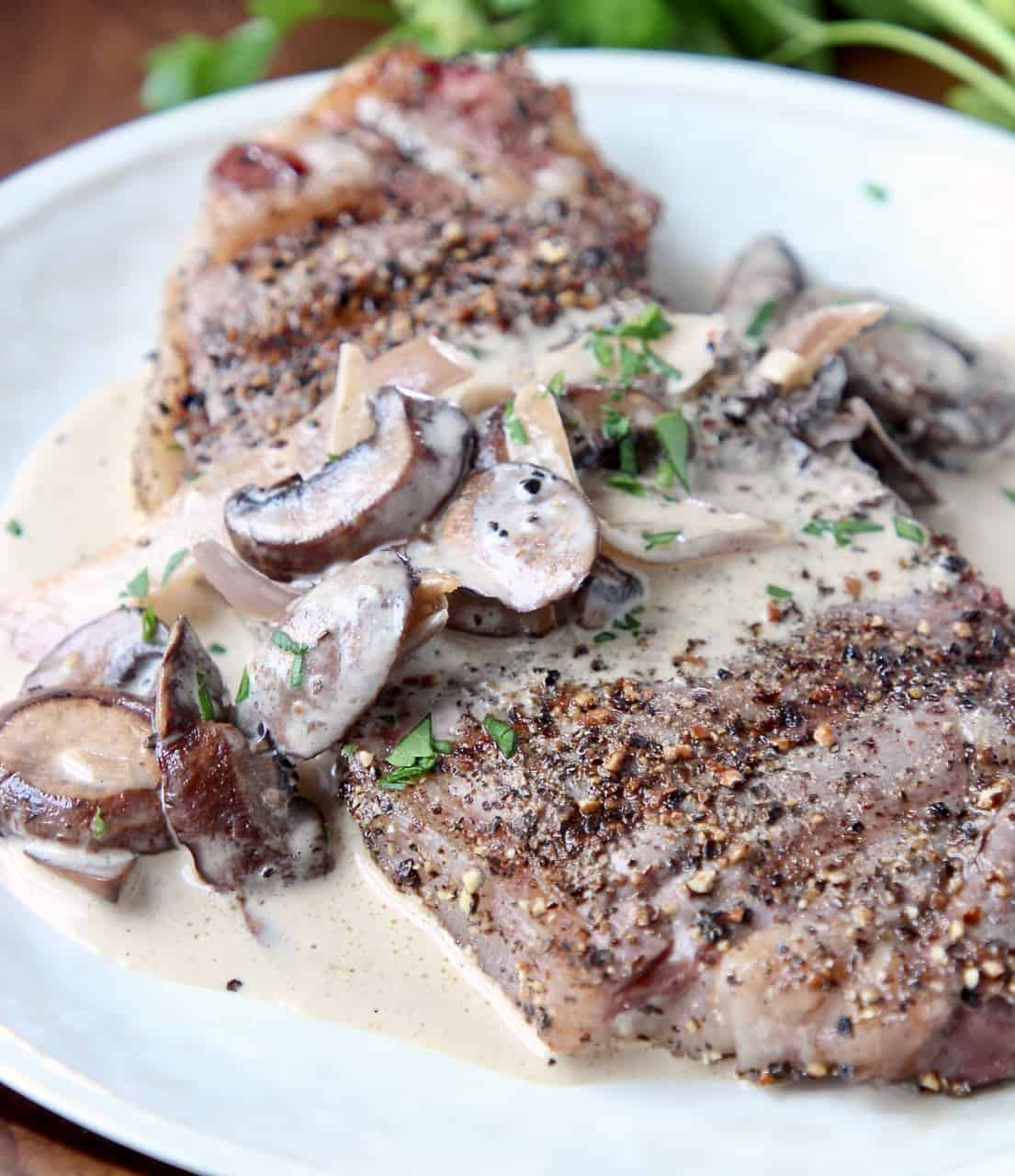 What is a New York strip steak?
You'll find New York Strip Steaks at major grocery stores and butcher counters, but it may be called a strip steak, strip loin steak or New York Steak. Don't worry, they're all the same thing! The New York Strip is cut from the short loin of the cow. While it's not quite as tender as the nearby filet mignon, it's a great alternative and more affordable cut of beef.
A top sirloin is leaner than a New York strip, but because the New York strip has more fat and marbling throughout, it has more flavor than a sirloin. On the other hand, a ribeye has even more marbling than a New York Strip and is therefore considered to be more tender than the strip steak.
The New York Strip steak is sold both bone-in and boneless. You might also hear a bone-in strip steak referred to as an ambassador steak or club steak. This cut of steak received the name because they were sold in higher end places, like country clubs.
When purchasing a strip steak, you want to look for a steak with a bright red color and lots of marbling. The marbling is the white lines of fat running through the steak that gives it so much flavor and makes it tender.
What is the best thickness for a strip steak?
Most New York Strip Steaks will vary between 1/2 inch – 1 1/2 inch thickness. Any thickness will work for this recipe, but if you have the option, I would recommend a steak that's at least 1 inch thick. At 1 inch thickness or greater, there's a lot lower chance of overcooking the steak in the middle. The cooking times will vary based on how thick the steak is that you're grilling.
While grilling 5 minutes per side is a good starting point for the New York strip steak, I recommend using a meat thermometer to check the internal temperature of the steaks before removing them from the grill. Follow the chart below for your desired internal temperature.
For a rare steak – 125°F
For a medium rare steak – 135°F
For a medium steak – 145°F
For a medium well steak – 155°F
For a well done steak – 160°F
Remember that a steak will rise approximately 5 degrees Fahrenheit in temperature, after you remove it from the grill and let it rest.
How to cook it perfectly
Although it might be intimidating to make your own steaks at home, you don't have anything to worry about. Simply follow these 4 steps for better-than-restaurant New York Strip Steaks at home!
Bring the steak up to room temperature. Thirty minutes before grilling the steaks, remove them from the refrigerator and allow them to come up to room temperature. This ensures that the steaks will cook evenly.
Season the steaks well with salt and pepper to create the perfect crust. Completely coating the steaks in fresh cracked peppercorns will give it that irresistible crust. To do this, you want to crack your own fresh peppercorns into a coarse grind. The easiest way to do this is with a peppercorn mill, you can also use a mortar and pestle or spice grinder. It's important, if possible, to grind the peppercorns at home to bring out the most flavor from the pepper.
A hot grill or pan. You want to make sure the grill is hot before grilling the steaks or you will not achieve the desired crust on the steaks. I recommend heating the grill to medium-high heat, between 400°F – 450°F. You can use a charcoal or gas grill. And if you don't have a grill, you can also use a cast iron skillet on the stove over medium high heat. Grill the steaks for 5 minutes per side to achieve a medium rare steak.
Allow the steak to rest. Like any good steak, you want to allow the NY strip steak to rest for 10 minutes after removing it from the heat. This allows the juices, which have moved to the center of the meat during the cooking process, to redistribute throughout the meat. This creates a juicier, more tender steak!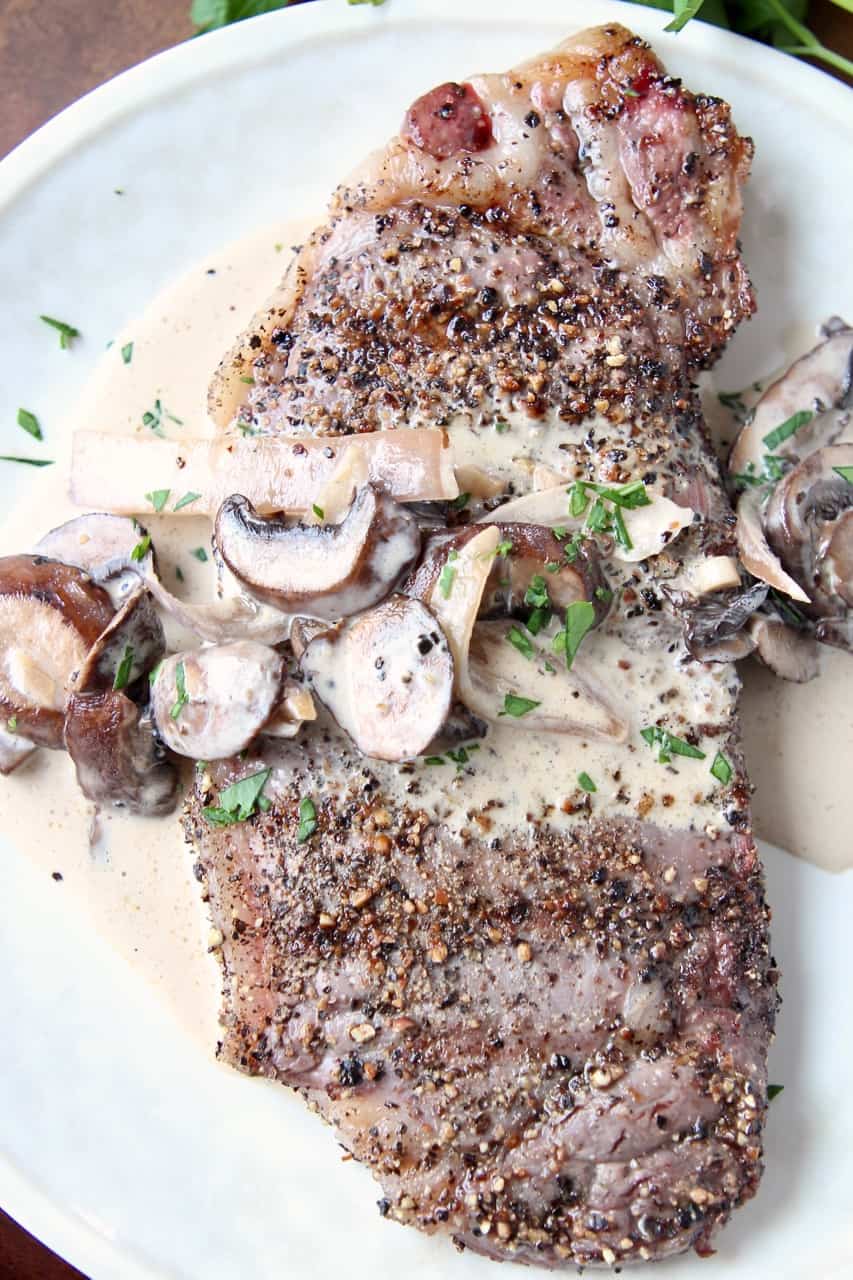 How to make creamy mushroom sauce
This peppercorn crusted New York strip steak is absolutely delicious on it's own, but if you'd like to add a sauce, I highly recommend trying this creamy mushroom sauce. You can cook it right next to the steaks on the grill, in a cast iron skillet or grill-safe pan. Just follow these 4 easy steps for creamy perfection!
Combine olive oil and butter. Combining the two will give you more flavor and will produce a higher smoke point for making this sauce on the grill over high heat. Basically, adding olive oil, along with butter will allow the butter to melt at a higher temperature without burning.
Saute onions, mushrooms and garlic. The veggies will cook down in the butter mixture to create the perfect texture and flavor for this sauce.
Season the sauce with Worcestershire sauce, kosher salt and more fresh cracked black pepper.
Finish with the cream. Adding the heavy cream at the end will allow the cream to heat up in the sauce without the potential for burning or scalding the cream from leaving it on the heat too long.
What to serve with the steaks
Creamy potatoes and vegetables pair perfectly with this steak recipe. If you're looking for a wine to pair with the steak, I would recommend a cabernet sauvignon, bordeaux or malbec for the perfect pairing.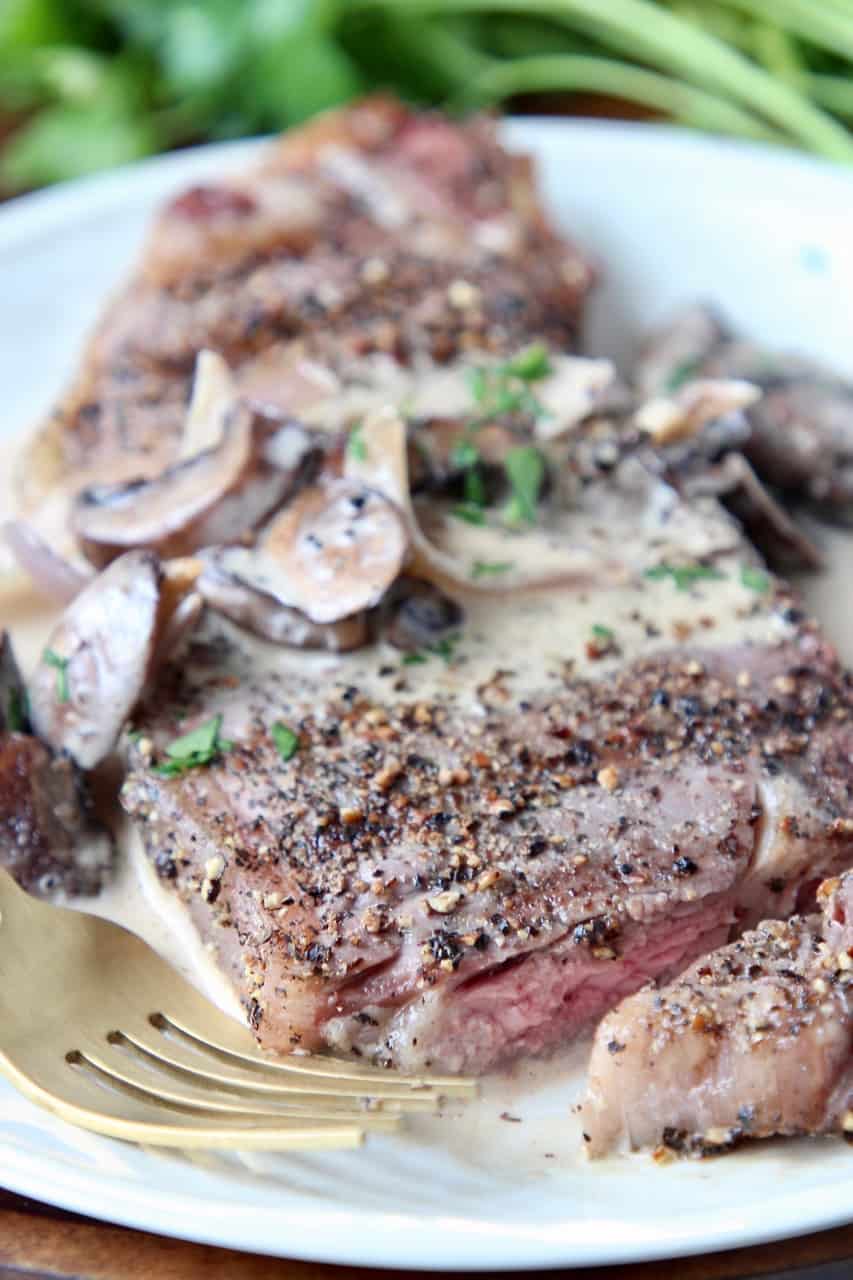 We are a participant in the Amazon Services LLC Associates Program, an affiliate advertising program designed to provide a means for sites to earn advertising fees by advertising and linking to amazon.com.