Creamy Avocado Salsa
This post may contain affiliate links.
This amazing Creamy Avocado Salsa recipe is easy to make in just 5 minutes! It's vegan, gluten free & perfect for tacos, grilled chicken, nachos or a delicious dip for chips!
Try it on Chipotle Honey Pulled Pork Tacos, Veggie Fajita Rice Bowls or Low Carb Nachos!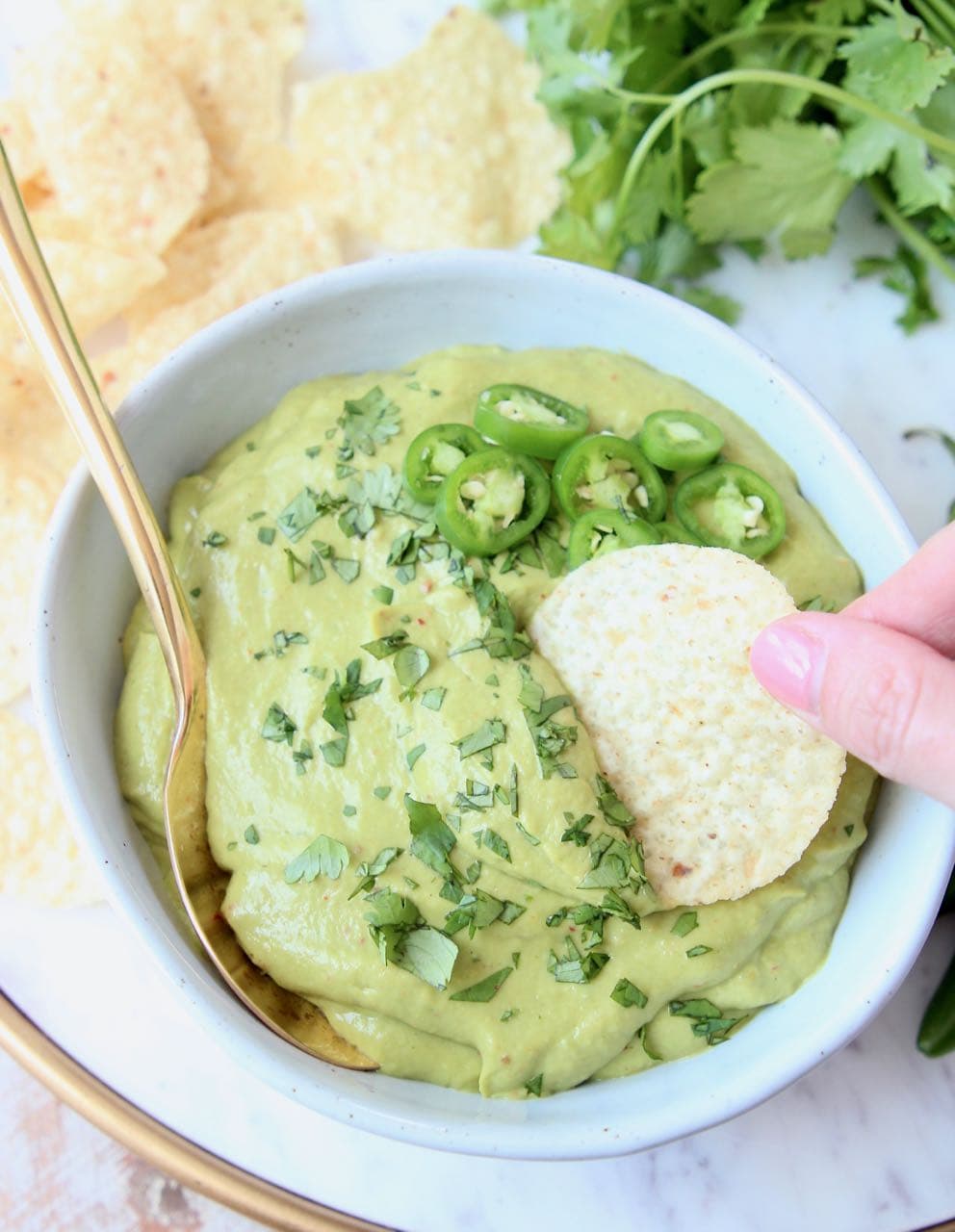 I first made this salsa by accident in 2013. I literally added a bunch of stuff to a blender to make a quick salsa for tamales. This ended up being the best salsa ever!
This avocado salsa quickly became known by my friends as "awesome sauce". I was constantly being asked if I had any "awesome sauce" when they would come to visit.
Needless to say, this awesome green sauce has been made dozens of times since 2013. And I've added it to all of my favorite Mexican food dishes! From tacos to nachos to enchiladas, this avocado dip is truly incredible on just about anything!
It is on the slightly spicy side, which I love! But if you don't like spicy food, just take a look at the notes in the recipe card below. I'll show you how to tone it down a bit… or a lot!
Think of it as creamy avocado salsa verde! Instead of tomatillos as the base, this salsa uses avocados as the base. But it still incorporates all of the delicious herbs and peppers, like in a salsa verde!
One of the best parts about this salsa, besides just how awesome it is, is that it's made in just 5 minutes! Literally toss all of the ingredients in a blender and puree. Next thing you know, you have the best, most creamy avocado salsa EVER!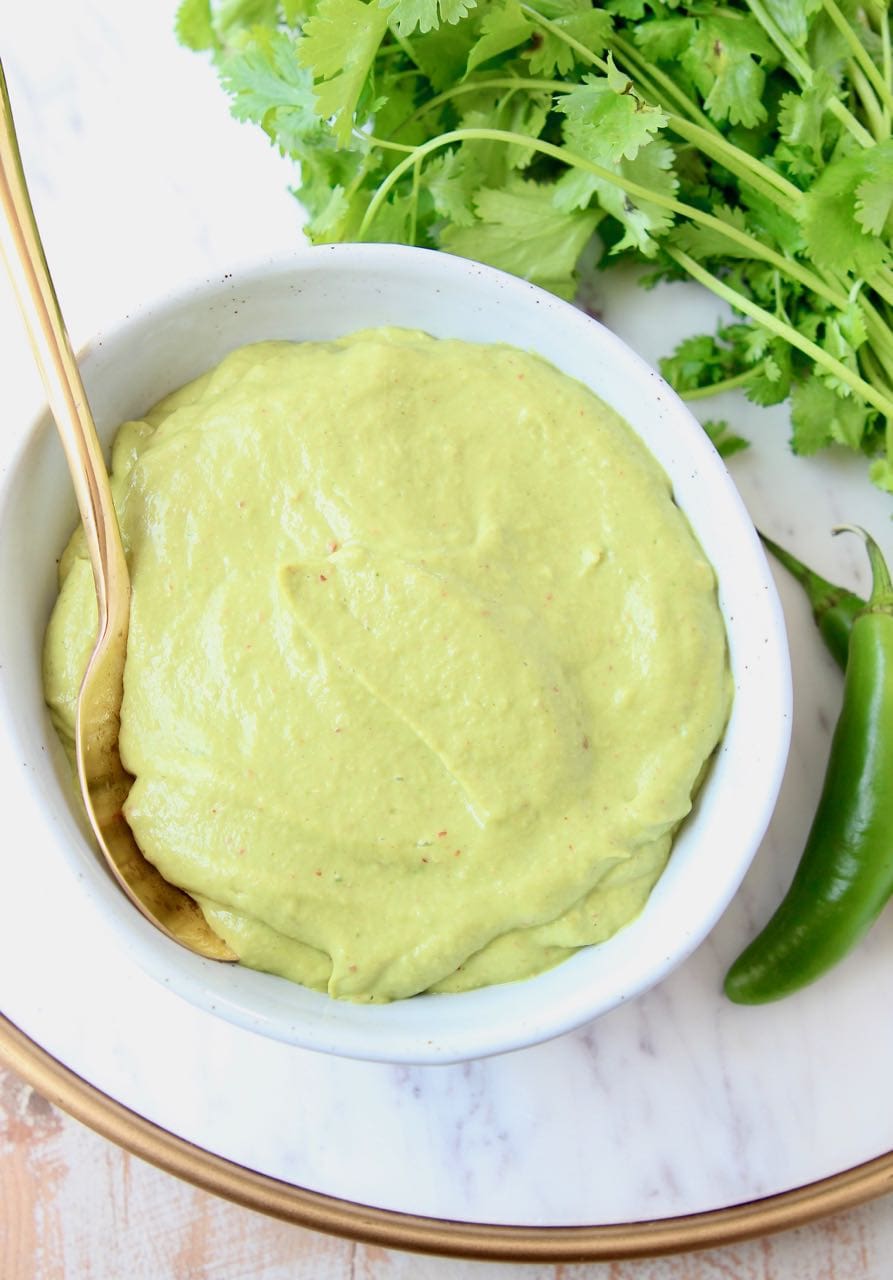 Step by step instructions
Add ripe avocados, lime juice, garlic, red onion, serrano chilies and jalapenos to a blender.
Add cilantro, avocado oil, diced green chilies, cumin, salt and crushed red pepper flakes.
Blend until smooth and creamy.

Quick Tip! I love using the NutriBullet to make this salsa. (And really all sauces for that matter!) It blends everything to a perfect creamy consistency. And you can store the salsa right in the container you blended it in. Kinda NutriBullet obsessed over here!
How to know if avocados are ripe
Finding a perfectly ripe avocado sometimes seems as hard as finding a needle in a haystack. Luckily I've got a few tips to help you find the perfect avocado and keep it from browning!
When at the grocery store, give the avocado a light squeeze. If it's hard as a rock, you can expect 4-5 days before it will be ripe. If it indents from a light squeeze that means it's already ripe and not the avocado for you! When you squeeze it, if it's slightly soft to the touch, that's the perfect avocado for making this salsa that day.
Once you get the avocados home, if they're already ripe and you're not planning on using them that day, place them in the refrigerator. This will stop the ripening process for 1-2 days and keep the avocados green.
How long does it last in the fridge?
This avocado salsa will last in the fridge for 3-4 days. I store it in an airtight container, with a piece of plastic wrap pressed on top of the salsa. This prevents any air from getting into the salsa and turning it brown.
Is it healthy?
Yes! Avocado salsa is filled with healthy fats from the avocado and avocado oil. It's also low in carbs and calories and high in vitamin A and calcium. One cup of avocado salsa contains 430 mg vitamin A and 28 mg calcium.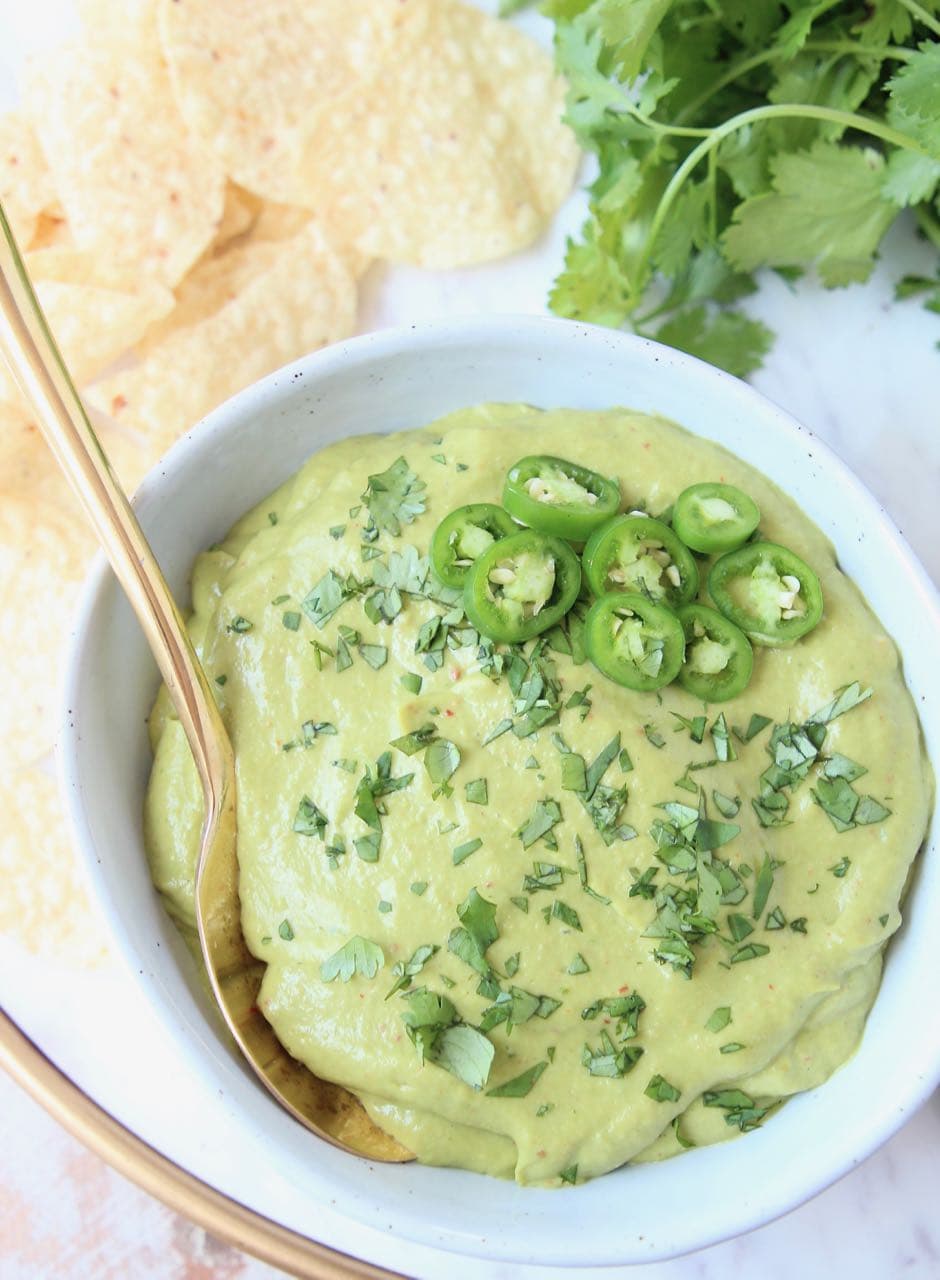 What to serve with it
As I mentioned, this salsa is pretty much amazing on everything! But here are a few tried and true Mexican recipes that will only get better with the addition of this salsa!
There's also the option of you, this dip in a bowl and a tortilla chip dipped right in to it! Let's just say I've taken down a bowl of this salsa with a bag of chips a time or two! What's your favorite way to eat this salsa? Leave a comment below and let me know!
Made this recipe and loved it? Be sure to rate it 5 stars below!
Creamy Avocado Salsa
This amazing Creamy Avocado Salsa recipe is easy to make in just 5 minutes! It's vegan, gluten free & perfect for tacos or a delicious dip for chips!
Instructions
Add all of the ingredients to a blender or food processor and puree.

Serve with chips for dipping or serve with your favorite Mexican dish.
Notes
Refrigerating: this salsa can be refrigerated for 3-4 days. Store in an airtight container. I also like to press a sheet of plastic wrap into the salsa in the container to prevent air from getting in and browning the avocado.
Serving options: serve this salsa with chips for dipping, or on tacos, fajitas, enchiladas, nachos or your favorite Mexican food dish!
Nutrition Facts
Calories
242
kcal
(12%)
Carbohydrates
13
g
(4%)
Protein
3
g
(6%)
Fat
22
g
(34%)
Saturated Fat
3
g
(15%)
Sodium
601
mg
(25%)
Potassium
562
mg
(16%)
Fiber
7
g
(28%)
Sugar
2
g
(2%)
Vitamin A
431
mg
(9%)
Vitamin C
21
mg
(25%)
Calcium
28
mg
(3%)
Iron
1
mg
(6%)
We are a participant in the Amazon Services LLC Associates Program, an affiliate advertising program designed to provide a means for sites to earn advertising fees by advertising and linking to amazon.com.