Shishito Peppers with Soy Ginger Sauce
This post may contain affiliate links.
Blistered Shishito Peppers sauteed in Soy Ginger Sauce are an Asian restaurant favorite that you easily make at home with this 20 minute recipe! Serve these tasty peppers as an easy appetizer or side dish!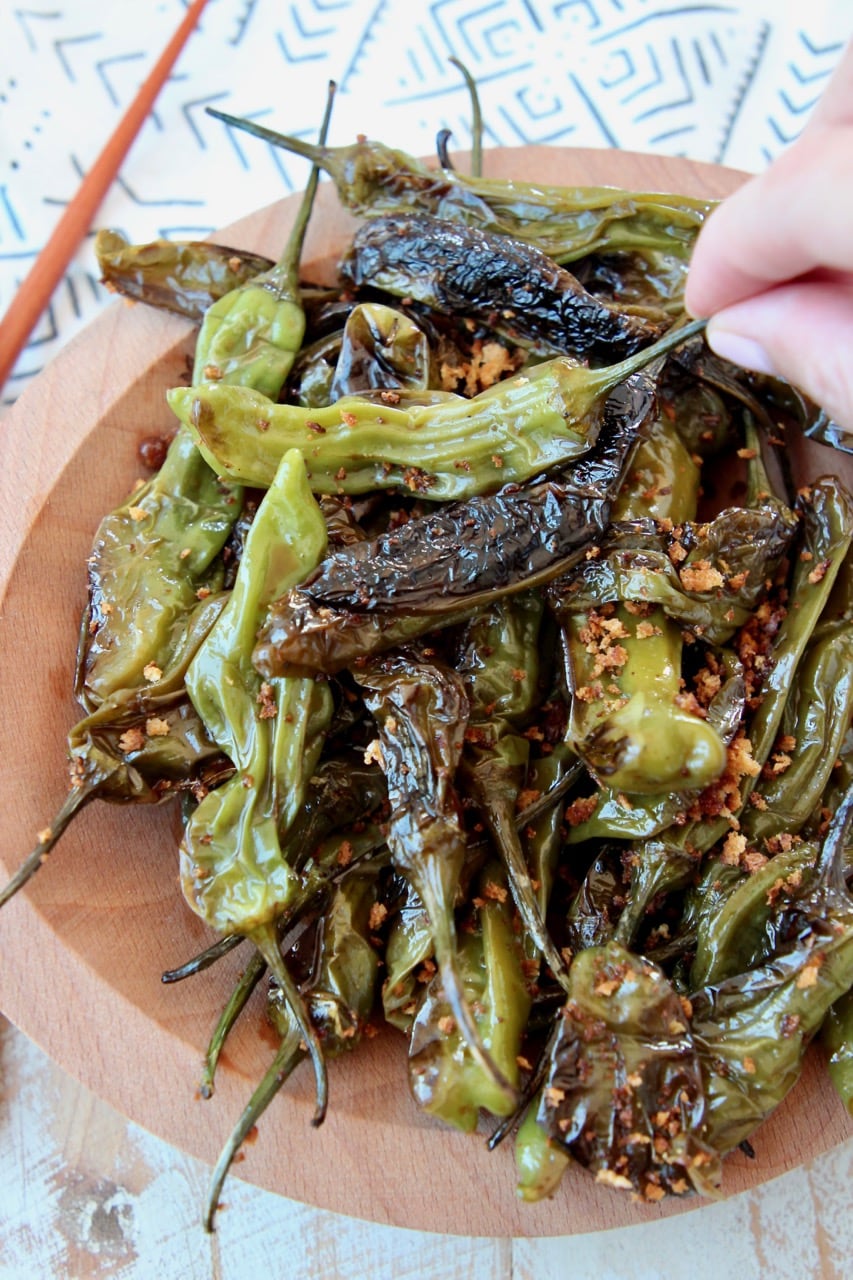 Over the years I've turned hundreds of friends and family members on to the deliciousness that is a Shishito Pepper! Ok, maybe that's a slight exaggeration, but lets just say I've introduced a lot of people to these amazing little peppers and everyone has loved them!
What are shishito peppers?
Shishito peppers are a sweet pepper from East Asia, often served as a starter at popular sushi restaurants such as Nobu, Ra and Katsuya.
Up until a couple of years ago, I was only able to find fresh shishitos at the Asian markets around San Diego. Now I see them at most major grocery stores, including Sprouts and Trader Joe's.
Are shishito peppers hot?
The fun thing about these peppers is that they're a mild, sweet pepper, yet about one in every ten is spicy! Surprise!
I call them the "Russian roulette" of peppers because you never know when you're going to get a spicy one!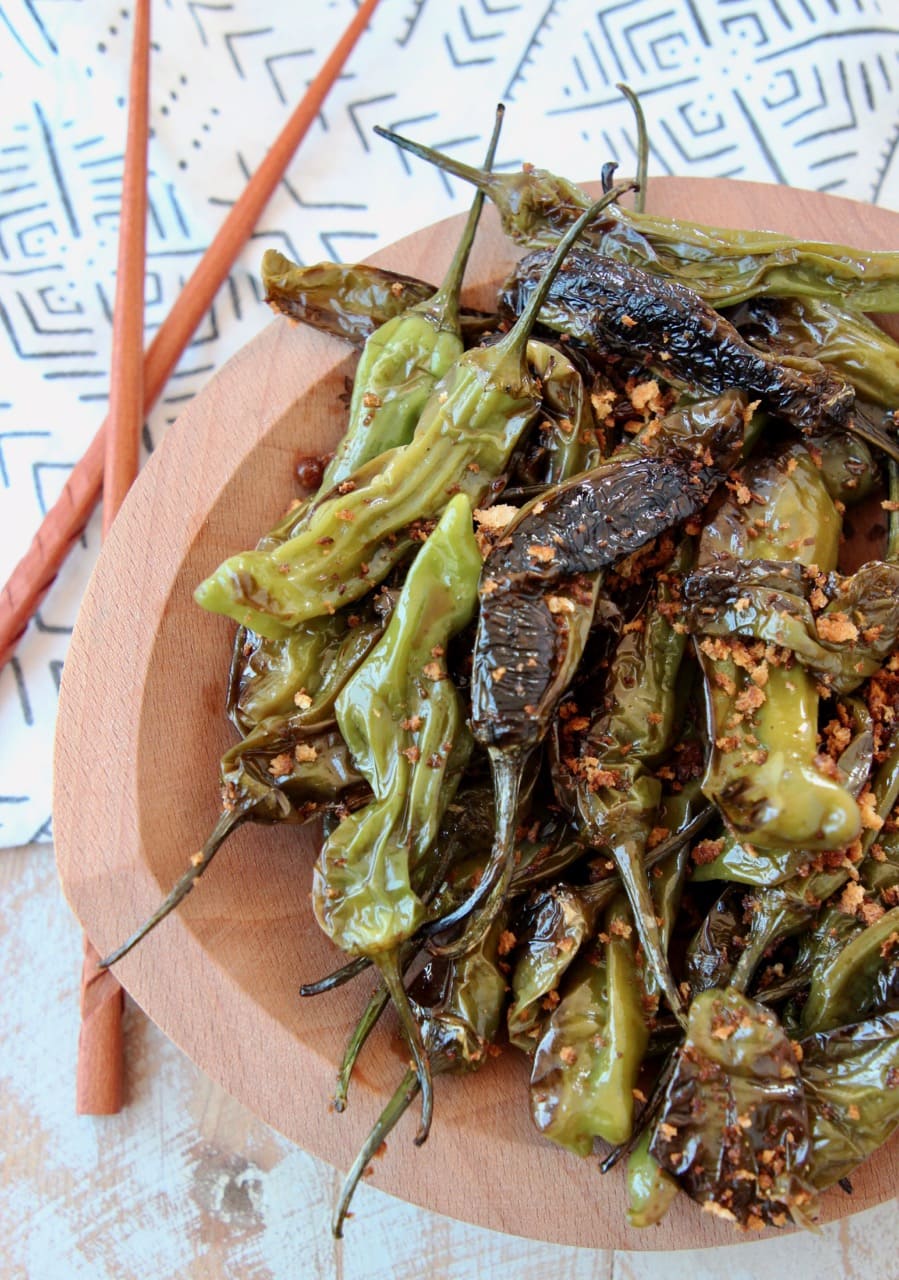 How do you cook shishito peppers?
You can roast shishito peppers in the oven or saute them on the stove. Either way, you want the outside skin of the peppers to be blistered before serving.
For this shishito pepper recipe, I saute the peppers on the stove for 10 minutes. I then add the soy ginger sauce and continue cooking for another 7-10 minutes for the sauce to thicken and glaze the peppers.
Whitney's Tips and Tricks
Make sure the peppers are dry before adding them to the hot skillet with oil. Any water on the peppers, left over from rinsing them, will splatter when you add the peppers to the skillet.
Do not add the glaze too early in the cooking process. This will cause the glaze to burn and stick to the bottom of the skillet.
You can make these shishito peppers without the glaze. Shishito peppers are delicious simply cooked in oil and finished with a sprinkling of flaky sea salt.
Can you eat the peppers raw?
Sure! Serve them with your next veggie tray or dip them into hummus for a snack. The texture of a raw shishito pepper is crisp like a green bell pepper.
How many calories are in shishito peppers?
By themselves, shishito peppers are 90 calories per pound. In this recipe, with the soy ginger sauce, they're 68 calories per serving. One serving is approximately a quarter pound of shishitos.
At under 100 calories per serving these Soy Ginger Shishitos are perfect as a healthy appetizer or snack. If you're looking for a full meal, be sure to try this Shrimp & Shishito Pepper Stir Fry, also light and healthy and made in just 20 minutes!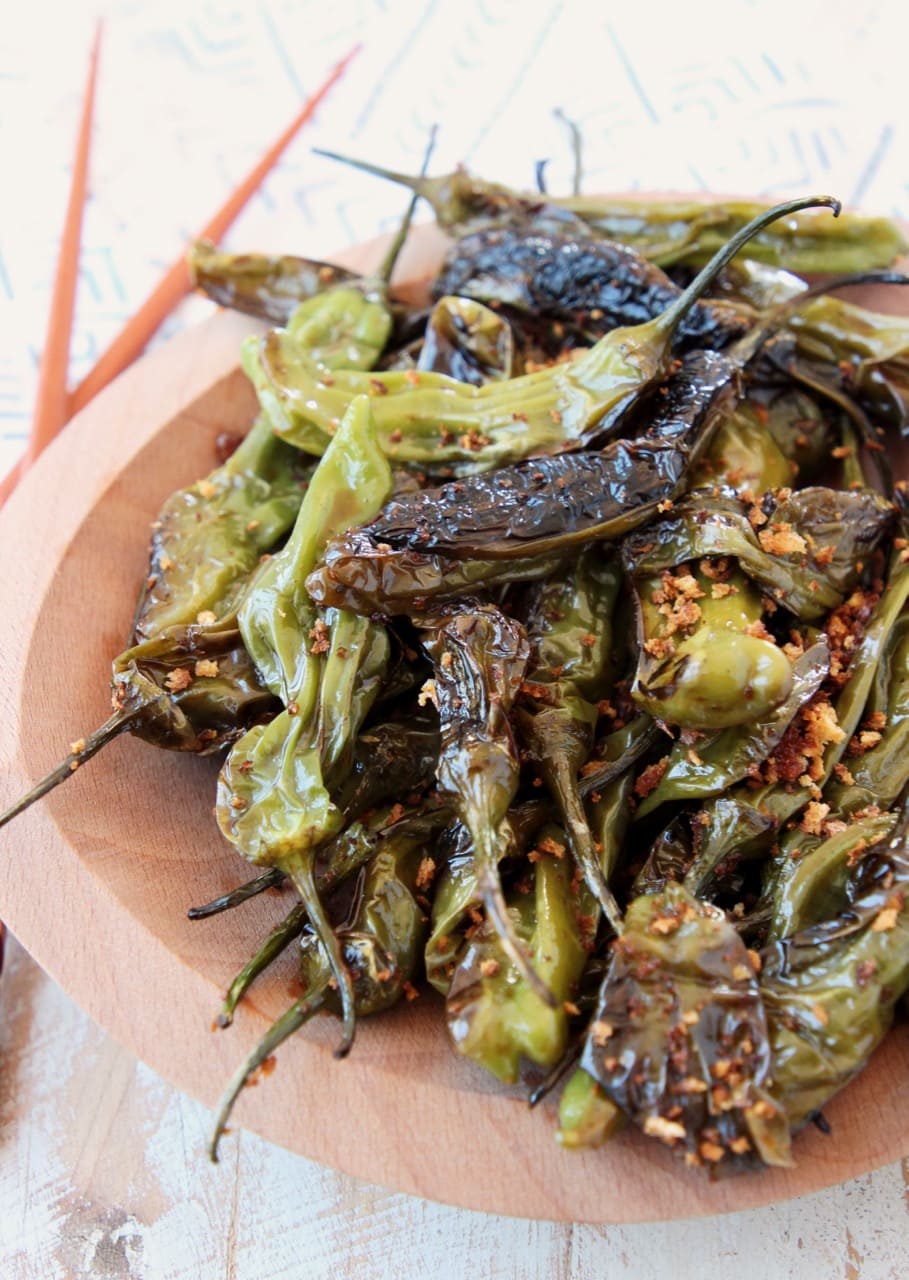 Don't forget to pin these Soy Ginger Shishito Peppers for later and when you make them, be sure to share a pic on Instagram and tag me @WhitneyBond or use the hashtag #WBRecipes!
Soy Ginger Shishito Peppers
Blistered Shishito Peppers sauteed in Soy Ginger Sauce are an Asian restaurant favorite that you can now easily make at home with this simple 20 minute recipe!
Instructions
Add 1 tsp sesame oil to a large skillet or wok on the stove over medium-high heat. Add the shishito peppers and sauté for 10 minutes.

Whisk the remaining 1 tsp sesame oil, soy sauce, honey, lime juice and ginger together in a small bowl to form the sauce.

After the shishitos have sautéed for 10 minutes, pour the sauce over the shishito peppers.

Reduce the heat to medium and continue to cook for 7-10 minutes or until peppers are tender and blistering on the outside.
Optional Toasted Panko Topping
Add panko breadcrumbs to a small skillet over medium-high heat. Allow to toast in the skillet for 5 minutes.

Sprinkle the breadcrumbs on top of the shishito peppers and serve.
Notes
The nutritional information provided does not include toasted panko breadcrumbs.
Use tamari instead of soy sauce & omit the panko breadcrumbs to make this recipe gluten free.
Nutrition Facts
Calories
96
kcal
(5%)
Carbohydrates
18
g
(6%)
Protein
5
g
(10%)
Fat
2
g
(3%)
Saturated Fat
1
g
(5%)
Sodium
838
mg
(35%)
Potassium
31
mg
(1%)
Fiber
5
g
(20%)
Sugar
10
g
(11%)
Vitamin A
1000
mg
(20%)
Vitamin C
54
mg
(65%)
Calcium
10
mg
(1%)
Iron
1
mg
(6%)
We are a participant in the Amazon Services LLC Associates Program, an affiliate advertising program designed to provide a means for sites to earn advertising fees by advertising and linking to amazon.com.