15 Easy Recipes To Make With Pantry Staples + Shopping List
This post may contain affiliate links.
Use pantry staples to make easy meals with food that you already have on hand, like rice, beans and pasta. These pantry recipes also include healthy & gluten free options for lunch or dinner!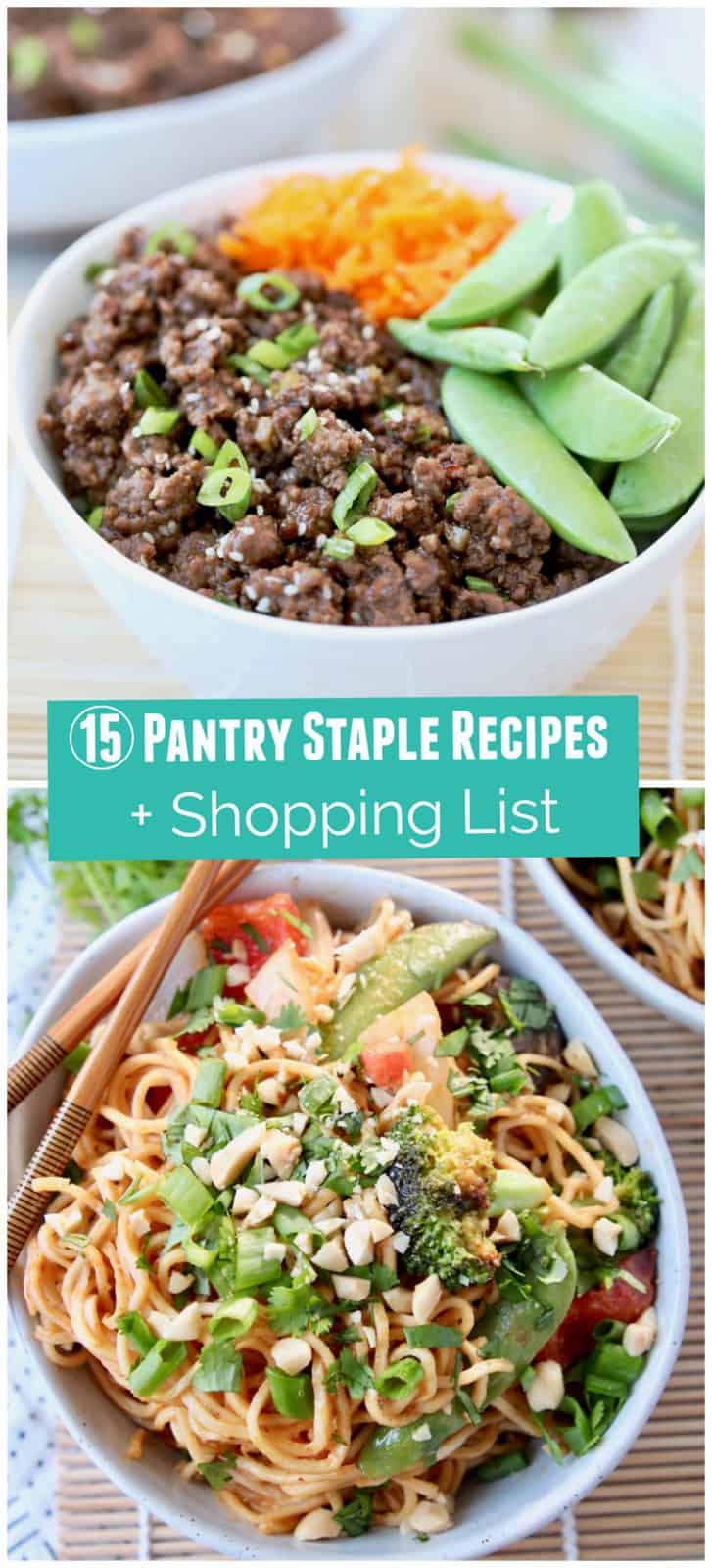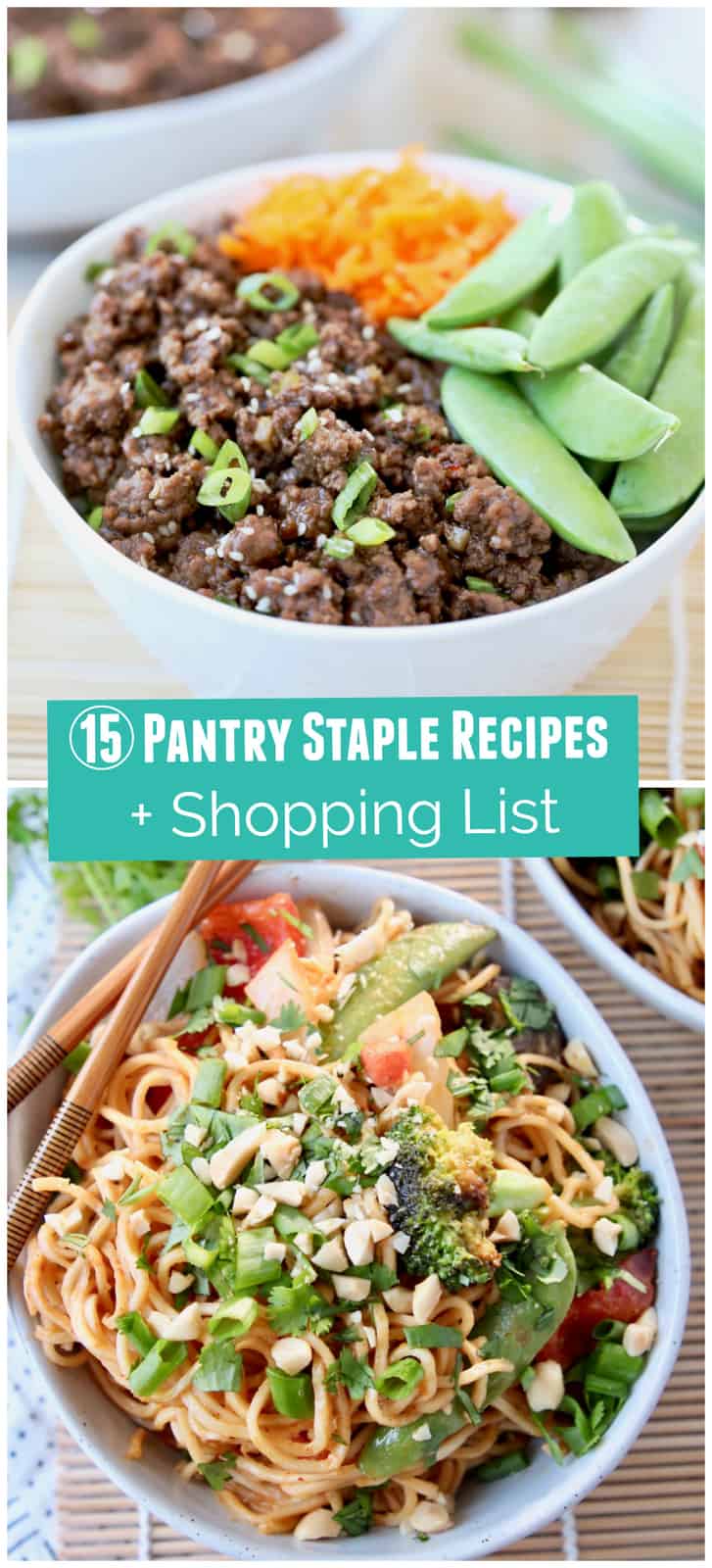 Whether you're stuck at home because of a storm, staying in during a cold week in the winter or just hanging at home for a few days, it's always great to have a few go-to recipes on hand that can be made with pantry staples.
Pantry staples can mean different things to different people. For this post, pantry staples include 3 categories.
Shelf stable items – these items are going to be your traditional "pantry staples" like flour, spices, pasta, beans, rice and canned goods.
Frozen foods – foods that can easily be found in the freezer section at the grocery store, like frozen fruits and frozen vegetables.
Fresh foods that can easily be frozen – this includes fresh foods like meat, butter, onions, jalapenos, bell peppers and garlic, that can easily be frozen.
Tips for storing fresh foods
Use these tips to store some of your favorite fresh foods so that you can easily use them later in these pantry recipes. Always be sure to date and label all foods before freezing them!
Meat: ground meats, like ground beef, ground turkey or ground chicken are great to keep on hand to use in pantry recipes. If purchasing in bulk, I like to store the ground meat in 1 lb. portions, as that's the most common measurement for ground meat in recipes.
Onions: peel and dice onions, then store them in either 1/2 cup or 1 cup portions in freezer safe bags. You can add the frozen diced onions directly to most of your favorite pantry recipes without thawing them first.
Bell Peppers: Remove the stems, seeds and membranes from the bell peppers. Either slice or dice the peppers, then spread them out evenly on a baking sheet, so they're not touching each other, freeze until firm. Transfer to freezer safe bags. I recommend storing in 1 cup portions (approximately 1 bell pepper) to be easily added to recipes. Just like onions, frozen bell peppers can be added directly to most recipes.
Jalapenos: slice the jalapenos (remove the seeds & membranes if you prefer less spice), spread them out evenly on a baking sheet, so they're not touching each other, freeze until firm. Transfer them to a freezer bag. If the frozen jalapenos are added to a soup or sautéed in a recipe, they do not need to be thawed before use.
Garlic: peeled garlic cloves can be stored in a freezer bag, then removed, minced and added to a recipe directly.
Ginger: peel and freeze an entire knob of ginger. The ginger can be easily grated using a microplane or grater while it's frozen.
Lemon or Lime Juice: I like to add fresh lemon and lime juice to a variety of recipes. Freezing the juice makes it easy to use in pantry staple recipes. I recommend storing lemon and/or lime juice in 1 tbsp portions in covered ice cubes trays in the freezer. When ready to use, place an ice cube of lemon or lime juice in a small bowl and allow to thaw at room temperature on the countertop. For a quicker method, place the bowl with the juice ice cube in the microwave to defrost for 1-2 minutes.
Butter: wrap butter tightly in aluminum foil or freezer-safe plastic wrap, or place in large freezer-safe bags. Butter will stay good in the freezer for 6 months. Butter can be thawed in the refrigerator for 6-8 hours or quickly in the microwave using 30 second intervals so that you thaw the butter, but don't melt the butter.
Cheese: cheeses can be frozen in blocks, slices or shredded for up to 6 months. To thaw the cheese, transfer it from the freezer to the refrigerator and allow it to thaw in the fridge for 6-8 hours. Once it has thawed, use the previously frozen cheese within 3 days.
Tortillas: if the tortillas are still sealed in their package, they can go directly in the freezer. If the tortilla package has been opened, I recommend transferring the tortillas to a freezer-safe bag before freezing. Tortillas will stay good in the freezer for up to 6 months. To thaw, transfer the tortillas to the refrigerator for 8 hours. After that, heat the tortillas in the microwave or in a dry skillet on the stove for 10-15 seconds before eating.
For more guidelines on what food to freeze and how long foods will stay good in the refrigerator or freezer, refer to this Refrigerator and Freezer Storage Chart from the FDA.
Recipe Notes
Check the notes below each recipe for tips and substitution options.
Recipes to make with Pantry Staples
When creating a meal plan with pantry staples, it's a great idea to make a couple of sauces that can be used in different recipes. My Thai Peanut Sauce is the perfect example of this. You'll see it used in this recipe, as well as another recipe on the list. Make a big batch that you can use all week or store in the freezer for later.
Use the methods listed above for freezing bell peppers and onions to use in this recipe. For the crimini mushrooms, either omit the mushrooms or used dried mushrooms. If using dried mushrooms, simmer them for an additional 10 minutes before adding the bell peppers and onions.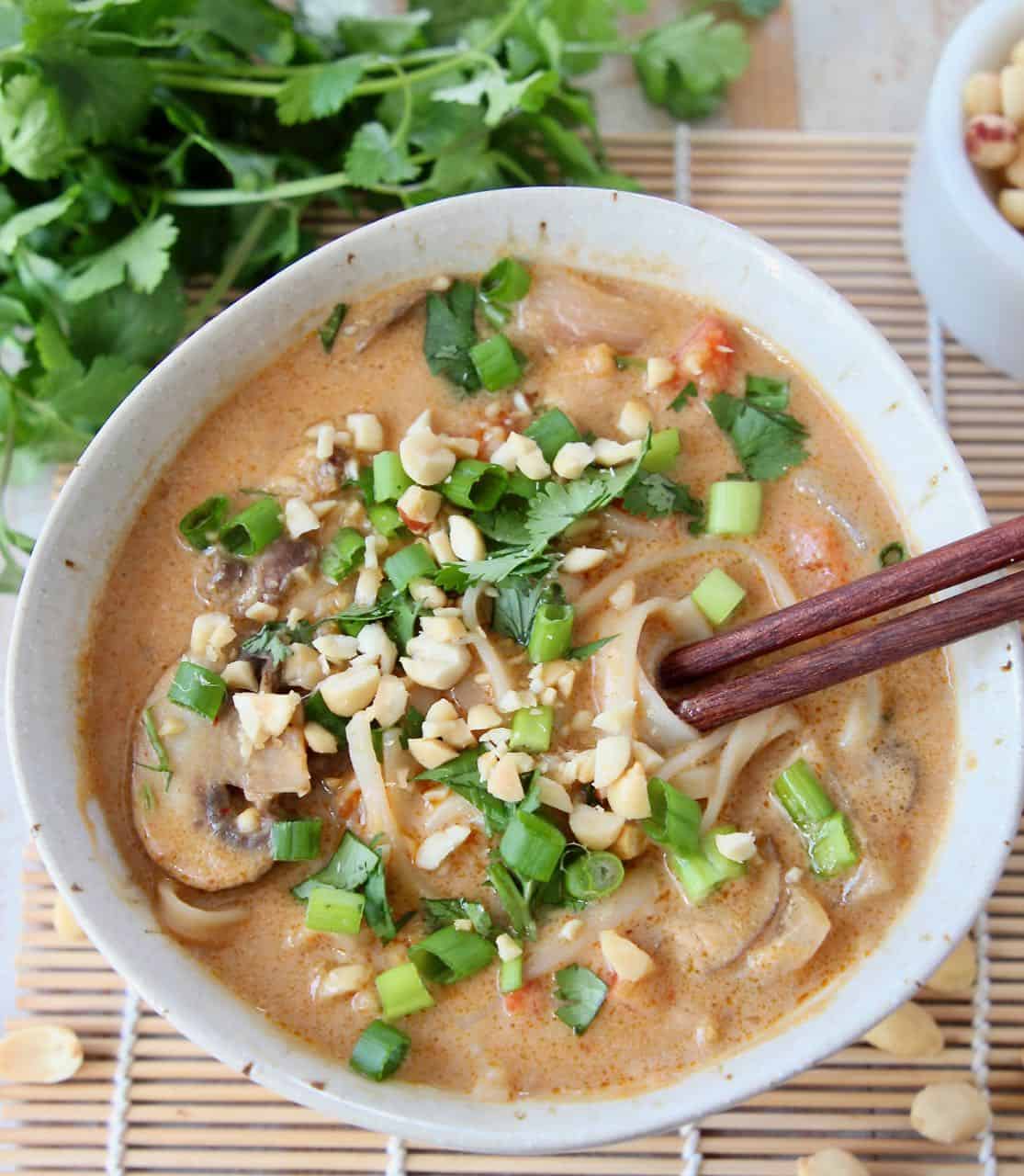 Made with ground beef, garlic, ginger and shelf stable pantry ingredients, this Korean BBQ Beef bowl is easy to make and can be turned into a variety of different meals.
It can be served over rice, with sautéed frozen vegetables or in tortillas for tacos. If you're looking for a healthy option, serve it over cauliflower rice, easily found in freezer bags at the grocery store.
While this recipe does call for fresh green onions, these can easily be eliminated or replaced with freeze-dried spring onions.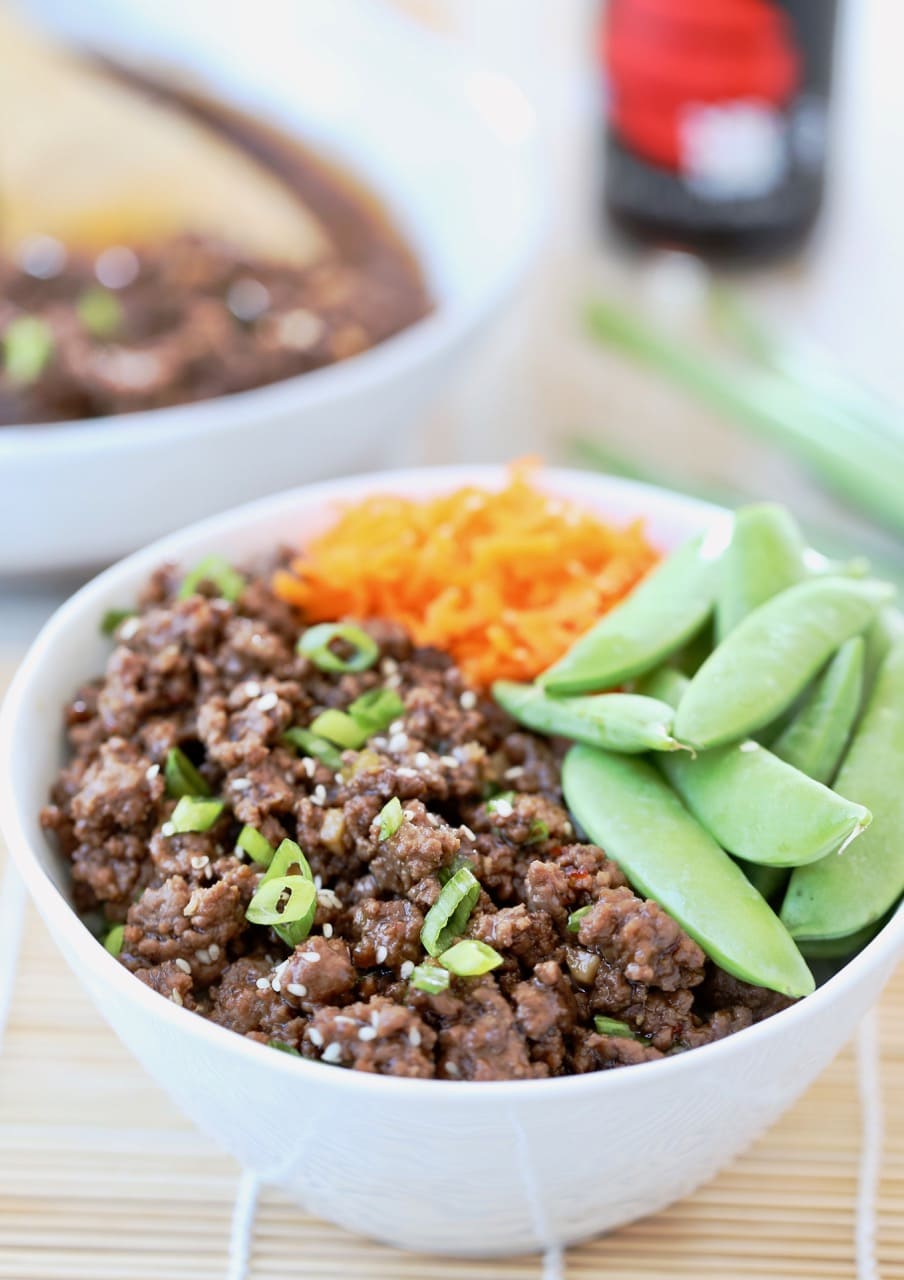 Use the methods listed above for freezing onions, garlic, jalapenos and ginger for use in this recipe. Replace the fresh cilantro with freeze dried cilantro. The remaining ingredients and freezer-friendly or shelf stable.
I am totally obsessed with this soup! It's gluten free, perfect for meal prepping and made with all shelf stable ingredients except for onions and chicken, which can easily be stored in your freezer.
Another delicious recipe that utilizes my Thai Peanut Sauce and is made in less than 20 minutes! Instead of fresh vegetables in this recipe, I recommend using a 12 oz bag of frozen stir fry vegetables to make this recipe "pantry staple friendly".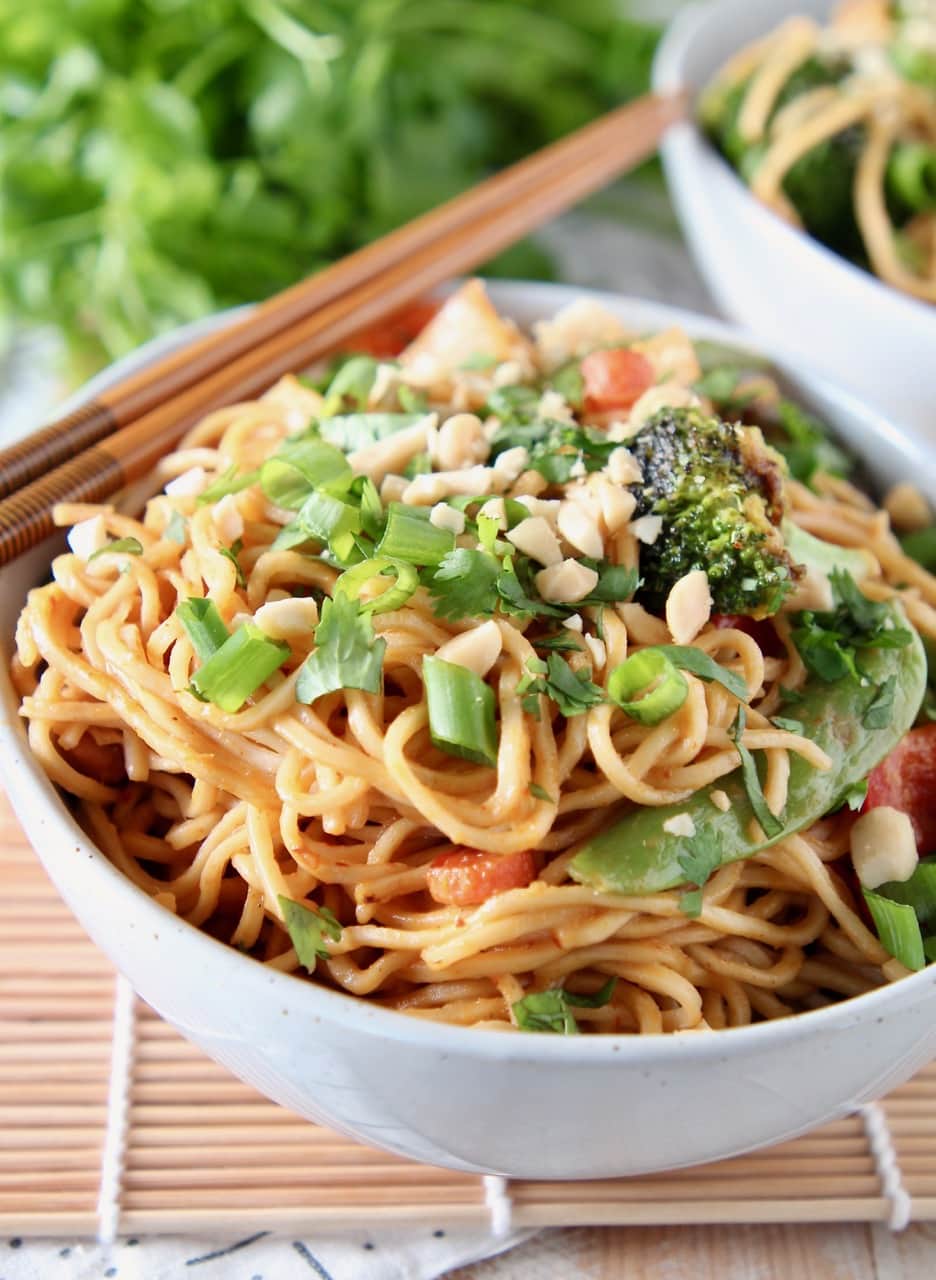 Use the methods above to freeze garlic, ginger, onion and bell peppers to make this delicious lo mein out of freezer and pantry staples. Replace the fresh sugar snap peas and shittake mushrooms with either frozen sugar snap peas or a mix of frozen stir fry vegetables.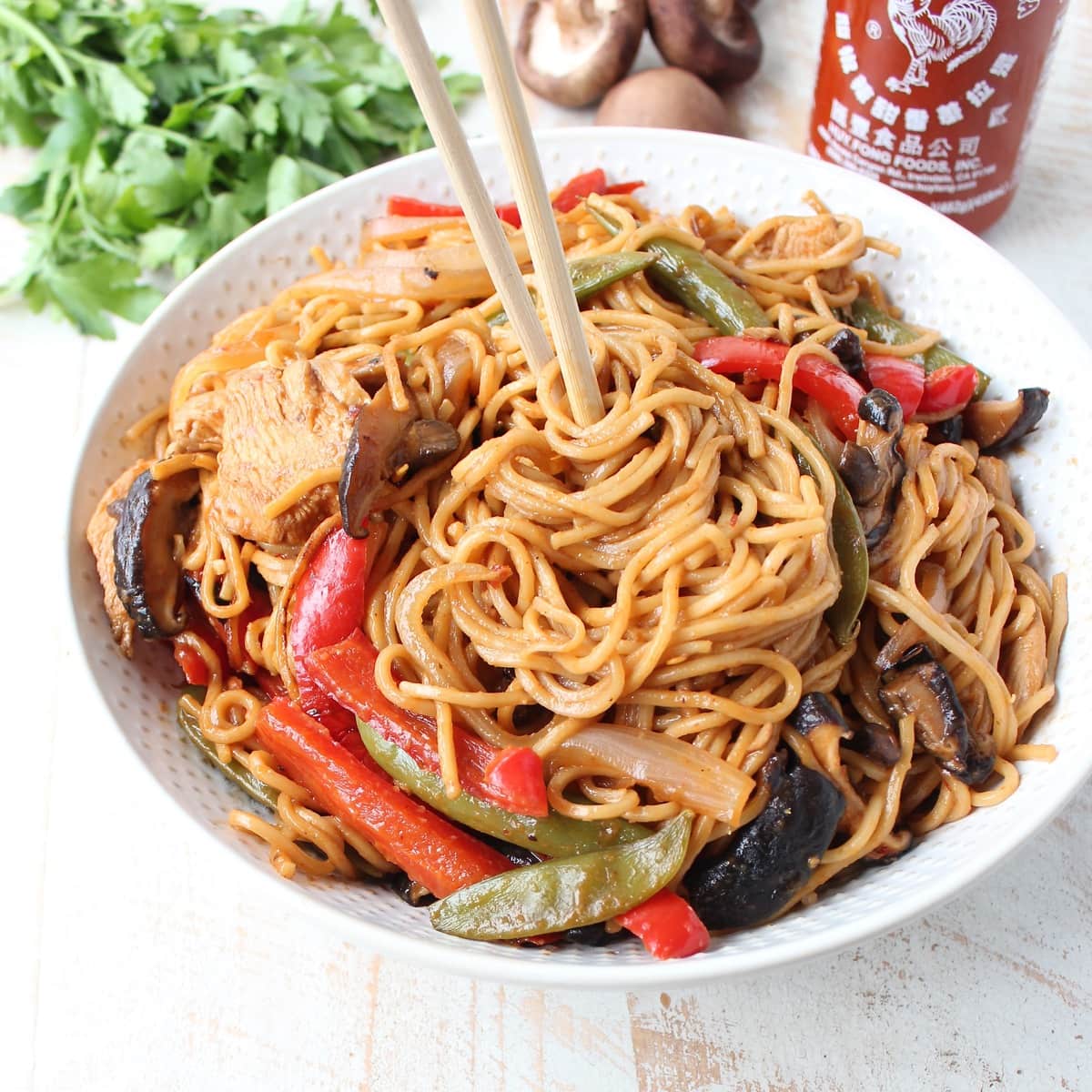 Shelf stable ingredients, plus frozen onions, garlic, jalapenos and chorizo, make this delicious slow cooker chili the perfect pantry recipe.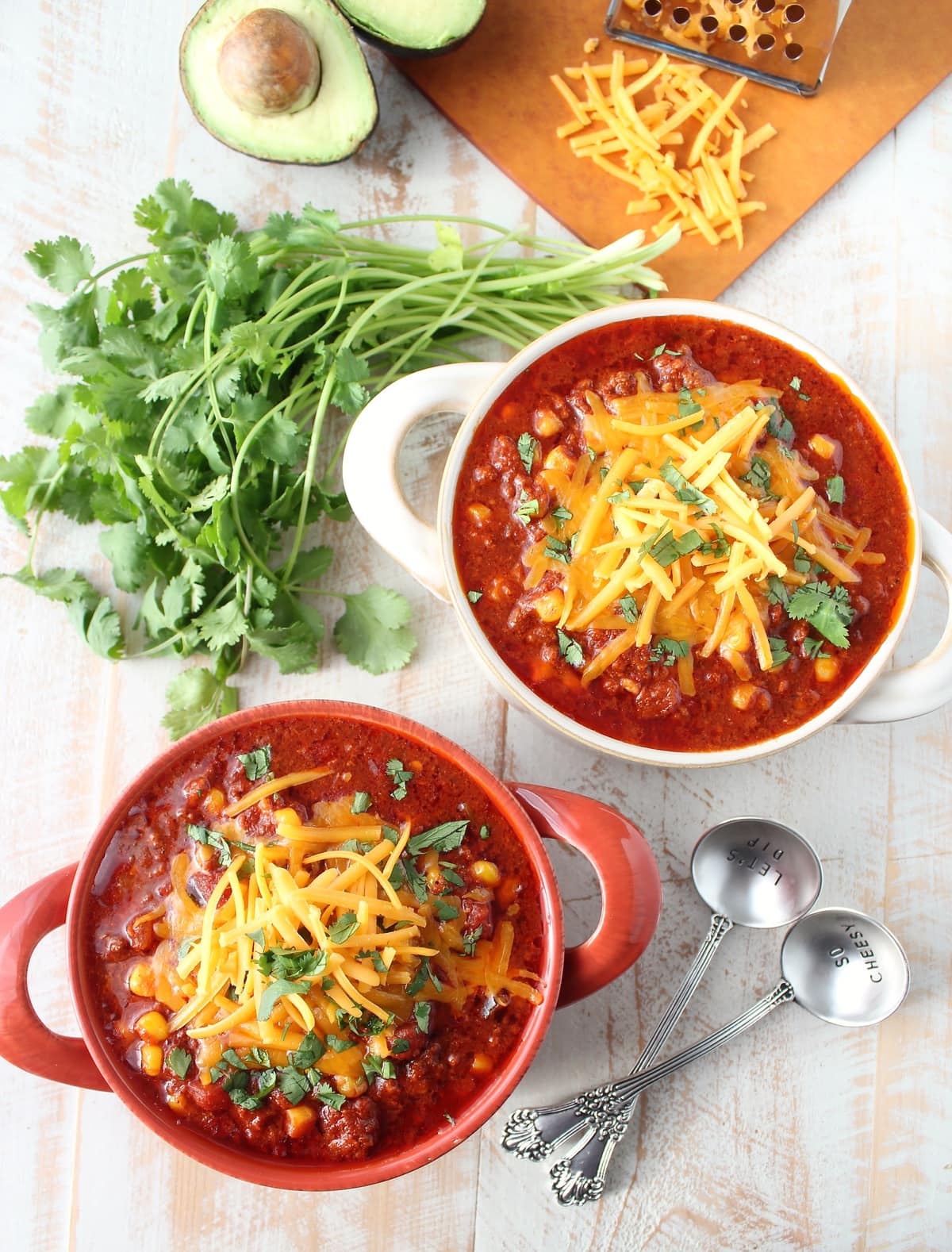 Replace the fresh broccolini in this recipe with frozen broccoli. Add frozen onions, garlic, ginger and ground beef, plus shelf stable pantry staples to make this tasty Chinese recipe part of your pantry staple menu!
The green onions in this recipe are simply for garnish and can easily be left out.

This is one of my all-time favorite meals and it just so happens to be made with all pantry staple and freezer friendly ingredients!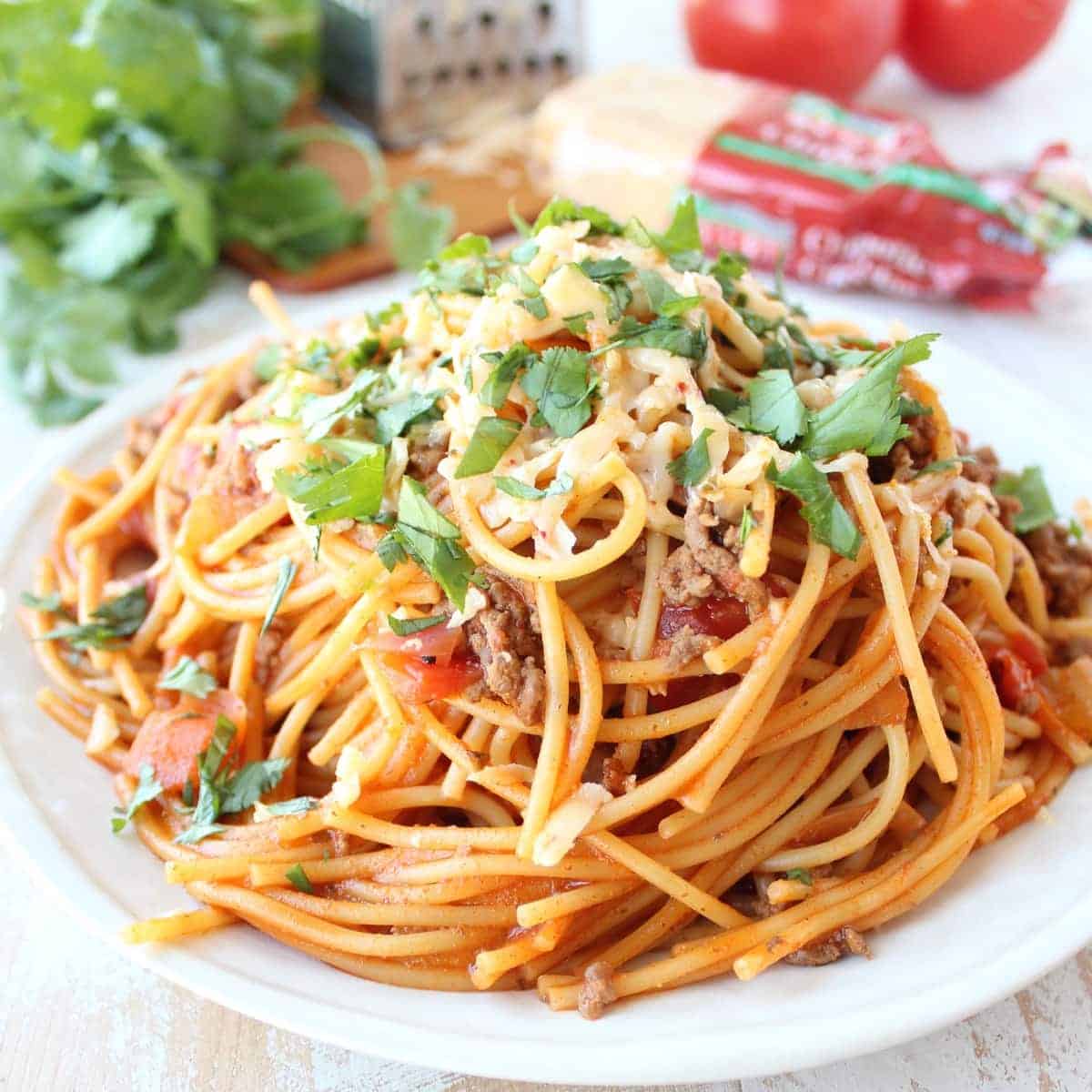 This healthy, gluten free soup is low in calories, yet high in protein and vitamins. It's perfect for staying healthy on a pantry recipe menu!
Freeze dried cilantro can easily be used instead of fresh cilantro in this recipe.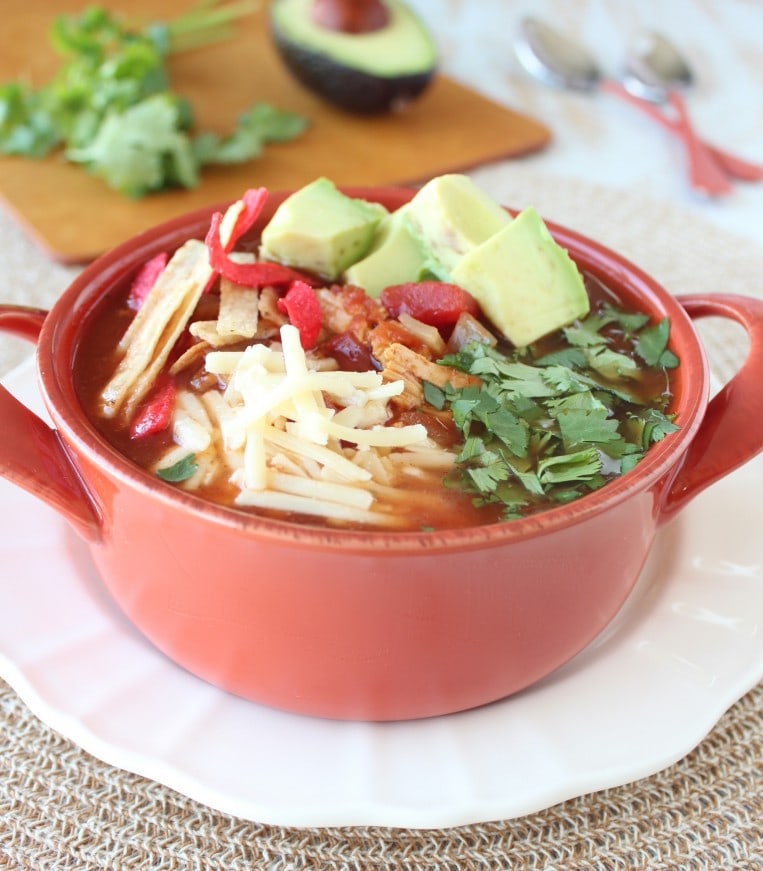 This simple 6 ingredient recipe can easily be made with a variety of meats. I used turkey sausage in the original recipe, which can easily be frozen, but other frozen ground meats, sausages or pepperonis can also be used in it's place.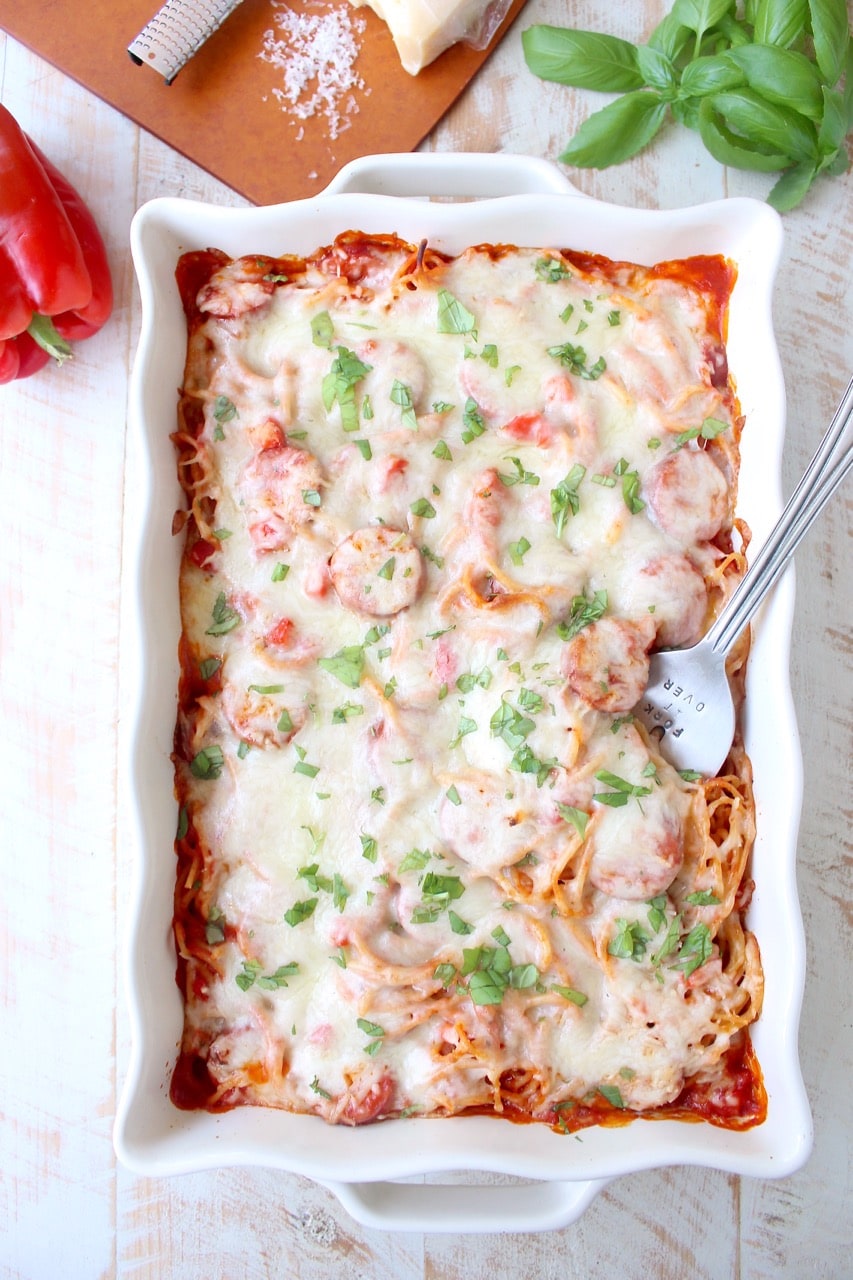 Another healthy, gluten free pantry meal, this chili recipe is flavorful and easy to make with pantry staples + freezer friendly ingredients.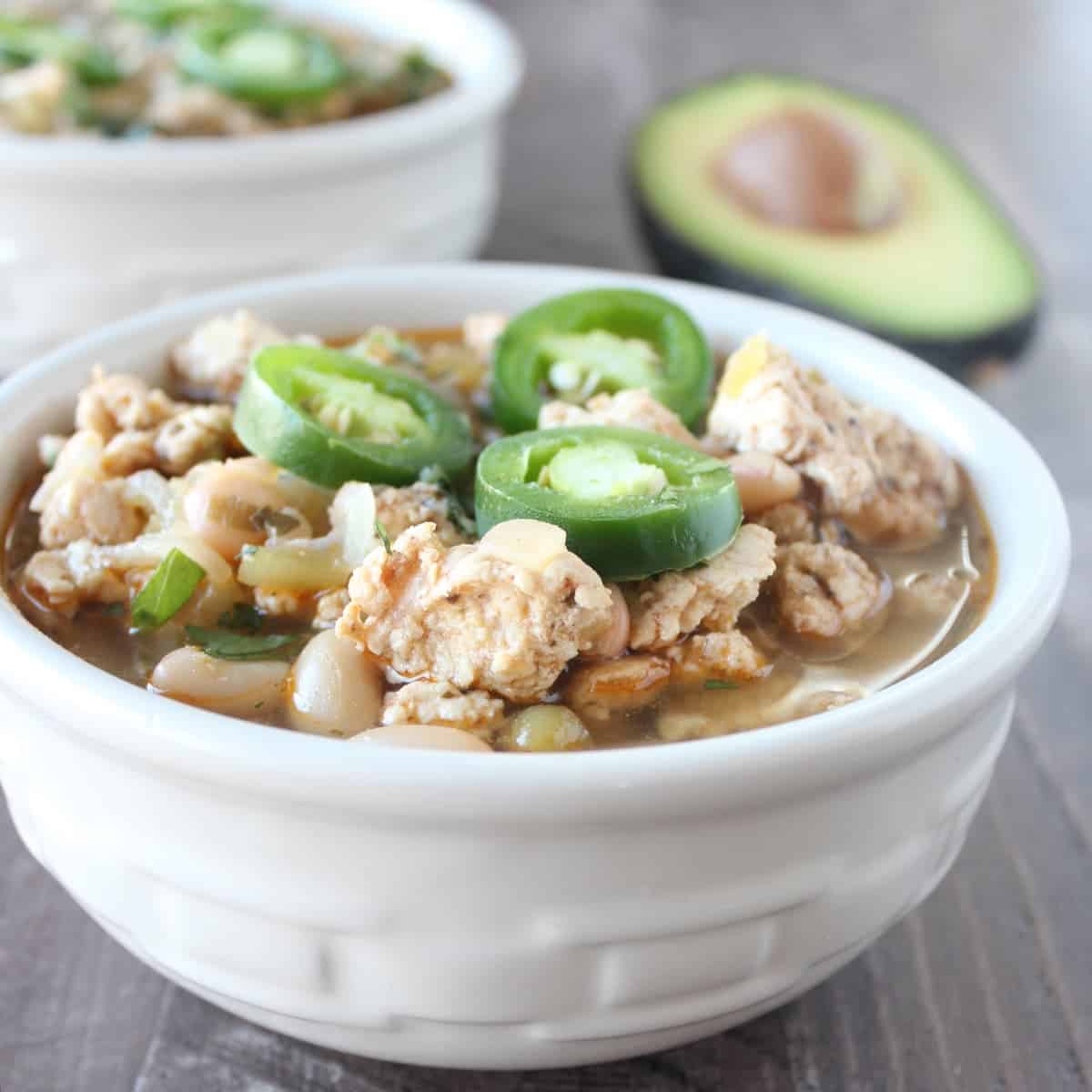 This easy pantry recipe is made in just 20 minutes and family friendly!
These tacos are easily made with frozen chicken breasts + 3 shelf stable pantry ingredients. Frozen tortillas can be defrosted for tacos or the chicken taco meat can be served over rice to make a taco bowl.

With frozen ground beef, spices, canned beans, beer and tomatoes, you can easily make this chili part of your pantry staple menu!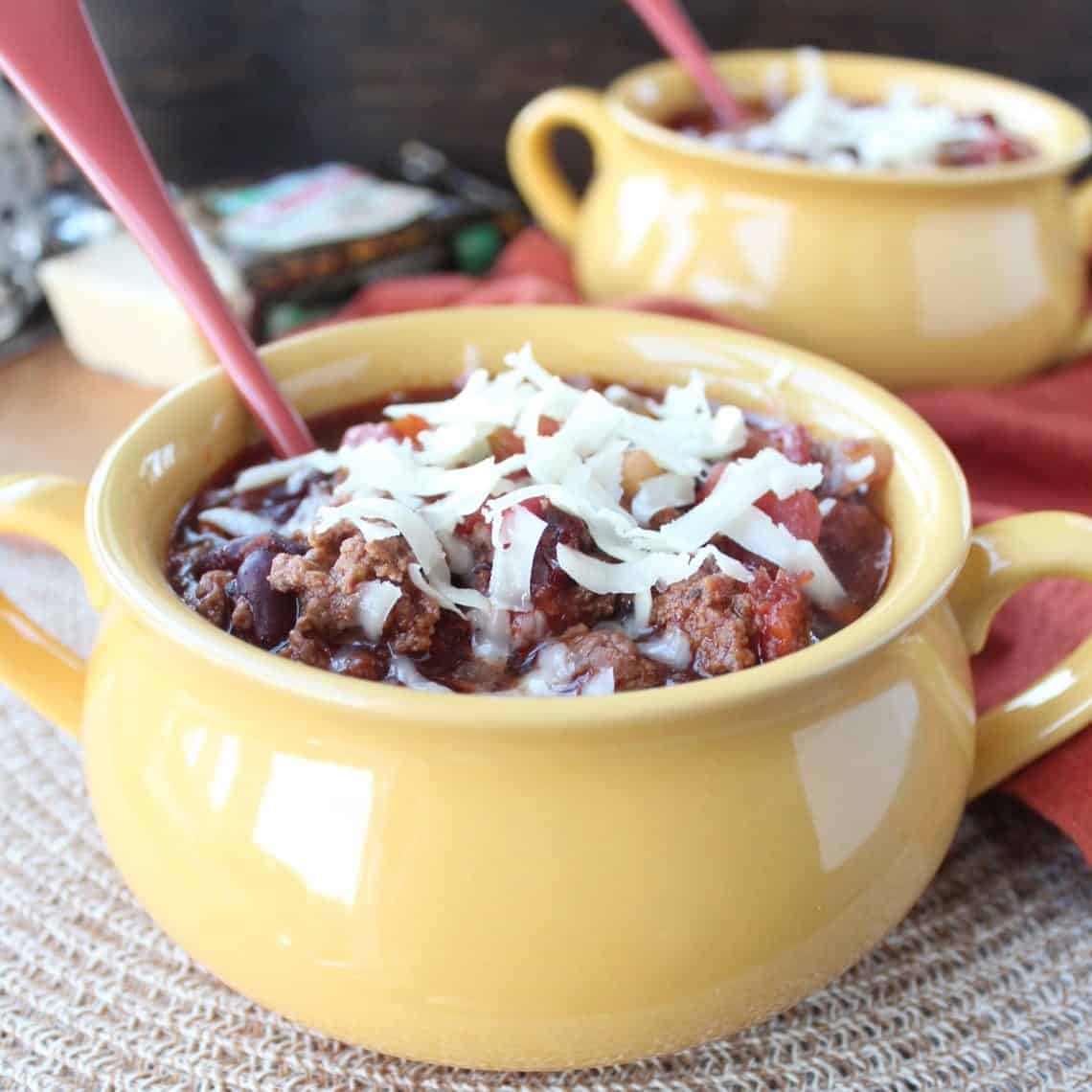 Pantry Staple Shopping List
The shopping list below includes everything you'll need to make the 15 recipes on this list.
Click here to download a printable version of the pantry staple shopping list!
Pantry

Canned Goods

Coconut Milk
Diced Tomatoes
Diced Tomatoes with Green Chilies
Tomato Paste
Tomato Sauce
Chipotle peppers in adobo sauce
Diced Green Chilies
Corn
Kidney Beans
Black Beans
Cannelloni Beans
Great Northern Beans
Chili Beans

Pasta/Rice/Noodles

Rice Noodles
Ramen Noodles
Lo Mein Noodles
Spaghetti Noodles
White or Brown Rice

Spices/Herbs

Sea Salt
Ground Black Pepper
Chili Powder
Paprika
Ground Cumin
Ground Cayenne Pepper
Chipotle Chili Powder
Red Pepper Flakes
Dried Oregano
Onion Powder
Garlic Powder
Garam Masala
Freeze Dried Spring Onions
Freeze Dried Cilantro

Sauces

Marinara Sauce
Sriracha
Buffalo Sauce
Soy Sauce (Tamari for gluten free)

Oil/Vinegar

Apple Cider Vinegar
Rice Vinegar
Olive Oil
Sesame Oil
Coconut Oil

Baking
Other

Vegetable Broth
Chicken Broth
Dried Mushrooms
Creamy Peanut Butter
Thai Red Curry Paste
Mirin
Honey
Chili Paste
Peanuts
Brown Lentils
Tortilla Strips
Fritos Corn Chips
Stout Beer

Frozen

Vegetables

Broccoli
Stir Fry Vegetable Blend
Sugar Snap Peas
Corn

Healthy Additions

Fresh

Vegetables

Onions
Jalapenos
Bell Peppers
Garlic
Ginger
Limes

Meats

Ground Beef
Ground Chicken
Boneless, Skinless Chicken Breasts
Chorizo or Soyrizo
Italian Sausage Links (turkey, chicken or pork)

Cheeses

Shredded Cheddar Cheese
Shredded Mozzarella Cheese
Grated Parmesan Cheese

Breads

Tortillas (flour or corn)
Got questions about how to make your favorite recipe "pantry staple friendly"? Comment below and I'd be happy to make recommendations for you!
We are a participant in the Amazon Services LLC Associates Program, an affiliate advertising program designed to provide a means for sites to earn advertising fees by advertising and linking to amazon.com.