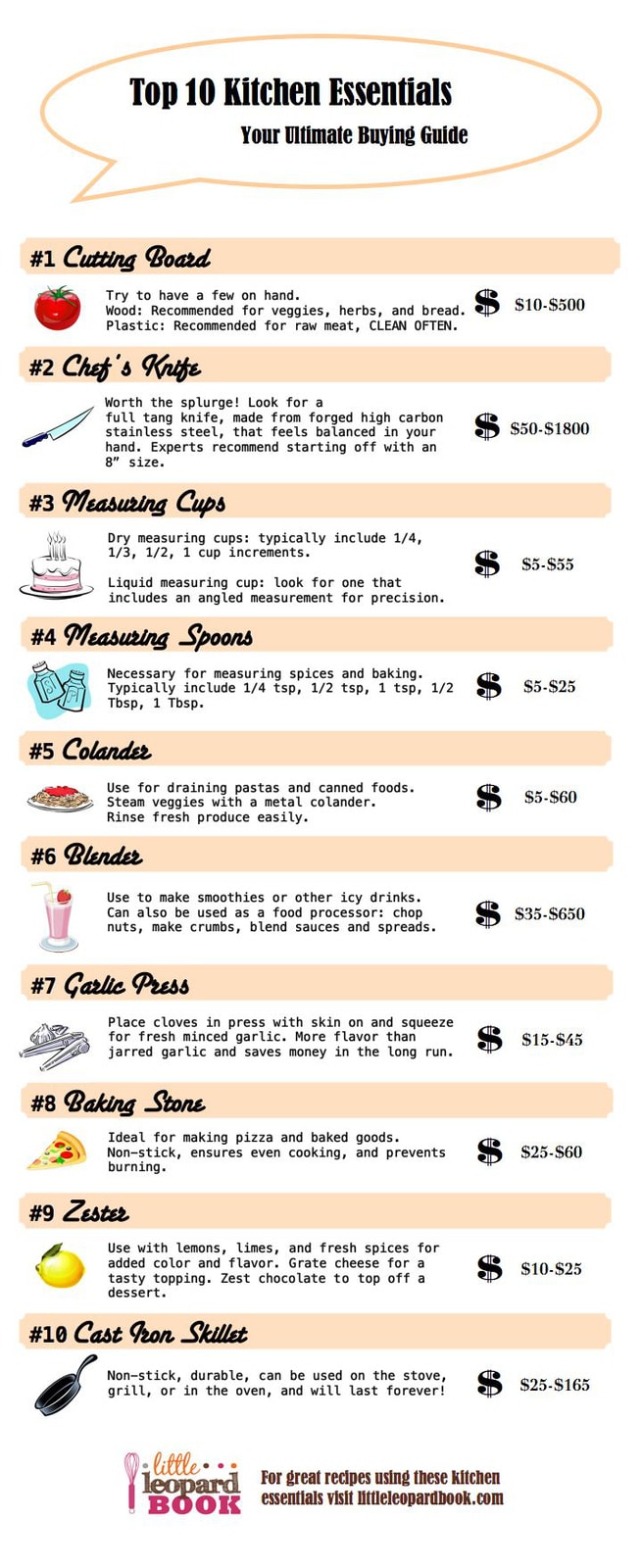 While I've always been interested in cooking, there is no shortage of recent college graduates who have lived the past four years surviving on top ramen and making very good friends with the pizza delivery guy! There are also those people out there that may not be recent college graduates, but somehow missed that moment when they were supposed to delete the local Chinese restaurant number from their "favorites list" on the iPhone!
Now that we're in "the real world", it's time to start cooking REAL food! Learning to cook, and I mean cooking that doesn't involve placing a bowl in the microwave, can be both daunting and confusing. More than that, the last thing anyone wants to do is dish out hundreds of dollars on kitchen items that will barely get used! That's why I'm here. This week, Little Leopard Book has compiled a list of our top kitchen essentials to make even the most novice cooking experiences run smoothly. While these items vary in price depending on how fancy and high-tech they are, by purchasing the most basic option of each item, everything on the list can be added to the kitchen for under $200! Combine our list of essentials with our delicious recipes and anyone can fall in love with cooking and all that homemade has to offer!
Cutting board: I don't think I could survive in the kitchen without a cutting board. Not only does cutting directly on the counter create a mess, I would argue that it's not even socially acceptable! My advice is to have a couple on hand, this is especially useful when cutting both veggies and raw meat. The two should definitely not mix! I recommend using a wood cutting board for veggies, herbs or bread and a plastic cutting board for preparing raw meats.
Chef's knife: This item goes hand in hand with a cutting board. Life in the kitchen is much easier when struggling to saw through food is not an issue! A good knife cuts down on time, reduces the probability of slicing fingers, and makes it easier to chop food evenly, ultimately making the end result more appetizing.
Measuring Cups: While the experts may not rely on exact measuring, when learning and trying new recipes it is necessary to do so. With correct measurements, new recipes are much more likely to turn out delicious the first time around!
Measuring Spoons: Like measuring cups, these make sure a new dish turns out perfect on the first try. Use these to measure seasonings for that extra pop of flavor in recipes!
Colander: From my experience pasta is one of the easiest dishes to make, but only if there's a colander around to help the process! Pasta dishes can be prepared a number of ways depending on the type of sauce used, the veggies or meat added, and the cheese inside or atop the dish. Experiment with different ingredients and flavors to find your favorite! My favorite is our Buffalo Chicken Cheesy Penne! A colander can also be used to rinse fruits and veggies quickly and easily.
Blender: Even though we're growing out of our "college phase" in the kitchen, that doesn't mean we have to ditch our friend, the blended margarita, after all, we're never too old for margaritas!  And of course after those margaritas over the weekend, a blender is an awesome item to have on Monday morning for a delicious Lean and Green Superfood Smoothie to prepare for the week!
Garlic Press: I have my mom to thank for my obsession with the garlic press. While ready-to-go minced garlic in a jar can be purchased, I highly suggest taking the route of buying fresh garlic cloves and a garlic press. The flavor is much better with fresh garlic and a garlic press is simple to use. Many recipes give ingredients in the number of garlic cloves, which can be hard to measure with jarred garlic. Most importantly, this will save money!
Baking Stone: I may have lied at the beginning of this post, pizza is still allowed in "real life" but why not make your own? Baking stones are perfect for making pizzas and baked goods. They help in creating a more even temperature, prevent burning, and are non-stick. I love using mine to make Nutella Chocolate Chip Cookies 😉
Zester: No matter how easy a dish is to make, a zester gives the impression of mad cooking skills! Use it with lemons, limes, and other garnishes for a pop of color and flavor. Easily grate fresh parmesan on top of pasta or pizza or use the zester with a little chocolate to amp up any dessert!
Cast Iron Skillet: A cast iron skillet is durable and will last forever! It can be used on the stove, grill, or in the oven. I love using mine for our Cast Iron Skillet Rustic Potatoes.